Art Of The Meal: Antebellum Restaurant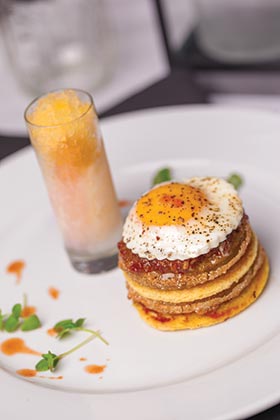 Antebellum Restaurant
5510 Church St., Flowery Branch
770.965.8100
www.antebellumrestaurant.com
Hours: Dinner, Tuesdays-Saturdays.
Parking: Plentiful on the street.
Dress Code: Dressy casual.
Reservations: Accepted (online and by phone).
What's your dream Southern restaurant? For many, it seems to embrace a fictionally perfect past, with sweet, glistening juleps, fried chicken and a cobbler cooling on the sideboard, the food entwining the vision like wisteria shading a porch.
My ideal Southern cuisine is also regressive, but maybe more agrarian – with stone-ground cornmeal, a table groaning with garden vegetables, and of course the symbol of plenty, the pig: one who has grown up with his trotters in grass, fed the same delicious table scraps that will end up flavoring his belly.
Antebellum is a place where both camps can meet in peace. In Flowery Branch's tiny downtown, the old buildings gathered around the former train station remind you of a way of life not tied to the nearby interstate.
The restored old home hung with photos of a vanishing South feels both modern and mindful. With plenty of familiar favorites (pimento cheese, shrimp and grits, a burger), Ante- bellum also proudly features seasonal produce and meats from nearby lush fields in novel, interesting combinations (in early summer, sweet corn soup with pink peppercorns, whipped cream and baby basil; butter-poached rabbit with radishes, popcorn and coriander).
Like the restaurant's name, however, the flavors occasionally slide into cloying: Cocktails are almost all very sweet concoctions – like, for example, the house "martini" of vanilla vodka, hazelnut and butterscotch liqueur, with a pecan-sugar encrusted rim. And while I love me some pork, it's listed as an ingredient in well over half the dishes on the menu.
Still, you'll often find a surprisingly light hand balancing those plates – that rabbit dish, for example, is a lightly browned leg with a smear of corn puree, scattered with lightly grilled radishes, popcorn and microgreens. Whole coriander seeds pop the dish up to a brand new level.
Does a stack of fried green tomatoes between toasted brioche smeared with bacon jam, topped with a fried egg and dotted with hot sauce sound like a bit much for an appetizer? It is, and could I get another order, please? This mini-brunch-on-a-saucer even comes with its own tiny "mimosa ice" on the side, and it is such a small portion that its richness does not spoil your dinner.
The roasted golden and ruby beets look like little Easter eggs hiding in a carrot patch – one scattered with pistachios and a dollop of ginger crème fraîche. The Niman Ranch pork loin is a fist-sized knockout, with fig-Vidalia jam, port-simmered cherries over arugula, and topped with a round of pecan butter. The grilled salmon arrives on a grits cake and local greens, a thin, crisp "country ham chip" rising from it like chimney smoke. I loved the simple pickled wild shrimp with Bibb lettuce, cherry tomatoes and buttermilk dressing – it's a dish that would delight an Atlanta Junior Leaguer or a Brunswick farm wife.
The desserts, as you might expect, are dense, caloric – and delicious. The flourless chocolate cake is topped with vanilla ice cream, hazelnuts and Grand Marnier sauce. But the dish that lingers in my memory takes on the quality of a mirage: It's a blackberry cobbler, with a scoop of ice cream and simple biscuit-style crust, dusted with powdered sugar. As the cream melts into the berries and buttery, nubbly pastry, you remember that Southerners have always reveled in this sweet life, this summer abundance and winter respite. It's the balance that makes it work.