Sun Dancing
As Georgia's solar capacity shoots skyward, a new state utility is proposed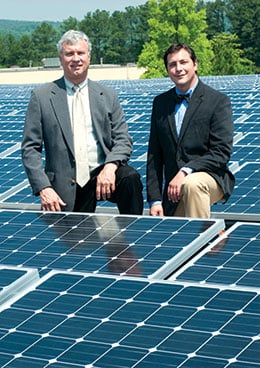 It's the sun, the sol of our solar system, to which everything that lives and moves, including the wind, owes its existence. Without the sun, there is no us, no Earth. You can't miss it. It's the biggest thing in the sky, the biggest thing for at least 24 trillion miles, and at 4.5 billion years old it is middle-aged and remains the most abundant source of power between here and Alpha Centauri, zapping our planet every minute with more energy than humanity can consume in a year.
The best thing is, the sun is free. Still, for most of those eons, capturing the sun's energy for human consumption has been like picking crops with a catcher's mitt.
But over the past few years, photovoltaic technology ("photo" for light, "voltaic" meaning electricity) has gotten way more efficient, and the previously prohibitive price has fallen dramatically, setting the stage for what's happening now in Georgia: Solar deployment and interest are increasing dramatically.
"This is a very dynamic time for solar energy, and it demonstrates a pent-up demand and interest in solar energy for Georgia," says Mark Bell, chair of the Georgia Solar Energy Association (GSEA) and president of Atlanta-based Empower Energy Tech-nology. "There's a great potential here for real, sustainable economic development."
Technical colleges have expanded solar course offerings for would-be installers in anticipation of job growth, and the cost per kilowatt keeps diving down. Meanwhile, public demand, improved technology, corporate investment, government incentives, entrepreneurial nerve and some provocative proposed legislation drive the state's sun-soaked prospects toward supernova.
"Solar power is the fastest-growing industry in the world, and it's growing along in the same way the Internet did," says John S. Quarterman, a Harvard-educated author and Internet pioneer who launched the first commercial online newsletter, among other things, and who lives in rural Lowndes County.
"Think back 20 years to 1993. How many people had heard of the Internet? And look at how far we've come. What I'm seeing with solar energy is the same kind of exponential growth. It's clean energy that works, and it generates jobs."
Quarterman writes about solar energy, environmental issues, agriculture, technology and a lot of other stuff, often with a local slant, on his various web sites (like www.l-a-k-e.org, for Lowndes Area Knowledge Exchange, and www.okraparadisefarms.com). He believes Georgia has barely stuck its big toe into the solar pool at this point, but he'd prefer jumping in with both feet.
"We have a lot of sun in Georgia, especially South Georgia – a lot more than Germany, the world leader in solar energy, and a lot more than New Jersey," Quarterman says, adding indignantly, "Why are we lagging behind New Jersey?"
He knows why. He's making a point. New Jersey gets less sunlight than Georgia, but has way more solar capacity installed. In a study by Arizona State, Georgia ranked third among states that would benefit from generating and exporting solar energy and fifth among states that would benefit from solar deployment just for self-sufficiency.
New Jersey didn't make either list, but it is third in the nation (first among Eastern states) in cumulative installed solar capacity with 971 megawatts and third in solar installations last year.
Georgia is 21st in cumulative installed capacity, according to the Solar Energy Industries Association (SEIA), with 22 megawatts (enough to power 2,000 homes). That lumps us in with a bunch of states that get a lot less sunshine than Georgia, but it represents a four-fold increase since 2010.
By 2015, Georgia's total solar capacity should multiply more than 10 times, thanks to the initiative of the mammoth public utility corporation usually cast as renewable energy's staunchest opponent.
"We always look for cost-effective ways to add renewables to our portfolio, and when we move, we do it in a significant way," says Ervan Hancock, manager of renewable and green strategies for Georgia Power, the investor-owned utility that is adding 210 megawatts of solar capacity over the next two years through its Advanced Solar Initiative (ASI). That's in addition to the 61 megawatts that were already under contract in November, when the Georgia Public Service Commission (PSC) approved the ASI.
Those 271 total megawatts of solar power would vault Georgia up to fifth place in solar installed capacity (just ahead of Colorado) if all the other states do nothing else. Don't bet on that. It's like Quarterman says. Solar is growing really fast, just not in Georgia, not quite.
In 2012, the U.S. solar industry grew by 76 percent, with more than 3,300 megawatts (or 3.3 gigawatts) of photovoltaic (PV) capacity. The industry supported 119,000 jobs in 2012 (a 13.2 percent increase over 2011), and total solar electric installations were valued at $11.5 billion. By comparison, according to SEIA, in 2012 there were 800 solar industry jobs in Georgia (41st in the nation, per capita), where about 90 companies invested $18 million to install residential and commercial solar energy systems.
But Georgia seems ready to catch plenty more rays. According to Hancock, Georgia Power's ASI promises an investment of $750 million to $1 billion. And if an upstart Macon-based solar company gets its way when the state legislature convenes in 2014, Georgia could soon be thinking in terms of multiple gigawatts.
New Solar Rising
Robert Green says he was born with a wrench in his hand.
"Running backhoes and trenchers and building utility systems have been in my blood from the get-go," says Green, who ran a Florida-based construction company that built utility infrastructure, just like his father before him.
He got into the solar game about six years ago and recently served as a lead consultant on Dublin High School's 4,900-module PV system (provided by MAGE Solar, a German company with U.S. headquarters in Dublin), a 1.1-megawatt system financed through local development authority bonds.
Now Green and Shane Owl-Greason, his partner in Georgia Solar Utilities (GaSU, based in Macon), are trying to circumvent a 40-year-old law with new legislation that would create the state's first regulated solar utility.
House Bill 657, the Rural Georgia Economic Recovery and Solar Resource Act of 2014, was introduced by Rep. Rusty Kidd late in the 2013 session. Its main thrust is "to authorize the Public Service Commission to establish a rural community solar initiative and oversee and manage a responsible expansion of solar energy in this state," according to the bill's language.
The idea grew out of GaSU's frustration with Georgia Power's (and other utility companies', like the EMCs') geographic monopoly, as prescribed under the 1973 Georgia Territorial Electric Service Act, which protects utilities from competition within their defined service areas.
"That territorial act is the biggest hurdle we have for deploying a real solar industry in Georgia," says Quarter-man, who likes the fact that HB 657 focuses on rural solar development, but he doesn't like the idea of another regulated utility monopoly, which is what the bill suggests.
It's hard to find anyone who does like the idea of a new monopoly.
"It's completely unnecessary," says attorney Bobby Baker, who served on the PSC for 18 years and is now a partner at Freeman Mathis & Gary in Atlanta. "We don't need a whole new comprehensive layer of regulatory restrictions on an industry that's ready to take off."
GaSU, of course, wants to be the community solar provider, a statewide utility with the aggregate buying power to get dirt-cheap corporate bond rates to finance solar installations. Their initial plan to build a $320-million, 80-megawatt solar farm near Georgia Power's waning coal-fired Plant Branch in Milledgeville is part of a campaign to deploy two gigawatts (or 2 GW, or 2,000 MW) of solar capacity in Georgia by 2016.
"HB 657 has emerged as the conservative solar bill that satisfies the progressive mind," says Owl-Greason. "It'll provide rate reductions for Georgia consumers, but the ultimate goal is to clean up our energy production so future generations can enjoy the planet."
The GaSU folks believe their solar energy system would pay for itself in 25 years and ultimately generate more than $7 billion in dividends for ratepayers and another $2 billion in profits (through grid access and distribution fees and so forth) for Georgia Power which, naturally, is skeptical (and which last year passed on GaSU's plan for the big solar farm at Plant Branch).
"We are growing from 4.4 megawatts of solar to 271 megawatts in just a few years, within the existing regulatory construct and the legal territorial services construct, without a mandated RPS [renewable portfolio standards, which exist in most states], without putting additional pressure on customers' rates," Georgia Power's Hancock says. "What we're struggling with is, why is this bill necessary when we're demonstrating significant growth without putting upward pressure on rates and without putting pressure on the legislature?"
The answer probably depends on your definition of "significant growth" and your thoughts on the concept of free market competition.
For many renewable energy advocates, Georgia Power (and its parent, Southern Company) has been public enemy No. 1, mainly because of the utility's historically heavy reliance on dirty coal and large investments in nuclear, its state and national lobbying power and its bottom-line shareholder interests.
But HB 657, a direct assault on Georgia Power's traditional territory, has created an "enemy-of-my-enemy" situation, a strange bedfellows sort of thing, with the utility company and some of its staunchest foes standing on the same side as naysayers, albeit for different reasons.
"The bill absolutely is intended to benefit one company and one company only, and as such, does not comport well with the long-term best interests of electricity customers," says Lee Peterson, an Atlanta-based attorney who has been a tax advisor in more than $2.4 billion of renewable energy projects, whose client list includes the U.S. Department of Energy and who is usually openly critical of Georgia Power and other big utilities.
"The biggest obstacle we have for solar energy is a regulated utility," Peterson says. "So adding another one, as HB 657 suggests, to further suppress the free market is not what I'd call a good idea."
Solar Sense
Some of the state's leading solar industry advocates and practitioners are taking a wait-and-see attitude with HB 657.
"My goal, as an active industry participant and supporter, is to remove barriers that restrict solar energy," says James Marlow, CEO of Atlanta-based Radiance Solar, one of the 2012 Top 100 Solar Contractors (according to Solar Power World), and one of the companies contracting with Georgia Power on ASI projects.
"That doesn't mean I support every aspect of every bill. I support the idea of a community solar provider, but other than that, I'd rather not say anything else about this one until we move a little more down the road."
GSEA also took a seat on the fence.
"Regarding the idea of a monopoly, or quasi-monopoly, I'm not sure we understand the implications of that and what it would do to pricing and competition," Bell says. "We favor a market-based solution, but I think there's still a discussion to be had."
So the state's leading solar advocacy group hasn't taken a position on what might be the most significant solar legislation ever proposed in Georgia.
But it's not like the GSEA hasn't taken a stand before. In 2012, they spent the first part of the year fighting Georgia Power under the Gold Dome, and the last part in intense negotiations with the utility to help craft a better ASI.
During the legislative session, GSEA lobbied lawmakers to pass a bill supporting third-party financing, such as power purchase agreements (PPAs) – financing arrangements that solar advocates believe will open the floodgates for a new energy market, but which are also in violation of the 40-year-old Territorial Act.
Basically, a PPA allows property owners and tenants to lease PV equipment from a solar develop-er/operator (a third party, i.e., not the utility company) and pay him for the electricity (often at a rate lower than the utility's) for a pre-determined amount of time, typically 10 to 20 years. At least 22 states have authorized PPAs, according to the U.S. De-partment of Energy.
"It's like leasing a car or a photocopier – but you can't lease solar panels because of artificial restrictions," says Baker. "Makes no sense."
Anyway, Georgia's PPA bill, introduced year after year by State Sen. Buddy Carter, gets crushed year after year. (Carter, who recently announced his bid for Jack Kingston's seat in Congress, expects someone else to carry the ball from now on.)
"So we fought hard for PPAs, and we got our butts kicked," says GSEA's communications director Julie Hairston. "But, even though we lost, we sort of won, because it elevated both the breadth and depth of the conversation about solar energy."
Around the time GaSU was petitioning to become a new regulated utility, Georgia Power came forward with its 210-megawatt ASI (which was basically launched to replace a failed biomass project). Initially, the plan called for only 30 MW to be distributed solar (smaller installations, up to 1 MW, like on your roof or in your front yard), and the rest to be utility scale (large solar farms).
But GSEA's leadership negotiated with Georgia Power to increase distributed solar capacity to 90 MW. This is important because more distributed generation means more jobs – a lot of smaller projects equals more employment opportunities around the state.
Even with the ASI, the billion-dollar investment (give or take a quarter mil) and the sharp and sudden climb in solar megawatts on its grid, not everyone is convinced that Georgia Power – or many shareholder utilities, for that matter – has really seen the light.
"Georgia Power is undoubtedly one of the best-run utilities in the country," says Public Service Commissioner Lauren "Bubba" McDonald Jr., who applauded the ASI back in November, when he also encouraged GaSU to take its case to the state legislature (and the PSC approved by a 3-2 vote), which led to HB 657.
"That said, I'm also disappointed in Georgia Power's long-term ap-proach in regards to renewables, especially solar energy. In this commissioner's opinion, it isn't aggressive enough."
Which is why, in May, McDonald (and others, including GaSU and the Atlanta Tea Party) were pushing Georgia Power for more solar energy. Specifically, when the utility submitted its 20-year plan to the PSC earlier this year and it didn't have any new provisions for solar energy, McDonald suggested Georgia Power include at least 500 megawatts of solar-generated electricity to the portfolio. (The PSC is sched-uled to vote on the plan this month.)
The reasoning is, for a mega-utility that generates 16,000 megawatts, 271 MW of solar is a pretty small number (less than 2 percent of the whole). But it's just the beginning. Peterson believes Georgia Power's solar surge is indicative of a utility industry, "caught with its pants down.
"They hung onto coal too long," he says, "waited until the combination of fair market and free market mechanics and federal pollution regulations essentially proved to them they made the wrong bet, and they might have waited too long."
In January, Edison Electric Institute (EEI, the association of shareholder-owned electric companies) released the report Disruptive Challenges: Financial Implications and Stra-tegic Responses to a Changing Retail Electric Business, which warns its members of potential "irreparable damages to revenues and growth prospects" because of "disruptive challenges" – such as renewable distributed energy resources, that growing number of rooftop arrays, and im-proved, affordable technologies that may inspire consumers to use the grid only for backup power, or leave it entirely.
"I think it confirms my belief that the electric utility industry is in the initial stages of a major transformation," Baker says, one that will ultimately mean, "more independence for smaller electric customers."
Jack Star, who has the perfect solar energy name, hasn't seen the report yet, but he doesn't really care at the moment, because time is running out and he sees millions of square feet of someone else's opportunity around him, massive warehouse rooftops, perfect for solar arrays (like the 1.5 MW system IKEA installed at its distribution center near Savannah last year).
"Most commercial and industrial building owners don't know there is a 50-percent first-year depreciation for installing solar panels, but that program is over at the end of this year, and given the current makeup and attitude of Congress, it probably won't be renewed again," says Star, a retired science journalist who launched an organization called Solar Champions, which he describes as "a small group of people enthusiastic about actually doing things."
Star is a community activist with no interest in the economic benefits of renewable energy for himself. He's in it for the good of the whole and sees solar as a win-win for the environment and the business community. He says that solar, and renewables in general, are inevitable, but the really big stuff is still a few years away.
Look out for 2016, "the first year of explosive growth of renewable distributed alternate energy," says Star, who has always prided himself on being ahead of the story. "There are a number of technologies that are moving out of the lab phase and into demonstration-size facilities. It will take about 18 months to two years for them to shake out and be able to identify which will go into full commercial development.
"At that point, we're off to the races."