Flying High
Q&A with Gulfstream Aerospace's Larry Flynn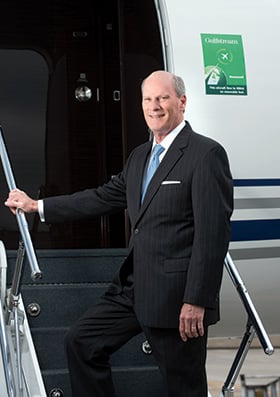 Based in Savannah since 1967, Gulfstream Aerospace Corporation has grown significantly in the last few years, expanding its Georgia footprint even as it became an international player. The company manufactures corporate jets, including the showpiece G650, which came to market in 2012. The plane has a range of 7,000 miles, a price tag of $65 million – and a four-year waiting list.
Gulfstream employs 13,000 people – 8,500 of them in Georgia – to design, assemble and service its planes. It is owned by General Dynamics Corp., a defense industry contractor. In addition to Gulfstream's Savannah plant and headquarters, with a $797-million annual payroll, there is a service facility in Brunswick.
Larry Flynn came to Georgia from Kansas City in 1995 as a vice president and was named president in 2011.
Susan Percy talked with Flynn at the company headquarters in Savannah. Following are edited highlights from the interview.
GT: Give us an overview of Gulfstream.
Flynn: We've been in business for 55 years – most of that time, since 1967, here in Savannah. We were the first to build a business aircraft back in 1958. We are purposely targeted at the business jet market, which is part of the overall general aviation market. We've got a little over 2,000 jets in service – actually 2,100. Two-thirds of them are in the U.S., and a third are international. As it stands today, we've got a $16-billion backlog – about 40 percent U.S. and 60 percent international. The last five years have seen a dramatic growth in the international side of our business.
GT: Tell us about your planes.
Flynn: We have five airplanes: the G150, G280, G450, G550, G650. We've got an airplane down at the $15-million range that goes 3,000 miles, a $65-million 7,000-miler and everything in between.
GT: Have you always had so many?
Flynn: Early on, until the mid-'90s, we made one airplane at a time – the G1 [then the] G2, G3, G4 – all of them similar looking on the fuselage with big oval windows – but the fuselage got bigger and the airplanes got jet engines and had a farther range. After the G4 we decided to build two airplanes at one time, so we started building the G4 and G5. We bought Galaxy Aerospace. That gave us two more airplanes. We started thinking about a family of airplanes at that point, from the G100 up to the G500, so when we went to prospective customers we had options to offer them. In the past we were a one-airplane – a one-horse – show. Now we're five. The G650 came on top.
GT: How has your growth affected the way you do business?
Flynn: We're not a Georgia company anymore; we're an international company that happens to be based in Georgia. Most of our 13,000 employees are based here. Georgia has been good to us, but actual sales of airplanes are outside of Georgia. And now more than half are outside of the U.S.
GT: How did Gulfstream fare in the recession?
Flynn: We did pretty well. The majority of our business is in large-cabin [planes], and that's less cyclical than the G150 or small airplanes. At the same time we had a downturn we saw a big increase in orders, particular in China. That helped us weather the storm quite nicely.
GT: You've had a couple of major expansions in Savannah. Tell us about them.
Flynn: In 2006 we announced a $300-million expansion that would create 1,000 jobs. It ended up being $400 million, and we created 1,500 jobs. That was mostly related to the G650. Then in 2010 we announced another expansion: $500 million that would create another 1,000 jobs. We've already, since 2010, created another 1,700 jobs, and we've spent about half of the $500 million and are continuing to expand.
GT: Does that mean more jobs?
Flynn: We've been hiring this year, and we've also announced a technology center that we are opening up.
GT: It sounds like Savannah has been a good fit.
Flynn: If you went back and asked the folks who made that [original location] decision and look at it today, the same conditions prevail. It's a good airport. The airport was here, the runways were here, they are plenty long. The weather conditions are good here, so you don't have to worry about flight tests and flight ops in wintertime. We've got the port here, which has grown and which gives us access to bring parts in and ship parts out. The most important thing is the amount of really, really good employee prospects has been incredible. If you think back to 1967, we had 100 employees we hired, mostly local. Now we are 8,400 strong here. And the employees are just fantastic. They are a differentiator.
GT: How so?
Flynn: If you look at our brand, it really ends up being the airplanes and the people. The airplanes are the most reliable, safest airplanes in the business, and the employees are absolutely the most productive employees I've ever seen.
GT: Where do you see future growth?
Flynn: The U.S. is the largest installed base for Gulfstream and corporate jets in general, so there's a replacement market there. In addition to the replacement market, as customers grow, particularly internationally, there will be an additional demand outside the installed base. When you go outside of that, the second big market we are in now is Asia, with a heavy emphasis on China.
That's an emerging market. Corporate jets are relatively new in China. In 2000, we didn't have any airplanes in China; now we have about 110. In the Asia-Pacific region, we have over 200 of our airplanes. That's an emerging growth market of significance. If you look at Europe overall, but particularly Eastern Europe and Russia, that's been an emerging market that's been good for us, representing a little less than 10 percent of our installed fleet. Then if you look at the Middle East and Africa, that's another market that has been good. Again, a little less than 10 percent of the installed fleet is there. Latin America has been good.
GT: What's the process of adding a new product – a new plane?
Flynn: We have a customer advisory board made up of about 100 customers. It's been in place for at least 15 years. We rely heavily on them to tell us what we should do in the future. We depend on our customers to tell us what they want next. You look at airplanes like the G280 and the G650 that just came to market. They were announced back in 2008. They had already been in design. So the cycle of doing this is seven or eight years. It takes a while. We announced in 2008 and brought it to market in 2012.
The G280 was a significant advancement over the G200, which was the predecessor airplane. The G650 is in a market all by itself.
GT: Why is that?
Flynn: It's that much more airplane and that much bigger price point. The G280 was a replacement for the 200. The G650 was incremental business for us.
GT: Who are your competitors? Do you have any?
Flynn: Yes, we do. Bombardier, which is based in Montreal, and Dassault Falcon Jet, which is based in France. Those are our primary competitors.
GT: But they don't make anything like the G650?
Flynn: It's in a class by itself.
GT: Are other aircraft manufacturers working on something similar?
Flynn: Bombardier has made an announcement that they are going to attempt to get into the G650 class aircraft, out in 2016, 2017. At that point we will have over 200 G650s in service. So we clearly have beat them to market.
GT: You don't seem worried.
Flynn: We are inwardly focused, I can tell you that. We worry about ourselves, improving upon what we've got.
GT: How would you characterize your style of management?
Flynn: It's a team sport. The leadership team is made up of myself and seven others. It's been almost the same people for the last 18 years. Replacements have come up through the ranks. The employees know us; we are out on the shop floor every week. They know us by name, we know their names. We do a lot of employee surveys, roundtables, meetings. They are most willing to tell us what they need to do their jobs, and we are most willing to get them the resources they need. That's really the connection that's really made the difference here.
GT: Describe the evolution from small manufacturer to international player. What was involved?
Flynn: It's been a significant challenge, I will tell you. I came in 1995 and we didn't have much international business, so I've watched this evolve over time. The challenge is to understand these different cultures. In each of those [international] areas, we rely on sales agents and our own sales executives. The support people around them have been trained and sensitized to these cultures. A lot of these customers come here to Savannah to pick out their interiors and paint colors. It's not unusual to have people from all over the world. We also have the world's largest production support organization that actually does service work on airplanes. We've got a large service center here and nine others. So we have customers flying in from all over the world to have airplanes serviced. Today there are 65 airplanes here being serviced in Savannah. Over half of them are from outside the United States. It's very, very international. We do a lot of training, culturally. We've hired people that speak multiple languages now. That's all new for us in the last 15 years.
GT: How do you build your brand recognition internationally?
Flynn: That takes some hard work and dedication and the right people to do that – in particular on the product support side of the business. You can have a great airplane, but you've got to have the service and support behind it. So we've taken people from the United States, for instance, and put them in China. But we've also signed a joint venture in Beijing with a Chinese company to provide service. So if you go there today there's about 30 employees, 20 Chinese and 10 from a smattering of our U.S. locations. So we have actually service, support, parts and technicians right in the country, and that's critical. Our investment on the service side of business has been very significant. We've been recognized almost every year for the last 15 years as having the No. 1 product support in business aviation. That helps the brand and helps us sell airplanes.
GT: Is that cultural awareness you talk about part of your strategy for international growth?
Flynn: Yes, we are very brand-conscious. We want to make sure the people who represent the brand, the airplanes that represent the brand are the best possible. So when we go into a new market, we are immediately identified as the best brand in the business. China is a very, very good example of that. We've got 65 percent of market share in China with business jets. That happened on purpose because we put the right sales executives there, the airplanes have been very dependable and we are clearly recognized as the No. 1 business brand in China.
GT: You mentioned a backlog?
Flynn: We have a $16-billion backlog. The challenge with it is the G650. If you want to buy a G650 today, the next one available is the third quarter of 2017. That's a high-class problem.
GT: Tell us about your community involvement and philanthropy.
Flynn: We're the largest employer in Savannah, so in my mind we have the largest responsibility to this community. Probably the biggest impact we've had is with United Way. We've contributed $2 million average for [each of] the last six or seven years. Half of that comes from employees, half is a match from the company. We have 60 total nonprofits we work with.
We have a really interesting program called Student Leadership Program, or SLP – we're in our fifth year. We started out with 150 freshmen, high school students in the area, and enlisted a number of other companies. We go out and mentor these kids and help them along to ensure that they graduate from high school. Four years into the program, we've added in sophomores, juniors, seniors. There are 600 in the program now. Last year was graduation day for the first class: 96 percent of those kids in that program graduated high school, so it's been a very successful program with a high impact.