2013 Power Women
Meet Helen Kim Ho, a lawyer who founded an advocacy group; Lee Thomas, head of Georgia's film industry office; Amy A. Carter, a high school teacher and state representative; and Phyllis Stephens, a longtime economic developer.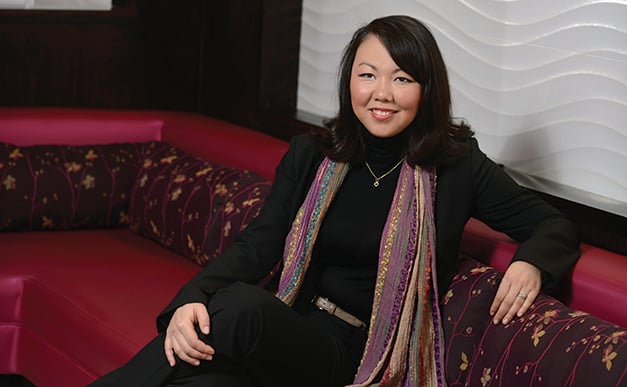 A Voice For A Community
Helen Kim Ho
Executive Director and Founder
Asian American Legal Advocacy Center
Helen Kim Ho is an American Dream come true. Her parents moved the family from South Korea to South Carolina when Helen was three, in pursuit of the dream and better opportunities for their children.
They were teachers in Seoul, a place where teachers are well paid and respected. But they came to the Deep South, took factory jobs, then opened and ran a series of businesses through the years (shoe repair shop, jewelry store, wig store, and when they moved to Metro Atlanta, a liquor store).
"My dad would say, 'We came here and all we could focus on was providing a great opportunity for you, and what you need to do is move beyond that. Be a big tree with big limbs, and shade and comfort as many people as you can,'" says Ho, an attorney and executive director and founder of the Asian American Legal Advocacy Center (AALAC), based in Decatur.
"He always pushed that, doing something service-oriented, something beyond myself."
Naturally, when she left a lucrative career in corporate law and started AALAC, her parents were proud. Eventually. After the shock wore off.
"Ironically, they were livid! My mom's line was, 'You're not married and you don't have a good job anymore – now what am I gonna brag about?' It was a hard choice at the time," says Ho, who started AALAC in 2010 and didn't take a salary the first year. "Over time, my parents have really come to support and embrace my work. The first time Mom saw my face and my group in a Korean language newspaper, I was golden."
Ho was representing management in labor and employment law issues in Houston when she got turned on to what she calls "community lawyering." She was serving on the board of the Asian Law Center at the time, engaging and educating local Asian-American people in proactively pushing the local election board to comply with federal laws calling for ballots and interpreters to serve a large Vietnamese voting population.
"The most moving thing was how these people decided to come and help us, Asian-American people offering their time for free on election day. That's what the work at AALAC is all about – respecting and valuing the voices of the people on the ground, creating partnerships. The trust and credibility we have in our community is our biggest strength. Without it, we have nothing."
Ho (who isn't single anymore – she's married to Rodney Ho, writer for The Atlanta Journal-Constitution) has plenty to do in Georgia, where a bunch of lawmakers routinely unveil some form of anti-immigration law or policy that threatens the rights of new Americans.
"We deal with a lot of stuff that moves people to action," Ho says. "The issues are complex, and the community we serve can be complex, too. A lot of cultural issues come into play. So we help individuals, and when they come to us with an issue we can lift up as something a lot of people are dealing with, it may lead to a policy initiative. Our work addressing cyber-bullying is a perfect example."
The son of one of her friends in the Laotian community was bullied for over a year. Ho and her group dug into the research and found that Asian-American teens are bullied, percentage-wise, more than any other race in the classroom. So they're working with legislators from both sides of the aisle on a bill to address the disturbing trend.
Under Ho's guidance, AALAC has also successfully opposed recurring English-only driver's license bills that have come up in the last few years. And she still considers language access one of her community's top challenges – about 40 percent of Asian Americans have limited English proficiency, and it is the largest foreign-born – and fastest-growing – immigrant group in the U.S.
"It's been an interesting journey," she says. "You know, I never really considered myself to be 'super Asian' or anything like that," Ho says. "But my interest in social justice and civil rights has led me here, to champion the cause of this growing community that I've fallen in love with." – Jerry Grillo
The Zombies Are Here
Lee Thomas
Director
Georgia Film, Music & Digital Entertainment Office
Those teenagers battling to the death in a post-Apocalyptic outdoor arena, and that brilliant athlete smashing the baseball race barrier, and those sexy vampires falling in love, and all of those supposedly real housewives in Atlanta mean job security for Lee Thomas.
"At this moment, we have 34 shows being made in Georgia, and they're in various stages of production," says Thomas, director of Georgia's Film, Music & Digital Entertainment Office. It's mid-March, and by shows, she basically means big-screen feature films and television programs.
"So, 34 shows is a lot, and I recently gave a speech about it. To give you an idea of how much it's grown, I gave the same speech in 2007 and at the time we had one two-week episode of a reality show called Yo Mama being made.
"Things have gotten a lot better," she says. "We've got zombies now."
In 2008, the state legislature passed the Entertainment Industry Investment Act, the foundation of which was a 20 percent investment tax credit for companies spending a minimum of $500,000 in a single year. Lawmakers have tweaked the incentives package so that now companies may get a 30 percent tax credit, and it's made Georgia one of the top three production locations in the country, which means not only is Thomas' job secure, it's busier than ever.
"Now, we spend less time trying to attract shows to Georgia and more time taking care of the ones that are here," she says. "The tax incentives attracted some big productions, but it's led to tremendous growth in the infrastructure that stays here, new soundstages and service companies. The industry is growing like crazy right now."
When Thomas, who is an Atlanta native, was studying film and TV, first at the University of Georgia, then Georgia State, and then New York University, she was focused more on the art of filmmaking, "on critical theory stuff in cinema studies," she says. "That was until I realized that location scouting was a real job."
She started at the Georgia film office as a project manager during the 1996 Olympics and was a location scout for 12 years, serving as interim director a couple of times before taking on the gig for real in 2010.
"I loved location scouting," she says. "You're driving around the state in your car, going to some distant places, seeing little towns, getting on top of buildings and into creepy factories, you see everything. You see stuff that most people never see."
She's put down some roots in one of those distant places – Thomas is co-owner of the Laurel Lodge Restaurant, in the woods near Lake Burton, in Northeast Georgia. But most of her working life is devoted to big and little screen productions. Her office receives scripts from all over, mostly New York and Los Angeles. Thomas and her crew break down each script, shot by shot, and determine the best places to shoot, using the massive digital database of images they've collected or created.
"Everything was location driven when I started, and we're lucky to have a diverse landscape in Georgia," Thomas says. "Now, so much of it is about incentives, and it makes us very competitive."
It also helps that Thomas can pick up the phone and work a deal with her neighbors. That kind of networking can determine how a story will end.
"Last year, getting Catching Fire, the second Hunger Games installment, was huge, a back-and-forth last-minute thing," she explains. "There wasn't a space big enough for a soundstage, so we worked closely with the Georgia World Congress Center, and they were able to move a trade show around to accommodate the production, about 200,000 square feet.
"We had gone to the line with Lionsgate, and we were sure they were taking the production somewhere else. But at the last moment we were able to reel them back in. That was very exciting." – Jerry Grillo
Two Careers, Two Callings
Amy A. Carter
Teacher and
State Representative House District 175
When education issues hit the floor of Georgia's House of Representatives, it's a sure bet that Rep. Amy A. Carter of Valdosta is involved in the discussion. The Republican representative is a teacher at Lowndes High School. She is the only active public school teacher out of the 236 members of the Georgia General Assembly.
Carter teaches during the fall semester, but in January a long-term, certified substitute, a retired teacher, steps in to take her classes. "He starts at the beginning of the legislative session and stays until we 'sine die,'" she says. "The following week I'm back at the school, full time, until the end of the school year." If the arrangement sounds a little unusual, it is. But Carter can't imagine it any other way.
"Both my careers are a calling," she says. "There's no greater experience as a teacher than to receive a note or phone call of appreciation or to see a 26-year-old former student with a career and a family. But my career as a legislator is equally fulfilling. When we make good legislation work or help resolve an issue for someone back home, those are the greatest moments."
Though education is an obvious interest – Carter's legislative goal is to see a mandatory, statewide financial literacy/work ethics course for all high school students – she maintains a strong voice on all issues affecting her South Georgia constituency. "The great thing about South Georgia legislative members, House and Senate, is that we work together as a team to bring attention to our communities," she says. "We don't always get along, but we see the big picture and it works to our benefit."
Carter originally ran in 2006 as a Democrat before switching parties in 2010. She has since won her seat twice as a Republican. "I don't let my party define me," she says. "I work with everyone, because we all need to work together to get things done." She has obviously caught the attention of the House leadership. Carter served as a floor leader in the 2011 and 2012 sessions, helping guide Gov. Nathan Deal's legislative package through the House. In 2013, her horizons expanded even further when she was asked to serve as chairman of the House Governmental Affairs Commit-tee, a request she initially found equal parts daunting, humbling and exciting.
"I hadn't served there before and didn't know what to expect, to be honest," Carter says. "So much of the crafting of bills is done in committee, and Government Affairs hears things like state election law and legislation for state and local government. I appreciate the Speaker [David Ralston] diversifying me by naming me to this committee."
Carter also serves as secretary of the House Appropriations Committee and as a member or ex-officio member of several other committees, in-cluding Agriculture & Consumer Affairs, Educa-tion, Higher Education and Small Business Development.
Her legislative calling requires a personal sacrifice; Carter, married with two children, doesn't return home each night during the session. On Sunday afternoons from January through March, she says goodbye to her supportive family and doesn't see them again until Friday nights. But Carter believes she's setting an example for her children and her students.
"I see a direct link between the two careers, teaching and government," she says. "I feel I need to be a voice for education [in the Capitol], but I also set an example for my students. It's like teaching an applied government class." Carter speaks at schools about her work at the Capitol saying, "Sometimes you teach more by what you are than what you teach." – Patty Rasmussen
Behind The Scenes
Phyllis Stephens
Senior Vice President
Greater Dalton Chamber of Commerce
Phyllis Stephens is proof that not all powerful people are out front, standing in the spotlight. In her 30 years with the Greater Dalton Chamber of Commerce, Stephens has done everything from making copies to developing programs to networking with legislators. She now serves as the organization's senior vice president.
Her behind-the-scenes approach to getting things done was intentional on her part. "The man who hired me, Charles Van Rysselberge, was in chamber work for a long time," Stephens recalls. "I saw the way he worked with volunteers, helped them with speeches, worked projects and pushed others to the front. I watched him, learned from him and saw how he accomplished so much by being behind the scenes."
Don't mistake Stephens' reticence for shyness. She exudes warmth and friendliness with an optimistic, "get-it-done" spirit, culled from her childhood as a Navy kid moving with her family from Rhode Island to Hawaii and points in-between. "Moving as a kid was sometimes a tough transition because you had to make new friends, but I think that kind of helped me," says Stephens. "It was a challenge, and I got to look into the way other people lived. It's cool to see all the diversity."
By high school, her father retired and settled the family in Toms River, N.J. After graduating from high school, Stephens worked for the local municipal government, taking classes at a nearby community college. But she grew restless. "I was used to moving every few years," she says. "I had always wanted to go to California so I quit my job, packed my car and drove across country. I knew two people in Southern California. I got a job right away, settled in a studio apartment and lived there for two years."
Stephens worked for Junior Achievement (JA) of Southern California and met her future husband at a JA conference. She moved to Dalton in 1981, got married and began working for the chamber of commerce, collaborating with committees on different issues, like environmental concerns and healthcare reform. As is the case in many chambers of commerce, Stephens wore several hats, among them leadership development.
The chamber began its successful Leadership Dalton program 26 years ago. "I was given the opportunity to take over the program in 1997," she says. "I still do it and love it." Leadership Dalton has produced more than 900 alumni, which led to the formation of an active alumni association Stephens can call on. "They've taken the lead on some grassroots organizations to support ballot initiatives like a Freeport exemption and a local transportation SPLOST," she says.
Six years ago, Stephens started an Emerging Leaders Institute to place more emphasis on her true passion, developing community leadership. Even here Stephens remains in the background. "I'll plant the seeds, I'll get the work done and give the volunteers their assignments to carry out," she says. "We all work together."
When the Georgia Department of Labor reached out to the chamber for assistance with a pilot program called Work Readiness, Stephens, the staff and community volunteers rolled up their sleeves and got to it. "We helped them with staffing of the programs that they offered," she says. "That's not something we might have done in the past, but it was something our community needed, now."
Stephens says she's changed as much as the community she serves. "I've grown as a resource, I've grown in leadership," she says. "And I love coming to work every day." – Patty Rasmussen