Competitive Edge
Georgia's MBA programs are more accessible and more adaptable than ever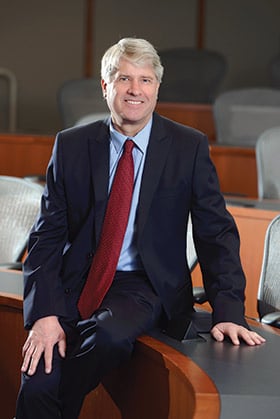 Mark Toburen spent most of his life in and around swimming pools, first as a competitor, then as a coach. He earned three letters on the North Carolina State swim team, then ran one of the Southeast's top competitive YMCA squads (based in Raleigh, N.C.) developing champions, then became an assistant at Georgia Tech, where he coached All-Americans and conference champions.
Toburen was well on his way to college athletics fortune and glory by most accounts, but not by his. He had something else in mind, a different sort of dress code, something beyond whistles and Speedos and the smell of chlorine.
"As my coaching career progressed, I gradually came to the realization that what I enjoyed most was the business aspect of the job, the leadership, establishing a vision for the program and implementing that vision," says Toburen, who earned baccalaureate and master's degrees in computer engineering from N.C. State and is about to complete his master's degree in business administration at Georgia Tech's Scheller College of Business.
"I'd been thinking of how to leverage my experience as a coach and my technology education in a completely different career path, in the business realm. Getting an MBA to give me a solid foundation in business principles was the natural move."
Toburen will make his next natural move this month, after receiving his MBA, when he begins a new career with North Highland, a national consulting firm headquartered in Atlanta and one of the top employers of Schel-ler College grads. It's better money than what he's been used to, another few rungs up the ladder, which is the whole point of an MBA.
"Today the MBA is the differentiator," says John Mascaritolo, assistant professor in Clayton State University's College of Busi-ness, where he directs the supply chain management program.
"It used to be, we had blue collar workers and college degreed workers who had their bachelor degrees in business administration. That was the differentiator. But now, for people who want to get the promotion or ad-vance their careers, it's the MBA."
And today's MBA has become more accessible and malleable, with people from around the world logging in to Georgia-based programs without ever setting foot on campus, while other students custom-design their degrees to meet the evolving demands of employers.
"By both academic and professional standards, the MBA is a valuable credential, and employers are willing to pay a premium for people who have earned theirs," says Rich Daniels, professor of management and director of MBA programs for the University of Georgia's Terry College of Business. "But it isn't the sheepskin. It's the skills and experiences you build in earning the degree that matter. That's what translates into employment and better income."
And there are plenty of routes to take in Georgia, where more than 20 traditional colleges and universities (public and private, such as Clayton State, Georgia Tech, Mercer or Emory) and another 15 or so for-profit institutions (like Argosy, DeVry or the University of Phoenix) offer an array of MBA programs. Good thing, too, because companies are looking to hire MBAs, particularly people who have plenty of actual work experience to go with their degree.
According to a new global survey from the education research firm QS, job opportunities for MBAs were strong in 2012 and hiring demand is expected to increase in 2013, modestly in the U.S. (a predicted 2-percent increase), and dramatically in China (35 percent) and India (29 percent). Meanwhile, the nonprofit Graduate Management Admission Council's (GMAC) Corporate Recruiters Survey predicted 79 percent of companies surveyed expected to hire recent MBAs (up from 74 percent in 2011).
The data from GMAC's study, gathered in February-March 2012, reflects the responses of almost 1,100 recruiters from more than 800 companies in 40 countries. The study also found that accounting specialties were in particular demand, that companies with fewer than 1,000 employees account for the largest proportional increase in de-mand for MBAs, and that MBA grads continue to command higher starting salaries than other master's graduates, which gets us back to the main reason why someone would want an MBA.
"It all starts with careers," says Jim Kranzusch, executive director of the Jones MBA Career Center at the Scheller College. "The common factor for our students is, they want to improve their careers."
Big Picture
Students looking to land the big gig can do a lot worse than Georgia, which has some of the top-ranked MBA programs in the country.
In the 2012 Bloomberg Business-week rankings, Emory's Goizueta Business School and Georgia Tech's Scheller College are 22nd and 23rd, respectively. The University of Georgia's Terry College of Busi-ness is 52nd on that list, but is ranked 18th among all U.S. executive MBA programs by the same publication.
Emory was ranked 19th on the U.S. News and World Report list published in March 2012. Georgia Tech was 32nd. Plus, Georgia State's Robinson College of Business – the largest MBA program in the state, with 1,017 enrolled last fall – always cracks someone's top something list (No. 1 among part-time MBA programs in Georgia, No. 22 in the nation in 2011, according to Bloom-berg Businessweek.)
Meanwhile, Milledgeville-based Georgia College is listed 15th among the nation's online MBA programs by U.S. News and World Report for its version of the Geor-gia WebMBA program, which is offered by a consortium of six different schools (Columbus State, Georgia Southern, Kennesaw State, Valdosta State and West Georgia, in addition to Georgia College).
Actually, everyone who enrolls in the WebMBA program (about 370 students, systemwide) takes the same courses. What ranks Georgia College's version higher than, say, Georgia Southern's, has to do with incoming student test scores, among other factors.
"Our fastest-growing program, by far, is the WebMBA," says Dale Young, interim dean of Georgia College's Bunting College of Business. "The format of being able to take classes without being constrained by time or place is very attractive."
More than 200 students are pursuing their MBAs at Georgia College. About 50 are enrolled in the WebMBA, and half of those are from out of state, says Lynn Hanson, director of graduate business programs at Georgia College.
"And yet somehow, our students bond with the college – they actually visit the campus for graduation," she says. "Last year we had a student from Dubai. This year we have one from Japan. Our reputation is spreading."
Like most other institutions, Georgia College offers full and part-time programs, suited to the needs of working professionals, and specialized concentrations within the MBA. Young says the accounting specialty has seen a lot of growth, and the logistics and supply chain concentration is going to move to the school's Macon satellite campus, bringing it closer to Warner Robins and the Air Force base.
Logistics and supply chain management have become a favorite and critical focus for MBA programs around the state in recent years, especially at Clayton State University (CSU), where last year they established a Center for Supply Chain Management.
"The thing about supply chain management, of course, is its vastness. It touches everything that goes on in a business model," says Mascaritolo. "It's all the disciplines that you study – accounting, finance, economics and marketing. It is the practice of all of those methods and studies. It's the focal point of what the true picture of the corporation is, the mirror of activity."
Several years ago, when NCR announced it was moving its corporate headquarters to Gwinnett County, CEO Bill Nuti claimed the supply management programs at CSU and Georgia Tech as key reasons for the company's move.
"It's because people who are well versed in supply chain management see the bigger picture – getting the product from source to consumption, and all the places in between," says Mascaritolo, a former NCR executive.
He cites the planned deepening of the Port of Savannah and the continuing growth of the world's busiest airport (Hartsfield-Jackson, a few miles up the road from CSU) as reasons to sharpen the focus on supply chain management and logistics.
At Georgia Tech, MBA students are getting an integrated view of supply chain management, scattered among the core specialties, like information technology, marketing and management. Students become "specialized" (in the eyes of a prospective employer, is the hope) based on the electives they take in their second year of a two-year program.
"The electives a student takes become very critical if someone wants to position themselves in a specific area," says Kranzusch. "Ernst & Young came to us this year for their supply chain consulting positions. And some of our graduates who received supply chain offers had no professional background in the area, but because they took the right courses and spent a lot of time studying the industry, they were able to land some great jobs."
Getting the Gig
Landing the great job is what it was all about for Lacey Murrah when she shifted careers. She graduated from Emory with a double major in international studies and French, became a legal assistant, then paralegal, and is now a project manager for Manheim.
"I took on the job of opening and running a law firm, a solo practice, and I managed all of his cases, the finances, everything," she says. "That experience made me think I could practice law and be successful, but what I really enjoyed was running the business."
She looked at Emory, Georgia State and Georgia Tech, settling on Tech.
"The second year I took more elective classes and dug deeper into what interested me. What interested me was project management. One of the neat things was, we had a lot of practicum classes, so it gave me a chance to go out and do real-life projects for companies. One of the companies I presented in front of was Manheim."
After graduating in May 2010, she got her job at Manheim, the Cox Enterprises-owned auto auction giant.
Toburen, graduating this month, is going into one of the more crowded directions – about a third of Tech's MBA graduates go into some form or fashion of consulting. Whatever direction they choose, Tech's full-time MBA program has one of the highest employment rates in the country, with about 95 percent, give or take, landing jobs within 90 days of graduation.
Last November, Emory ranked first in the nation in MBA job placement (by Bloomberg Businessweek), with 91 percent of its grads getting job offers by graduation, and about 98 percent within 90 days. None of this is an accident, of course.
"Every year we have a recruiter forum with corporate partners who actively seek talent from Emory," says Wendy Tsung, associate dean and executive director of Emory's MBA Career Management Center. "We get together and try to understand what they see as the hiring trends for their business. Their feedback informs what we do as a school, how we make sure our students are equipped with the tools they need to make an immediate impact."
Julie Barefoot, associate dean of admissions at Goizueta (which graduates 200 to 220 MBAs a year), credits Emory's great placement record with the deep talent pool the school attracts.
Those students pay a premium – Emory is not cheap. Cost for the two-year, full-time MBA track is $67,000 a year ($44,600 in tuition alone), and almost $98,000 for the one-year, full-time program ($66,900 in tuition) and north of $105,000 for the executive MBA programs, which require at least eight years of work experience.
By comparison, a full-time in-state MBA student at Georgia Tech can expect to pay $25,300 in tuition. At UGA's Terry College, two semesters for a full-time MBA student will cost about $14,100.
But there seem to be endless approaches to the MBA beyond the full-time student method – part-time evening programs, weekend executive MBA programs and so on, offered on main campuses, far-flung satellite campuses or online. It's supply and demand, because lest we forget, the business of creating business leaders is still a business, even for nonprofit state universities.
"We've slowed down the last few years, probably because of the economic downturn, but we're hoping the recovery is well on its way and that will translate into more growth," says Rich Daniels, director of MBA programs for the Terry College, where he is trying to pull the curriculum into the 21st century.
"I made the case, forcefully, that sticking with our old model, where students had very little freedom to customize their program of study, was a bad idea," says Daniels, who studied peer and aspirant schools and worked with faculty to give students more control over what courses they could take, "to get the MBA that meets their aspirations."
Currently, Daniels says there are three prime areas of growing interest – entrepreneurship, business analytics and healthcare management.
"The share of GDP taken up by healthcare doesn't seem to be getting any smaller, so everyone realizes that there continue to be great opportunities in healthcare," he says.
Down in Statesboro, Georgia Southern University (GSU) is recovering from a dramatic shift in enrollment several years back. After the economy imploded in 2008 and unemployment rose, traditional, face-to-face MBA enrollment exploded at GSU, growing 32 percent in 2009, peaking at 170 students.
"You had people looking to remain marketable in their fields, giving themselves a competitive edge in a tough job market," says Bill Wells, interim dean of GSU's College of Business Administration. "And jobs were hard to find for undergrads, so more younger students stuck around to pursue their MBAs. We grew so quickly, and we knew it was unsustainable."
Today, GSU has more than 100 students enrolled in the WebMBA program, 140 traditional part-time and full-time students (in Statesboro and Savannah) and a better sense of direction with a new director of the MBA program, Gordon Smith, on board.
"The trick is to recognize quickly what the next trends will be in business. There's a little bit of a crystal ball thing going on," Wells says. "Hopefully we can be nimble enough to make the tweaks that need to be made and better meet the needs of employers, and our students."