South Metro Atlanta: The Right Location
Zombies, logistics and healthcare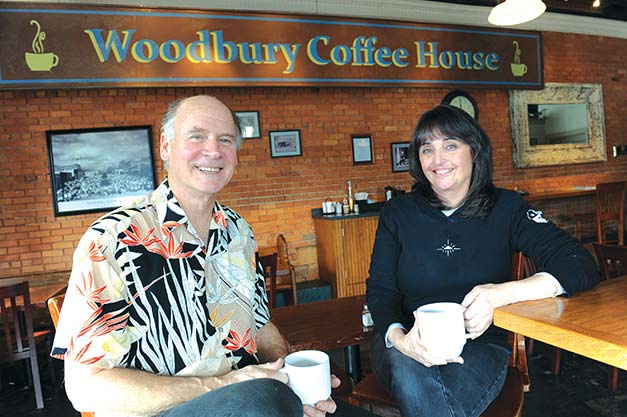 Robert Belisle's town is overrun with cannibalistic zombies, but he doesn't typically go in for such nonsense. It's what The Walking Dead leaves in its grisly wake that mostly interests him. While most of us see only peckish monsters with a lethal case of the munchies shambling across our TV screens, hizzoner the mayor of Senoia sees a meal ticket, when he sees the show at all.
"I am really not a media-oriented person," says Belisle, who doesn't watch a lot of TV in general, but does watch the bottom line. "The film industry has driven our growth; it's been good for local business. When the studio stays busy, our local businesses stay busy."
And Raleigh Studios (for many years known as Riverwood Studios), about a mile from downtown Senoia, is staying busy. So is the rest of South Metro Atlanta (Clayton, Coweta, Fayette, Henry, Spalding counties and the southern part of Fulton), where productions are stopping traffic, utilizing natural and man-made locations, or building their own as the film industry plays an increasingly major role in the area's economic development.
But then, South Metro also is the extended neighborhood of the world's busiest airport, Hartsfield-Jackson. Warehouses and distribution centers and a growing college presence serve the state's massive logistics industry. And there has been rapid growth in healthcare, as well as scattered examples to prove that manufacturing and industrial development aren't dead yet.
But the film industry is the most visible sign of economic development across the "southern crescent" – it comes to millions of us around the world through our TV, movie and computer screens, disguised as entertainment.
"Yeah, we've seen a lot of movies and TV shows go to the south side recently, for a variety of reasons," says Lee Thomas, director of the Georgia Film, Music and Digital Enter-tainment Division (part of the Depart-ment of Economic Development).
"They're 'Camera Ready' communities, and they have experience and a history of being very proactive with the film industry. It's been a great success story for that region."
Especially for Senoia (population of about 3,500) in Coweta County, home of The Walking Dead, AMC's Emmy Award-winning drama that became the first cable TV series to top the fall Nielsen ratings in 2012. The show portrays the ongoing struggle of human survivors in and around Metro Atlanta, who are basically a moveable feast in a post-apocalyptic world overrun by zombies. (See page 86.)
Like so much else in the South Metro region, the success of the venture is related to the airport.
"It just so happened that the storyline for the show took us from an urban area into a rural area, and we needed a place where we could find that rural look and be close to Atlanta," says Mike Riley, location manager for Stalwart Films, the company that produces The Walking Dead. "The big draw is being on the same side of the city as the airport."
It's only 35 miles to Hartsfield-Jackson, just the right distance, says Raleigh Studios Atlanta president and part-owner, Scott Tigchelaar. "We're right outside of the flight pattern, so you don't have a jet stream every 20 seconds, which is a good thing for a post-apocalyptic zombie show."
The zombies have crossed county lines (into Spalding and Henry counties, among others) joining a bunch of other recent productions whose locations have spanned the South Metro region, including TV shows like Drop Dead Diva, The Vampire Diaries and Revolution, and movies like The Odd Life of Timothy Green, Joyful Noise, the Footloose remake, and Scary Movie 5, among others.
Location, Location
There's a different kind of hunger driving the film business in Clayton County lately. Several months ago, The Hunger Games sequel, Catching Fire, shot its biggest series of scenes in the Clayton County International Park.
"Our focus is on landing big box office productions," says Grant Wainscott, director of Clayton County's Department of Economic Development (and the county's film office).
The Hunger Games, which made $685 million at the box office with its first installment, fits the bill.
"We're riding the wave of publicity from that, and we're in the middle of doing an economic impact analysis of the film industry," says Wainscott – it's been estimated between $5 million and $10 million. "Every few months, it seems, a big production is here."
They had at least five films in production at different times last year before Catching Fire came to town, Wainscott says. They include Devil's Knot with Reese Witherspoon and Flight with Denzel Washington (both are Academy Award-winning actors).
Wainscott is hoping that the Hollywood image makers will help improve the image of Clayton County, which has taken a beating in the press in recent years – challenges within the public school system, a county sheriff facing theft and racketeering charges, the highest unemployment rate in the region and, like so many other areas across the metro sprawl, a bunch of foreclosures.
"But there's a positive impact on the community when someone like Denzel Washington comes to town. There is an intrinsic pride that it brings that we do have value, that people want to be here, and for us, that goes a long way," Wainscott says.
After the state legislature introduced an incentives package that amounts to a 30 percent tax break for qualified production companies, Clayton, like a lot of other counties, opened a film office. And, like most Georgia counties, Clayton is a 'Camera Ready Community,' which means there is a person in place who serves as a liaison for film production companies.
In FY 2012, Georgia film productions generated an economic impact of $3.1 billion statewide. It should be closer to $3.8 billion this fiscal year, says Wainscott, who adds, "Georgia's incentive package might be the best in the country. It's definitely helped drive the film industry in our county."
The county is exploring the option to acquire a shopping center with the goal of creating a movie studio, a $3 million to $4 million purchase, Wain-scott says.
But he isn't only seeing lights, cameras and film action. Last spring, the long-awaited, $1.4-billion Maynard H. Jackson Jr. International Terminal opened its doors for business, and opened a new entrance for international passengers on I-75. Previously, all passenger access was from I-85.
"That terminal has been part of our focus for some time. Since it was announced, we've put multiple things in place," Wainscott says, listing them, "a tax allocation district, an opportunity zone, and we're moving forward with about $50 million in road work to improve access from I-675 and I-285.
"The new terminal also helps change our focus of the I-75 corridor from solely service-oriented industry to the development of more hospitality and retail options."
But with one eye looking south to Savannah, local leaders and educators are betting on the future of the region's logistics industry.
Logistical Thinking
With an economic impact of $252 million, 7,100 students and more than 2,300 jobs, Clayton State University is already carrying its share of the load, and CSU President Tim Hynes sees the institution as strategically located to develop a workforce for jobs that haven't been created yet.
For example, he says, "the development of our Center for Supply Chain Management emerged because we are in an area that will be looking for professionals in supply chain management and logistics. We see it as part of our vision to use learning to advance the economic wellbeing of the southern crescent."
The location for the center is obvious enough.
"We're right next door to the world's busiest passenger airport and one of the busiest in total cargo volume," Hynes says. Hartsfield-Jackson was 14th in the nation in transporting cargo last year. "Cargo volume will probably grow dramatically in the future, with the continued development of the Savannah harbor."
Another obvious location for training in logistics and supply chain management is Fulton Industrial Boule-vard (FIB, in South Fulton), where Atlanta Technical College is opening its first satellite campus – the South Fulton Supply Chain Management and Logistics Center.
"Our mission is workforce development, to meet the needs of business and industry in our community," notes Atlanta Tech President Alvetta Peter-man Thomas. "And that's exactly what we intend to do in that area."
With 51 million square feet of industrial space, Thomas believes there will be plenty of job opportunities for graduates at the new campus. Ed Nelson, who runs the South Fulton office on FIB for the county's economic development office, says the college is exactly what the area needs.
"This is the next piece in the puzzle," he says. "Our approach has always focused on education. That's why we formed the South Fulton Education Alliance, to improve graduation rates, which will help resolve workforce issues. We need an educated, well-trained workforce out here."
Nelson estimates the first phase of the college project will cost in the $3-million to $5-million range, with a second phase in the $30-million range. Atlanta Tech will begin by retrofitting an existing warehouse.
Atlanta Tech is also looking to expand outside of Fulton County, Thomas says. The school has established dual enrollment courses with Clayton County's public schools, but she'd like to create a more substantial presence.
"We're looking for a permanent place there, trying to determine the best location for us in Clayton County," she says, while thinking long-range about the South Fulton campus already taking shape. Those plans could include moving the college's truck driving and aviation programs to Fulton Industrial.
Zombies, Patients
Bob White is guiding a windshield tour of Henry County, focusing on the upside, and he doesn't have to look very hard or very far from the county development authority, where he is executive director. Turns out, "workforce development" has become his mantra, too.
So his voice gets excited as he drives past the Southern Crescent Technical College (based in Spalding County) satellite campus that finally broke ground recently (the project was delayed until the funding came through, and it did) on land donated by the Henry County school system. The county also secured a $3.4-million Georgia Career Academies Project (GCAP) grant that will support an expansion of the Henry Academy for Advanced Studies, which is currently located on the Henry County High School campus.
"These are projects that have captured the imagination and enthusiasm of the entire community," White says. "For years, Henry County was the largest county in the state that did not have a technical college presence. Now we do."
They also have one of the state's leading warehouse and distribution clusters with about 28 million square feet under various roofs along the Ga. 155 corridor, and White beams as he hurtles past a recently completed 900,600-square-foot Georgia-Pacific distribution center and a 1.1-million-square-foot Home Depot e-commerce warehouse under construction, a $79-million project that will create 275 jobs.
South of Henry County they're finally hatching a plan for what Griffin-Spalding Development Authority Exec-utive Director David Luckie calls a "food incubator," or a food technology center at the University of Georgia satellite campus. Last year, the state legislature and UGA put $4.5 million together to fund the enterprise.
In Fayette County, Pinewood Stud-ios, the British powerhouse, is planning a major production facility with Rivers Rock LLC. Local leaders are still giddy over Universal Environmental Services creating 150 jobs (as part of a planned $60-million expansion) and Innovative Packaging Network's expansion (plus 50 new jobs there).
"It's exciting to see growth in manufacturing, but one area that has clearly been a driver the past few years and continues to be is the healthcare industry," says Virginia Gibbs, president and CEO of the Fayette County Chamber of Commerce, peeking over at Coweta County to the west, where Piedmont Healthcare last year opened a 136-bed, $167-million Newnan hospital, and Cancer Treatment Centers of America opened a $150-million hospital.
"The whole southern crescent will benefit from those large investments," Gibbs says. "We've got an aging population in Fayette, like most of the outlying counties, so I think healthcare will be a growth industry for years to come."
Piedmont Healthcare thinks so. They built a Fayette County hospital 17 years ago, last year acquired Henry Medical Center, opened cancer wellness centers in Newnan (last August) and Henry (January 2013), and completed the new hospital in Newnan, where Piedmont also is planning to roll out a $200-million medical records program that will eventually go systemwide.
"The South Metro area has been a core part of our vision for a long time," says Mike Robertson, CEO of Pied-mont's South Region (an appellation and division of the Atlanta-based system that was created last summer). "We want to bring something to each of those communities, a level of care that may not have been possible without the resources of a larger system, like Piedmont's, and to do it efficiently and cost effectively."
Meanwhile, another company, Birmingham-based HealthSouth, is planning a 50-bed rehabilitation hospital in Newnan.
Greg Wright, president of the Coweta County Development Au-thority (based in Newnan) sees his county's emergence as a healthcare hub as a natural fit.
"During the Civil War, Newnan was a hospital community. Union and Confederate soldiers were brought here for medical care. It's a part of our history," says Wright, who would like to see his county become even more of a healthcare destination, as it already is – the Cancer Treatment Center has committed to treating mostly patients from out of state.
So, they're building a hotel across from the Cancer Treatment Center to support what could be a budding healthcare tourism industry, while over in Senoia they're planning to build a hotel to support an already existing zombie tourism industry.
Wright thinks there's plenty of room for both.
Community Snapshot
Economic Develoment Agencies
Clayton County Department of Economic Development
www.investclayton.com
Coweta County Development Authority
www.developcoweta.com
Fayette County Development Authority
www.fayettega.org
Fulton County Economic Development
www.fultoncountyga.gov/fced-home
Griffin-Spalding Development Authority
www.gsda.net
Henry County Development Authority
www.hcda.org
South Metro Atlanta
Clayton County 

Population (2011 estimate)
261,532
Per Capita Personal Income (2011)
$26,755
Unemployment (Dec. 2012)
10.6 percent
Coweta County 

Population (2011 estimate)
129,629
Per Capita Personal Income (2011)
$33,842
Unemployment (Dec. 2012)
7.8 percent
Fayette County 

Population (2011 estimate)
107,784
Per Capita Personal Income (2011)
$44,460
Unemployment (Dec. 2012)
7.2 percent
Fulton County 

Population (2011 estimate)
949,599
Per Capita Personal Income (2011)
$57,451
Unemployment (Dec. 2012)
9.3 percent
Henry County 

Population (2011 estimate)
207,360
Per Capita Personal Income (2011)
$30,143
Unemployment (Dec. 2012)
8.7 percent
Spalding County 

Population (2011 estimate)
64,033
Per Capita Income (2011)
$28,305
Unemployment (Dec. 2012)
10.9 percent
Sources: Georgia Department of Labor, U.S. Bureau of Economic Analysis, U.S. Census Bureau