Paper Trail
Q&A With RockTenn's Jim Rubright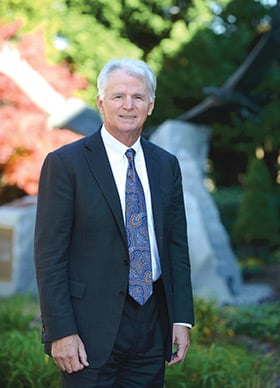 Gwinnett-based RockTenn, a packaging manufacturer, grew substantially in size and visibility with its 2011 acquisition of Smurfit-Stone, a larger Midwestern company. As a result, RockTenn is a $9-billion corporation with more than 26,000 employees; and, after several years of more or less flying under the radar, the company is on the Fortune 500 list.
RockTenn is a case study of a relatively small-sized business carefully managing its resources, paying attention to the market and knowing the right time to take a big leap.
Chairman and CEO Jim Rubright, a lawyer by training, has been head of the company since 1999. He talked to Georgia Trend in his office at the company headquarters in Norcross. Following is an edited version of the interview.
GT: Give us an overview of RockTenn.
Rubright: We're the largest manufacturer of paper-based packaging in North America. If you buy something in a corrugated box, there is at least a 20 percent chance we made the container. Folding cartons – we're about 24 percent of that industry. So our products are all over your house, but you don't know it.
We sell container board and paper board to our competitors and to independent box plants and independent folding carton producers throughout North Ameri-ca, Mexico, Chile and Argentina. We've got about 26,000 employees, and about 950 are located in the Atlanta area. We operate 240 locations.
GT: Do you have operations outside the country?
Rubright: We're probably the largest folding carton producer and the largest producer of corrugated packaging in Canada. We also operate in Mexico, Argentina and Chile. We have two small plants in China.
GT: Tell us about your acquisition of Smurfit-Stone.
Rubright: Throughout the time I've been at RockTenn, we were a very small niche-oriented player in corrugated packaging. We had a few small corrugated box plants in the Southeast and a corrugated mill in St. Paul, Minn. I was often asked, "Why don't you sell it? It's not a major part of your business." My answer was always that it made a lot of money even though we were a small player.
GT: What made you decide to become bigger?
Rubright: In 2008, I became convinced that the corrugated packaging industry in North America had become a much better business than people had historically thought, due to a number of fundamental changes. So we literally went shopping for the best corrugated packaging company we could find in North America, and we acquired Southern Container. It had the lowest-cost recycling mill in North America and a very low-cost, very efficient box plant system. That acquisition was very successful and essentially proved our thesis: that a container board [business] in North America was a globally competitive asset and the business structure was such you could return an excess of your cost to capital.
GT: Where did you go from there?
Rubright: That caused us to go shopping on a larger basis, and when Smurfit emerged from bankruptcy we concluded that in fact it represented a pretty unique opportunity to acquire a very large position in the container board and corrugated package industry. So shortly after Smurfit emerged from bankruptcy, we made an offer. The earnings capability of the company had survived, indeed, and been enhanced through bankruptcy. They had done a lot of things from a reorganization standpoint to improve operations and profitability.
GT: Smurfit-Stone was a large Midwestern company; RockTenn was a smaller Southern concern. Was it hard to blend the two corporate cultures?
Rubright: It was an acquisition of Smurfit-Stone by RockTenn. Our view was that you ultimately had to have one culture and one corporate strategy.
GT: How's it going?
Rubright: The first year has been a process of transforming Smurfit into an operation that is part of RockTenn and operates like RockTenn. A year is a short time to do that on this scale, so we're not nearly through. We have taken some additional steps to address areas where we had been less successful than we had hoped. Ultimately that process is ongoing and has been very well received.
GT: And you chose to remain in Georgia?
Rubright: There was no decision to make. There was never any question of our leaving Atlanta. This is our corporate headquarters, our home, a great place to operate. We did bring 550 salaried employees to Atlanta – either by moving people from St. Paul or Chicago or [for] those who chose not to move, replacing them with people in this marketplace. Atlanta is a great place to operate, a great place to hire very skilled and well-educated and hard-working people.
GT: You've been CEO since 1999. That's a long tenure for a top executive. How would you describe your leadership style?
Rubright: I attempt to lead by example. Everything I do, I try to do as well as I possibly can. I hope that attitude is infectious.
GT: You started out as an attorney. Is that unusual?
Rubright: It's unusual in this industry. When I left King & Spalding in 1994, I went to Sonat, an energy company; it was not unusual in that industry. I was general counsel, effectively CFO.
When I came to RockTenn, I had at least participated in an economic role. I was always a transaction attorney. It was a helpful background. It exposed me to strategic choices corporations were making and to the people who were making them.
GT: What effect has the recession had on your industry?
Rubright: For our business, the most difficult period of time was from 1994 to 2007. In the mid-'90s there was a lot of excess capacity built – mill capacity for all folding box and paperboard. We had contraction in demand for container board, as durable goods manufacturing moved offshore. In 2007, the paperboard business had a period of time where the weakest industries ultimately went out of business. That left a small number of low-cost, well-capitalized participants in the industry.
In container board, the same thing happened. About 2009, the long period of rationalization [downsizing] of mill capacity came to a point where we were in balance between supply and demand.
GT: How about RockTenn? How did it fare?
Rubright: Once the capacity came into balance with demand, we actually had very good returns. Over the course of the recession, RockTenn has been highly profitable, but it's been a function of industry structure and demand. With the recession came lower input costs – a long-term decline in natural gas pricing, two cyclically low pricing environments for recycled fiber.
The demand profile changed. We now package food and consumer nondurables. Once we got to the bottom of recession, we had huge growth in things we package, which has continued to maintain supply and demand balance – a relatively profitable period of time. We used the time up until 2007 for our paperboard business and through 2009 in corrugated to get our costs in line [to become] a very low-cost supplier, a very successful company.
GT: How do things look for the future?
Rubright: Because we operate in relatively mature industries, our goal is what it always has been: to be the lowest-cost producer of things we make but simultaneously provide a high degree of quality, customer service and satisfaction, and innovation. When the industry is not growing, it is difficult [for an individual company] to grow significantly. So we attempt to maximize returns on investment capital [and] do that by managing our capital base. What you should expect from us are very high returns on invested capital based on our low-cost position and our very stable, slightly growing businesses.
GT: Tell us about sustainability as it relates to your industry.
Rubright: Paper-based packaging is both recyclable and frequently made from recycled material. Some of our mills have origins in the late 19th century. Recycling then and today is not really driven by environmental concerns so much as it is by fundamental economic benefits of recycling paper-based fibers. So recycling is an essential component of our overall business model. We will recycle over four million tons of recovered paper each year. Virtually everything we make can and will be recovered and recycled and, generally speaking, is. Today in the U.S., we recover over 65 percent of [the] packaging we produce in North America, [and] that is ultimately used in someone's remanufacturing facility. In our factories, eliminating waste simply makes sense – not just from the standpoint of corporate stewardship; it also makes economic sense.
GT: Atlanta has a long history of corporate citizenship. What has been your company's focus in the community?
Rubright: As a company, we have had a longstanding policy of charitable activities and support for services to women and children and, secondly, supporting the volunteerism of our co-workers.