Political Notes: December 2012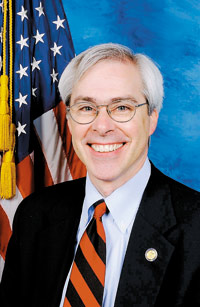 Barrow Prevails: District 12 Congressman John Barrow held on to his Congressional seat in the November election and his claim to fame as the only Deep South white Democrat in the U.S. House. Barrow, a Blue-Dog Democrat, ran as a conservative. His TV ads touted his NRA endorsement and strong attachment to the Second Amendment – and showed him proudly displaying guns owned by his father and grandfather. Barrow defeated Republican challenger Lee Anderson, winning 53.71 percent of the vote.
Divide And Charter: The charter school amendment that allows a state commission to approve charter schools, including those that have been rejected by local school boards, won Georgia voters' approval by 17 percentage points, but caused some dissension among state Republicans.
Gov. Nathan Deal came out strongly in favor of the amendment, believing it would provide more educational options for those in poorly performing school districts; State School Superin-tendent John Barge opposed the amendment on the grounds it would create a costly and duplicative bureaucracy.
Georgia Attorney General Sam Olens advised Barge, in response to the superintendent's inquiry, to remove a statement from his department's website in opposition to the amendment. Olens also told school boards that Georgia law forbids local governments from using taxpayer resources to tell citizens how to vote.
New Role: L. Gale Buckner, who served as commissioner of the Department of Juvenile Justice (DJJ) for the past year, is the new chief magistrate of the Murray County Magistrate Court.
Buckner was scheduled to retire in November 2011 when Gov. Nathan Deal asked her to head the DJJ. Throughout her 34-year career in law enforcement, she has been a GBI agent, executive director of the Criminal Justice Coordinating Council and chair of the State Board of Pardons and Paroles.
Avery Niles, former chair of the Georgia Board of Juvenile Justice, was elected to serve as interim commissioner.
Manufacturing Supporters: The National Association of Manufacturers (NAM) has honored Georgia's two U.S. senators and 10 members of the U.S. House of Representatives with the NAM Award for Manufacturing Legislative Excellence.
The awards are given to members of Congress who support the nonpartisan NAM positions on key manufacturing-friendly legislation including energy policy, taxes and regulations.
The honorees are Sens. Johnny Isakson and Saxby Chambliss, both Republicans, and Reps. Jack Kingston, Sanford Bishop, Lynn Westmoreland, Tom Price, Rob Woodall, Austin Scott, Tom Graves, Paul Broun, Phil Gingrey and John Barrow. Bishop and Barrow are Democrats; the other representatives are Republicans.
Heavy Hitters: The Metro Atlanta Chamber (MAC) keeps its business leadership streak going with the announcement that Delta Air Lines CEO Richard H. Anderson is the 2014 MAC chair-elect. This month Georgia Power President and CEO Paul Bowers assumes his duties as 2013 chair, succeeding Carol Tomé, The Home Depot's CFO and executive vice president.
In a statement, Anderson says, "My responsibility goes beyond the transportation Delta provides as Atlanta's hometown airline. I believe I also have a responsibility to help improve the quality of life in our city. The deep, engaging partnership between business and civic leaders in Metro Atlanta has allowed us to bring about positive change and real impact to the economy and communities where we live and work."
The metro chamber has more than 4,000 member companies that employ close to one million workers.
Mullis Honor: State Sen. Jeff Mullis, (R-Chickamauga) is the 2012 Walker County Citizen of the Year, selected by the Walker County Chamber of Commerce. Mullis, who is executive director of the Northwest Georgia Joint Development Authority, was first elected to the state senate in 2000.