Cancer Care In Georgia: New Age, New Options
A focus on patients and research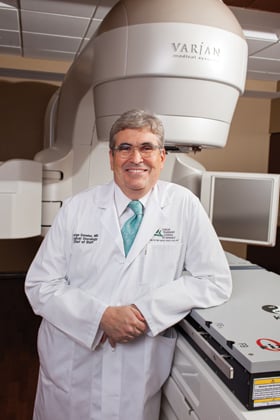 When Janita Green got her breast cancer diagnosis three years ago, it made absolutely no sense to her.
"I didn't believe it. I was young, active and healthy," says Green, a CPA for a consulting firm in Atlanta. "I always took care of myself and ate right. I'm a vegetarian and a body builder. I was like, 'Why are you lying to me?'
"Then I started thinking about how I wanted to attack this thing."
She'd always tried to live a holistic life, so that was the approach that appealed to her most. But the doctors she visited in the metro area weren't having it. Instead, they tried to sell her on what she calls "the fear factor."
"They were telling me, 'These are your options, this is what you do, this is what you don't do, mastectomy, radiation, five years on this drug.' Those were my only options, and I didn't like those options."
Her cousin suggested she call Cancer Treatment Centers of America (CTCA), a private, for-profit company with a handful of hospitals and outpatient clinics that combine conventional treatments with alternative therapies. They had one in Philadelphia, Green's hometown.
"They flew me up to Philly, they picked me up in a limo, and I challenged them. I went toe-to-toe with them, asked them every question I had, and they were straight with me," Green says.
Turns out, there were more options. In addition to the radiation and chemotherapy route, she also received care from naturopathic physicians, took advantage of the mind-body medicine available, the nutritionist and the organic food in the hospital dining room.
She's completely cancer-free, and grateful to her healers. So when CTCA opened its first Southeastern hospital in August, in Newnan, she was there of her own accord, to meet with several patients who were on the same scary and hopeful trip she'd experienced several years earlier.
It doesn't matter how nice the hospital is, how self-assured your physician is or how state-of-the-art the treatment is. Cancer is scary, and it occupies every corner of your life, no matter how well you live it, while waving flirtatiously at death.
Maybe it's a little less scary now in Georgia because of holistic patient-centered care models (like CTCA's), groundbreaking research and the determined effort to achieve National Cancer Institute (NCI) designation at Georgia Health Sciences University in Augusta, and a range of treatment centers cropping up around the state.
"The picture has changed completely in the last decade," says Nancy Paris, president and CEO of Georgia CORE (Center for Oncology Research and Education), an independent nonprofit organization created in 2003 to improve the quality of care in Georgia by strengthening clinical research.
"One of the deficiencies in Georgia was, we didn't really have many clinical trials to offer patients. Now we have hundreds, and we've developed tools to make it easier for patients and doctors to find the right trials or the right treatment options. The environment has changed.
"If you look around the state, from Gainesville to Athens to Augusta, Savannah and Atlanta, all over, Georgia has an excellent network of care. The options available and the overall quality of care today is better than it was 10 years ago."
Better doesn't mean the anxiety of cancer has subsided, however, as patients are typically forced to run a gauntlet of those fear factors Janita Green was talking about, searching for the right treatment options for their specific disease – because no two cancers are exactly alike – with the ticking of the clock as a constant thought track.
"For most patients, if you're told you have cancer, you want the appropriate clinicians, the appropriate testing, the answers and a plan right away," says Dr. George Daneker, chief of staff at CTCA's brand new Southeastern Regional Medical Center in Newnan. "For those patients, 10 minutes from now seems too late."
Recovery Road
Olivia Mitchell's brain tumor took its sweet little time before jumping out of its hiding place and catching her completely by surprise.
"I didn't find it," she says. "It found me."
She'd been home from the hospital for about 10 hours following a hernia operation last April, and has to rely on her family's version of the story, because she has no recollection of what happened next.
"My son-in-law heard me talking to myself, saying, 'I don't know where I am, I don't know who I am.' He brought my daughter to me, and I didn't know who she was," Mitchell says.
By the time she reached the ER, Olivia was having seizures. They thought she'd had a stroke. An MRI proved otherwise.
"Apparently, that tumor had been in there for a long time," says Mitchell, who had about 90 percent of the monster removed and didn't get home for another six weeks.
She fell under the care of neuro-oncologist Dr. Olivier Rixe, one of the growing number of specialists at GHSU, which used to be called the Medical College of Georgia and will be changing its name again in January to Georgia Regents University.
Mitchell spent her career at the university, but her cancer – her treatment – is forcing her to retire from her post as program manager for the clinical nurse leadership program at GHSU's school of nursing. She isn't sure how much time she's got left in the fight but is encouraged to be under Rixe's care. He represents the growing awareness at GHSU that the road to excellence is more important than the destination.
"It isn't the NCI designation that matters most," says Dr. Samir Khleif, director of the GHSU Cancer Center. "It's the process that leads to that designation. To get there, you build something extraordinary.
"It means you're providing multiple avenues of care, comprehensive cancer care for patients and an array of clinical trials to discover state-of-the-art drugs that usually do not exist in other community cancer centers.
"When you build the kind of infrastructure, it also means you're recruiting the best scientists, which means you're bringing in novel approaches."
Khleif touts GHSU's new and developing multi-modality clinics and their multi-discipline approach to patient care. It sounds a lot like the CTCA rulebook, with some of the same buzzwords.
"It's a very patient-centered, holistic approach," he says. But really, it's the kind of approach healthcare centers have been promising for years.
"Now, every patient that comes in will be seen by all the experts in that area at once – medical oncologist, surgical, radiation, nutritionist, social worker, nurse navigator, everyone. They sit down together, discuss the case, and the patient has a chance to ask every single question they have; we don't want them to go home until all their questions are answered.
"Good communication is a must; the patient is part of this team," he adds. "The team comes up with a unified plan for the patient's care, and the patient has 24-hour access to this team."
When Rose McPhee was diagnosed with breast cancer at GHSU, she got the multi-D treatment, meeting with her care team in one sitting.
"They'd come in, the oncologist, the radiologist, all of them. Not at one time, but one after the other, and they encouraged questions," she says. "My husband, Aaron, is an electrical engineer. He's the researcher in the family, and he had pages and pages of questions, and every one of them got answered."
One of Aaron's questions was about potential side effects. Rose had 33 days of radiation and was prescribed Tamoxifen, a hormone therapy drug that should cut the chances of a cancer recurrence in half. The side effects include hot flashes, which Rose describes as, "horrible. My husband says it makes me irritable, but I think I'm irritable all the time."
When Aaron asked if there was anything he could take to better deal with her side effects, the oncologist had some prescriptive advice, says Rose: "You better get yourself some Cognac."
Two surgeries later – no mastectomy – followed by the course of treatment, and Rose is cancer free. Now, when you call her on the phone, while you wait for Rose to pick up, you'll hear Kelly Clarkson singing, "What doesn't kill you makes you stronger."
Cancer Economy
Georgia's first NCI-designated center of excellence, the Winship Cancer Institute at Emory, has a lineup of heavy hitters among its researchers and physicians, including Otis Brawley, professor of hematology and oncology, and also chief medical officer and executive vice president of the American Cancer Society (ACS), based in Atlanta.
Brawley also has served as assistant director of the National Cancer Institute and was responsible, once upon a time, for the NCI's cancer centers program. He's seen the process that Georgia Health Sciences University is going through from inside and out.
"It's fair to say that you become better by trying to achieve NCI designation," he says.
But it doesn't say anything about access to quality care, something he's devoted much of his life to addressing.
"We've written quite a few papers and done quite a few studies to show that 20 to 25 percent of Americans – a substantial minority – get less than optimal healthcare today. They get less than optimal care because they can't afford it," he says.
So when the U.S. Supreme Court upheld the Patient Protection and Afford-able Care Act, he saw it as a big step in the right direction.
"It's not the answer to all our problems, but we view it as a way of getting more people adequate care," he says. "It's not perfect legislation, but we do believe it is far better than the system we're working under today."
Healthcare costs represent about 18 percent of the U.S. gross domestic product (it's on pace to reach 25 percent by 2025), and one in four personal bankruptcies in America are due to healthcare costs.
"Hopefully, the Affordable Care Act will prevent some of that," Brawley says. "I'm dealing with someone right now – she went to one of those private hospitals, and they're taking her house away, because she can no longer pay her bills."
In other words, his internal jury is undecided about the value of private treatment centers like CTCA, where the focus is strictly on treatment, and he subscribes to the "ounce of prevention" school of thought.
"This is my own prejudice, admittedly, but when I think of healthcare and a healthcare institution, I'm interested in what they're doing to help keep the community well," he says. "My personal goal is that people not need a cancer center for treatment. The most successful cancer center, in my mind, is the center that ends up not needing to treat anybody."
The ACS estimates that of the estimated 500,000 people destined to die of cancer each year in the U.S., about 200,000 could be saved, "if all Americans did the things they should be doing in terms of preventive activities – nutrition, physical activity, stop smoking, good, reliable screenings, as well as treatment," Brawley says. "Twenty years ago, nobody realized how important diet and nutrition was."
New discoveries, though, are becoming harder to fund. When Brawley entered the field 25 years ago, he says, "if you were a cancer researcher at the University of Georgia, or the Morehouse School of Medicine, or the institution formerly known as the Medical College of Georgia, and submitted a grant, you had about a one in four chance of being found worthy of funding.
"Today, it's about eight or nine percent, so the guy or gal who is gonna figure out how we can use that four letter word – cure – for pancreatic cancer or lung cancer, is in for quite a challenge. We could be losing some young, brilliant minds because of economics."
The ACS is the largest private funder of research – about $148 million a year. The NCI, a federal agency, spends about $5 billion a year. For cancer research and treatment centers like the one at GHSU, the hope is that NCI designation would mean better access to more federal funding.
Meanwhile, GHSU is getting a boost from state leadership. Gov. Nathan Deal is committing $5 million to support GHSU's initiative to become an NCI-designated cancer center, and the board of regents requested $45 million in bond funding (FY 2014) for a planned $100-million cancer building.
Lab to Bedside
This year, GHSU bolstered its already strong roster of clinicians when they recruited two specialists from the NCI – Dr. Rixe, who now directs the multidisciplinary neuro-oncology group and experimental therapeutics program, and Dr. John Janik, director of GHSU's immunotherapy clinical trials program.
"The big thing we're doing is investigations on agents that stimulate the body's immune system to recognize the cancer and cause it to regress," Janik says. "So, we're starting up six new trials within the next few months that will be directed at treating patients with virtually the whole spectrum of tumor types."
Janik was drawn to GHSU's al-ready solid reputation in immuno-therapy research, including drug de-velopment.
Rixe, a native of France, has been involved in the development of several new drugs that show promise in treating devastating diseases, like pancreatic cancer, and extending life for patients suffering from conditions like glioblastoma – the kind of brain tumor that found Mitchell. His latest discovery, Zaltrap, was approved in August by the FDA to treat metastatic colorectal cancer.
He's planning clinical trials with diverse therapies, including molecular targeted vaccines – combining Provenge, the FDA-approved prostate- cancer drug, with other compounds – and site-specific drugs, "highly toxic drugs," he says, "that go directly to the cancer cells and avoid normal tissues."
This is different from standard chemotherapy, which often acts like a drug carpet bomb, taking a brutal toll on the patient. Instead, imagine a drug smart bomb.
"Low toxicity is the goal," says Rixe.
Some of the groundbreaking drugs and therapies being tested at GHSU right now may become standard treatments at CTCA. Not yet, though.
"What we do is bring the treatments that have already been proven to the patient's bedside immediately," says Kane Dawson, president and CEO of CTCA's new Southeastern Regional Medical Center in Newnan. "What appeals to our patients, who have complex or late-stage cancer, is being able to receive all of their care under one roof, by a single, unified team, focused only on adult cancer care. All of our new patients come in, and within three to five days, they have a complete treatment plan."
That complete plan encompasses a lot, including care for the caregivers. The cancer treatment center has tried to create the five-star hotel version of a cancer care center. The Newnan clinic, in addition to featuring all of the latest equipment for diagnosis and treatment, has a 60-room hotel for outpatients and their families and a dining room run by a former Ritz-Carlton chef, Roy Khoo.
"We're not research driven, we're care driven," says Daneker, who spent nine years at Emory's Winship Cancer Institute. "It's a different kind of setting from an academic hospital. They have different priorities – training graduates, research, and patient care is in the mix there somewhere.
"I'm not downplaying the role or necessity of research, and the work being done at Emory or Morehouse or [GHSU]. Not at all. For us the focus is just different. For us, it's as our chairman always says – it's first and always about the patients."
Richard Stephenson founded CTCA in 1988 after his mother lost her battle with cancer, because he was disappointed with the treatment options available. Today, CTCA has clinics in six major metro areas (Atlanta, Chicago, Phila-delphia, Phoenix, Seattle and Tulsa, Okla.). On average, patients travel about 500 miles to get there, and then they stay for a few days of treatment – 80 percent of the clients are outpatients, although the Southeastern center, at some 226,000 square feet, also has 25 inpatient rooms, with room for 25 more.
CTCA lives by the integrative care model that GHSU is touting now. They call it Patient Empowered Care, and they've even registered the phrase as a trademark. For Janita Green, who took her chemo and radiation, and also got acupuncture, mind-body medicine and organic meals, it is Gospel. For her, it's the reason she's cancer free now.
"Oddly enough, the whole cancer experience was a godsend, because it has left an indelible mark on my life," says Green, who visits CTCA patients on her own time and advocates for other cancer causes. "I'm here for an appointed time. I know that. So it's important to live my life purposefully, intentionally, to give something back. It's like I've got a calling."