Georgia 400: The Road More Traveled
Top companies and technology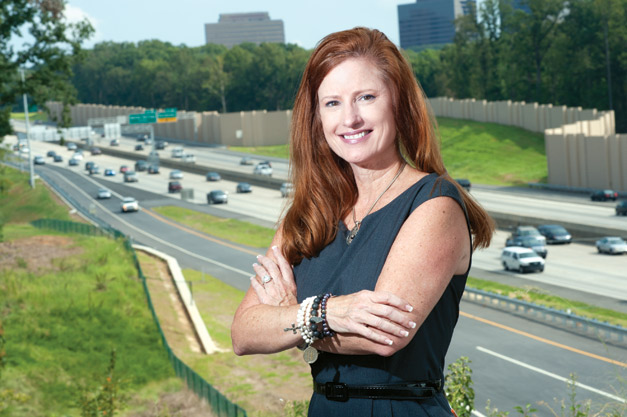 A mere 20 years ago, Georgia 400 was referred to by some people on the north side of Atlanta as the "Alpharetta Autobahn" due to the lack of traffic and the fact you could drive as fast as you wanted (if you were willing to risk getting a ticket).
Of course, this seems inconceivable today. In just two decades, the Georgia 400 corridor has become one of the fastest-growing areas not only in Metro Atlanta, but in the entire country. Home to the headquarters of three Fortune 500 companies – First Data Corporation, Newell Rubbermaid and UPS – and more than 15 international consulates, North Fulton County is at the epicenter of the Innovation Crescent, a hub of more than a dozen counties and economic development entities that stretches across the northern arc of Greater Atlanta all the way to the University of Georgia in Athens.
According to Sarah LaDart, director of economic development for Progress Partners of North Fulton Atlanta, Alpharetta really took off in the 1990s when many CEOs of Atlanta companies began moving into the area's high-end, exclusive neighborhoods. "The city's plan was for the companies to follow their CEOs, and that is what has happened."
In addition to those three Fortune 500 companies, other large corporations with a major presence in North Fulton include Verizon Business, AT&T, ADP, McKesson Corp., State Farm Insurance and Kimberly-Clark Health Care.
"The North Fulton story is one of growth and opportunity," says Brandon Beach, president and CEO of the Greater North Fulton Chamber of Commerce and executive director of the North Fulton Community Improvement District. "We have the digital infrastructure that is able to attract and retain the technology industry, as well as an extensive education system that is able to supply work-ready employees for the ever-changing intellectual economy."
When you look at what has happened in North Fulton County over the past couple of decades, it's not hard to see why the area has boomed. The region boasts some of the best public schools in the state, and its high schools are routinely listed on national "top high schools" lists. Its quality of life is second to none.
Adding Jobs
LaDart points to a number of recent economic development wins for North Fulton. These include AdCare Health Systems, which moved into Roswell earlier this year, creating 40 new jobs; the CBS television network, which is opening a technology center in Sandy Springs that will create 101 new jobs; and TracFone Wireless, which moved into Sandy Springs in January, creating 250 new jobs. In addition, a number of existing North Fulton businesses have ramped up their operations this year. ADP expanded its Alpharetta facility in May, adding 400 employees, while AirWatch invested $20 million in 150,000 square feet of facility expansions in Sandy Springs, adding a total of 400 new employees. Dell SecureWorks expanded its Sandy Springs facility by 115,000 square feet in May, adding nearly 100 employees; State Farm expanded its Johns Creek facility in January, adding 150 employees; and Coyote Logistics expanded its Alpharetta facility in March, adding 160 employees.
Much of the recent economic development success in North Fulton can be attributed to Progress Partners of North Fulton Atlanta, an economic development initiative launched by the Greater North Fulton Chamber of Commerce in 2011. Progress Partners is actively working to create national and international recognition of North Fulton to help ensure long-term growth for the region and its six cities: Sandy Springs, Roswell, Johns Creek, Alpharetta, Milton and Mountain Park.
"We started out by drilling down and looking at what are the greatest strengths of the region," says Progress Partners Executive Director Al Nash. "We also talked with each of the cities about what they felt were their greatest assets, as well as impediments to their growth, and realized that there's a unique opportunity for them to utilize the North Fulton brand in recruiting and retaining businesses."
LaDart says five key industry silos were identified that are crucial to the North Fulton brand: telecommunications, healthcare, mission-critical data centers, financial services and insurance, and logistics and business services. North Fulton is home to multiple regional telecom headquarters (including Comcast, AT&T and Verizon) and more than 1.5 million square feet of telecom office space. "Our telecom companies employ more than 10,000 residents, creating a strong, well-educated workforce," says LaDart.
In addition, the region claims five world-class hospitals, with more than 5,100 physicians and 30,000 healthcare em-ployees. This includes Northside Hospital, named Atlanta's "most preferred hospital for overall healthcare services" by National Research Corporation. Meanwhile, Emory Johns Creek Hospital – a state-of-art, 110-bed acute-care facility that employs nearly 300 physicians – is the newest hospital addition to the county, opening in 2007.
There's also a burgeoning healthcare services and IT sector that includes companies like McKesson Corp. (recently ranked the world's largest health IT company), MedAssets and Ciba Vision. A recent study identified North Fulton as the country's richest source of enterprises focused on healthcare IT and related enterprises.
Nash notes that North Fulton is known nationally as the Data Center Capital of the Southeast, with the fiber backbone of the East Coast going right through the heart of the region. "Miles of concrete-encased fiber, combined with our low risk of natural disasters [and] inexpensive and reliable utilities, make us the choice for more than 30 mission-critical data centers."
In August, Gov. Nathan Deal and Alpharetta Mayor David Belle Isle announced the launch of the new Alpharetta Technology Commission, which will pursue new investment opportunities for the city's technology companies. "We have recognized that Alpharetta's greatest economic strength is the 900-plus technology companies located right here within our borders," according to Belle Isle.
"We have more technology jobs per capita than any other city in the Southeast. And for the first time, we're going to proactively work to capitalize on it."
Financial Services
North Fulton is also home to more than 1.5 million square feet of financial services and insurance office space – State Farm and ADP National Account Services alone employ nearly 5,000 people in the county. UPS, the world's largest shipping company, whose headquarters is in Sandy Springs, highlights the region's appeal to logistics and business services firms.
Although the commercial office market in Metro Atlanta has taken a hit the past few years, some area brokers see signs of life in North Fulton. They note that a stabilizing economy, renewed confidence among business owners and pent-up demand are leading to more lease renewals, expansions and new deals in the region. For example, there has been a 20 percent increase in occupancy over the past 18 months at Preston Ridge II and about 50,000 square feet of recent leasing activity at Parkside Terrace, both in Alpharetta, according to Glenn Kolker of Cassidy Turley.
Preparations are being made for a new six-story, 160,000-square-foot office building at Sanctuary Park in Alpha-retta. The nine existing office buildings in Sanctuary Park are 95 percent leased, according to Jeff Bellamy of Jones Lang LaSalle, which is marketing the new property, Stonebridge IV.
A population analysis conducted by Progress Partners reveals that the region is a huge importer of labor. The nighttime population is about 347,000 people, but the daytime population is about 678,000 people, up 95 percent.
LaDart points to the North Fulton Community Improvement District as another critical success factor for the region. Now in its ninth year, the CID works to improve connectivity between Georgia 400 and arterial roadways, complete beautification projects at key Georgia 400 interchanges and make other long-term, meaningful investments in infrastructure.
The North Fulton CID has made significant infrastructure improvements in the region, including the Westside Parkway, which opened in April, and the Encore Parkway Bridge, which in-cludes pedestrian connections be-tween the Verizon Wireless Amphithe-atre and North Point Mall and is now under construction. The CID has been responsible for many landscape projects to enhance gateways into the district, LaDart says. "Projects like this provide a great return on investment," she says. "Businesses say they can really tell a difference when they enter this market."
Quality of Life
Talk with any economic development or business leader (or resident, for that matter) about what makes North Fulton great, and two things always come up: the good quality of life and the great schools. With numerous golf courses, national parks, rivers and greenways, tennis facilities and equestrian centers, the area has almost everything that active, outdoors-loving people could ask for.
One of the most exciting recent announcements in the region was that work on a new mixed-use development will soon begin at the 86-acre piece of property located at Georgia 400 and Old Milton Parkway. The property was cleared several years ago for what was going to be Prospect Park, but this project stalled with the real estate bust – leaving behind an ugly, half-finished parking garage.
North American Properties ac-quired the site earlier this year and plans to build Avalon, a $600-million mixed-use development that will include more than 500,000 square feet of retail and restaurants, a 14-screen movie theater, office buildings, two hotels, single-family homes, condos and luxury apartments. The developers say that Avalon is targeted to affluent shoppers and will feature upscale brands like Orvis, Athleta, Paper Source and Anthropologie and won't really be competing with nearby North Point Mall.
Mark Toro of North American Proper-ties says that the North Fulton market is one of the strongest demographics in the entire country, and that Avalon will allow these individuals to shop at high-end, boutique-style shops without driving to Buckhead. "North Fulton has one of the nation's strongest demographic concentrations of affluent families," says Toro, who likens it to a "Georgia Silicon Valley."
For example, within a seven-mile radius of Avalon reside some 12,000 people with an income of more than $300,000 and 140,000 people with an income of more than $150,000. Nash says Avalon will be "a game-changer when it comes to attracting young people to this area who want to live this kind of new urban live-work-play lifestyle."
Meanwhile, the area is known nationwide for the quality of its public education system. There are 11 high schools, three charter schools and nine private schools in the region; eight North Fulton schools made Atlanta magazine's Best in Atlanta list in 2011. Seven of the top 25 schools in the U.S. as measured by SAT scores in 2010 were located in North Fulton.
"Our top-rated public schools are a huge magnet for families," says District Three Fulton County Commissioner Liz Hausmann. "They have strong support from parents and local officials and have received national recognition. The area also boasts some excellent private schools – this cannot be underestimated."
On the higher education front, Gwinnett Technical College is opening a new campus in North Fulton County. The state of Georgia has allocated $25 million for the purchase and development of the campus, and college leaders are currently reviewing proposals from potential sites, with an announcement expected later this year.
School officials anticipate enrollment of up to 1,500 students during the first year, with eventual capacity of up to 12,000 students. "This new campus will go a long way toward meeting the workforce needs of employers here in North Fulton," says Nash.
"We're very excited about our plans to serve North Fulton residents and businesses," adds Gwinnett Technical College President Sharon Bartels. "We're focused on helping citizens achieve their career goals and providing employers with the skilled workforce they need to grow. North Fulton is a dynamic area, and we look forward to making a real contribution to economic development as a higher education partner."
Historic Downtowns
Several North Fulton cities are known for their quaint, historic downtown districts, which draw both locals and out-of-area tourists for shopping excursions and leisurely lunches and dinners. These include Canton Street in Roswell, Main Street in Alpharetta and the Crabapple district in Milton.
Milton recently passed new zoning ordinances that will allow the city to implement the Crabapple Visioning Study, a plan that would create a bustling, aesthetically uniform city center in this historic crossroads area. According to Director of Community Development Kathy Field, the new ordinances cap more than two years of work to create the vision and framework for an ideal Crabapple. "Now, development in the area can reflect the community's architectural ideals and be confined to those areas with existing infrastructure, meaning protection of precious greenspace."
Overall, Hausmann characterizes economic development in North Fulton as "strong, poised and confident. North Fulton is committed to maintaining a high standard of life, a conservative approach to fiscal responsibility and access to best practices for businesses at all levels. Economic growth is sustainable at present, and we are prepared for the future as domestic and global economies pick up steam."
Community Snapshot
Local Leaders
Brandon Beach
President and CEO
Greater North Fulton Chamber of Commerce
bbeach@gnfcc.com
678.640.1811
Al Nash
Executive Director
Progress Partners of North Fulton Atlanta
anash@gnfcc.com
678.397.0553
Liz Hausmann
Fulton County Commissioner
District 3
404.612.8200
liz.hausmann@fultoncountyga.gov
Population (2010)
349,686
Per Capita Income (2010)
Region, $52,405
Georgia, $35,217
Unemployment (June 2012)
Roswell, 6.3 percent; Alpharetta, 6.4 percent; Sandy Springs, 6.7 percent; Johns Creek, 7.2 percent
Georgia, 9.0 percent
Top Employers
Northside Hospital, Verizon Business, State Farm Insurance, St. Joseph's Hospital, ADP
Sources
Greater North Fulton Chamber of Commerce, U.S. Census Bureau, Georgia Department of Labor