Gateways To Higher Education
Private schools put a lot of effort into college counseling for their students.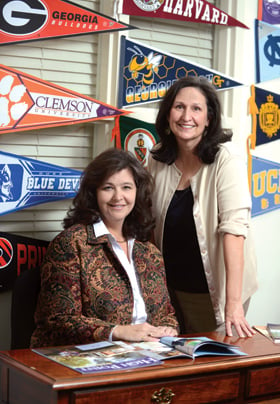 Bobby Hammond recognized the boy from a distance, the gangly walk that was hard to miss. "Good kid, smart kid, and all he wanted to do was go to college at NYU's Tisch School of the Arts," says Hammond, college counselor for the Tallulah Falls School, a 103-year-old private school in Habersham County, a short, vigorous walk from the actual falls and the famous gorge they fall into.
Hammond is also in charge of the school's guidance office, but his biggest responsibility is probably guiding seniors from Tallulah Falls to the next stage of their education. Part of the job is making sure the kids have a Plan B and C if they don't get accepted into (or can't afford) Plan A. This kid's Plan A was New York University, expensive, and Hammond knew that cost would be a factor for the student's family.
"I'd been worried about this kid. His mom called and she was a little worried, because he hadn't applied to any other schools. We knew he could get into the University of Georgia, or somewhere else, but he wasn't interested in that," Hammond says. "Well, it was late in the day, probably five in the afternoon, and here he comes down the hall. So I tell him, 'You've got to apply to some other places. What if NYU doesn't take you?'
"He just looks at me and says, 'Mr. Hammond, why wouldn't they take me?' A month later, the kid gets the news. He's getting a scholarship to NYU."
The kid got in on his merits, good grades, lots of talent – as a playwright and an actor and an athlete. But he was also lucky. Then again, private schools are in business to foster that kind of luck for their students.
Independent schools put in a lot of time, energy and resources to maintain a 100 percent college acceptance rate among their high school seniors. That kind of personal shuttle service between high school and college is the main reason parents invest in private school tuition. It's the reason these institutions exist, the reason they call themselves college prep schools.
"Our parents want to see a return on their investment," Hammond says, meaning college, a good one, possibly Mom and/or Dad's alma mater. That's the return. "And my job is to help give them that opportunity."
It's a job that has to be handled delicately, holding the door open for teens at the juncture of childhood and adulthood. Different factors, some of them emotional, come into play.
"A large part of it is balancing what parents wish for their children, what the child wishes for, what the colleges are looking for and what a counselor sees as more than one good fit," says Martha Eubanks, director of college counseling at Stratford Academy in Macon.
"We do encourage parents to visit colleges with their children and understand the student's interests, because you might think UGA is the cat's meow and it's your child's birthright, but when it's all said and done, it's the student who is going to college."
Early Start
Eubanks starts the college conversation with her students (and their parents) in eighth grade, during registration for high school freshman courses. Then there is an informal orientation for parents of rising ninth graders, and then it's scattered conferences to revisit the college question for the next several years.
At Greater Atlanta Christian School (GAC) in Norcross, Lori Davis says she can spot the kids who are bound for the Ivy League, or the military academies, when they're still in middle school.
"It's easy for me to look at the rising eighth grade and know the kids, the young men and women of character, who may not even have the highest grades, but they're the kids pursuing excellence in their lives," says Davis, one of GAC's college counselors.
"They're the kids that are likely going to end up talking to me about the military academies. Same is true for the Ivy League. In junior high, the Ivy League child really cares about the one point difference between a grade of 100 and a grade of 99."
That's not most kids, obviously. But if your private school kid – any kid, for that matter – wants to go to Harvard or the Naval Academy, his best chance is to be on task before high school.
"I want to make sure you don't misunderstand me – if I don't see those qualities or that level of achievement in a ninth grader, I don't write him off," Davis says. "My point is, we start telling parents in the early grades how to build the most successful application for the highest levels. That means encouraging their kids to take the most challenging curriculum they can while making the grades.
"On the other hand, if they're not cut out for the very highest rung academically, that's not the end-all. It just means we've got to find the right fit."
Eubanks' office meets with every one of Stratford's high school juniors to talk about specific college choices.
"We ask the students to tell us which colleges they've been dreaming about," she says. She also asks them to consider different factors, such as the size of the college, the location, the cost, and she helps them review college admissions requirements.
"We help the students compare their grades, scores and interests to those requirements, so they have a realistic idea of what their college acceptance options will look like."
In almost every case, having a Plan B is a good idea for the hopeful college freshman aiming for the upper echelon universities.
"We encourage a range of options. We never discourage a student to reach for a dream, but we also have a responsibility to the family to be realistic and think of all the options."
Because getting through the door at some universities just isn't easy. For one thing, it's very competitive.
"But we don't really view it as a competition, even though I'd describe it as competitive to get admitted," says John Latting, Emory's dean of admissions.
The numbers certainly imply a competition, though. Last year Emory, which has a target freshman class size of 1,350, received almost 17,500 applications.
"We think of it as assembling a community of people, and above all, we want the best possible students from all over the world, from different backgrounds," Latting says.
"It's been described as something of an art, composing each freshman class. We are rigorous and scientific and disciplined about looking at the evidence, but the evidence isn't perfect. At the same time, we are composing something."
It's that evidence part that concerns Beverly Dowdy, who partners with Davis at GAC in the college counseling department. With 20,000 applications flooding some universities – a lot of evidence – it can be a challenge to make an impression on an admissions officer.
"We take a lot of time getting to know our kids," Dowdy says, "the things that are measurable and the things that aren't. To a certain extent, we get to know the heart of the child, what their dreams are.
"The challenging thing about college admissions is, they go through so many applications, it doesn't leave us a big window to show the heart of our kids."
Building A Case
The main purpose of private school is to build a case, student by student, for college. It's all about accumulating that pool of evidence, and some counselors stress planning this out to every detail, to make the most of that small window of opportunity.
"In the first two years of high school, our students don't really need a lot of detailed college counseling," Dowdy says.
"But we make clear the importance of the highest academic achievement they can reach, and we don't want them to join 10,000 clubs and teams and other activities, but stress that they find one or two to focus on, where they can really use their talents. And from the first year we encourage service, outreach in the community."
Some GAC students are involved in mission trips around the world, or start tutoring programs in at-risk neighborhoods, work in soup kitchens and otherwise feed the hungry. It develops a sense of responsibility and compassion in the student, and it looks good on a college application.
"I think, no matter the level or size of the university, a lot of American colleges want their students to graduate and make a difference in the world, especially the highly selective schools," Dowdy says.
"Once a student makes the cut in academic achievement, the next thing a college wants to know is, how will the student make an impact – in college and beyond – so we do stress involvement in the greater community," she says. "It's something we emphasize."
Sometimes, that involvement in the greater community, or the global community, just gets deeper. Dowdy tells of a recent GAC graduate, a girl who spent three weeks in Cambodia working with an organization that combats sex trafficking. Now studying Russian at the University of Georgia, she has since spent some time working in an orphanage in Russia.
But one thing this girl has in common with the boy from Tallulah Falls and everyone else: They had to take a standardized test, the ACT or the SAT, or both, and score well enough to make the cut.
"Tests are a normalizing factor, and personally, I am not a fan of standardized tests, because I understand that there are kids out there who are very, very bright, but just don't test well," says Tallulah Falls' Hammond. "But they are a fact of life, so we start testing early so our students get used to the process and alleviate anxiety as they progress."
Many colleges require some form of essay or written pitch on their application process.
"It's critical that the essays, or the written answers to questions, be candid and revealing, reflecting the student's areas of interest," Davis says. "If a college application makes the essay optional, it's imperative that the student write the essay. Grades and testing are important, but it's also very important to tell the college, 'This is who I am. I'm not just canvassing for acceptance.'"
So, there is a lot of time spent on balancing the student's school life and approach to trolling for a higher education, but Eubanks says the experience should be more than building an individualized marketing plan for a higher education, or preparing the next generation of Babbitt success-conformists.
Stratford's counselors don't want to "package our students for college admissions," Eubanks says. "We're more interested in helping them understand their interests and cultivate their strengths.
"By matching them with a college where they can develop skills in their areas of relative strength, we think we're helping set them up for success in whatever field they choose."
Return On Investment
College admissions officers typically spend several frenetic months, beginning in November and into early March, reading and reviewing applications.
"We spend most of our time recruiting, communicating, showing people around campus, serving as the front door of the university," Latting says.
There is a cycle to admissions work, like the seasons of a year, explains Carol Conchar, regional director of admissions for D.C.-based George Washington University.
"In the early fall I'm traveling to different parts of the Southeast to talk with students and their families, at college fairs or high schools or hotels. It's recruiting, and it coincides with the first phase of the application cycle."
Applications should be turned in by early November, when the reading/reviewing season begins.
"In the spring, after students learn the colleges' decisions, I'm out there again, romancing students, trying to get them to commit to the college," Conchar says. "Once again, we do events and work with the seniors, meanwhile we're helping get the junior started in their search for the next year."
That's right, plenty of students have choices. At GAC (1,800 students, Pre-K–12), Stratford (950 students, Pre-K–12) and Tallulah Falls (370 students, 6–12), the college acceptance rate is 100 percent. Davis at GAC says 100 percent of her students are accepted by multiple schools, and with more than 170 in the senior class, the school places kids in universities all over the country, including every Ivy League school.
So maybe private school families are getting the return they expect on their investment, which isn't small.
Among the three schools mentioned above, GAC and Stratford are day schools, while Tallulah Falls offers both boarding and day school. At $8,750 in annual tuition for its day school students (commuters make up about two thirds of total enrollment), Tallulah Falls is by far the most affordable of the three.
"We're one of the very few college prep schools in the nation that is not tuition-driven, and yet, because of our growth, we've increased tuition revenue," says Larry Peevy, the school's president since 2007. "We have a healthy endowment, but mainly we also get a lot of financial help from a couple of other sources."
The Georgia Federation of Women's Clubs (GFWC), which today represents 150 clubs around the state and about 5,000 members, founded Tallulah Falls School in 1909 and continues to own, operate and financially support the school. But the biggest annual chunk of donated money, nearly $6 million a year, comes from the Lettie Pate Evans Foundation.
Since 2007, when Peevy became president and head of school at Tallulah Falls' 500-acre mountain campus, enrollment has tripled, thanks to the development of a middle school program. When the economic downturn forced the GFWC to close its Lodge at Tallulah Falls in December 2010, the building – with a $1-million upgrade – became home to the middle school.
Peevy, a former administrator at Georgia Military College and Georgia College & State University, says that 100-percent college acceptance was not the reality at Tallulah Falls five years ago. But that's the direction he knew the school had to go in, and it seems they might be on target.
Grades are up, and all of those prep tests must be paying off, because SAT scores are through the roof. Last year, Tallulah Falls' students averaged 1,751 on the SAT, well above the state private school average (1,641). Plus, last year's 42 graduating seniors, who earned more than $4.5 million in scholarship money, are all going to college.
"When I first got here, I had a meeting with the senior staff and asked the question, 'Who are we?' There were about 10 different answers, and we came to the realization that a school can't reach greatness if it tries to be all things to all people," Peevy says.
"So we've had to focus on what our true mission is: To be the best academic program, the best college prep school we can possibly be."