2012 Family Business Awards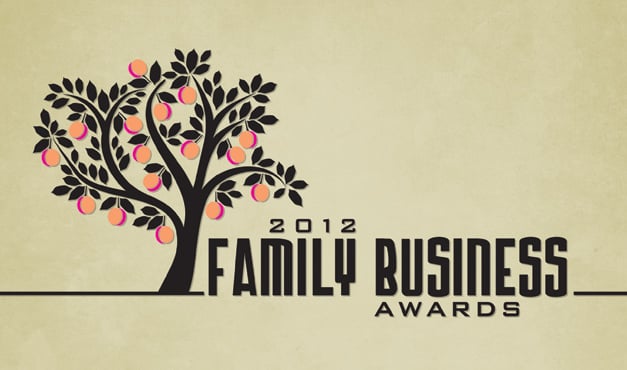 When family and business meet, the results can be especially rewarding – even if the situation presents some challenges.
When the combination is successful, there is nothing quite like it. This year's winners of the 2012 Family Business Awards are prime examples of how to do it right. The winners were selected by the Cox Family Enterprise Center at Kennesaw State University; the recognition program is sponsored by the Center and Georgia Trend.
Awards are given in large, medium and small business categories; the Century Award honors a family business that has been in operation for more than 100 years.
Bennett International Group in McDonough, an international transportation and trucking company, is this year's large business winner. Piedmont National Corporation, an Atlanta-based wholesaler of packaging materials and equipment, is the medium-sized business winner. Savannah's Whitaker Laboratory LLC, which provides testing services for construction projects, is the top small business.
Hewell's Pottery in Gillsville, operating continuously since 1850, is the Century Award winner.
Bennett hires family members of its employees as well as its own; Pied-mont National prides itself on an atmosphere that encourages loyalty. At Whitaker, patriarch Joe Whitaker bakes birthday cakes for lab employees.
For the Hewell family, which claims seven generations of potters, continuity is key. "There's nothing the family has ever made that we still don't make," says Nathanial Hewell.
Large Business
Bennett International Group
McDonough
For some people, a large international transportation and trucking company might bring to mind a collection of gruff male trucker types. Bennett International Group, the 2012 Cox Family Enterprise Center Family Business of the Year Award winner (large business category) is tackling that stereotype one family member at a time.
With its headquarters in Mc-Donough, Bennett is one of the largest – and one of the few wo-man-owned – privately held transportation companies in the country.
Founded in 1974 by Marcia Taylor and her late husband, J.D. Garrison, and still run by CEO and President Taylor, Bennett is a family business in every sense of the word. Not only have four generations of Taylor's family been part of the business, but the company hires the family members of its employees, as well.
The company has had lots of recognition, but this award means something special, says Lynette Alt, Taylor's daughter, board member, part owner and vice president of marketing diversity. "It says something about our family. And about how we try to make Bennett a special place for our employees."
Eight separate entities operate under the Bennett umbrella, including trucking and specialized freight transport, warehousing and distribution, manufactured housing transport, brokerage and portable building manufacturing.
All three of Taylor's adult children now serve in executive roles, but they all worked their way up through the company.
Son David is president of Bennett Motor Express, considered a leader in the heavy haul market. Son Danny serves as president of Bennett Truck Transport (BTT), Bennett Distribution Services (BDS) and Bennett Building Systems (BBS).
A succession plan provides on-the-job training and internships for the family's next generation. David's two children work in different company divisions, while Alt's two children have completed internships as part of their college education.
Taylor's mother, 93-year-old Dorothy Whitlock, has been retired from Bennett for many years. She worked in driver payroll and continues to ask about the drivers she knew, some of whom still work for Bennett.
The company operates under a values statement that family and employees strive to live up to. In support of the core values, including integrity, respect, quality service and loyalty, Bennett encourages employees to give back to the community by providing paid time off for volunteer work and supporting employee-led fund-raising efforts.
Family members take the lead in charitable giving through the Taylor Foundation, founded in 2011.
"We're a faith-based company," Alt says. "At the end of every quarter, we take 10 percent of our profit and move it to the foundation."
The foundation supports nonprofits that have some connection to the Taylor family or to Bennett employees and their families. The focus is on organizations that serve children, the elderly and families. Taylor and her family have also raised funds for organizations in Henry County, including the Marcia G. Taylor Women's Center at Henry Medical Center.
"For 38 years," Alt says, "Bennett has been committed to the community, leading by example, building strong customer relationships and providing an excellent and enjoyable workplace for our employees." – Karen Kennedy
Medium-Sized business
Piedmont National Corporation
Atlanta
A lot of family businesses talk about having an atmosphere that encourages employee loyalty, but not many can make the claim that Gary Marx, president of Piedmont National Corpora-tion, can.
"We had a salesperson working for us until he was 92," Gary says. "One of our current salesmen is in his upper 70s and having the best year of his career. People like working here and stay here a long time. They know we're solid and aren't going anywhere."
Founded in Atlanta in 1950 by Gary's grandfather Hugh Marx, Pied-mont National, winner of the 2012 Cox Family Enterprise Center Family Busi-ness of the Year Award (medium-sized business category), is one of the largest independent wholesalers of packaging materials and equipment in the country. The company supplies everything from bubble wrap to boxes, shrink wrap to stretch film and the automated packaging equipment to provide shipping solutions for their customers, manufacturers and businesses of every size.
"Fifty percent of our business is in Georgia, but we have full branches – staff, offices, warehouses, trucks – in six states," Gary says, "North and South Carolina, Tennessee, Alabama, Florida and Georgia. We have customers all over the country." To service customers in far-flung locations, Piedmont Na-tional often uses third-party logistics, (3PL), warehouses to store and deliver materials. And they're a full-service company, selling the machinery to help a manufacturer or company automate shipping services, then selling the supplies and servicing the equipment.
Unlike many others, Piedmont National actually grew during the recent recession. In July, the company hired the 200th employee. It has ex-panded its sales force, and last year it made the first corporate acquisition in six years.
Technology, especially as it relates to doing business, is one of the biggest changes in its 62-year history. "When I came on board 31 years ago, I don't think beepers had been invented," Gary says. Now all their salespeople use iPads, a much-embraced change, but say it's harder to get in to see people. "So many companies have voice mail and might not even have a receptionist," says Gary. "If their purchasing agent is young, they might not want to meet your salesperson. They just get on the Internet and check you out."
Four generations of the Marx family, eight individuals including Gary, are actively involved in running Pied-mont National; disagreements are rare. Checks and balances are in place, mostly having to do with the control of voting stock.
"Luckily we have my dad, Albert, and my aunt [Inge Marx Robbins] who are still around and still work here," Gary says. "They pretty much make all the decisions. Up until I became the president 12 years ago, [my dad] called the shots. Lately that's been up to me."
Any conflict is soothed by the fact that the company has done so well. Family harmony carries over to the corporate atmosphere at Piedmont Na-tional. "We really do care about each other," says Gary. "We're not so big that you're a number in a file." – Patty Rasmussen
Small Business
Whitaker Laboratory LLC
Savannah
Call Whitaker Laboratory in Savan-nah and ask if you can speak to Joe Whitaker, and the answer to the question is in multiple choices. There is the president of the company, Joseph Frederick Whitaker; the vice president, his dad Joe Whitaker; and future executive, now in training, Joseph Michael Whitaker.
In all, there are seven Whitakers among the 35 employees of the Whit-aker lab, including Joseph Frederick's twin sister Natasha, Hilda and Eliza-beth in administration and Cindy Whitaker in human resources. But the other 28 workers must certainly feel like family members, given the close attention they receive from the company's executive corps.
For these reasons and more, Ken-nesaw State University's Cox Family Enterprise Center named Whitaker Laboratory as the Family Business of the Year in the small business category.
For as long as anybody can remember, patriarch Joe Whitaker has been baking cakes for anyone at the lab celebrating a birthday. Just recently, when an employee caught a mess of bream and gigged a sting of frogs, all the workers sat down to a fish and frog fry. That's the social side of life at Whitaker Laboratory, a 42-year-old company that tests the ground, concrete and asphalt beneath us to make sure it is safe and healthy for the construction of roads, parking lots, buildings, bridges and anything else on earth that needs to be built.
Whitaker was on the ground floor in the construction of the Talmadge Bridge over the Savannah River, the Savannah Civic Center, the Savannah/Hilton Head International Airport and a number of military and commercial projects along the coast. Whitaker is called on routinely to keep the landing areas of the Port of Savannah safe and healthy.
"When somebody gets the inclination to build a building, a bridge, a road, a tower or anything that needs to be built, if they're worried about the ground conditions or want a better handle on how to design the structure, they contact us," says Whitaker President Joseph F. Whitaker. "We go sample the ground, and we provide them with the information on the type of soil, the depth of the groundwater and the load-bearing capacity of the site soil."
The family feeling at Whitaker was warmly extended to each employee during the recent recession when company executives refused to lay off any worker and in fact took steps to ensure pay raises were just down the road. "When the economy became toxic, we used the slowdown to get their certifications," says Joseph F. Whitaker, referring to employee continuing education programs that open the doors for fu-ture promotions.
"Our people helped us have the good years, and I just didn't think they should be laid off in the bad years. Fortunately we were financially strong and could weather it through." The Whitaker family has a devotion to educational institutions and is well known for its generosity in donations of time and resources to schools and their programs.
Whitaker Laboratory may be a family business, but it is still a business and must respond to the demands of commerce – and sometimes the demands of family. That's why company founder Joe Whitaker frequently finds himself showing up for work at 4 a.m. – so he can pick up the grandchildren after school. – Ed Lightsey
Century Award Winner
Hewell's Pottery
Gillsville
The Hewell family of Gillsville, in Hall County, has red Georgia clay in their veins – and very likely in their hair and on their clothes and under their fingernails. Hewell's Pottery, winner of the 2012 Cox Century Award from the Cox Family Enterprise Center at Kennesaw State University, has been operating continuously since 1850.
Seven generations of Hewells have worked as folk potters, including four generations in the business today. Na- thanial Hewell, the company's founder, was a Barrow County farmer turned potter, who produced tableware and utilitarian pieces, including butter churns, jars and jugs, throughout the Civil War. His son Eli moved the pottery to Gillsville around 1900.
The current crop of Hewell potters includes Grace Hewell, who at 79 continues to work; her son Chester, his wife Sandra, their sons Nathanial and Matthew, and Matthew's two school-age children Eli and Susannah, who are already feeling the clay flow through them. In fact, one of ninth-grader Eli's pottery bowls was chosen for the permanent collection of the Folk Pottery Museum of Northeast Georgia.
The family has passed the recipes for their pottery and glazes down along with the business itself. "The alkaline glaze, [a glaze made with wood ashes] recipe goes back to Nathanial," says this generation's Nathanial of the founder and his namesake. "All our glazes are original to the family."
The glass glaze goes back several generations. The flint glaze can be traced to the first Eli (they pass the names down through this family, too). "There's nothing the family has ever made that we don't still make," Nathanial says.
That's a boon for customers who break their grandmother's favorite antique crock. The Hewells will make a replacement to order. It won't have the value of an original, but it will look, feel and have been created in exactly the same way.
The Hewells have made few concessions to modernity, preferring to turn pots by hand rather than crank them out on a machine. This preference for the old ways has placed Hewell pots in historical sites around the country, including Colonial Williamsburg, and closer to home, at the Atlanta History Center and Archibald Smith Plantation Home in Roswell.
"My brother's the better potter," Nathanial says, when asked about the division of labor in the small business. "He's so much like my grandfather, a perfectionist with the pots. I don't argue with him over the pots."
That doesn't mean Nathanial isn't getting his hands in the clay, too. He may handle the public side of the business, which includes Hewell's retail shop, as well as the wholesale business, but he does his share of turning.
This recognition of each other's strengths keeps them from strangling each other, Nathanial says of the challenges of working with four generations of family every single day.
"The key is mutual respect," he says, "for our employees, for us as a family and for our customers as they come through the door."– Karen Kennedy
Finalists in the 2012 Family Business Competition are Pharma Tech Industries, Royston, and Sizemore, Inc., Augusta, in the large category; Benning Construction Co., Smyrna, and Repro Products, Inc., Smyrna, in the medium category; and The Atlanta Voice Newspaper, Atlanta, and David Douglas Diamonds & Jewelry, Marietta, in the small category.