Gwinnett County: Surging Ahead
Big wins and good news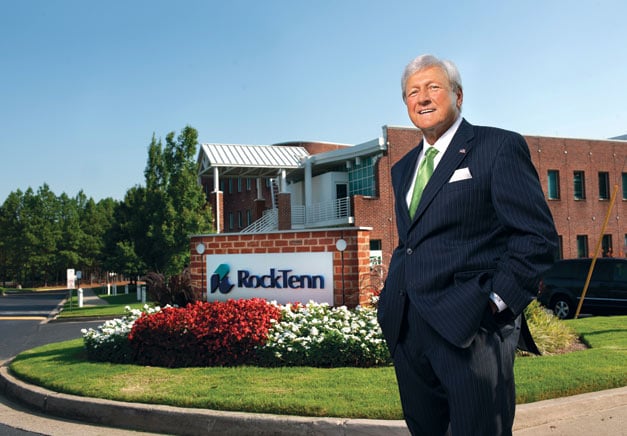 When the iconic water towers proclaiming "Gwinnett is Great" and "Success Lives Here" were taken down in 2010 due to water system upgrades in Gwinnett County, some viewed it as symbolic of what they saw as a gradual decline in one of Georgia's great economic success stories of the past half-century.
Two years later, no one's talking about a decline – far from it.
"From an economic development standpoint, we have had an exemplary couple of years when it comes to attracting major new businesses into Gwinnett County and retaining our major employers," says Gwinnett Chamber of Commerce President and CEO Jim Maran. He points to Primerica and RockTenn as two of the biggest recent economic "wins" for the county.
Primerica has broken ground on a new $74-million, 350,000-square-foot office campus in Duluth that will serve as the financial services company's worldwide headquarters. And RockTenn, which became Georgia's newest Fortune 500 company with its acquisition last year of Chicago-based Smurfit-Stone, also decided to stay in the county, moving into a new headquarters building in Norcross and taking on additional office space in Duluth.
"Both of these companies were being heavily recruited," says Maran. "Retaining the businesses we currently have is just as important as attracting new employers to the county."
"It's clear that our economic development efforts are paying off in jobs and business activity that are good for Gwinnett," says Gwinnett County Commission Chairman Charlotte Nash. "In the midst of difficult economic times, it's a welcome relief to see good news that affirms the value of investing in Gwinnett."
Laser Focus
Nick Masino, senior vice president, economic development and Partner-ship Gwinnett, says the county has just completed one of the most successful economic development years ever. "And it's no secret why: We have been laser-focused on economic development for the past five years."
Masino is referring to Partnership Gwinnett – a comprehensive community and economic development initiative launched in 2006 that concentrated on four key areas: job growth and wealth creation; education and workforce excellence; quality of life; and marketing and outreach. The list of achievements that Masino attributes to Partnership Gwinnett is extensive.
In addition to the Primerica and RockTenn expansions, Gwinnett has retained and helped expand FedEx Ground, which is opening a new 215,000-square-foot, $55-million distribution center in Norcross that represents 240 employees; Ricoh Electronics, which is constructing a 35,500-square-foot expansion of its Lawrenceville campus that will add an estimated 70 jobs; and Mitsubishi, which has broken ground on a 550,000-square-foot ex-pansion of its HVAC America's headquarters, R&D, training center and distribution center in Suwanee that will add an estimated 60 new jobs.
In addition, Advanced Micro De-vices (AMD) built a new $100-million, 150,000-square-foot data center in Suwanee in 2011, where it has begun to invest what will amount to $248 million over the next decade, and Hyundai Construction Equipment Americas moved its North American headquarters and warehouse facility to Norcross from Chicago in 2011. This project represents a $10-million capital investment and is creating 100 jobs over the next five years.
In perhaps the county's biggest economic win in recent years, Gwinnett lured NCR, which moved its corporate headquarters from Dayton, Ohio, where it had been for 125 years, to Duluth in 2009. The move brought 1,250 new jobs to the area.
According to Masino, Partnership Gwinnett helped the county lead the state in job growth and achieve the lowest unemployment rate in Metro At-lanta's five core counties (Cobb, Clay-ton, Fulton, DeKalb and Gwinnett) for 37 consecutive months. Partnership Gwinnett assisted and/or reported a total of 282 corporate relocations and expansions, more than $808 million in total reported capital, and more than 12,000 new jobs in the first five years.
Permitting Up
Bryan Lackey, director of the Gwinnett County Depart-ment of Planning and Development, says that permitting activity in Gwinnett for both single-family homes and other buildings is picking up substantially. "The permitting numbers are starting to mirror those we saw as we began to enter the recession."
Lackey notes that through June of this year, Gwinnett County had issued 561 new single-family building permits and 5,432 total building permits, compared to 1,054 new single-family building permits and 7,789 total building permits in all of 2008.
"We're getting a steady stream of calls from corporations about relocating into Gwinnett County or expanding their existing operations in the county," Lackey adds. "We're talking to a lot more businesses about projects they want to launch once they have their financing lined up – probably more than we have since before the recession in 2007."
Gwinnett County Administrator Glenn Stephens says there are currently four active Community Improvement Districts (CIDs) in Gwinnett County: the Gwinnett Village CID (Jimmy Carter Boulevard), Gwinnett Place CID (Pleas-ant Hill Road and surrounding area), Evermore CID (High-way 78 corridor), and the newest, the Lilburn CID (Highway 29 corridor).
Property owners in these defined areas voluntarily tax themselves in order to fund improvements within the district's boundaries. "One of the great things about CIDs is how they help build a sense of community pride," says Stephens. "CIDs improve business development opportunities and enhance property values by developing coordinated transportation and community character efforts to benefit property and business owners and residents."
Partnership 2.0
Building upon the success of Partnership Gwinnett's initial five-year plan, the county has now launched the Partnership Gwinnett 2.0 Strategy and Implementation Plan. "Partnership Gwinnett 2.0 is focused on addressing challenges and capitalizing on opportunities for visionary growth," says Masino. "It will serve to identify the best methods for taking Gwinnett County to the next level in its economic development efforts by providing goals and action steps needed to optimize local competitiveness."
Stephens says that Partnership Gwinnett 2.0 has a "sharper focus on our targeted industries." These currently include healthcare/life sciences, professional and corporate services, information and technology solutions, advanced manufacturing, and supply chain management. In another sign of the success of the original partnership, five of the six target sectors increased their share of total private sector employment between 2005 and 2010; these target sectors now account for 55 percent of all jobs in the county.
"We will continue to go after businesses in these target industries aggressively, because we already have the workforce and training resources in place to attract these kinds of employers," says Kellie Brownlow, the chamber's and Partnership Gwinnett's director of economic development.
In fact, Brownlow points to Gwin-nett's well-educated workforce and high-quality public education system as primary factors considered by many employers who decide to do business in the county. "We have the best public education system in Georgia," she says, noting that Gwinnett's public education system (the 12th largest in the nation) received the 2010 Broad Prize for Urban Education, which effectively recognized the district as the best large urban public education system in the country.
When it comes to advanced education, Gwinnett Technical College in Lawrenceville is one of the flagship technical colleges in the state. "It's a huge draw for technology companies," says Brownlow. Gwinnett Tech offers its 22,000 students more than 45 program options in today's fastest-growing business sectors.
Meanwhile, Georgia Gwinnett Col-lege in Lawrenceville, which graduated its first class last year, is the newest accredited four-year college in the University System of Georgia. As one of the fastest-growing schools in the state, it currently offers 12 degree programs with 40 areas of study. "This was a dream for 20 years," says Nash, "and it has been an unbelievable success." She says enrollment is now up to 8,400 students and that on-site dorms were recently added, which is helping drive economic development in the area surrounding the college.
Nash points to the University of Georgia Gwinnett campus, Brenau University's Gwinnett campus, DeVry University's Duluth Center and Keller Graduate School of Management, and the Georgia campus of the Philadel-phia College of Osteopathic Medicine as other acclaimed institutions of higher learning in Gwinnett County.
"It's no mystery why so many technology companies choose to do business in Gwinnett," adds Masino. "There is literally a ribbon of technology companies that runs between Georgia 400 and I-85, right through the heart of Gwinnett County."
Quality Of Life
A key factor that employers consider when deciding where to do business is quality of life, says Brownlow, and Gwin-nett County ranks high in this area, too. In 2008, Gwinnett County Parks & Recreation was named the No. 1 park system in the nation by the National Recreation and Park Association.
"There is a total of more than 12,000 acres of land in the county's park system – the most land amassed for parks by any county in the U.S. in the past 15 years," says Masino. Gwinnett County Parks & Recreation operates 45 different parks and facilities and has implemented an ambitious greenspace program.
In addition to the vast array of public parks, outdoor lovers can also choose from a wide range of other outdoor activities, including the Treetop Quest at the Gwinnett Environmental and Heri-tage Center, the Chattahoochee River National Recreation Area and Stone Mountain Park. Meanwhile, Château Élan Winery & Resort in Braselton (partially in Gwinnett), Georgia's largest full-production winery, offers visitors in search of a little luxury and pampering a European spa, four golf courses and several restaurants.
For sports enthusiasts, Gwinnett is home to three professional sports teams: the Gwinnett Braves AAA baseball team, the Gwinnett Gladiators minor league hockey team and the Georgia Force arena football team. "This is practically unheard of for a suburban area," says Stan L. Hall, executive director of the Gwinnett Sports Commission. (See Local Flavor, page 84.)
International Presence
Take a drive along Pleasant Hill Road between Peachtree Industrial Boulevard and I-85, and you'll see firsthand another of Gwinnett County's drawing cards for new businesses. This stretch epitomizes Gwinnett's transition over the past couple of decades into a multicultural melting pot – "the United Nations of the Southeast," as Masino calls it.
"There's no question that this is the direction the world is going, and we have a 20-year head start." According to Masino, about one out of every five Gwinnett residents today was born outside of the U.S., and he estimates that more than 100 different languages and dialects are spoken in the county. "The interesting thing is, as Gwinnett has become more diverse, our economic and education levels have risen," says Masino. "This isn't the case in most communities in the U.S."
"Our cultural diversity adds tremendous richness and energy to the community," says Nash. "Many of these cultures are very entrepreneurial in their outlook, with a strong work ethic and a strong emphasis on family. As they move here and start new businesses and successful careers, many are telling their friends and family back in their home nations, who are joining them here. I believe this is one of Gwinnett's greatest strengths."
From a strictly economic development standpoint, Lackey says that cultural diversity is a big benefit. "The more cultures there are in your community to draw upon, the more international markets there are that are open to your businesses. And the economies in some of these international markets are healthier than the U.S. economy right now."
"Gwinnett County has a long history of planning ahead and being prepared," says Nash. "We have a very strong infrastructure – water and sewer, in particular – a pro-business regulatory environment and a low tax structure compared to the rest of the Metro Atlanta area. There's good value in Gwinnett for companies that decide they want to do business here."
Community Snapshot
Local Leaders
Charlotte Nash
Chairman
Gwinnett County Board of Commissioners
charlotte.nash@gwinnettcounty.com
770.822.7011
Jim Maran
President and CEO
Gwinnett Chamber of Commerce
jim@gwinnettchanber.org
770.232.8815
Nick Masino
Senior Vice President of Economic Development
Partnership Gwinnett
Gwinnett Chamber of Commerce
nick@gwinnettchamber.org
770.232.2265
Population (2010)
805,321
Per Capita Income (2009)
County, $26,901
Georgia, $35,217
Unemployment (May 2012)
County, 7.7 percent
Georgia, 8.9 percent
Top Employers
Gwinnett Medical Center, Cisco Systems, Fiserv, Inc., Primerica Financial Services, NCR Corp.
Sources
U.S. Census Bureau, Bureau of Economic Analysis, Georgia Department of Labor