Q&A With Secretary Of State Brian Kemp
Balancing Voter Access And Security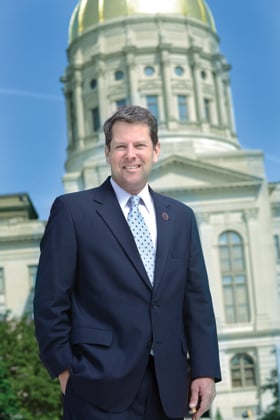 Brian Kemp was appointed Secretary of State in 2010 by then-Gov. Sonny Perdue to complete the term of Karen Handel, who re-signed. Later that year, Kemp ran for election and won a four-year term of his own. He's a Republican from Athens who served for four years in the state legislature.
The secretary of state regulates elections, registers foreign and domestic corporations in Georgia and issues more than 200 different professional and occupational licenses for dentists, heating and air contractors, nurses, veterinarians, pharmacists, accountants and others. In all, 460,000-plus Georgians are licensed by Kemp's department.
Shortly after he took office, Kemp assembled the Elections Advisory Council to re-view the state election code, election board rules and election processes with an eye toward improvements and cost cutting. Many of the recommendations were incorporated into legislation passed by the General Assembly during the 2012 legislative session.
Kemp talked to Georgia Trend in his office in the State Capitol in June. Following are edited highlights from the interview.
GT: Tell us what's been happening in the secretary of state's office.
Kemp: We've made a lot of changes agency-wide, going with what I campaigned on, streamlining government and doing more with less in these tough times, bringing a lot of e-government solutions to the whole agency – things like My Voter Page [which allows individuals to check their registration status, polling place and other information]. We're also using the MVP page to let military and overseas voters access an electronic ballot, which speeds up the absentee voting process. We're very proud of that. We were one of the first states in the country to implement that, and we did it with our own IT people at no [additional] cost to the taxpayers. We saw a lot of other states getting sued by the Justice Department because they weren't in compliance or spending a lot of dollars on private companies coming in to implement that system. This year we passed a huge elections bill – some of it came out of our Elections Advisory Council report, and the legislature lumped some other things they were working on into one bill.
GT: Update us on the new registration system that's coming.
Kemp: We are in the process of implementing a new statewide voter registration system that we believe is going to be very cost effective for counties. We've been on the state's mainframe system for over 20 years. It's been a good system that served us well, but it is very expensive to pull data from it. This new system is web-based, and we believe it's going to save dollars. At the local level, they're not going to have to pull data off the mainframe. It's going to be easier for them to use and train [their people to use].
GT: How and when will this affect voters?
Kemp: After this [November] election cycle, we'll be implementing it. People can actually go online and register to vote. Now they can download forms from our website and mail them in. In the future, if people have a driver's license or state-issued ID card from the Department of Driver Services, they will be able to go to a website where they can register online. It's all done electronically – using the same process we have now with DDS – as long as they have a driver's license or state-issued ID card.
GT: Any concerns about security with the new system?
Kemp: It's my belief that it's more secure. We're not wondering where that piece of paper came from and who signed [it]. If people are going online and registering, they have a driver's license, so they've been checked for citizenship. We're confident we know where they live, they are residents of the state, they are qualified to be registered. Plus we have their electronic signature on file already because they signed in person when they got their license.
GT: But electronic registration is not mandatory, is it?
Kemp: It's just another option. People will still be able to do paper registration. We're certainly going to try and drive people in that direction. Why not use the technology we have and in the meantime save counties money and be more secure?
GT: Anything else voters should know about for the Nov-ember election?
Kemp: We are implementing [improved] election night reporting. A lot of people follow election results on our website. One of the things we haven't been able to do is use some of the new technology. We will have more of that interactive information and data on election night. We'll also be able to delve down into counties on a local level. There's going to be a lot of new data and information not only for candidates and campaigns but for voters themselves. We believe it's going to allow us to report even quicker in the future. We're doing some pilot projects in the [July 31] primary and hope to have full implementation in the presidential race November 6.
GT: Wasn't there a change to special elections?
Kemp: The legislature did away with the September special election date in even years, something our local elections officials wanted to see. It's very expensive for counties when we have a primary in July and a November general election. If you think about November, you have to have ballots 45 days before the first Tuesday in November. That ends up being the middle of September, so if you have a special election the first week in September and actually have a runoff from the primary, you could have overlapping elections – very confusing to voters.
GT: I want to ask a question about the voter ID law. When it passed in 2006, critics expressed concerns that it would limit access for some voters. Tell us what your experience with the law has been.
Kemp: I'm a big supporter of the voter ID law. I supported it when I was in the state senate and we passed the original legislation. I have been defending it in a lawsuit or two since I've taken office. There has been a lot of talk from different groups [saying] it has taken us back in time and is trying to suppress minority turnout. If you look at the numbers in Georgia, that's simply not the truth. Our law has been in place since 2006, and we've been using it since 2007. When you compare the '04 presidential election to '08, then the '06 governor's election to 2010, the minority participation went up astronomically – Latino and African-American voters. We have the numbers to prove that. Stories about suppression – that's just not the case. There are big increases. You have to show a photo ID to cash a check, to get through the federal TSA agent at the airport. I think most citizens certainly believe it's fine and proper to show photo ID before voting. There is no doubt in my mind it helps us keep our elections secure. We have 90 percent of our voters that vote in person – early or on election day. You have to show photo ID. The state will provide one for free. If you don't want to have a picture ID, you can always vote an absentee ballot by mail without photo ID.
GT: So it's a matter of balancing access and security?
Kemp: We have as much or more access as anybody in the country. We've got a 45-day period where people can cast an absentee ballot by mail. We have a 21-day in-person early voting period with a mandatory Saturday. Then we have, of course, our election day.
GT: The other side of the access coin is voter turnout. Is it part of your mission to encourage that, or do you just provide the mechanism?
Kemp: My focus personally is that we have tremendous access for voters to be able to vote, to be able to register to vote. Why don't more people vote? That's a hard question to answer. We promote the election process – using social media, traditional media, to get information out. Counties do that as well. We did a whole tour on military voting recently to do outreach to let them know about electronic ballot delivery. What we can't do is hold people's hands and make them vote. Some people are just apathetic and do not want to be involved in the process and vote. There are some interesting numbers I've seen recently that kind of turned my head. We have almost 6 million registered voters in a state of 10 million. Some people say that's 4 million not registered, not voting; but when you look at voting-age population, that takes out a lot of those people who are under 17 and a half, when you can register to vote. We have better participation than a lot of people realize. In a presidential election – there are 70 to 75 percent who turn out.
GT: Let's talk about the Immigration Reform Act from 2011. Some business and professional people complain that provisions for renewing licenses are confusing, even punitive.
Kemp: One of the unintended consequences of the legislation was the language on "public benefit" that affected licenses. Now every time we issue a professional license, we have to look at that "secure and verifiable" document [that is required]. I don't have a problem fundamentally with us doing that. But the way that law is written, we're having to do that every time we issue that benefit. So once we check somebody this year, two years from now were going to have to check them again, which is repetitive work and not needed. We're working on a legislative fix.
GT: Are there added costs involved?
Kemp: Another unintended consequence is we've had to hire additional part-time employees to check those secure and verifiable documents. We had it where everyone could renew online – it was pretty seamless. But [now] they have to attach that document. We have to have a person that not only has to open up the application but has to open up that document and check. So we've continued to get more work and no new funding to keep up with that growth in our responsibilities. Like voter registration: I sued the Justice Depart-ment twice to make sure we could check citizenship so we know who people are before we register them to vote, to help keep voter rolls secure. Once we've done that one time, we don't need to do that every couple of years. If you're legal now, you're legal forever.
GT: Are you optimistic about a fix to this part of the immigration bill?
Kemp: We've been working with the Governor's office and the legislature, and they have been very receptive to our conversations.
GT: Some states are making changes in the way primaries are handled, even doing away with partisan primaries. Do you foresee anything like this for Georgia?
Kemp: I think it is California where they have a "jungle primary" with all candidates, and the top two come out into a runoff. Florida, in their primary, they don't have any runoff – if there are four candidates and you get 28 percent of the vote and everyone else gets less, you win. That's a legislative matter in my opinion.
GT: What about ballot access – the process by which candidates get on the ballot?
Kemp: There has been legislation in Georgia dealing with ballot access. I think it's good to have some ballot access laws. If you open it up to everybody, you might end up with races where you'd have 10 or 25 or even 30 candidates on the ballot – very confusing to voters. My take on this is we need to have a way to have qualified and eligible candidates on the ballot, so no matter who people are voting for, they [candidates] have qualified and have been through a process that makes them a legitimate candidate. The other problem is if you allow 10 or 20 candidates on the ballot, it's long, very expensive for counties and us to produce.
GT: Didn't your advisory council have a recommendation for increasing ballot access? What happened?
Kemp: It was a diverse group – Democrats, Repub-licans, Independents, a Libertarian, local election officials, local elected officials. They made a unanimous suggestion to address ballot access that would make it a little easier for folks to collect signatures and get on the ballot and run as independent or third-party candidates. That part met some controversy in the legislature, which I thought it might. I thought we had a very reasonable proposal; it was something everybody agreed on, something the governor and legislature could live with. It ended up being taken out [of the final legislation]. When it got to the legislature, we had others who complained we didn't do enough. I think they made some of the legislators mad by saying you're not doing enough. They said if we're not doing enough, we're not going to do anything. The point is, we did address that [ballot access] and came with a good recommendation. It's out there if the legislature wants to pick back up on it.
GT: Anything else you'd like our readers to know about?
Kemp: Transparency is important, trying to do what I said when I was campaigning – streamlining the office, trying to make it more efficient. It's been zero-based budgeting in the Secretary of State's office for a good while now. One thing I campaigned on was putting the budget up on the Internet where taxpayers could see it. People can actually see our line-item budget. We also put up our monthly expenses. It helps us be more accountable and more efficient. Since '08, we've reduced our budget 25 percent and reduced staff by 33 percent – with a workload increase.