Douglasville/Douglas County: Coming Back
Location, optimism and a good business climate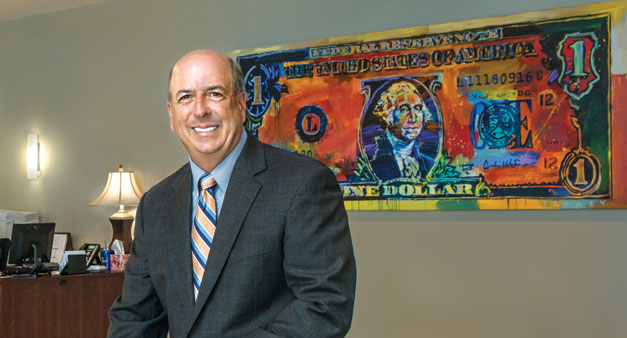 Once a community is hit by recession, it can sometimes be hard to know when the recovery is under way. For Douglas County residents, the evidence can be found in bricks and mortar and a business climate that is getting ever so much better month by month.
Sitting just west of Atlanta and bisected by Interstate 20, the county has always counted on its enviable location to attract a surging population. People, if not always industries, liked being just a few short miles from downtown Atlanta and minutes from Hartsfield-Jackson Atlanta International Airport. It quickly became a community noted for its good schools and easy small-town pace of life.
That position was shaken by the economic downturn.
"Douglas County was hit as bad as any other county in Metro Atlanta because so much of the industry was concentrated on residential development," says Ken Barber, president and CEO of MetroBank. "Even though the local economy has become more diversified over the last 20 years, there was still a heavy concentration in construction of homes – with that coming to a complete halt four years ago. The community is still reeling from it."
The good news is that everyone – from business owners to ordinary customers – seems to be doing a little better.
"They are all sounding more optimistic," explains Barber. "Everyone I have spoken to in every type of business or industry has told me that every month is getting a little bit better, and I've been hearing that consistently now for nine or 10 months. So I think that optimism is coming back, and I think economic activity is coming back."
A Douglasville native, Barber has had his finger on the pulse of local business for decades. He launched and sold two previous banks before founding MetroBank in 2008. In keeping with the expansive new mood, it relocated to the former Hops property on Chapel Hill Road. There is also a new office in Cobb and another plan-ned for Carroll County.
A good bit of that feeling can also be found in a growing number of business and retail operations. While the number of jobs is not back to where it once was – the unemployment rate is still tracking above the state average – companies are expanding again.
"We didn't really lose a lot of companies as far as industrial goes – but they might have done job layoffs," explains Chris Pumphrey, executive director of the Development Authority of Douglas County. "We lost a lot of jobs."
In fact, most of the layoffs occurred outside of Douglas. Fully 70 percent of local residents leave the county every day for employment. As a result, Pumphrey sees his main task as bringing more of those jobs back home to stem the commuter tide.
New employers have moved into the area, drawn by Douglas's location and access to a large regional workforce. Logistics firms are attracted to the easy access, making the county a good location for companies such as Quaker Oats Co. and Colgate-Palmolive.
"Traditionally, due to our proximity to Hartsfield, the interstate with available land and the Norfolk Southern intermodal yard, we have attracted a significant amount of distribution," says Pumphrey.
Now the warehousing sector is being complemented by growth in manufacturing and tech. Google quietly located a data center here in 2003, and it has been followed by other firms. More recently the American Red Cross relocated its Southeastern Blood Processing Center to Douglasville.
"We are diversifying and trying to raise the average earned salary here in Douglas County," explains Pumphrey, noting that the household average income is around $60,000 if you count all those folks who commute into Atlanta or Cobb. The average income for those working inside the county is only about half that amount, he adds.
To raise those local salaries means drawing in more data center jobs that need access to infrastructure, which includes fiber optic lines that can carry data and ample access to water for cooling – both assets that Douglas has in abundance.
Douglasville Mayor Harvey Persons is among the local leaders who believe the county's special qualities will serve it well. "We want people to know what we have to offer here in Douglasville and Douglas County, and that's what we're working to do," he says. "Our job is to help make this one of the premier places to live, work, play and raise a family."
Expansion
One of the surest signs that companies are anticipating recovery is the decision by Medline Industries to construct a manufacturing facility. The Illinois-based distributor of healthcare supplies added 150 jobs when it opened a $65-million expansion next door to a distribution center it has operated here since 2004. The two facilities occupy more than one million square feet of space. The new plant produces incontinence products.
Smaller businesses have started to take off as well. Mitchell's Specialized Fabrication, a custom metal fabrication and welding company, recently purchased 15 acres, allowing the company to increase its office space by 3,000 feet and expand to 14,000 feet of fabrication space. The move allowed the company to take on more business and add workers as well.
Carousel Designs, a maker of baby bedding products, had just five employees when it was acquired by Jonathan Hartley and his former West Point classmate, Allan Sicat. Their workshop has since grown to about 45 workers who design and sew all the company's products locally; their products have become celebrity favorites, spotted in numerous magazines and TV shows.
"Small businesses have really thrived here," observes Pumphrey.
With the city and county each running its own development authority, there have at times been conflicts over the best approach to attracting new business. Those days are over now, say local officials, with the two agencies working closely together. City Manager Bill Osborne is handling economic development for the city of Douglasville.
Strong Partnership
Although this region of Georgia offers companies access to a work force of nearly 1.5 million, local leaders have been pushing training for local workers. The county became Work Ready certified in a drive headed by West Georgia Technical College (WGTC).
"We work inside business and industry to identify skill needs and design programs to meet those needs, says WGTC President Dr. Skip Sullivan. "Our economic development division works with businesses to create customized programs inside the businesses."
Companies come to the college with training requests that can range from teaching the soft skills of effective management to the intricacies of using specialized software, he adds.
The college provided a corporate training program for DeNyse Signs and the American Red Cross through its Leadership Academy. This program provides employers with a wide variety of management skills training designed to fit the particular needs of individual companies.
WGTC is expanding and upgrading its Douglasville campus to meet an increasing demand for programs that lead students directly to employment. A new occupational and vocational training building is the home not just to traditional college students, but also 150 high school juniors and seniors enrolled in the College and Career Institute, a joint venture with the Douglas County School System.
"When they graduate, many of these students will have the skills to go directly to work," in welding, dental hygiene or other fields, says Sullivan. In fact, about 85 percent of the college's graduates find employment right away.
"As a technical college, we are occupationally focused," he adds. "It's the short-term education to get folks into the workforce as soon as possible."
While most WGTC students are seeking a direct route to employment, a growing number are seeing it as a bridge to a four-year degree. This fall, the college will begin offering 27 general education courses that can be transferred to colleges and universities in the state. Taking advantage of the low credit hour rate, students can save a great deal of money by beginning their education here.
To give it more of a traditional college atmosphere, WGTC has recently launched intercollegiate athletics. "That's new for many of the technical colleges," says Sullivan.
As more adults return to retool their skills to earn a promotion or to find a job after being laid off, the college is also putting its programs online. By accessing classes via computer, students can reduce the amount of time they have to spend on campus.
WGTC is not the only higher education presence in Douglas. Georgia Highlands College and ITT Technical Institute have both set up shop in the 33-acre Douglasville Town Center retail center, with ITT taking 19,000 square feet for an expected student body of 500. Mercer University and Strayer University also have programs in town.
Retail Stalwart
Along with homebuilding, one of Douglas's biggest employers has long been retail. When Arbor Place Mall opened in 1999, it drew considerable attention to the west side of Metro Atlanta. The region had not seen anything quite like it.
"Because of where we are located, we pull from all the way into Alabama and certainly north as far as Rome," says Kali Boatright, president and CEO of the Douglas County Chamber of Commerce. "And if you envision where the other malls are, there are none close. We have a very large region that feeds this mall, and that makes it very successful."
The recession dealt a severe blow to a number of the mall's tenants. The large Borders Books and Music store was left empty when the company failed. Now that and other spaces are filled once again. Forever 21 has occupied the 25,800-square-foot Borders space. H&M, a Sweden-based company that sells clothing for women, men, children and teens, set up shop in a location once occupied by Old Navy. Both are trendy retailers geared to a generation with disposable income.
Vacancies at shopping malls declined to nine percent in the first quarter of this year, down from 9.2 percent in the fourth quarter of 2011. Those numbers also represent good news, since the end of the year is when retailers grab more space to reel in as many shoppers as possible.
Local government has also helped spur development. Thanks to funds from a Special Purpose Local Option Sales Tax (SPLOST), the county was able to construct a new $117-million, 1,500-bed detention facility. Douglasville is also building a new convention center with two percent of the proceeds from the hotel/motel tax. The structure, which will include a 300-space parking deck, is taking shape on Church Street just across the street from the old convention center. The facility will add 27,000 square feet and give the city a shot at attracting larger meetings, says Boatright.
"The idea is to bring more and larger events out of the Atlanta market to this area," says Boatright. "Conferences, smaller meetings, weddings, reunions – all kinds of activities like that."
The center, which is expected to open at the end of the year, will sit about five miles from the county's hotels – most of which are along the interstate.
Overall, public building has been rare in Douglas in recent years. As the recession took hold, the county pulled in the reins on spending. There were some layoffs, but the county was able to avoid furloughing staff.
"We have little long-term debt," says Douglas County Commission Chair Tom Worthan. "As a matter of fact, by next November we will have none. We're in pretty good shape."
While other counties have closed library branches, Douglas just opened a new library south of I-20, in an area that had not had one – a telling sign of a growing residential population as well. With so much activity coupled with an ideal location, the area is primed for even more positive growth in the future.
"We're ready for business here in Douglas County," says Worthan.
Community Snapshot
Local Leaders
Kali Boatright
President & CEO
Douglas County Chamber of Commerce
770.942.5022
boatright@douglascountygeorgia.com
Dr. Skip Sullivan
President
West Georgia Technical College
770.537.7940
skip.sullivan@westgatech.edu
Chris Pumphrey
Executive Director
Development Authority of
Douglas County
678.838.3665
cpumphrey@developdouglas.com
Population
(2010 estimate)
County, 132,403
Douglasville, 30,961
Per Capita Income (2010)
County, $24,515
Georgia, $34,800
Unemployment (March 2012)
County, 8.9 percent
Georgia, 8.9 percent
Major Employers
Silver Line Building Products, WellStar Douglas Hospital, American Red Cross, Google, Medline Industries
Sources
Development Authority of Douglas County, Georgia Department of Labor, U.S. Census Bureau