When Education Means Business
For-profit colleges, which rely on tax-supported federal aid programs, are a $700-million industry in Georgia. New regulations will hold schools accountable for better preparing students to find employment and pay off their loans.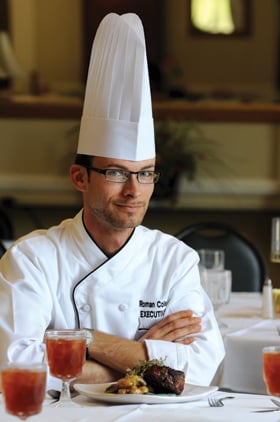 Roman Coley Davis never realized how quickly fishing could get old until it was all he had to do. So he concocted another game plan.
Davis had been medically retired from the Army, with a traumatic brain injury and post-traumatic stress disorder (PTSD) following his stint with Special Forces as an interrogator in Afghanistan.
"I had great plans for a career in the intelligence community, but I could no longer pursue that route," he says. "They retired me, gave me a flag, a retiree pin, my honorable discharge and 90 days of leave."
Staring at three months of paid vacation, he grabbed his rods and tackle and cooler and proceeded to get really bored.
"One afternoon, and I don't know if it was because the fish weren't biting or the beer wasn't cold enough, I started thinking, 'God, I've really got to get my act together,'" Davis says. "So I started thinking, 'I like to eat and drink. Maybe I'll go to culinary school.'"
Two weeks later he was enrolled in Le Cordon Bleu College of Culinary Arts in Tucker outside Atlanta. Today, instead of an Army beret he wears a toque as executive chef at Douglas Golf & Country Club, about 20 miles from his hometown of Denton.
It sounds like one of those late-night TV commercials, the ones where you see the faces of average folk telling you how this for-profit career college or that one provided the education, skills and confidence they needed to give their lives meaning (and an income).
But Davis is the real deal, one of the 112,000 students spread out among the 74 private sector colleges or universities (PSCUs) in Georgia during the 2009-2010 academic year (latest available figures; it was 3.2 million stu-dent-consumers nationally at almost 3,000 career schools).
According to the Imagine America Foundation (which is supported by the industry), for-profit colleges have a total economic impact of $38.6 billion in the U.S. In Georgia, PSCUs employ almost 9,000 people. Career colleges are a $700-million industry in Georgia, according to William Crews, executive director of the Nonpublic Postsec-ondary Education Commission (NPEC), the state regulatory agency.
"This is a mega multi-million dollar industry," Crews says. "That gross tuition adds up, because you're talking about a lot in federal financial aid dollars."
The for-profit college industry depends on students who depend on federal grants and loans. Students at for-profit colleges represent about 12 percent of total postsecondary enrollment in the U.S., but according to the U.S. Department of Education (DOE), they account for about 25 percent of federal student aid and almost half of all student dollars in default.
This private-sector reliance on tax-supported federal aid programs (and the resulting high student loan default rates), along with some occasionally questionable business practices, have not helped the industry's reputation, leading to tougher federal regulations. Nonetheless, the industry's top lobbyist expects continued growth for career colleges in meeting the demand for a better-educated workforce.
"I'm convinced our students will represent 15 to 20 percent of postsecondary enrollment in the next five years," says former U.S. Congressman (Wisconsin) Steve Gunder-son, president and CEO of the Association of Private Sector Colleges and Universities (APSCU), the industry's chief advocate in the nation's capital.
"Projections are that we'll need between 8 million and 23 million additional postsecondary skilled workers over the next decade or so," Gunderson says. "When I look at those numbers and look at the budget cutbacks in state support for public institutions, the only place that can serve this growing enrollment is private sector colleges."
While Gunderson and APSCU have warned that the new federal "gainful employment" rule will make it tougher for career colleges to serve their clients, Crews believes in the old saw about the buoyancy of cream.
"It boils down to the ones that serve their customers, that do what they say they're gonna do. Over the long haul, those are the ones that are successful," he says. "Just like any other business."
By Design
Portfolio Center isn't any other business. But it is kind of like cream.
"It fills a need," says Gemma Gatti, who started the school in 1979 and serves as its president. "Plus, I always wanted to have my own school."
Located in the Bennett Street Design District in Buck-head, Portfolio Center has earned a national reputation for developing creative talent, especially for the advertising in-dustry – art that pays.
"When our students leave here, they go right into the boardrooms of America," says Hank Richardson, the longtime director of Portfolio Center's design program. "This is where art and business come together."
Like so much else at Portfolio Center, that's by design.
Gatti was frustrated with the traditional university system and the limited choices for artists who wanted to earn a living. She'd earned her Master of Fine Arts (MFA) at the University of Michigan, but saw limited potential for the sheepskin.
"If you want to be a professor – and I thought I did – then the MFA is great. But I was frustrated because the program, and it was a good one, didn't address what most students really needed," she says.
Gatti was fortunate because while in the design program at U of M, she studied under professionals from Detroit's auto industry – designers, photographers, art directors who doubled as teachers.
"It was kind of unusual at the time, and they took me under their wing," Gatti says. "Me and another student worked with them on real projects. I'd spend three months on Chrysler Corporation boats, doing their catalogues, because the creative director and photographer were both professors at Michigan.
"But most students didn't have the opportunity I had. I was lucky."
Gatti began as a painter, got into graphic design, then went to Europe to study painting and thought she was going to starve doing that. So after three and a half years she came back to the states, went to Michigan and got into photography and design and advertising, or, as she puts it, "I got into the other side of the coin."
She never really considered herself an academic, though she taught at Michigan for a while, then at the Minneapolis College of Art and Design. But she finally got tired of an old and annoying philosophical struggle swirling inside university circles.
There's a little civil war that stands out for her, from when she was a student. She wanted to take a lithography course and an etching course. One of the professors told her that if she took one course, she could not take the other.
"It was fine arts versus commercial, and they hated each other," Gatti says. "It was politics. If you were involved in any art that made a dollar, you were a lowlife. It was insane."
So she wanted to create something that might be useful for budding creative Mad Men. And it has been. Portfolio Center claims a 97 to 100 percent job placement rate for its graduates – designers, illustrators, photographers, etc., usually within one to three months, with average starting salaries in the over-$40,000 range.
"You have to want to get into the industry, that's the whole point of going," says Gabe Bennett, a 2010 graduate of Portfolio Center. "You spend a lot of money, and the payoff is the network. Some people go to Portfolio Center just to have a relationship with Hank [Richardson]. He knows everyone in the business and has some influence."
Bennett was working before he graduated, doing freelance web design work, and he is currently launching his own business.
"Job placement" is why career colleges exist. It's the reason the industry spends so much on sales and marketing (20 to 25 percent of revenue, versus 10 to 20 percent on faculty).
It's the reason students at a for-profit college will pay tuition five times more than what they'd pay at a community college or twice what a state university costs, often incurring unsustainable debt, a big reason why job placement, specifically "gainful employment," is at the heart of new federal regulations taking effect in July.
Federal Lifeblood
Tax-supported federal financial aid is widely acknowledged as the lifeblood of the industry.
And yet, says DeVry University spokesman Ernie Gibble, "Private sector universities, like DeVry, do not receive taxpayer subsidies. Federal student loans go to the students, not the schools. And the students vote with their feet."
Technically, that is correct, though it may not tell the whole story – the career college industry relies on federal grants and loans for about 75 percent of its revenue (more than 85 percent at some institutions, like burgeoning Phoenix University).
Those students who vote with their feet are crossing the street to give that tax-subsidized federal money to institutions like DeVry.
So, yeah, heavy reliance on taxpayer subsidies is part of the reason for the industry's occasional reputation as the used car lot of postsecondary education.
In April, President Barack Obama traveled to Fort Stewart to sign an Executive Order that will establish Principles of Excellence "to strengthen oversight, enforcement, and accountability" among schools that seek out members of the military and their federal educational benefits. The order references "reports of aggressive and deceptive targeting of service members, veterans, and their families" by some for-profit schools.
"When federal financial aid started falling to the for-profit schools in the 1980s, there were some abuses, so Georgia and other states enacted legislation to keep better oversight of these schools and created agencies like this one," says NPEC's Crews, who explains that back then, "a person might get off the MARTA bus downtown, and someone is standing there at the bus stop, recruiting them, signing them up for financial aid, for an educational entity that would be gone in two to three months.
"It was a shell operation. In some ways, that hasn't changed. In other ways, it has."
In August of last year, the federal government filed an $11-billion fraud suit against Education Management Corp-oration, which owns a number of Georgia schools: Argosy University, Art Institute of Atlanta, South University and Brown Mackie College.
School Rules
In an effort to separate the bad apples from the rest of the orchard, the U.S. DOE last June released rules requiring private-sector college programs to better prepare students for "gainful employment," because too many of these students take on unmanageable debt for a certificate or degree that often does not help them secure employment.
"While for-profit schools have profited and prospered thanks to federal dollars, some of their students have not," U.S. Secretary of Education Arne Duncan said last June, when the new regulation was announced. "This is a disservice to students and taxpayers and undermines the valuable work being done by the for-profit education industry as a whole."
Under the new regulations (which go into effect July 1, 2012), a college would remain eligible to participate in federal financial aid programs if it meets one of the following conditions: at least 35 percent of former students are repaying their loans; graduates spend 30 percent or less of their discretionary income on loan payments; and graduates spend 12 percent or less of their total income on loan payments.
"We have incorporated the new regulatory changes into our compliance structure and have seen no material issues as a result," DeVry's Gibble says.
Material issues aside, for administrators in the trenches like Chris Chavez, president of DeVry's Atlanta Metro region, reputation still matters.
"We've worked extremely hard to protect our reputation and serve our students with utmost integrity in the Atlanta Metro area," says Chavez, who is chief administrator of DeVry's seven campuses in the region.
Though it has campus classrooms, full-time professors with Ph.D.s and so forth, DeVry is like most large companies in the industry heavily focused on distance learning, a growing and popular concept that has spread to traditional postsecondary education.
For an institution like Atlanta-based Medtech College, a more hands-on, clinical approach is preferred, since its students are training for careers in healthcare. The new regulations hardly faze the growing company's co-founder, because he says compliance is basically part of Medtech's DNA.
"A few bad actors in the industry have caused a huge public relations fiasco," says John Hopkins, president and CEO of Medtech College, a healthcare education company with campuses across the country, serving about 5,000 students (about 1,800 in Georgia).
"In my view, this increased scrutiny is one of the better things to happen to the industry. Hopefully, it will weed the bad actors out and impose a sense of discipline. The good companies have nothing to worry about, other than the residual effects of being lumped in with the bad companies."
Good Apples
No one wants to be lumped in.
Gatti is hesitant about Portfolio Center's being featured in the article, because, "There's been a lot of bad press about for-profit schools. I wouldn't want to be lumped in with those schools."
That would be difficult, because Port-folio Center is a colorful, multi-textured entity that stands alone, maintaining its independence even as so many other private-sector schools have become part of gigantic corporate entities.
"One of our biggest challenges are the multi-state, Wall Street trade corporations that own schools," says Crews. "Many of those do a very good job; they're in very good standing. But when something goes haywire, and a school closes up North or there's trouble at the corporate level, that could mean trouble for schools here in Georgia."
And that could leave students high and dry. So private sector colleges in Georgia must pay into a tuition guarantee trust fund to help reimburse the students.
At Portfolio Center, students rub shoulders with some of the stars in the advertising industry, creating relationships that lead to jobs. Today the school has an average of about 150 students each quarter. There are 12 full-time employees (administrators, teachers or both) and maybe 65 part-time teachers.
"They're professionals, experts in their fields, and they come for four hours, then go back to their full-time jobs," Gatti says.
Average class size is something like eight.
"Our students get a lot of individual attention. Basically, we hold their hands," says Tania Rochelle, PC's creative writing teacher and communications director, a published author and poet who imagined a stuffy little office in a university English department while she was pursuing her MFA at the University of Georgia.
Instead, she teaches graphic designers how to write essays and poetry and creative non-fiction, because they are entering a field where it will be required to cull everything down to its essential (and hopefully memorable) message.
"If you think about it, logos are very much like poetry," Rochelle says. "You're conveying a story in a small space. That's what we try to teach – you've got this much room to communicate something big."
Down in Douglas, in Coffee County, Roman Coley Davis is presiding over a country club menu that includes seared Nantucket scallops with cauliflower puree, blue crab fritter with avocado and pork tenderloin with roasted onion demiglace.
This is not the life he had imagined for himself, designing and implementing an upscale menu, with culinary chops courtesy of the G.I. Bill.
"I have a pension from the Army and benefits, so this was not a financial decision for me. I was struggling with my PTSD. I was floundering. And I had friends who had committed suicide," says Davis, who was a 2012 winner of APSCU's Graduate Recognition for Education, Achievement and Talent (GREAT) Award. When he retired from the Army, it was up to him to see a doctor, and the main response to complaints of PTSD came in capsule form.
"I didn't want to be medicated, doped up, but I really did feel like I was drowning," says Davis, who describes his experience at Le Cordon Bleu as "therapeutic."
Georgia Trend contacted Le Cordon Bleu, part of the Career Education Corporation, but the culinary college declined the opportunity to be interviewed.
Still, Davis credits the school's chefs and teachers for not only teaching him how to make the good grub, but also guiding and counseling him when he needed it most.
"What I got out of culinary school was above and beyond anything I expected. I didn't just learn how to make a sauce or how to sauté properly," he says. "I learned how to function in life again."