South Metro Atlanta: Southern Exposure
New international terminal spurs growth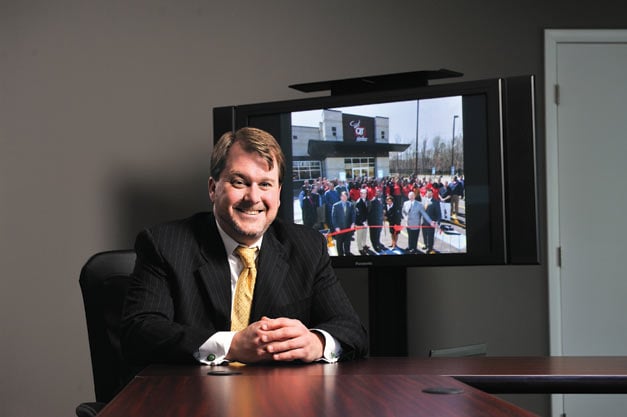 Perhaps no region of Georgia presents more diversity than Atlanta's South Metro. The region encompasses the southern part of Fulton County, plus Spalding, Coweta, Henry, Fayette and Clayton.
Within this broad area is virtually everything a business or economic developer could be looking for, from downtown Atlanta to vast expanses of industrial and warehouse space. In the heart of the region is Hartsfield-Jackson Atlanta International Airport, the busiest airport in the world, and running throughout the region is an extensive transportation network unmatched anywhere in the country.
With the long-awaited Maynard H. Jackson Jr. International Terminal slated to open at Hartsfield-Jackson in May, the airport corridor has been booming with economic development activity, says Grant Wainscott, director of the Clayton County Department of Economic Development.
"The main economic development focus here in Clayton County has been around the airport and along I-75, and this area will remain the focus for the foreseeable future," says Wainscott, adding that the International Terminal will provide a new front door to the airport from I-75. "Companies realize that the airport area is about to explode, so there's been a lot of jockeying in the marketplace."
According to Wainscott, a total of $50 million will be spent on interchange realignment at Conley Road and a major new underpass at Old Dixie Highway. In addition, Clayton County received a Transportation Enhancement grant of $300,000 from the Georgia Department of Transportation to create a new "visual corridor" at the Charles W. Grant Parkway exit off I-75. "The grant money will be put toward beautification and landscaping, signage and way-finding," Wainscott says.
"All of this infrastructure work is opening up nearly 200 acres of prime real estate around the airport – this is the last great piece of raw land inside the perimeter," he says. "We will work with the airport to create a logistics center for companies that need to be near Hartsfield-Jackson. This is going to result in a lot of new investment and jobs in the area."
Wainscott hopes to be able to close on the property this year, and he says road construction is scheduled to begin in 2013. "But there has already been $25 million worth of new construction in the Mountain View area, creating 250 new jobs."
Elsewhere in Clayton County, Wain-scott notes that phase two development has been completed at Gateway Village, which has been rebranded University Station. The 150-acre project serves as the front door to Clayton State University on Highway 54 and will include the southeast branch of the National Archives, the state of Georgia archives, the Georgia Libraries for Accessible Statewide Services (GLASS) distribution center and 800 dorm rooms for Clayton State.
Industrial Corridor
In South Fulton County, the Fulton Industrial Boulevard corridor remains an area of economic development focus, says Robert E. Simmons, chief development officer for the Devel-opment Authority of Fulton County.
"This is the largest contiguous industrial park east of the Mississippi, and some tenants have been there for more than 50 years," notes Simmons. PepsiCo, Coca-Cola, Selig Enterprises, Miller Zell, Robert Bosch and Tie Down Engineering are just a few of the companies with manufacturing or industrial facilities along the corridor.
A self-taxing Community Improve-ment District (CID) was formed by the businesses along the corridor in late 2010 to raise funds to help regenerate the area and enhance the road network. "A few years back, extended-stay mo-tels started taking the place of well-known motel chains that moved out along Fulton Industrial Boulevard near I-20, and this led to a lot of crime and illegal activity," says Y. Dyan Matthews, president and CEO of the South Fulton Chamber of Commerce.
"But the health department was able to shut down some of the motels that were unhealthy, and good companies have started buying these properties. For example, the Fairview Inn is a very nice facility with a conference center that is catering to businesses. We're very excited, because in the section that had given the corridor a black eye, new owners are moving in who want to revive Fulton Industrial Boulevard. It's a great location."
In addition, the northern part of the corridor has been designated an Opportunity Zone and part of a tax-incentive program that Sim-mons says provides businesses within the zone with a $3,500 credit against withholding taxes for each employee. "That's money that goes straight into the business's pockets."
When talking to prospective businesses about moving into South Fulton, Simmons and Matthews both stress the abundance of available warehouse, manufacturing and industrial space, as well as the outstanding transportation network and proximity to Hartsfield-Jackson. "We're in a very strategic location for these kinds of businesses," says Matthews.
International Hub
Activity in and around Hartsfield-Jackson has a direct impact on Fayette County as well, since so many airport and airline employees live there. This has also helped Fayette land many high-profile international businesses like Panasonic Automotive Systems, BAE Systems and TDK. In fact, Fayette has the seventh largest concentration of international companies and the sixth largest concentration of foreign-owned manufacturing facilities in Georgia.
One of these, Chinese heavy equipment manufacturer Sany America, opened its new $60-million, 400,000-square-foot corporate headquarters and manufacturing plant last August in Peachtree City, where it is building high-end concrete pump trucks and crawler cranes. In addition, Sany recently announced that it would spend another $25 million over the next five years to hire 300 engineers and technicians for a new research and development hub.
"Our current focus is primarily on helping existing businesses and industries in the county expand," says Matt Forshee, president and CEO of the Fayette County Development Author-ity. "When the economy went down, businesses streamlined and did more with less, but many are reaching the point where they can't keep doing this, so they're looking to add space to their facilities and more employees.
"We're talking to between five and 10 companies in Fayette right now about their expansion plans," Forshee adds. One example is Universal Environmental Services (UES), a re-refinery that recycles used oil and is pumping $60 million in new investment into its Peachtree City plant, according to Forshee.
Peachtree City continues to add to its list of accolades and recognition, which includes being named one of the 10 Best Towns For Families by Family Circle magazine and again being ranked in Money magazine's list of Top 100 Places to Live in America. Fayette County was recognized by Business Insider as one of 20 American cities and counties that could be the next Silicon Valley.
Fayette has the second highest median household income in the state at $83,395, officials say, as well as the second highest average household income at $100,439, and boasts one of the top 10 school systems in Georgia.
In neighboring Coweta County, healthcare is a growing part of the local economy, notes Greg Wright, president of the Coweta County Development Authority. This is evidenced by two major projects: the completion of the 136-bed Piedmont Newnan Hospital this spring, which is one of the first LEED-certified hospitals in Georgia, and the opening of Cancer Treatment Centers of America (CTCA) in Newnan, which is scheduled in August. In addition, a 125,000-square-foot medical office building opened in February adjacent to Piedmont Newnan.
CTCA considered 13 sites for the new Cancer Treatment Center before choosing Newnan. The city's historic and vibrant downtown and its proximity to Hartsfield-Jackson were key factors, according to Kane Dawson, president and CEO of the Newnan facility, since two-thirds of patients will come from out of state. The center is projected to have a $500-million impact on economic activity and create 500 new jobs within its first five years of operation.
"We're finally seeing businesses in Coweta start adding jobs and making decisions on new locations and expansion," says Wright. "For the longest time, they were just kicking tires and looking for deals, but now they're moving forward."
For example, in November, MBM Foodservice announced that it will open a new food service distribution facility in Newnan this year that will create 108 new jobs. The company has leased a spec shell building in the Coweta Industrial Park and is investing more than $12 million in upgrades and enhancements.
In addition, Yamaha, the county's largest employer, is in the process of transferring its sport ATV production from Japan to its Newnan facility. And Chromalloy, which repairs components of aircraft engines and industrial gas turbines, is expanding its Newnan operations and workforce, which will add up to 125 jobs at the facility. "Chromalloy has played an important part in Coweta's economic success for decades, and we're thrilled that they've chosen to expand their Newnan facility," says Wright.
A Green Industrial Park
In Spalding County, phase one of the much-anticipated Lakes at Green Valley is now complete, says David Luckie, executive director of the Griffin-Spalding Development Authority. This 570-acre mixed-use industrial park along the Georgia Highway 16 corridor is one of the first green industrial parks in Georgia.
"The pads are graded, and we're now showing the property to a number of good prospects," says Luckie. "We're working closely with Georgia Tech to market Lakes at Green Valley as a sustainable property, which will help us attract businesses for which this is important."
Last fall, the Griffin-Spalding Development Authority received an award from the Georgia Economic Developers Association for a Deal of the Year in recognition of an expansion project at Caterpillar's Green Valley Industrial Park facility that will create more than 200 new jobs, preserve more than 600 existing jobs and generate $120 million in capital investment.
Welsh Equipment, Inc. and Con-Tech Manufacturing, Inc., leaders in the new and used concrete mixer industry, opened a new manufacturing facility in Spalding County last summer, taking over 10,000 square feet of space on a six-acre site in the Hudson Industrial Park and creating 25 new jobs. And HK Logistics, a leading provider of critical logistics services, is building a new 160,000-square-foot distribution center on 11 acres of property in the Green Valley Industrial Park. The project represents a $30-million capital investment and will create 70 new jobs, with completion expected this summer.
"Considering economic conditions, 2011 was a very good year for us," says Luckie. "We're very hopeful that with the completion of phase one of the Lakes at Green Valley, we'll be seeing a lot more new business here in Spalding County in the coming year."
Last year was a good one for Henry County. "A number of new developments bode extremely well for Henry County and have positioned us very well as we finally emerge from the long economic recession," says Bob White, executive director of the Henry County Development Authority.
In particular, De Wafelbakkers, a frozen food manufacturer, moved into a 92,000-square-foot manufacturing facility in McDonough in 2011 and will eventually employ 240 people. Apparel manufacturer Phillips-Van Heusen has leased a previously unoccupied spec building in Mc-Donough and is converting it into a state-of-the-art, 852,000-square-foot distribution center that will employ 300 people when it opens next year. "These both represent significant relocations into Henry County," says White.
This spring, groundbreaking will commence on a Southern Crescent Technical College satellite campus in McDonough on 25 acres of property donated by the Henry County school system. "Henry County has been the largest population center in Georgia without a technical college campus," notes White.
The county has acquired Tara Field, a formerly private airfield located in Henry County, for $17.7 million, a significant portion of which will be paid by the FAA, says White. Over the next couple of years, it will expand the runway and improve the airport facilities. The airport will be renamed Atlanta South Regional Airport when renovations are complete in 2014.
"We long believed that this airport was an underutilized asset in the South Metro region," says White. "Atlanta South Regional Airport is going to open the door for us to recruit more aviation and aerospace businesses to Henry County. I believe it will be one of the leading airports in the state."
Community Snapshot
Local Chambers
Clayton Chamber of Commerce
www.claytonchamber.org
Fayette County Chamber of Commerce
www.fayettechamber.org
Griffin-Spalding Chamber of Commerce
www.griffinchamber.com
Henry Chamber of Commerce
www.henrycounty.com
Newnan-Coweta Chamber of Commerce
www.newnancowetachamber.org
South Fulton Chamber of Commerce
www.southfultonchamber.org
Clayton County 

Population
(2010)
259,424
Per Capita Income
(2009)
$24,569
Unemployment
(2011)
11.8 percent
Coweta County 

Population
(2010)
127,317

Per Capita Income
(2009)
$32,065
Unemployment
(2011)
9.5 percent
Fayette County 

Population
(2010) 

106,567
Per Capita Income
(2009)
$44,740
Unemployment
(2011)

8.3 percent
Fulton County 

Population
(2010) 

920,581
Per Capita Income
(2009)
$53,071
Unemployment
(2011)
10.1 percent
Henry County 

Population
(2010) 

203,922
Per Capita Income
(2009)
$30,342
Unemployment
(2011)
9.9 percent
Spalding County 

Population
(2010) 

64,073

Per Capita Income
(2009)
$28,135
Unemployment
(2011)

13.2 percent
Sources: United States Census Bureau, Bureau of Economic Analysis, Georgia Department of Labor