Rabun County: Changing The Game
New directions, new strategies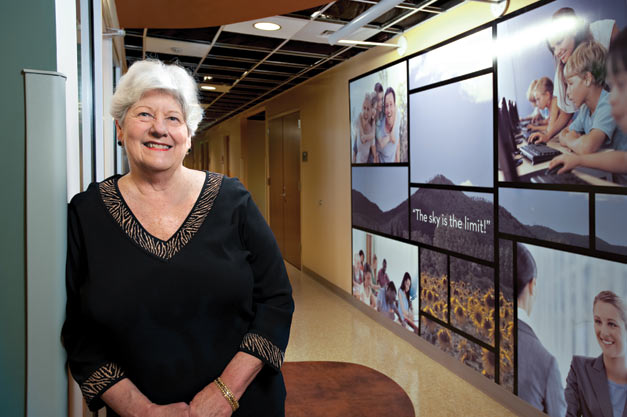 Rabun County sits serenely in the northeast corner of Georgia. This land of lush forests, placid lakes and breathtaking mountains is the kind of place where people come to be charmed by the natural wonder. Yet all the outdoor majesty couldn't contain the fear that came with the closing a few years ago of the county's biggest employer. Fruit of the Loom, where more than 1,000 people in a county of just 16,000 worked, announced it was shutting down in 2007, yet another victim of a global economy that values low cost over good jobs.
"It impacted us greatly," concedes Rabun County Cham-ber of Commerce President Tony Allred. "Over the years we've lost several mainstay manufacturing plants here, and some of those left have cut back. Our unemployment rate is among the highest in the state."
These days this collection of mountain communities is taking a different approach. Instead of weeping over the losses, the drive here is to build a new kind of economy based on natural assets that are not so likely to be outsourced to low-wage nations.
"We don't want to put all our eggs in one basket this time," declares Rabun County Commission Chairman Butch Darnell. "We want to be sure that we bring several smaller companies in, so that if one leaves we're not out of luck."
Central to this "small is good" strategy is the renovation of the one-million-square-foot Fruit of the Loom plant. After floating a $16-million bond issue, the county bought the facility from an investment company that had picked it up from the original owner. Since then, work has been under way to turn the big warehouse into an appealing home for a wide variety of advanced manufacturing firms.
The building is already connected to water and sewage, and the county has installed broadband service – an essential asset for technology and technology-enabled companies.
The fiber-optic cables snaking from Clayton's main traffic light to the industrial park are the culmination of a project begun in 2009 when the North Georgia Network won a $33-million federal stimulus grant to build a high-speed fiber-optic network. Rabun is one of eight Northeast Georgia counties that are part of the final deployment of a 260-mile broadband expansion ring, which will extend from Atlanta north to the Georgia mountains. The grant has been paying for most of the project, with local money covering the remaining expansion. The network will pass 245 county and city government facilities, schools, educational institutions and hospitals. Though it will touch only a portion of Rabun, county officials were eager to extend it the last mile.
More Competitive
The project, which will offer county residents bandwidth capacities of up to 10 gigabytes, is often described as "a game changer" by locals. They see it making Rabun competitive when it comes to recruiting technology companies and even data warehouses that need high-speed access. Up till now, Internet service in this rural community was usually DSL over phone lines, if it was available at all.
The goal is to make sure no obstacles arise that might keep a business from locating here. Companies choosing the new building will find plenty of incentives.
"We have money set aside for build out to accommodate certain needs," says Leckie Stack, chair of the Devel-opment Authority of Rabun County.
She adds that depending on how many jobs a prospective tenant brings to the table, the company will get money for build out and tax incentives.
The strategy is one of gradually rebuilding the local employment base one small company at a time.
"We're targeting several different industries including aerospace companies, which are very common in Georgia, and as a matter of fact, we have one in the county now that we're negotiating with that could take 65,000 square feet of space in the building," explains Development Authority board member Stephen Wright, who also runs a site selection company in Atlanta. "They are currently experiencing significant growth, so they will need to expand into our building or relocate outside the county. They're an exact target of the kind of company we're going after."
The county is also looking at other advanced manufacturing, which Wright defines as companies building custom products that require a high level of skills and technology. With these jobs will come more incentives for people to stay in Rabun once they finish their education. The county is home to two of Georgia's most prestigious prep schools, Tallulah Falls School and Rabun Gap-Nacoochee School, and many would like to see more of the graduates stick around.
"All of these schools graduate kids and they go off to colleges all across the county, but really and truly we don't have anything to draw them back to Rabun for work once they have their degree," says Darnell. "We need some highly skilled jobs that bring in larger salaries."
New Leadership
There's more to Rabun's drive to better its economic fortunes than just one building. In recent months, new leadership has been installed at all the county's local agencies, including the chamber of commerce, development authority and convention and visitors bureau. These organizations are working with other local bodies to present a united front for economic development – which is something unfamiliar to Rabun, according to development authority member Robert Pittman.
He and his company, Janus Economics, undertook a study of the county for Georgia Power a couple of years ago and found that it was largely unprepared to deal with a new and unforgiving global economy. The county was certainly pro-business and offered an easy permitting process, but it lacked some of the assets that could turn it into a real business magnet.
"We looked at the usual factors, but we also looked at the history of how the community groups had worked together on their economic development efforts; and we found a community very much in transition," says Pittman.
Losing the Fruit of the Loom plant proved to be a "galvanizing force" for shaking the county out of its lethargy. "They had not had to do a lot of economic development [work] before that – it just happened," he explains. "Then they realized that they had to do something because the traditional manufacturing base was declining."
The report noted there were no available industrial sites in the county to show prospects. That led to the building purchase and also to a greater effort by local groups at working together. Officials started talking to each other, and soon dollars were flowing in to support economic development projects.
"There are signs of a new economic horizon," says Pittman.
Some of those small manufacturing firms are already at work. A.I.D. Company, a subsidiary of RBC Bearings Inc., is producing specialized control rods for the aerospace industry. Another firm, Gap Partners, is doing precision metalworking. Both have found their way to the industrial park and appear ready to grow and offer more jobs.
The county is also looking for food processing and even light warehousing as potential tenants. Big distribution centers are not a good prospect owing to the county's lack of interstate access, but for many other businesses the location is ideal, according to Wright.
The county also spent about $800,000 renovating the old hospital building. Now it houses a satellite campus for North Georgia Technical College and a state employment office – two vital components for getting people back to work.
The facility will offer computer stations for those who need Internet access or the ability to compose and print a resume. Classes are being taught both by on-site faculty and by distance learning from the main campus in Clarkesville.
Giving locals the tools they need to get new jobs is an important part of Rabun's new economic plan. When textile plants shut down, many unemployed workers turned to the construction industry, which was still booming. When that collapsed, too, prospects found themselves in new and unfamiliar territory. Yet the essential strength of the local workforce bodes well for an economic revival.
"Back when the Fruit of the Loom plant was here, the people working there were considered one of the best groups of workers in the country," says Darnell. "They've got that Appalachian culture of work ingrained in them, and I think that still shows up in them today."
Quality Of Life
Rabun is making use of its biggest and best asset – the lush natural beauty that has made this a destination for so many from Atlanta, Florida and points beyond. About 20 percent of its 377 square miles is owned and managed by Georgia Power, and 60 percent is within National Forests and state parks. In fact, only about 18 percent of the land is really usable for development.
That ensures there will probably always be scenic views for the army of second-home buyers that crowd around the county's three major lakes and nest on its mountaintops. For locals, that translates into "quality of life" and a prime selling point in attracting businesses. Not only is Rabun a good place to work, but it's a great place to live – free of the congestion, smog and ill temper of the cities. Over the years, many have picked up on this message.
"During the summer our population pretty much doubles because of the second-home market, and I know a lot of business in our county would not survive without it," says Pete Cleaveland, executive director of the Rabun County Convention & Visitors Bureau.
He knows because he is one of the transplants who moved here from Atlanta. He and his wife opened an art gallery in 1997 after the big city "got too big and hectic." Since then he's seen an influx of tourists and homebuyers who often gradually transition from part timers to full-time residents.
Those visitors are an even bigger source of gold than most realize. Cleaveland contests aspects of a State of Georgia report that tourism accounts for $41 million in economic impact and generates 500 jobs locally – making it the biggest industry by far; the report doesn't take into account the second-home market, which has just as much impact.
"If we look at the sales tax history, the prevailing thinking is tourism accounts for 50 percent of the amount collected. If that's true, then tourism is probably over $100 million," he says.
Visitors have much to do and see while they're here. Whether it's whitewater rafting down the Chattooga River, hiking forest trails or dining at that other economic engine – the legendary Dillard House and its famed restaurant with plentiful Southern-style cooking – people keep coming.
Much like everywhere else, real estate, including the second-home market, hit hard times in the midst of the recession. Sales as well as construction came to a halt, but lately the market has made a comeback.
"I think we're seeing more of a sense of people feeling better about the economy and willing to invest in a second home," says real estate agent Julie Barnett with Harry Norman, Realtors, who caters to buyers seeking lakefront properties. "A lot of people, especially on the lakes, consider it an investment in their family as well as a monetary investment."
While sales were sluggish in 2009, they picked up in 2010 and rose by more than 50 percent last year. The increases reflect a greater willingness by the affluent to buy and banks to lend, coupled with lower prices. The average home here carries a price tag of $765,816, but across the county sales are coming in at about 88 percent of the listed price. Overall prices have fallen about 30 percent since their high in 2008, according to Barnett.
Last year, a powerful tornado swept across Lake Burton, cutting a 14-mile swath through the woods and destroying about 100 homes – including some million-dollar residences. Out of this disaster came new building activity to repair or replace the damaged structures.
Rabun's second-home market has attracted the likes of county singer Alan Jackson and University of Alabama head football coach Nick Saban, whom Barnett calls the county's "biggest advocate." It is also home to many less well known who come for the much same reasons – the views are great and the lifestyle is easy.
"All I need is an airport, a strong cell phone signal and Internet service and I'm good to go," remarks Pittman, who has homes here and in Atlanta, but considers Rabun his primary residence.
Other consultants and creative types who can operate remotely have seen the same attractions. Many a lakefront fishing cottage has been transformed into a full-time home site for these transplants who can afford to make the move. Their numbers are likely to grow as the economy improves and more people begin to see all that Rabun County has to offer.
Community Snapshot
Local Leaders
Stan "Butch" Darnell
Chairman
Rabun Board of Commissioners
706.746.5072
Pete Cleaveland
Executive Director
Rabun County
Convention & Visitors Bureau
706.982.4754
pete@gamountains.com
Leckie Stack
Chair
Development Authority of Rabun County
404.374.4555
leckies@earthlink.net
Population
(2011)
County, 16,276; Clayton (county seat), 2,019; Dillard, 198; Mountain City, 829; Sky Valley, 221; Tallulah Falls, 164; Tiger, 316
Per Capita Income
(2010)
County, $21,955
Georgia, $34,849
Unemployment
(December 2011)
County, 12.2 percent
Georgia, 9.4 percent
Top Employers
Rabun County Schools, Walmart, Dillard House, Mountain Lakes Medical Center
Sources: U.S. Census Bureau, Georgia Department of Labor, Development Authority of Rabun County