Energizing The South
Q&A with Southern Company's Tom Fanning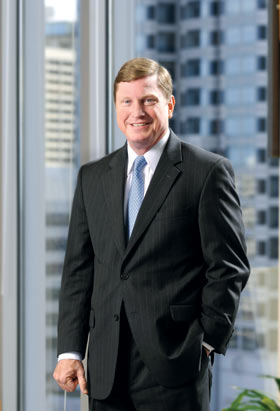 There is no telling where Tom Fanning would have ended up if injuries hadn't kept him out of the United States Military Academy. Twice. But it's a sure bet he wouldn't be doing what he's doing now.
Fanning became president of Southern Company in August 2010, then added chairman and CEO to his business card in December of that year with the retirement of his predecessor, David Ratcliffe. Now Fanning directs a company with about 26,000 employees serving 4.4 million customers who get their electricity from Southern's four subsidiaries – Alabama Power, Georgia Power, Gulf Power and Missis-sippi Power.
In February, Fanning talked with Georgia Trend in his Atlanta office and on a follow-up phone call. Here are edited highlights from the interviews.
GT: You moved to Atlanta from New Jersey when you were a kid. Could you ever have imagined anything like this job?

Fanning: No way. I wanted to be an astronaut. That's what everybody wanted to be back then. As I went through high school, I developed a fascination with languages and international politics, and honestly, I really wanted to be a diplomat. I was a National Merit scholar, believe it or not, and was accepted at a number of colleges, but the one place I was really focused on was the Georgetown School of Foreign Service. I got an early admission there.
GT: How'd that pan out?
Fanning: Interestingly, I also got an appointment to West Point [United States Military Academy] and had a chance to play football there. I accepted the appointment, but I got hurt and your physical condition had to be 100 percent. So I ended up at Georgia Tech. As it turns out, I got reappointed to West Point, but I got hurt again, lifting weights this time, so I said the heck with it, I'm staying at Tech. And it was the best decision I could have made. I loved it, and I remain very involved with the school.
GT: You went from Georgia Tech to Southern Company, and you've been there ever since. You've worn a lot of hats before getting to this point, haven't you?
Fanning: In 31 years with Southern Company I've had 15 different jobs in eight different business units, including one international assignment, going back and forth to Australia for a year. I've been with every subsidiary except Alabama Power. I've been CFO, COO, CIO. I was head of strategy, president and CEO of Gulf Power – half of my career was in finance, half in a variety of other disciplines. I have definitely seen the system.
GT: So you've been at the table as Southern Company moved ahead with its plans for new nuclear generation. How did that begin to come about?
Fanning: As we thought about strategic positioning, there were several trends going on. Natural gas was becoming more attractive in terms of price and availability, and coal was falling out of favor, particularly from an environmental standpoint. Renewables were coming to the fore, [and] energy efficiency was becoming more important to our customers across the Southeast.
We had to consider thousands of exogenous variables that go into a 40- to 60-year planning horizon, because that's the kind of long-range business we're in. So, a lot of questions and considerations: The economy, interest rates, credit quality, the price of coal, the price of natural gas, how will regulations evolve. We came up with what we call dominant solutions, and one of the dominant solutions was nuclear power.
GT: No one had built new nuclear capacity in the U.S. for decades. Why did you consider it a dominant solution?
Fanning: No emissions. It is clean energy. It is exceedingly reliable and stable, and we were on the doorstep of new, evolving nuclear technology. We thought it would fit into our portfolio for the future.
Now, a lot of companies were considering nuclear at the time, and a lot of projects were announced; but in my opinion, only a few companies have what I could call the right set of criteria you need to pursue new nuclear.
GT: So what's the right set of criteria?
Fanning: One is scale. The cost of the Plant Vogtle project, units 3 and 4, is $14 billion, and we own 45.7 percent of that. In order to undertake a project like that, you'd better have scale, otherwise you're betting the company. We have scale. Southern Com-pany's equity value in America is the highest in the energy industry.
Second, this project takes 10 years to build, and you can't take a year off, even though you know that in a 10-year-period there will be swings in the economy, so you'd better have the highest level of financial integrity, and we do. We have the highest bond ratings, the sixth lowest Beta – that's our level of systematic risk in the market – and we have a safe, conservative business model, so we fit the financial profile.
The third thing is operational credibility. Some companies who considered nuclear were getting into it for the first time. Bad idea. In my opinion, it is absolutely imperative that you have an excellent track record in terms of safe, reliable operations. We have that. Given all of that, it was natural that we go forward with nuclear.
GT: The Nuclear Regulatory Commission (NRC) ap-proved your combined Construction Operation License (COL) by a 4-1 vote, signifying that full construction can begin at Plant Vogtle (the one dissenting vote was from the NRC chairman). A consortium of public interest groups has since filed suit challenging the permit. Talk about that, and give us an update on Plant Vogtle project.
Fanning: We don't expect any delays. The NRC licensing process has been thorough and thoughtful, and it is complete. This is something that's been going on for five and a half years.
Every interested constituent has had an opportunity to ask questions and be heard. My sense is that every question has been answered. The Unit 3 reactor should go into service in 2016, and Unit 4 in 2017. To this point we've spent a little over $3.5 billion.
GT: The construction of Units 1 and 2 featured huge cost overruns. What guarantees can you give Georgia taxpayers and ratepayers that this project won't rise above the projected $14 billion?
Fanning: The licensing process is completely different. There were no standard nuclear plants in America the last time the NRC approved one. The NRC is taking this project so seriously, that Vogtle 3 and 4 will be the standards for all future AP1000 reactors. This will be the standard bearer.
The regulatory process is completely different. The capital markets are completely different. And also, we built the last units. This project is being built with a commercial contract that provides for attractive risk sharing between us and our Georgia customers and our contractors. We're very confident in our ability to deliver on this contract, with its attractive risk management process.
GT: Tell us about the new generation of reactors, the Westing-house AP1000.
Fanning: We believe it's the safest nuclear technology in the world today. It's also the most economical and reliable. The AP stands for Advanced Passive.
Think about the tragedy at Fukushima. The tsunami took out all of the diesel generators, so they didn't have power. They couldn't run the pumps and valves to get water to the critical parts of the plant.
With the AP1000, in the event of a problem, you don't need an external power source to completely and safely shut down the plant. The water, essentially, sits above the reactor and falls by the force of gravity. It's a radically different design, and it would have obviated a lot of the problems we saw at Fukushima.
GT: We're seeing a huge increase in supply and utilization of natural gas, thanks especially to the drilling in Pen-nsylvania. It's also cleaner than coal. What kind of challenge does the low price and increased availability of natural gas present in keeping nuclear energy competitive?
Fanning: Like nuclear, natural gas is a dominant solution. But it is not a panacea. It is not the end-all solution that some people would have you believe.
First, there are environmental concerns around fracking, and we've got to resolve those concerns.
Second, in order to get the gas from Pennsylvania to where we need it, we've got to continue building out the natural gas infrastructure, the interstate pipelines, and we know that will be controversial.
Third, natural gas in the past has been more volatile than coal or nuclear – dramatic swings in price over short periods of time is not a good thing.
GT: But you consider it a dominant solution?
Fanning: Look, we've been saying for a long time that we need all the arrows in the quiver. President Obama calls it an "All of the Above" energy strategy.
In order to think about energy security, we need to take advantage of the resources we have here in the U.S. American consumers have a right to a clean, reliable, safe, economically sensible source of electricity, and we're committed to filling out what I think is the right portfolio.
We're leading the renaissance of new nuclear and 21st century coal technology – at Plant Ratcliffe in Mississi-ppi, we're developing our own technology to essentially gasify coal, stripping out 65 percent of the CO2, pushing it underground. That's a $2.5-billion project. We're producing electricity from coal that's cleaner than natural gas. But we are still committed to natural gas in a major way.
GT: How has the portfolio changed over time?
Fanning: Four years ago, 70 percent of our energy came from coal, about 16 percent from nuclear, about 12 percent from gas and the rest from hydro and other sources. In the fourth quarter of 2011, 40 percent of our energy came from coal, 39 percent from natural gas, so we're about even. So, we're making the transition.
Think of Plant McDonough, north of Atlanta. We're shutting down a 550-megawatt coal plant and replacing it with a 2,500-megawatt natural gas plant. What we've got to do is continue to find ways to maintain reliability and an economically sensible posture in how we transition away from coal in America.
GT: Speaking of coal, several Southern Company plants are ranked among the largest contributors of greenhouse gases. This is old news. Talk about Southern Company's role in climate change, as a contributor and as part of the solution.
Fanning: Those are headline statistics. We made the list because we are large, because those are very big plants. When you think about per unit emissions, by kilowatt hour produced, then there are something like 300 units that would be rated above us in that regard.
Southern Company has deployed more than $8 billion for environmental control equipment in the U.S., and by 2014 it'll probably be $12 billion.
We've increased energy production something like 40 percent while reducing emissions by 70 percent, and when we finish deploying our environmental controls at those large flagship units, it will be more like a 90 percent reduction. And we were on this track before the new EPA regulations were coming down the road.
GT: What role do you see clean renewable forms of energy playing in the Southern portfolio?
Fanning: I'm a big fan of renewables. The cost has come down. It's an exciting area to be in. But in my opinion, it will be a niche, at least for the next 10 to 20 years. Even so, we're committed to growing our renewables portfolio, and we're a leader in renewables in the United States.
For example, Southern Company operates, in a joint venture with Ted Turner, the nation's second largest solar facility, in New Mexico. We're building North America's largest biomass facility to benefit the citizens of Austin, Texas. Alabama Power has just purchased 200 megawatts of wind energy.
GT: Southern Company has its critics who question the need for new nuclear and say the company hasn't done enough in the way of energy efficiency. What do you say?
Fanning: Energy efficiency typically gets translated these days as "use less." Efficiency to me means our customers use our product in the most sensible manner. If I can make my product more efficient in how it's used, more cost effective, cleaner and safer, then in fact I can use it more.
I can sell it against other worse forms of energy. Think of electric vehicles. We're all for that. We would offset the need to import $1 billion a day for foreign oil. And you could fill up your electric vehicle today for the equivalent of about a buck a gallon. That's a deal we should make.
GT: Anything else, regarding energy efficiency?
Fanning: We're one of the nation's leading implementers of smart meters. We'll have deployed about 4.6 million smart meters by the end of this year.
One hundred percent of our customers in Alabama have smart meters. So when the tornadoes came through last year, we were able to tell immediately what meters were off. We knew where the critical losses of power were, where the elderly citizens were, where the people who were receiving significant medical attention were.
We're spending $18 billion on infrastructure in the Southeast in the next three years, and $6 billion of that is for transmission and distribution. That's about maintaining our reliability and our efficiency.
On the generation side, there's a statistic called EFOR. It stands for Equivalent Forced Outage Rate. The industry average is about 6 to 7 percent. That means 6 to 7 percent of the time when you want your plant to run, it won't run – it has a problem. Last year, ours was 1.3 percent. We continually lead the United States in that, and that is a measure of efficiency.
So, people do typically associate the concept of efficiency with the consumption of electricity, but there are efficiency measures all the way through the physical delivery, from taking the fuel stock to an electron, to moving that electron, to consuming that electron.