Central: Feeding A Recovery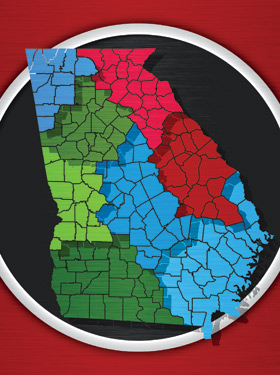 Not every Georgia county can claim a company that has as its sole purpose saving children's lives, but in Ben Hill County, Mana has taken Georgia's signature crop and put it to lofty use.
Mana produces peanut paste, a highly nutritious substance that is helping save the lives of malnourished children across Africa. The Central Georgia location was chosen by this North Carolina-based not-for-profit because it is the home of the American Blanching plant, where the peanut butter paste is made.
Mana hopes to expand this year, adding a second shift to produce even more of the life-saving paste, says Scott Downing, county commissioner and interim economic development director. "It is a really ambitious project," he says. "They're saving lives, and there's no doubt about it."
Laurens County also has a company in the food business – pet food. Hi-Tek Rations is expanding into the pet treats business with a line of baked products. What makes these treats special is the certification Hi-Tek received from the American Institute of Baking.
Erdrich Umformtechnik, a German-based automotive supplier, is building a metal stamping facility in Dublin, according to Cal Wray, president of the Dublin-Laurens County Development Au-thority. The project will create 178 jobs and represents an investment of $39 million.
Laurens has been pouring funds into economic development thanks to a $15-million Special Purpose Local Option Sales Tax (SPLOST) and a $7-million low-interest revolving loan fund, both geared toward bringing in new business and helping existing companies. "We try to do the same for existing companies that we'd do for new companies," says Wray.
In Montgomery County, a Thriftway Galaxy Food Store opened in February, bringing 15 jobs; other retail followed, including a Fred's Super Dollar. The county seat of Mt. Vernon plans a streetscape project, which will bring gas lamps, sidewalks, landscaping and park benches to the downtown area.
Inquiries are coming in for a 10,400-square-foot spec building in Crawford County, and officials are looking for a start-up manufacturing company for the local business incubator – and offering several months of free rent to sweeten the deal.
Last year, ViziTech USA and its president, Stewart Rodeheaver, put the cool in Putnam County, winning the Coolest Technology Company in Georgia and Technology Entrepreneur of Year Awards at the Spirit of Endeavor Awards hosted by TechAmerica Geor-gia and the Technology Association of Georgia. The education and learning company produces 3D holographic imaging devices for classroom use to engage students and encourage interaction and learning.
Economic development officials are eager to bring other technology companies to a new technology park that was scheduled to open in February. Prospects were checking out the new facilities even before construction was complete, says Roddie Anne Blackwell, Eatonton-Putnam Chamber of Com-merce president and project manager for the Putnam Development Authority.
A $2.6-million grant to add technical programs at the high school, which is right next door to the new technology park, will ensure companies have locals ready and able to fill the positions, she says.
Twiggs County is looking at 2012 with optimism, says Judy Sherling, president of the Twiggs County Cham-ber of Commerce and director of the development authority. WGS Energy Group has se-lected Twiggs for a new energy plant that is expected to create 150 jobs.
In Peach County, the focus has been on expanding utility infrastructure to service potential industrial sites along an eight-mile section of Highway 96 east of Fort Valley. With completion of this ambitious project, utilities will be available to more than 50 potential sites of varying sizes.
Baldwin County is skilled in the art of making lemonade out of lemons. Despite one of the highest unemployment rates in the state, officials in the county had more than 840 jobs and investments of more than $135 million to celebrate last year.
"These are great accomplishments even in the best of the times," says Angie Gheesling, executive director of the Development Authority of the City of Milledgeville and Baldwin County. She reports that 2012 is looking good, with the openings of Georgia Distil-ling, the second distillery in the state, and BARD Holding, an algae production company.
An aggressive program undertaken with colleges and universities in Bibb County is helping ensure technology jobs of the future will come to the area and be available for local job seekers. Some of the new businesses an-nounced in 2011 could be viewed as evidence that the program works. Graphic Packaging, a paperboard manufacturing company, announced a $140-million investment and 55 new jobs. NW Technologies, a solar and wind technology manufacturer, came through with a $20-million investment and 150 new jobs.
Expansion's been the name of the economic game in Morgan County. An-thony International, a producer of bent and tempered glass, expand-ed its operations, ad-ding more than 125 people. Rema Tip Top, a German-based company, added to its tire repair products and is becoming a distribution center for this hemisphere.
Bleckley County is continuing to see hard times, with the unemployment rate at 12.5 percent, says Kathryn Fisher, president of the Cochran-Bleckley Chamber of Commerce. But there has been good news as well. Acuity Brands Lighting, which has been in Bleckley for 39 years, is back up to 503 employees after layoffs last year that dropped its employment to 321. The company is hiring.
Pulaski County officials are taking advantage of a pair of state programs to encourage economic development and tourism. As an Archway Partnership community, the area is working to develop leaders and actively making plans to market the community. A state Tourism Product Development Re-source Team visited the county to help assess its strengths and create a strategy for developing tourism in the region.
Piedmont Green, a biomass plant, will be supplying sustainable energy to 40,000 homes when construction is completed in Lamar County this year. It might make a great backdrop when Hollywood comes calling. "We are in line to be certified Camera Ready," says Missy Kendrick, executive director of the Barnesville-Lamar County Industrial Development Authority.
Wilkinson County also is investing in green power. PT Power broke ground on a $140-million green energy plant that will employ 78 people. The area has seen a public-private partnership involving Norfolk Southern Rail and the Fall Line Regional Development Authority build a three-mile passing siding on the main rail line from the port in Savannah to Atlanta to allow for trains traveling in opposite directions and for faster trains to pass. This passing siding will speed travel time from Savannah to Atlanta and allow in-creased rail traffic.
Successes in Telfair County have included new and expanding retail and restaurants. The area has a new Pizza Hut, an expanded floral and gift shop and a new bank.
Folks are holding their own in Irwin County, says Ocilla-Irwin Chamber of Commerce President Hazel McCranie. The past year saw the opening of a $3-million cotton gin started by local farmers. Other locals also are investing in retail and restaurants in downtown Ocilla.
"Mom-and-pop stores really make a difference in a community," Mc-Cranie says.
Houston County, home of Robins Air Force Base, finds much of its economic prosperity tied to the national economy. Budget cuts at the national level mean job cuts at the base. At least 600 civilian jobs will be lost, perhaps more. Helping offset the losses is the Guardian Center of Georgia, a training center for first responders scheduled to open later this year at the old Northrop Grumman facility in Perry. Training for responders in natural disasters and terrorist attacks will be provided at the facility, and officials expect it to generate $75 million for the county once it is at full capacity.
Kathyjo Gordon, the new executive director of the Jones County/Gray Chamber of Commerce and Develop-ment Authority, is actively marketing the Griswoldville Industrial Park. Assets include easy access to I-16 and on to the Port of Savannah, convenient rail access, good local schools and a business-friendly environment.
Imerys is expanding manufacturing capabilities at its Macon County location. When the expansion is complete, the new plant will add 35 to 55 direct and indirect jobs for the community. The area also welcomed Swartz Ag, LLC, which constructed a new facility in the Montezuma Industrial Park.
In an interesting twist on recycling, the Monroe County Development Authority bought 100 acres of what had been a subdivision to revitalize into a business park.
ALMIG, a German air compressor manufacturer, found a new home in Monroe County, and Encore Plastics began manufacturing with 60 employees.
The new Terry L. Coleman Confer-ence Center and the Chamber Con-ference Hall have given the economy of Dodge County a boost by hosting people from surrounding communities for training, meetings and special events.
Jasper County is one of the top two Georgia counties in agritourism revenue production. Tourists also flock to the area to enjoy the national forest land that covers more than 25 percent of the county, as well as the Charlie Elliott Wildlife Center.
Dooly County has seen new industry come in including Reeves Con-struction, a highway construction company, and a new John Deere superstore in Unadilla.