Macon/Bibb County: Forward Progress
Expansions on the upswing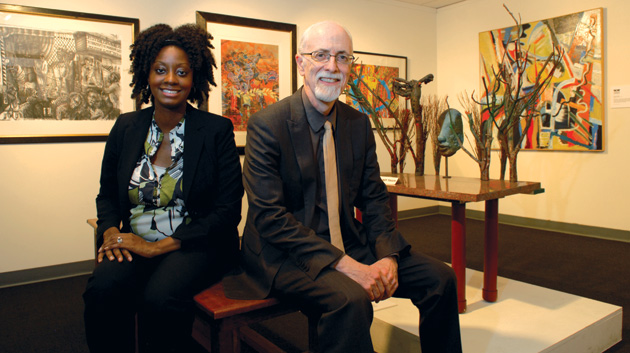 Macon and Bibb County, sitting at the intersection of two interstate highways, have long claimed to be the economic heart of the "other Georgia" – that largely rural expanse lying south of Atlanta. The community has also endured a bruising recession and a reputation for a near-dysfunctional government. Now locals are getting a sense that the tide has turned on a variety of fronts, from new economic expansion to elected officials whose efforts are finally ending in success rather than embarrassing headlines – even if the process is still sometimes messy.
On the jobs front, local economic developers are starting to see an upswing in expansions and new locations. Although activity is down nearly 20 percent from 2007 and 2008, that has just meant that Macon has to work harder to get its share, according to Pat Topping, senior vice president of the Macon Economic Development Commission (MEDC).
"Last year in 2011 we still had five companies that we helped expand or helped locate in Macon, and those five companies will generate almost 250 jobs and they'll invest over $160 million in new equipment or building," he explains. "So that is a bright spot."
Diverse businesses such as Graphic Packaging Inter-national, Image-X Enterprises and USA Discounters have been hiring new workers to keep up with the resurgence in demand in their industries. Insurance giant GEICO, which already employs 4,000 at its regional office in Macon, announced plans to hire another 230.
Inquiries from business and industry have increased re-cently as well. MEDC worked with 50 projects in 2011, almost as good as the average of 55 to 60 prior to the start of the recession.
As part of its efforts to boost employment, MEDC has also helped launch a series of job fairs to bring together unemployed workers with specific skills need by companies. The effort grew out of a survey by the agency of more than 100 companies (representing more than 10,000 employees) that found many companies were having a hard time finding the workers they need, even in the face of high unemployment.
"We're looking at identifying their needs, whether infrastructure or workforce," says Topping. "We've had companies tell us that they have openings right now and are just not able to locate the qualified workers that they need."
To remedy the problem, MEDC has worked with local technical colleges and the state Office of Workforce Development to screen workers and identify their skills to better match them with the companies that need them.
Powering Jobs
Encouragement for expanding employers has helped the process. The Macon-Bibb County Industrial Author-ity adopted a $140-million bond resolution for Graphic Packaging's expansion. The company will be able to obtain a biomass boiler and 40-megawatt turbine at its mill. The new system will generate power from about 400,000 tons of logging waste, while adding about 10 new jobs.
The bond resolution is the first by the authority for a new restructured schedule of preapproved tax abatement. With the investment exceeding $100 million, the company got a tax abatement of as much as 60 percent over the next decade.
The tax abatements are part of a controversial restructuring effort in which the authority reclaimed its marketing role from the MEDC. The two economic development bodies clashed earlier last year when the industrial authority said it intended to hire an economic developer and take back the marketing duties delegated to the MEDC for the past 18 years. Ultimately, the two groups were able to work out an agreement to keep economic development efforts moving forward.
"That winning combination has proved to be very effective over the last five to seven years," says Mike Dyer, acting president and CEO of the Greater Macon Chamber of Commerce and chair of the Economic Development Commission. "It's still in place, and it's stronger than ever. With the combination of additional sites, the economy starting to bounce back a little bit, our centralized location and the team we have in place, I'm very optimistic."
Resolving potentially embarrassing conflicts has given new life to a number of advancements here lately. A palpable sense of relief was evident after local voters gave resounding approval to a $190-million Special Purpose Local Option Sales Tax (SPLOST) referendum pushed by Mayor Robert Reichert. Along with winning a second term in 2011, he was able to claim victory on a tax that will pay for a variety of public safety, recreation and infrastructure improvements such as three additional fire stations, new and improved recreation facilities, road repairs and improvements to water and sewer facilities. Among the items was $2.5 million to help finish work on the long-delayed Tubman African American Museum on Cherry Street, along with funds for economic development such as plans to convert Second Street into a "gateway" into Macon.
The victory followed rejection of another SPLOST package the year before when "even I didn't support it," says Reichert. "The list had not been properly identified with specific projects. Instead there were only broad categories with most [funds] going into a new courthouse."
This time projects were clearly identified, and officials warned voters that failure to approve the tax would result in property tax hikes, since about $93 million of the projects were items that the city and county had to pay for no matter what.
In addition to meeting existing needs, the rest of the money is designed to jumpstart development in the city.
The projected first phase of the Second Street corridor will be a curving new section connecting Second Street with Little Richard Penniman Boulevard, named after Macon's famous musical son. The $8 million in SPLOST monies should be enough to buy the needed right-of-way, complete the final design work and build the link, turning it into "green, pedestrian-friendly, sustainable corridor."
"It's huge for downtown because it connects Mercer on the west side to the Gray Highway on the [north]east and builds a bridge over the railroad, which makes it readily accessible from the Mercer campus," says Mike Ford, president and CEO of NewTown Macon, one of the city's downtown development advocates.
Reichert says that connecting Macon's southside with its traditional business district on the north will effectively triple the size of downtown. Three tax allocation districts will also enable the city to tap bond money for infrastructure improvements.
It's a section of the city ripe for redevelopment. A consultant's study found that between the Ocmulgee River and the Second Street bridge over the Norfolk Southern railroad tracks on the other side of downtown, 43 percent of the land is either vacant or a parking lot. Another part of the plan proposes shifting truck traffic from Second to Seventh Street, widening sidewalks, adding medians, bicycle lanes, greenery and signs for attractions, and replacing the railroad bridge.
Another study will also help determine "what is the master plan for the alignment and construction of the corridor," says Reichert. "What infrastructure improvements should we put in that would most likely attract private development dollars into this tax allocation district. The Second Street corridor is not a finalized plan – it's a concept."
New Museum Site
The Tubman portion of the SPLOST will allow the noted African-American art and culture museum to finally move from its current cramped quarters into its expansive new home on Cherry Street. In its initial campaign, launched in 1998, supporters secured nearly $12 million, which paid for construction of the 49,000-square-foot building, but fell short of finishing the project.
"Right now it's 95 percent done, so the second part of the campaign was really to raise the funding necessary to complete the interior of the building, install the systems and really complete the museum," explains museum executive director Andy Ambrose. "For us, it's very important because we're really seeing that this new museum is going to be the kind of anchor and centerpiece of the downtown museum district, which includes such things as the Sports Hall of Fame, the Georgia Children's Museum and the Douglass Theatre, as well as a lot of other historic homes and attractions."
Although it lost the Georgia Music Hall of Fame, the city was able to retain the Georgia Sports Hall of Fame when NewTown Macon and the Development Authority provided funding and management for the facility. Since opening in Macon, neither hall of fame had attracted the number of visitors needed to make them self-supporting.
"We're doing everything we can to increase visitation and ticket sales and sales in our gift store, but that's not the solution to making these places economically viable," says Ben Sapp, the sports hall's interim executive director. "That's a basic misconception that we're trying to overcome and one that we've been battling for years now."
Locals hope the new Tubman will help generate increased interest in visiting downtown. Visitors to Macon's varied tourist attractions are becoming an increasingly important part of the economy. In 2010, the industry created 3,210 jobs along with $70.6 million in payroll and $273 million in direct tourist spending, according to Valerie Bradley, spokesperson for the Macon-Bibb County Convention and Visitors Bureau.
SPLOST dollars will also benefit the area's biggest economic engine, Robins Air Force Base, located mostly in nearby Houston County. Last year the facility, which employs more than 23,000 people, announced that due to Department of Defense budget cuts, it was eliminating 600 jobs through voluntary early retirement and separation incentives – a reminder of just how vulnerable it is to cuts in military spending. It also helped to give new urgency to dealing with the long-standing issue of encroachment. The area just north of the base, in Bibb County, is considered a crash zone and high-noise area, and efforts to purchase homes there and move residents were languishing.
Those efforts got a boost with $6 million of SPLOST money designated to purchase some of the 250 parcels. The effort is vital to the future of the base because encroachment puts Robins at a disadvantage when competing with other bases for business, according to MEDC's Topping.
Sprucing Up
Efforts to revitalize Macon's downtown area have also increased. Although it's still a far cry from the glory days of decades past, there are growing signs of a comeback. The area along Poplar, Cherry and Second streets has begun to sprout new businesses, restaurants and even homes.
"In the past five to 10 years, we've had such a focus on redeveloping downtown," says Mechel McKinley, director of the new Main Street Macon program. "Downtowns are where it's at as far as creating a center for your community, a place that people can identify and celebrate as the character of your community."
A variety of new businesses ranging from high-end restaurants to web designers to custom jewelers and candle makers have located here. Three of these small operators found homes in a business incubator created by The 567 Center for Renewal on Cherry Street. The agency, an offshoot of New City Church, is seeking to revitalize the downtown by providing access to music, the arts, education and small business assistance, says Melissa Macker, executive director of The 567. Through its program, businesses get low-cost office space along with advice and support for getting their ventures off the ground.
"There are a lot of people in addition to us who have been watching this revitalization of downtown Macon over the past five to 10 years," she explains. "It just continues to grow month by month. You can see the progress."
Newcomers to the city, especially young professionals, have kept the occupancy rate for loft apartments at 95 percent, according to NewTown Macon's Ford.
"There is an upsurge in interest, and there are lots of available properties to be developed," he explains. "We just finished updating a marketing study that says we can add 235 new residential units each year of the next five years and not meet the demand."
To help this effort, the Bibb County Commission agreed to back a $5-million bond issue that could result in nearly 300 new loft apartments and 74,000 square feet of commercial space over the next couple of years.
A $1.5-million grant once earmarked for the old Atlantic Cotton Mills, which burned down last spring, has been ap-proved for turning the Dannenberg Building into downtown apartments instead. Renovating the 100,000-square-foot building at the corner of Third and Poplar streets into 69 apartments and three retail spaces is expected to cost about $7.3 million.
The private sector is also getting into the act. Former Mercer University President Kirby Godsey is leading a group that plans to build a mixed-use development along Riverside Drive. The $50-million Renaissance on the River has come closer to reality than several past efforts. The Macon-Bibb County Urban Development Authority signed off on an 18-month option agreement for the 12-acre site, allowing the group to begin marketing condos and firming up plans for a tower hotel and residential building.
College Corridor
Mercer University is playing a vital role in the redevelopment of another area of Macon, the College Hill Corridor. This two-square-mile stretch from the campus to downtown is home to a diverse mix of antebellum mansions, shotgun houses and low-income pockets. The area got a boost with the opening of Mercer Village, a mixed-use development on the university's doorstep.
To capitalize on the interest, the College Hill Corridor Commission was formed by Mercer and the city and charged with developing a master plan for the corridor. The effort was boosted in 2009 by a $5-million grant from The John S. and James L. Knight Foundation, part of which created the College Hill Alliance. This agency is working to attract new businesses and residents to the area and helping develop programming and projects for the neighborhood. The remainder of the grant funds, $3 million in the form of Knight Neighborhood Challenge grants, is being used by residents and groups to fund neighborhood improvements.
"With the diversity of the area in mind, an all-volunteer effort was made to start to create a corridor where people want to live, work, play and shop and boost the local economics of the area," says Jessica Walden, who serves on the College Hill Corridor Commission. "One of the goals was to attract college students and keep them here after they graduate, but also to bring more people to live within downtown. It's basically a residential gateway into downtown."
During its first two years of operation, public and private investment totaling more than $23 million flowed into the area, according to figures released by the alliance.
Efforts are also under way to address some of the area's big shortcomings. "The No. 1 thing people wanted on the master plan was a grocery store," says Walden.
As the biggest city in Middle Georgia, Macon has long been a retail center drawing shoppers from near and far. Many are trekking to the Shoppes at River Crossing, an open-air power center in the fast-growing northern end of the county.
The group that purchased the aging Macon Mall on Eisenhower Parkway made good on its promise to renovate and transform the longtime institution. The mall's east wing was demolished to shrink the mall to a more manageable and profitable size, and the interiors were updated.
Community Snapshot
Local Leaders
Mike Dyer
Acting President & CEO
Greater Macon Chamber of Commerce
Chair, Economic Development Commission
mdyer@maconworks.com
478.621.2002
Pat Topping
Senior Vice President
Macon Economic Development Commission
ptopping@maconworks.com
478.621.2030
Robert Reichert
Mayor
City of Macon
r.reichert@macon.ga.us
478.751.7170
Population
County, 156,060 (2009)
Macon, 91,351 (2010)
Per Capita Income
(2009)
$35,040
Unemployment
(November 2011)
County, 9.6 percent
Georgia, 9.3 percent
Top Manufacturing Employers
YKK (USA), Inc., Graphic Packaging International, The Boeing Company, First Quality, Armstrong World Industries
Sources
Macon Economic Development Commission, Georgia Department of Labor, U.S. Census Bureau