Leading The Charge
Q & A With Georgia Power President and CEO Paul Bowers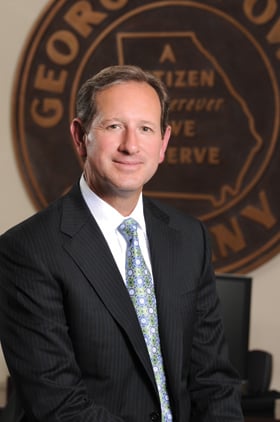 Georgia Power Company, which serves more than 2.3 million customers throughout the state, got a new president and CEO in January. Paul Bowers, a native of Pensacola, took over for Mike Garrett, who retired. Bowers started with the Southern Company, Georgia Power's parent company, in 1979. His utility is the largest single stakeholder in Plant Vogtle, near Waynesboro, where two new nuclear reactors are under construction. Bowers talked to Georgia Trend's editors at his Atlanta office in late August. Following are edited highlights of the interview.
GT: What have your first months on the job been like?
Bowers: It's been extremely gratifying from the standpoint of being back home and engaging with our workforce during some trying times. In January we had ice storms, so we had everybody mobilized to deal with the storms. At the same time, we started business forums for January, February and March for me to have the opportunity to touch all employees in that first quarter to talk about our business, have more transparency about direction and opportunity for them to give some feedback. That communication is critical.
GT: Can you update us on the two new nuclear reactors at Plant Vogtle?
Bowers: Unit 3 will be online in 2016 and Unit 4 in 2017. As part of the licensing process, we had an early site permit that got approved two years ago. So we got limited work authority. We were able to do work around the site – excavation, getting footings in for the facility itself, cooling tower, some of construction buildings.
GT: What's the total cost projected to be?
Bowers: Right at $14 billion. We've already spent $3.5 billion – that's total; that's for everybody's portion.
GT: Who are the owners besides Georgia Power?
Bowers: Oglethorpe [Power], MEAG and Dalton [Utilities]. Our portion's only 45.6 percent.
GT: Are the events in Japan this year – the earthquake and tsunami and damage to nuclear reactors at Fukushima ­– a setback for Georgia Power's nuclear plans? Are there lessons to be learned?
Bowers: You have to continue to keep those folks [at Fukushima] in your mind and heart. Whatever you do around nuclear has to be safe. The Federal Energy Regulatory Commission went through a 90-day review of all plants in America – there are 104 nuclear reactors for commercial uses.
For Georgia, it reaffirmed no significant safety issues for our plants. And then, it reinforced new nuclear as state-of-the-art design that addresses some of the issues they saw for the Fukushima plants – i.e., how do you ensure reliability on the cooling system?
Even the Obama Administration and the Department of Energy reinforce the new way forward for the country is the new design for nuclear. That in and of itself doesn't say that we relax. When you deal with that energy source, you have to be utmost thinking about safety. There are some things we can do from a cooling pool standpoint that we'll do for the future.
GT: You talk about new nuclear. Would you explain the difference between the old design and the new?
Bowers: One of the things that was contemplated in this design is how do you take some of the operations, the technology, from a forcing-of-water system, the pumps and valves, out of the process so gravity can take over where it can cool the systems, instead of having all these pumps and motors and valves. That has been significant. Almost 40 percent of the pumps and valves have been taken out of the plant. The reactor vessel in and of itself – sitting above it is three days of cooling water capacity, so when you have an event, the water just flows through it, continues to keep the plant cool. That's really the main difference. Then you have water storage at the site [for] another 21 days.
GT: What kind of an impact is the plant having, in terms of economic development and jobs?
Bowers: Look at construction, look at the plant impact directly in the footprint. At peak, there are going to be 3,500 folks employed with high-paying construction-related jobs. When you deal with nuclear, you have to deal with the best of the best from a welding standpoint and everything else. So you have high-paid employees coming in for that five-year period of construction. Then permanently there will be 800 jobs. A study by [the University of] West Georgia says the impact of employment is almost 6,500 [jobs] a year just from that plant – all the support services, maintenance-type activities.
GT: You are in the process of shutting down coal-fired plants at Plant Branch and Plant McDonough. What went into that decision?
Bowers: When you look at our fleet of coal plants, those units that have not been "scrubbed," from the standpoint of the SO2 removal process, or NOx removal, are in jeopardy based on new EPA standards. Our evaluation is based on economics. Is it going to be economical for us to put control equipment on the back end of these plants, or would it be economical to replace it with gas capacity? McDonough in the northern part of I-285 [on South Cobb Drive] is a 550-megawatt coal plant. We've already announced it's being shut down, being replaced by 2,500 megawatts of gas at that site. As the coal plant comes off, it's being replaced by gas.
Plant Branch – Units 1 and 2 – we announced and filed with PSC [Public Service Commission] to decertify and retire those units. Plant Mitchell [near Albany] is a small coal- and oil-fired unit [4C] that we also asked for decertification.
GT: How do you balance economic and environmental concerns?
Bowers: They go hand in glove. Our objective from a company standpoint is always solved for the customers' best interest, from the standpoint of complying with environmental laws and regulations and ensuring that our footprint's getting cleaner – and the economics of doing such and producing electricity at the lowest [cost] and the cost of environmental compliance equipment. So if the equipment costs $1.2 billion – that's the example down at Branch – is it economical to make that investment or replace it with gas? Gas is the most economical choice. At the same time, you always focus on [if you] can meet the environmental standards. So an economic solution [can] still be in compliance with these standards that are being put in place on the federal side.
GT: You've had criticism over the legislation the Georgia General Assembly passed, allowing you to collect some of the reactors' costs from consumers before they go online.
Bowers: The question is, is it the right economic solution for all our customers? At the end of day there is a cost for financing that plant. Would it be better to pay the financing costs as we go, or carry the cost of that plant to the end and then finance it? The legislation enabled us to pay as we go on the financing piece of the plan, so we can save our customers $300 million of financing savings. That's really the objective. The states trying to encourage new nuclear construction have put laws in place – like Florida, North and South Carolina – for the ability to collect as they go for financing costs. It's not the capital cost of the plant; it's just the cost of financing.
GT: There is a perception that a utility is recession-proof or at least recession-resistant. Would you comment?
Bowers: It is not recession-proof. At the height of recession, we had an offering to reduce the size of our workforce by over 560 people, to try again to reduce our costs to reflect what is going on in the marketplace. From a pure economic standpoint, we've seen growth constantly being reduced from a residential standpoint. From 2000 to 2007 we were adding approximately 40,000 to 45,000 new residential customers a year. During this recession, we're down to 4,000 – that's for the whole state. For June we actually lost customers in Georgia in residential. We have now a negative growth rate in residential. Commercial continues to struggle; there's excess space out there. There's lots of strip centers that are now stranded investment. We have put in wires, generation and transformers as investment without any revenue source on the end of it. That is not good. That will increase cost to consumers.
GT: How about on the industrial side?
Bowers: We've seen the industrial class come back and sustain almost 94 percent pre-recession levels. We're seeing those commodity-related industries come back gangbusters.
GT: What about your fixed costs?
Bowers: One thing about utilities: Some say, well, [it's] a monopoly, you're always guaranteed. … People don't recognize that we are capital intensive. Billions of dollars on an annual basis are being spent, either through environmental regulation requirements or just wires and ensuring reliability of the network. But we also have this obligation to serve. So anybody in the state that puts in a new business, a new house, a new trailer – we have to serve them. There's no question we can say no.
GT: Would you talk about solar energy and other kinds of green energy?
Bowers: We're bullish on renewables. From the standpoint of renewable sources for our state, we want to be part [of that], not an obstacle. We go back to the economic question. We have some programs under our green energy initiative where we have paid for solar output back into our system to try and see what is the market for it. Some states have subsidies, and there is a federal tax credit for solar installations. That really has spun the growth of solar. It's got to compete with other energy sources. So if solar comes in at 17 cents, and gas is being built at 10 cents, they have to compete with the best next energy choice. Quite frankly, I see the cost curve coming down significantly for solar applications, and that's very, very positive.
GT: Aren't there considerations other than cost?
Bowers: The other piece is that it's got to be measured from the capacity availability standpoint. So think about it competing with gas, even peaking capacity gas. Solar has to be available when we need it. Solar is great when the sun rises and sun sets, but if you need capacity late, you don't have it. It does coincide with our peaking requirement. When customers start arriving at home in the afternoon from 4:00 till 7:00, that's when we usually peak with highest demand and capacity requirements.
GT: What about other kinds of renewable energy?
Bowers: Biomass is another technology we are pursuing. One of the options on Plant Mitchell outside of Albany was to convert that plant to biomass. One of the issues that raised its head is environmental regulation that says if you convert to biomass technology, you'll have to come under the industrial boiler max rule [Maximum Achievable Control Technology Rule – IB MACT, which regulates emissions from converted boilers]. That will add significant costs to biomass for us in this state. That is one that we're still evaluating.
GT: What about wind?
Bowers: Wind energy has been evaluated by us through Georgia Tech [studies] on offshore wind. But wind capacity instate is limited and is not economical. Offshore wind is still a question mark. What do you do during extreme weather conditions? What about maintenance? It has to compete with other alternative energy sources because you are solving for the customers what is the lowest cost energy available.
GT: Some say we need another natural gas pipeline.
Bowers: Natural gas infrastructure is going to be a big issue from a national energy policy, so we've got to have much more of a pipeline network, to get it to the sources that are going to need it.
GT: What's your position on the upcoming T-SPLOST?
Bowers: The mayor [Kasim Reed] said it pretty well: It's a decision for the future of Atlanta and for the future of the economic well-being of the state. Are we going to address the requirement to allow for continued investment, or are we going to keep the status quo? I think we've got to get transportation with a long-term vision, and we have to invest that money to make it better from a quality of life standpoint, from an economic well-being standpoint. You've got to move forward on that.
GT: Tell us about your background and experience.
Bowers: I'm back for the third time in Atlanta, second time at Georgia Power. One of the things about Southern Company is that it takes an extensive view of leadership development. We fundamentally believe you have to have multiple experiences in multiple pieces of the business to understand how to run one. Over time, you're given more and more responsibility, and as part of that you get the opportunity hopefully to run one of these businesses. From my start at Southern Company, I've had 13 jobs.
GT: Anything else?
Bowers: I'll brag on the folks [at Georgia Power]. They've done remarkably in community service, being a citizen in the communities they serve and being engaged. Look at the number of hours, volunteer hours, almost 80,000. When the lights go out, compared to everybody else in [this] industry, we are at the top in terms of liability performance. And yet, can we get better? Absolutely. We want to be perfect on behalf of our customers.
When you measure in our industry the equivalent forced outage, the average for the industry in the U.S. is 6.6 percent. Our fleet runs between 1.5 and 1.7 percent. That deals us a huge savings for our customers from the cost of outages and the cost of going out and buying energy someplace else.
GT: Georgia Power executives have a history of community involvement. You'll be heading the Metro Atlanta Chamber beginning in December 2012. What other kinds of things are we likely to see you involved in?
Bowers: I have a passion for education, so you'll see me around education initiatives. I will be incoming chairman of the Georgia Partnership for Excellence in Education. That has always been, no matter where I was, part of my portfolio of trying to get engaged. One, it's a personal interest – my wife is an ex-school teacher. But you look at it from the business standpoint, at the employees you're going to hire in the future. Are we equipping them to be successful? Quite frankly, we have to be engaged in that.