2011 Silver Spoon Awards
Fine dining takes a hit in Buckhead, but seasonal produce is showing up everywhere. Burgers and small plates are stronger than ever. Plus, our critic's annual list of the state's Top Ten restaurants.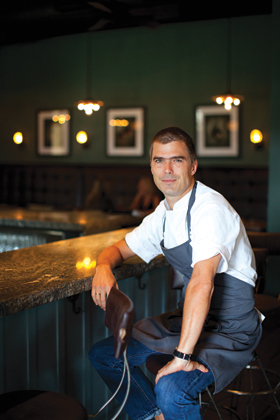 Time again to look back on Georgia's Year in Restaurants. (Cue appropriate musical accompaniment … say, a nice dirge or "Song of The Volga Boatman.") Sure, the economy has made it another tough one, with more losses of former standard-bearers like Brunswick's Cargo, Atlanta's Nam and Tom Colicchio's Craft. Restaurant owners work harder and operate on slimmer margins than almost any other small business owner, so it's no surprise they're weathering this volatile storm with varying degrees of success.
Fine dining is harder to find than ever, with no replacements for restaurants of the caliber of the Ritz-Carlton Buckhead's The Dining Room and Joël, which sputtered and stalled even after downscaling.
Still, study all the graphs and charts you like – if you want to really find out what's going on in the economy, you need to watch the markets. No – not the stock markets. The farmers markets. Those little laboratories for entry-level capitalism are leading economic indicators, especially when it comes to food. They're becoming fixtures in neighborhoods all over the state, but granola-crunchy citizens in Athens and Decatur led the way, with their farmers markets often offering homemade feasts along with seasonal produce.
As it happens, Athens and Decatur are also among the most vibrant restaurant scenes in Georgia, with Athens chef Hugh Acheson turning out elegant iterations of the Southern idiom in all three of his restaurants. In Decatur, Georgia's "Berkeley," an impressive restaurant row has just added No. 246 (from JCT. Kitchen's Ford Fry and Floataway's Drew Belline). Billy Allin's excellent Cakes & Ale has moved to a larger space and added a bakery as well as simple breakfast and lunch offerings. Ironically, Watershed, which first put Decatur on the map, has closed and, at presstime, is anticipating opening again in a larger Buckhead space.
In what appears to be a sign of the times in North Georgia wine country, former Le Vigne chef Steven Hartman has left a fine-dining restaurant to open Buttermilk Fried Chicken in Dahlonega, where local Springer Farms chickens are brined in sweet tea and cooked sous vide before frying.
Another trend to watch: Food trucks, a small army of nimble guerrilla chefs who have gazed into the maw of the Great Recession and answered, "Would you like lime-dusted fries with your Korean short rib taco?" The Atlanta gourmet burger phenom continues unabated, with Flip, Farm Burger and Yeah! Burger all packing them in, and Midtown's new Five Napkin Burger throwing in sushi for good measure. (Even Park 75 at the Four Seasons is getting into the act, with the addition of "Burger Wednesdays" for a lucky 16 diners.) Small plates and great cocktails are ascendant, and some of the best places to try them include Atlanta's Local Three (Joël's gleefully slacker-style replacement), Richard Ullio's new Escorpion in Midtown, and the better-than-ever Coastal Kitchen on St. Simons.
Most notable, however, is that despite the loss of Grand Cuisine, Georgians have the opportunity to eat better, at lower prices, all over the state. Even more exciting is local chefs' embrace of under-recognized Southern cuisine. From Memorial Drive's Home Grown GA to Brunswick's Oyster Shak, shoestring operations that are low on overhead and high on charm emphasize and celebrate our local bounty in ways not seen since our grandparents enjoyed what would later be termed organic heirloom tomatoes and fresh-shelled lady peas at the courthouse square's meat-and-three.
This, too, is progress.
Georgia's Top 10 Dining Destinations
1. Empire State South
Known for his award-winning Athens restaurants Five & Ten and The National (not to mention Top Chef Masters), Hugh Acheson quickly established himself as one of Atlanta's most valuable players with the opening of this big, comfortable space, to which he has managed to import his sense of intimate quirky Southernness. 999 Peachtree Street, Atlanta. 404.541.1105. www.empirestatesouth.com.
2. Elizabeth on 37th
A recent visit reminded us of the engaging inventiveness of chef emeritus Elizabeth Terry. Now her former employees carry on the legacy of local, seasonal and wonderful at one of the state's most effortlessly gracious restaurants. 105 East 37th St., Savannah. 912.236.5547. www.elizabethon37th.net.
3. Glen-Ella Springs Inn
This mountain hideway is as good as ever under new owners Ed and Luci Kivett. While menu classics like shrimp and andouille over parmesan grit cakes still satisfy, we hope to see more innovation like the recent addition of lighter summer entrees. (We also hope North Georgia's other fine dining restaurant, Le Vigne, will carry on with the same sense of adventure after the recent loss of its chef.) 1789 Bear Gap Road, Clarkesville. 706.754.7295. www.glenella.com.
4. Five and Ten
Worth a pilgrimage to experience Acheson's seriously mind-expanding food in this light-hearted, witty environment. 1653 South Lumpkin St., Athens. 706.546.7300. www.fiveandten.com.
5. MF Buckhead
One of Buckhead's few remaining truly fine-dining experiences comes complete with an omakase room, where the $250, 16-course menu rivals far more expensive tasting arrays at heavy hitters like New York's Masa and Nobu. 3280 Peachtree Road, Ste. 110, Atlanta. 404.841.1192. www.mfbuckhead.com.
6. Colt & Alison
Under new owners, this stalwart steakhouse still offers expert service, aged beef and tableside Caesars. The Lodge at Sea Island, 100 Retreat Ave., St. Simons. Dining reservations: 1.800.732.4752, ext 4353. www.seaisland.com.
7. Home Grown GA
Just walking into the room gives you a ray of hope: A truly diverse crowd of neighbors, hipsters, artists and working folks crowd in for blue-collar, Blue Plate specials made largely from local fare, including trout and quail. 968 Memorial Drive SE, Atlanta. 404.222.0455. www.homegrownga.com.
8. Restaurant Eugene
Elegant, ingenious, indigenous. 2277 Peachtree Road (in the Aramont), Atlanta. 404.355.0321. www.restauranteugene.com.
9. Abattoir
Yes, I know I was just moaning about the loss of fine dining, and many others prefer sibling Bacchanalia. But I've found myself instead choosing meaty-treaty Abattoir, with the same sense of purpose as its white-tablecloth kin. Great cocktails, small plates – and ironically, at times a quieter dining experience. 1170 Howell Mill Road, Atlanta. 404.892.3335. www.starprovisions.com.
10. Rathbun's
The place to take the pickiest diner who doesn't like anything. The most lovable populist restaurant in town (although sometimes also one of the noisiest) offers an incredible consistency of food and service in this ambitious but accessible menu of regional favorites. 112 Krog St. NE, Atlanta. 404.524.8280. www.rathbunsrestaurant.com.