Art of the Meal: Le Vigne
I Heard It Through The Grapevine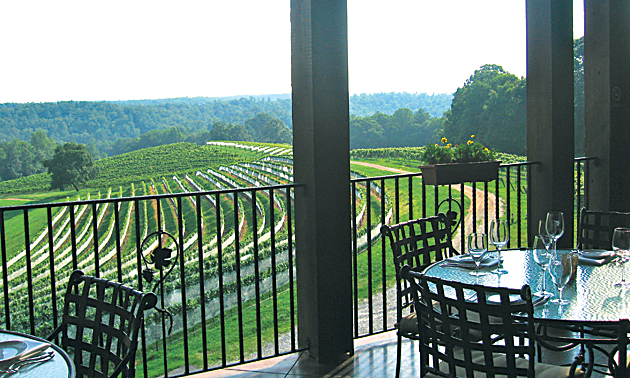 Le Vigne
501 Hightower Church Road, Dahlonega, 706.867.4060
www.montaluce.com/dining_at_montaluce.html
Open for brunch, lunch and dinner. The website
warns that it is often closed for private events.
Call before going.
Parking: Complimentary valet.
Credit cards: All major.
Dress code: Business casual or resort wear.
North Georgia offers perhaps the most beautiful, constantly changing vista per square mile in the state. If you're there to visit wine country, it can be rewarding even for your designated driver. But if you're trying to visit as many wineries, grist mills, trout ponds, galleries and pottery sheds as possible, you can start getting road-weary. Around dinnertime, what you really want to do is sit in one place for a couple of hours, preferably surrounded by this lush mountain beauty, and have something great to eat.
Among the area's constellation of little town squares and lakeside outposts, a number of worthy destinations beckon. But until recently, North Georgia lacked a truly ambitious restaurant. That changed when Montaluce, the vineyard and proposed upscale real estate community around it, opened Le Vigne (French for "the vine").
With more than 400 acres and planned development of villas and Italianate estates starting at around $400,000, and an untimely launch just before the housing crash, Montaluce is nothing if not ambitious. Following serpentine streets through the largely as-yet-unbuilt property, you have a clear vantage point over the rolling hills and acres of vines that give the place its focus.
In the center of it all looms Le Vigne, serving as both tasting room and restaurant. A valet runs up to take our car, first double-checking that we have reservations for this Saturday night. "I hear they're supposed to be busy," he says.
The site and the environment are stunning. The bar's few loungers linger over glasses of wine. Behind the bar, scores of wine bottles hang in neat, beautifully lit columns.
But to our surprise, the dining room was completely empty at 6 p.m. That meant an opportunity to explore the vast, airy space, dominated by a huge sandstone fireplace and decorated with contemporary art connoting bottles and glass. The oak tables are thick and rustic; the chairs plushly upholstered. There's a clear view through an open window into the kitchen and through big glass panes to the vineyards and hillside below. Outside, a sweeping shaded deck, filled with set tables, also sat vacant.
The menu is short, but certainly interesting … and affordable. Three courses for $40, with a wine pairing for each course for an additional $15, from Montaluce's own wines and selected Italian labels from its list. We opted instead for a white wine flight, with five Montaluce wines for $12, including a mead, chardonnay and "Dolce," the vineyard's award-winning dessert wine. Most were too sweet for my taste but the viognier was the surprise here, with a light, pleasant mineral edge. (In addition to its own and Italian wines, Le Vigne also stocks wines from several North Georgia wineries, including Wolf Mountain, Frogtown and Crane Creek.)
The kitchen's preference for local, seasonal ingredients begins with a delicate green salad from Le Vigne's garden, brightened with a simple citrus vinaigrette.
(At presstime, we received word that Executive Chef Steven Hartman, formerly chef de cuisine at Nashville's Hermitage Hotel, would be leaving to start his own restaurant, Buttermilk Fried Chicken, in Dahlonega. The new chef is Austin Rocconi, formerly the sous chef.)
We opted to taste all three first-course offerings, which also included poached Georgia shrimp, pink and pearly and entwined in crisp, slender fennel ribbons over sweet corn puree, orange confit and fresh, wonderfully sour wood sorrel. Even in mid-summer's heat, I had to try the cauliflower soup, a thick, creamy puree with crumbled Marcona almonds. A most promising beginning.
The entrees at least equaled the skill and finesse of the starters. Medium-rare slices of Painted Hills Natural Beef ribeye nestled against whole roasted baby shallots, local chanterelle mushrooms and swiss chard. The tender roasted Springer Mountain chicken breast sported plumped golden raisins with earthy bites of sunchoke and vibrant green broccolini.
In dessert, we found Le Vigne's beating, empathetic heart. How could we resist such homegrown mountain specialties as fried peach pie with housemade vanilla ice cream, and best of all, the Le Vigne moon pie, served with an RC "shooter" in a small Mason jar? By the time we polished it all off, two large parties had been seated, with 10 to 12 diners each. Perhaps Le Vigne is just getting started – in more ways than one. In the midst of Montaluce's extravagant striving for a European identity is something wonderfully, uniquely American.