2011 40 Under 40
Georgia's Best & Brightest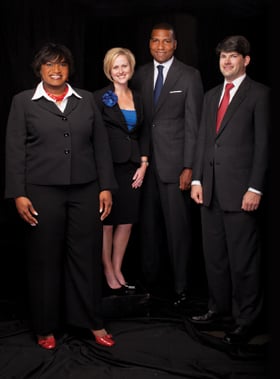 Georgia Trend's 2011 honorees are the 15th group of rising stars under the age of 40 we have selected. They represent business, government, education, nonprofits and the arts.
From a formidable stack of nominations submitted by readers, Georgia Trend's editorial staff chose 40 individuals who are making their mark on their professions, their communities or the entire state. We believe we have chosen well and are pleased to share their stories in the following pages.
The four representatives of Georgia Trend's Class of 2011, shown here and on our cover, were photographed for the magazine by Adam Komich. They are, from left, Daphne M. Walker, Clayton County; Misti Martin, Cherokee County; Fred Perpall, Atlanta; and Curtis Callaway, Dalton.
Individual profiles were written by Patty Rasmussen, Bobby Nesbitt, Candice Dyer, Mary Anne Dunkin, Bobby L. Hickman and Mary Welch.
The section was edited by Christy Simo.
Jason Anavitarte, 33
Senior Community and Government Relations Leader
Kaiser/Permanente
Dallas
Jason Anavitarte describes himself as a "relationship person," perfectly suited to his past work as Director of Community Relations with Amerigroup and currently as a Senior Community and Government Relations Leader with Kaiser/Permanente.
While with Amerigroup, Anavitarte helped distribute more than $500,000 to community-based organizations in Georgia to reduce healthcare costs. He says many nonprofits Amerigroup worked with thought the company was also a nonprofit because of time and resources they poured into the community. "They saw the company as just another 'doer' in the community," he says.
A "doer" himself, Anavitarte serves on the boards of the Children Advocacy Centers of Georgia and the State Operations Council of MADD Georgia.
On behalf of Kaiser, Anavitarte is helping identify community and nonprofit partners for the healthcare giant to invest in. "I'm involved in helping support the community," he says. – PR
Holmes Bell IV, 39
CEO
Hussey, Gay, Bell & DeYoung
Savannah
As a teen, Holmes Bell IV worked on the survey crew for Savannah-based engineering and architectural firm Hussey Gay Bell & DeYoung (HGBD). Now Bell is the firm's CEO, head of the Wastewater Division and five related companies. Although it's a comprehensive firm, water resource projects are a significant part of HGBD's business.
In 2004, Bell was project manager of the first publicly owned Membrane Bioreactor (MBR) wastewater treatment plant in Georgia, located in Pooler. MBRs produce high-quality reuse water, saving money and water for municipalities. The firm has since designed dozens of MBRs statewide and has 33 MBRs under construction in Saudi Arabia.
Bell is passionate about his work, especially for state and local governments. "If it's good for the state, it's good for business," says Bell, a member of the the Georgia Chamber of Commerce Board of Directors. – PR
Katie Blankenstein, 39
Urban Designer, Director
Lowe Engineers Urban Design Studio
Atlanta
Katie Blankenstein is a successful urban designer with 40-plus federally funded projects under her belt. Her work is found in more than 50 Georgia cities, from street-scapes in Dallas to downtown redevelopments in West Point. An effective grant writer, Blankenstein has assisted clients in securing more than $13 million in transportation funds, leveraging their money for greater impact.
Her favorite type of job might give others nightmares. "I love that puzzle when you're designing for urban areas, trying to accommodate historic buildings, trees you want to keep and roads that can't be touched," she says. "You're designing to an eighth of an inch."
An avid volunteer, Blankenstein's favorite project is the Block Kids program, hosted by the National Association for Women in Construction, leading workshops that expose young girls to careers in the construction field. – PR
Wendy Brannen, 39
Executive Director
Vidalia Onion Committee
Vidalia
Georgia may be known as the Peach State, but it's an onion – the Vidalia onion, of course – that's been getting all the national attention. The person responsible for all that publicity –and big jumps in sales for the state's official vegetable – is Wendy Brannen.
The Georgia native has taken the Vidalia onion to new heights of popularity through high-profile partnerships, such as last year's deal that had the movie character Shrek promoting Vidalia onions. That campaign garnered publicity on national TV shows and stories in publications all over the country.
This year another of Brannen's ideas came to life with the opening of the Vidalia Onion Museum, already proving to be a popular Georgia attraction.
"I love my job," says Brannen, "because it's more than just promoting a great product. It's about the livelihood of our farmers and families." – BN
Jae S. Brown, 34
Emergency Response Coordinator
Centers for Disease Control and Prevention
Division of Select Agents and Toxins
Ellenwood
Jae Brown could put the Energizer Bunny to shame. He balances a critical job, Army National Guard duties, a slew of volunteer activities and a busy family that includes two young kids, and he's working on his doctorate.
At the CDC, Brown oversees the emergency response readiness of more than 300 labs in the U.S. that deal with dangerous toxins.
"I'm the only person in the nation who does my job, so I feel responsible for the safety of millions of people," he says.
That feeling of responsibility carries over into his many volunteer activities, which include the Auditory-Verbal Center, United Way Atlanta's African American Partnership, Children's Health Initiative for Learning and Leading and 100 Black Men of America (South Metro Chapter).
Brown's driving force? "I want to be one who transforms people's lives," he says. – BN
Rodney Bullard, 39
Assistant U.S. Attorney
U.S. Department of Justice
Decatur
A Southwest DeKalb County native, Rodney Bullard distinguished himself by attending the United States Air Force Academy and Duke University School of Law and becoming a White House Fellow in 2005. Now, in his work as an Assistant U.S. Attorney for the Northern District, Bullard is making a local impact.
While continuing to prosecute criminals involved in drugs and other violent offenses, Bullard heads up a Justice Department outreach program seeking to stem the spread of crime and reduce recidivism. "Atlanta has a crime problem, as most cities do," he says. "But we can't prosecute or jail our way out of it."
Partnering with the Morehouse School of Medicine, state and local agencies and interested nonprofits, the program is two-pronged: education for youth and a parolee re-entry program, creating a clearinghouse for such needs as housing, job training and education. – PR
Curtis Callaway, 33
Marketing Communications Manager
Shaw Industries Group, Inc.
Dalton
"Growing up, it was impressed on me to give back when you can," says Curtis Callaway, marketing communications manager at flooring industry giant Shaw Industries, Inc. and an active volunteer in Dalton. "People you look up to contribute to who you become, and my family and others in our community were examples for me."
Now Callaway is setting the example. He's a member of United Way of Northwest Georgia Young Leaders Society steering committee, a deacon at his church and an active volunteer for the Whitfield County-Dalton Day Care Center, where he is a past chairman of the board.
"People help in a variety of ways," Callaway says. "Some help by giving money. I'm not in a position to do that yet, but I can roll up my sleeves and give my time and talents." – BN
Brad Carver, 39
Attorney, Partner
Hall Booth Smith & Slover
Atlanta
Brad Carver has spent much of his legal career dealing with water issues, first at Alston + Bird, and now as a partner at Hall Booth Smith and Slover, heading up the Government Affairs practice.
He's well versed in Georgia's ongoing water issues. "I've been in the Army [reserve] 21 years and have had experiences in Iraq, Bosnia and some pretty amazing places around the world," he says. "But no project I've worked on is of the magnitude of this water issue."
Carver's expertise in water issues has taken him from courtrooms to lobbying the legislature and even landed him on a History Channel program explaining the northern border water dispute between Georgia and Tennessee. He's especially pleased with Georgia's 2010 Water Stewardship Act, which contains the most stringent water conservation measures in the southeast. – PR
Kameelah Chase, 33
Business/Technology Teacher
Ellenwood
Kameelah Chase is "a proud graduate" of Atlanta Public Schools who says, "I had great teachers and role models who molded me."
She is now that teacher and role model at Sutton Middle School in Atlanta.
Chase came to Sutton after a career in business. "I enjoyed the corporate world, but I love teaching," she says. "My philosophy of teaching is we are preparing our future business leaders. I may have the next Bill Gates or Mark Zuckerberg in my classes right now."
At Sutton, Chase started a Future Business Leaders of America (FBLA) chapter that was so successful it was ranked No. 1 in Georgia and No. 3 in the nation in its first year.
"I know it's in my blood to teach," Chase says. "When that lightbulb goes off for one of my students, I can see it. It's what I live for. It's my motivation." – BN
Trey Childress, 34
Founding Partner
Perdue Partners, LLC
Atlanta
After years of dealing with Georgia's budget during some of the worst economic times in history, most people would still be having nightmares about the experience. Not Trey Childress, who held several high-level posts during former Gov. Sonny Perdue's two terms, including chief operating officer and director of planning and budget.
"There's no doubt it was a roller coaster ride, but it was also one of the most fulfilling times in my life," he says.
Before joining Perdue's staff, Childress had already worked for several state agencies while he was also earning two bachelor's degrees and a master's degree from Georgia Tech.
He's now taken his years of experience into the private arena, joining Perdue and others as one of the founding partners of Perdue Partners, LLC, a new Atlanta-based global trading company. – BN
Jason Delves, 39

President/CEO
BLC Hardwood Flooring 

Macon

Jason Delves was working in investment banking when he performed a sort of recession-era miracle in a hard-hit industry. He took his client, Piedmont Flooring, through bankruptcy and then resuscitated it, with backing from Battle Lumber Company (BLC).
His efforts more than paid off and put him on a new career trajectory.
"This business has been reluctant to change," he says, "but we reinvented ourselves, taking a different, three-tiered approach, opening a retail store and using wood-fiber technology to make sure we use every part of the log, including the waste."
As a result, BLC has doubled its employees to more than 200, and the Macon Chamber of Commerce named it 2010's "Existing Business of the Year."
Delves, a marathon runner, is challenging his employees to get into better shape individually, too, by sponsoring the 5K "Reindeer Run" fund raiser for The Children's Hospital at the Medical Center of Central Georgia, where he chairs its board's business and corporate division. – CD
Alec Dicks, 37
Managing Partner
Gartner, Inc.
Atlanta
As part of a consulting firm for top 100 financial services clients, Dicks advises senior executives and CIOs about pragmatic strategies, with an emphasis on technology, to maximize value and yield results for the stockholders.
He applies that same MBA acumen to Northside United Methodist Church, where he coordinates a $25-million capital campaign and works in the sports and recreation ministry. He also is one of those reliable, cheering, go-to parents in the Booster Club for the Heiskell School, a nondenominational Christian academy, and he serves as a board member and corporate adviser for the University of Georgia's Management Information Systems (MIS) program.
"I'm driven by serving clients, and it's taught me that life is all about relationships," he says, "which is what I enjoy most about volunteer work – making an impact on behalf of these small, close-knit communities such as my kids' school." – CD
Jennifer Fordham, 38
Economic Development Field Services Representative
Georgia Department of Community Affairs
Statesboro
With a specialty in "gap financing," Fordham has leveraged $58.9 million in grants into $405.8 million in funding for projects that include roadwork, water and sewer lines and other infrastructure improvements in 32 counties of southeast Georgia. She also was instrumental in rerouting the shipping business of Mercedes SUVs through Brunswick.
"I think the fact that this area hasn't been able to get rid of me – I've lived here all my life, as my accent shows – has helped me win the trust of business and government leaders," she says.
"I tuck my children in bed at night with their prayers and think that there are other people down the road doing the same thing with a feeling of security because they have a job. I'm just a tiny piece of that puzzle, but I sleep better knowing that my work makes an impact." – CD
J. Clark Hill III, M.D., 39
Owner
Hill Medical Group, P.C.
Commerce
The hospital in Commerce was in debt and on the verge of closing. Fearing his rural community would be underserved, Dr. Hill mobilized a group of physician-investors and a Tennessee-based company to save Northridge Medical Center, which today is reinvesting its profits.
Hill has relished teamwork in problem-solving since he was 16, when he drafted a petition that saved the Banks County Courthouse.
While building his medical practice, he serves on the city council, leading efforts to spruce up Spencer Park, launch a recycling program, and update the 1970s-era facades of downtown buildings through grant programs that do not burden business owners or taxpayers.
This year, Hill plans to run for mayor of Commerce. "I'm the doctor who doesn't play golf," he says, chuckling. "I like politics better because I see how eager folks are to have a great community." – CD
Luke Howe, 34
Assistant to the Mayor of Doraville
Doraville
Luke Howe's work crosses disciplines, tackling funding, planning, communications and economic development. It's great experience for his role as project manager of Doraville's Livable Cities Initiative (LCI), a plan addressing transportation and land use, proposing a high-density, mixed-use development for a 689-acre parcel including the closed General Motors Assembly plant.
An Elberton native, Howe graduated from Georgia Southern University with a degree in International Studies and a focus in Economics. He's served as an aide and communications consultant for members of the Georgia legislature and joined the city of Doraville in 2008.
Though interested in politics, Howe is content where he is. "My biggest passion is bringing this city back to life and helping the region remain the South's cultural and economic epicenter," he says. "We have only one chance to get this right." – PR
Shizuo Z. Kuwahara,
34
Music Director and Conductor

Symphony Orchestra Augusta
Augusta
A Yale alumnus from Tokyo, Kuwahara – who insists friends call him "Z" – has won numerous international competitions and awards as a conductor.
Since he arrived in Augusta from the Philadelphia Orchestra in 2009, the Symphony Orchestra Augusta has participated in Orchestras Feeding America, a project designed to help stock the Golden Harvest Food Bank, and the high-energy maestro regularly visits schools to perform and field questions from fourth- and fifth-graders to encourage their classical curiosity.
Earlier this year, he organized a benefit concert called "Resounding: Ten Thousand Miles," that raised $15,000 for relief efforts for Japan following the country's devastating earthquake and tsunami. "Along with the Japanese anthem, we played Beethoven's Symphony No. 5, sometimes called The Destiny Symphony, a piece that helps us to understand where we're supposed to go," he says.
Music offers a powerful tool for outreach, he says, adding, "We all are music." – CD
Ben L. Looper, 36
President/CEO
Southeast Restoration Group of Georgia, Inc.
Canton
In 1999, Ben Looper established Southeast Restoration Group of Geor-gia, a construction management firm specializing in insurance restoration and commercial construction, in his native Cherokee County.
It has since grown to four offices in four towns – Canton, Athens, Columbus and Calhoun – and has been recognized by the likes of Crawford & Co., which awarded it its Excellence in Achievement award for six straight years, and Inc. magazine, which recently recognized it as one of the fastest-growing businesses in the U.S.
When not running his business, Looper chairs the board of the Cherokee Chamber of Commerce. He is also involved with United Way and is vice chair of the Lanier Joint Development Authority.
His proudest achievement? Marrying his high school sweetheart. "We've been together since high school, so that's probably my greatest accomplishment." – MAD
Dax Lopez, 35
State Court Judge
DeKalb County
Decatur
At 34, Dax Lopez became the youngest judge on the DeKalb bench and the second Hispanic to serve on trial court in Georgia when he was appointed by Gov. Sonny Perdue to succeed Judge Edward E. Carriere on his retirement.
Six months later, when his mentor, Antonio Delcampo, left the bench, Lopez inherited the state's only Spanish-speaking DUI court. While he finds working with repeat DUI offenders engaging, he admits occasional communication challenges switching from all-English to all-Spanish courts.
Outside of court, the Puerto Rico native volunteers his time to causes including the Georgia Association of Latino Elected Officials, an organization committed to involving the Hispanic population in the civic process and helping them become leaders in their communities. "It's an organization that is very near and dear to my heart," Lopez says. – MAD
Misti Martin, 38
President
Cherokee Office of Economic Development
Ball Ground
For most of her life, Misti Martin has been interested in the growth of business in Cherokee County. Rais-ed on the outskirts of Ball Ground, her family had to travel to Canton to the nearest grocery. "By the time we got home with our groceries, our ice cream was half melted," she laughs.
After graduating from the University of Georgia, she was hired by the Cherokee Chamber of Commerce to work in economic development and has since devoted most of her professional career to recruiting and growing businesses right in her home county.
Her first project involved recruiting Universal Alloy Corporation, an aerospace company that has since expanded several times. Her latest is the development of a 100-acre business park on the I-75 corridor that she says should "pay enormous dividends to the county and region with jobs and investment when new businesses locate." – MAD
Brooks Mathis, 28
VP of Economic Development
Cobb Chamber of Commerce
Atlanta
At age 28 and just months into his job as vice president of economic development at the Cobb Chamber of Commerce, Brooks Mathis had al-ready recruited eight projects bringing 1,120 new jobs into Cobb County. And that's just the beginning.
This summer Mathis was instrumental in hiring a consultant and putting together a strategic steering committee of high-level Cobb executives as part of a six-month initiative to keep Cobb competitive in recruiting new business.
But bringing in new business is not his sole focus – keeping businesses happy is essential. "We are starting a program to make sure all of our existing companies have someone to call on if they need anything, to make sure that they are taken care of," says Mathis. "We want to make sure they are successful here instead of going to another part of Metro Atlanta." – MAD
Michael Merlin, 36
Senior Vice President/Family Wealth Director
Morgan Stanley Smith Barney
Atlanta
Michael Merlin's great-grand uncle was rejected by Emory University's Dental School because its "Jewish quota" was filled. So instead, Merlin's ancestor went to work for the Anti-Defamation League (ADL).
Since he was little, the ADL has been a part of this Atlanta native's life; in December, he will be the youngest person to chair its regional board.
"The ADL is making an impact on society, particularly with diversity and tolerance," he says. "It's time for the younger generation to take up a leadership position and make a difference.
As part of that, he and his wife recently funded a much-needed infirmary at his son's summer camp. He's also involved with the ADL's No Place for Hate anti-bullying campaign in Atlanta's schools. "I want to do something meaningful," he says, "and this is having a direct impact on teenagers." – MW
Jannine Miller, 34
Executive Director
Georgia Regional Transportation Authority (GRTA)
Atlanta
As an advisor to Governors Perdue and Deal, Jannine Miller helped craft, write and steer the 2010 Transportation Investment Act through the legislature. It's fitting that, as executive director of the Georgia Regional Transportation Authority (GRTA), she also oversees its implementation.
The agency provides data to local communities developing their transportation projects lists. "We make sure the promise to the voters is kept in delivering projects on time and on budget," she says. "We're on the hook for the projects they pick. We want to give schedules and budgets that are logical."
Though she calls transportation "the lifeblood of our economy and community," Miller knows the squeaky wheel doesn't always get the grease. "Issues don't occur or get addressed in a vacuum," she says. "We have to consider and be mindful of all the other challenges and constraints for the region." – PR
Patrick Millsaps, 38
Attorney
Hall Booth Smith & Slover
Camilla
Patrick Millsaps jokes that his 2004 decision to move from Marietta to Camilla and open a law practice was "my solution to Atlanta traffic." In reality, he and his wife moved to her hometown so she could step into her family's pharmacy business. Still, "my house is a 7-iron from my office." In September, his firm merged with the law firm Hall Booth Smith & Slover, but he says his office will remain in Camilla for the time being.
Millsaps co-founded The Georgia Group, which helps younger business people get involved with and learn more about the political process. He is active with the Boys and Girls Clubs locally and statewide, calling the nonprofit "one of the most effective programs we have in the state."
In his public life, he is the chairman of the Georgia Government Transparency and Campaign Finance Commission (successor to the State Ethics Commission). Of that role, Millsaps says, "I will be forever surprised by how controversial saving taxpayer dollars and making government more efficient can be." – BLH
Rufus Montgomery, 39
Managing Director of Government Affairs
Hall Booth Smith & Slover
Atlanta
If your southside commute seems easier, thank Rufus Montgomery, a pacesetter in the fast lane of policymaking.
He stays mum on the details of his lobbyist work for clients that include nonprofits as well as high-profile, Fortune 500 companies, but Henry County hired him in 2009 and quickly garnered $80 million in funding for HOV lanes on I-75.
"I fly under the radar," he says, "but I derive a lot of satisfaction from influencing public policy."
Montgomery, an Army veteran of Operation Desert Storm, works as director for African-American Outreach at the Coalition on Urban Renewal. A founding member of the Conservative Policy Leadership Institute, he enjoys grooming up-and-coming leaders for the GOP and lending a mentorly hand to at-risk youth. "I'm not into art, but I like taking kids to the High Museum and watching their faces light up," he says. – CD
Shayla Nealy, 33
Water Resources Engineer
Clayton County Water Authority
Union City
As an engineer for the Clayton County Water Authority, Shayla Nealy oversees watershed programs, public education, floodplain emergencies and the steady flow of 42 million gallons of potable water and 38.4 million gallons of wastewater.
"With all of the heavy rain we've had, we try to be proactive instead of reactive," she says, adding that as part of her commitment to sustainability, she developed a web-based tool for stormwater inspections that reduces paperwork.
Nealy is also launching Cheryl's Haven, a nonprofit dedicated to strengthening self-esteem and academic success among girls between the ages of eight and 16. She also stays on her toes with her company, Dance Concepts, while performing with the Amazing Grace Dancers, "a troupe that interprets the Good News for lay people in a way that encourages, inspires and blesses them. It's like So You Think You Can Dance? but on a liturgical level." – CD
Fred Perpall, 37
Managing Director, Eastern Division
The Beck Group
Atlanta
Fred Perpall likes to get into people's heads. "We design and build buildings, but for me, it goes beyond that. I'm interested in the people. If we're building a church, I want to know its mission, visions, its values. For an office building, how they want the workers to feel in that building. I get really interested and invested in it."
Beck oversees all aspects of his division's design and construction practice, but such personal interest extends beyond his professional life.
He's on the Carter Center's board of councilors and is active with the Atlanta Center for Creative Inquiry, which mentors, educates and helps develop creative abilities in youth to promote great diversity in the architecture, engineering and construction professions.
The cause is dear to the Bahamas native. "I used to be one of those kids," he says. "Now I'm trying to be the role model. I believe the motto that if you see it, you can be it." – MW
Clarence M. (Trey) Pippin III, 34
Manager, Renewable Property, LLC
Manager, Pippin Farms, LLC
Albany
When rising gas prices prompted Trey Pippin to search for ways to save money running his family's pecan farm in 2008, his search ultimately led to a far more profitable crop than pecans – solar energy.
Applying for a USDA grant for an irrigation efficiency improvement, Pippin learned about a grant to install solar panels. Three years later, solar energy offsets 150 percent of power consumption on his family's 370-acre farm in Arlington. He has also built four 250-kilowatt systems in the Blairsville area, which together provide more solar power than anyone else in the state of Georgia. Several more solar farms are in the works.
Providing renewable energy for the local utilities has become an unexpected but rewarding business, says Pippin, who holds a biological engineering degree from the University of Georgia and returned to farming four years ago. "We have been blessed." – MAD
Brooks Robinson, 39
Co-founder
Cbeyond
Atlanta
Cbeyond is one of Atlanta's largest telecommunications companies ($450 million in revenue), yet it focuses on "giving back to the communities where we live," says Brooks Robinson, one of the company's co-founders in 2000 and currently president of its Cloud Services Division.
A major focus for Robinson and Cbeyond is The Edge Connection, an Atlanta-based nonprofit that provides entrepreneurial training. "Our mission is to help moderate- to low-income families start or grow a microenterprise," he explains. The training includes a rigorous 12-week program followed by mentoring, counseling and refresher courses.
While The Edge Connection draws on Robinson's professional background, his work with Kate's Club is more personal. "We help children and teens cope with life after the death of a sibling or parent," he says. "I lost my father when I was 13, so this is close to my heart." – BLH
Jonathan D. Rosen, 36
Founder and CEO/Chairman
Entaire Global Companies, Inc.
Atlanta
While Jonathan Rosen has been successful in the financial services sector, he realizes many people have difficulty with finances.
Rosen is founder and CEO/chairman of Entaire Global in Duluth, which recently received three patents for its leveraged retirement planning products.
However, as he "watched the credit crisis unfold and the impact it had on individual families, the more I felt [financial literacy] was an underserved concept," Rosen says. "We have a lot of people who are good at their jobs but not good with money," he says.
He created the Jonathan D. Rosen Family Foundation, which provides financial education for students beginning in middle school, plus training for adults. Rosen is also a director of EEI (Economic Empowerment Initiative), which addresses financial literacy at the college level. "Our commitment is to create financial independence for people." – BLH
Jason Eric Schwalls, 35
Special Agent
Georgia Bureau of Investigation
Tifton
"The only job I've ever wanted is crime investigator," says GBI special agent and crime scene specialist Jason Eric Schwalls. After he graduated from Valdosta State University, he applied for "every local, state and national job I could find an application for." He started his career 10 years ago with the GBI.
Schwalls was one of the original 13 members of the Georgia Counter Terrorism Task Force when it was formed in 2004. As a certified police training and firearms instructor, he educates officers and speaks to citizens' academies. But he spends most of his time as a crime scene investigator, working GBI cases or helping local jurisdictions within his 10-county district.
"It's not nearly as much fun as it looks on television," he says. "They show up with 10 people on a team, solving crimes with high-tech gadgets that don't exist." – BLH
State Rep. Jason Shaw, 39
Owner
Shaw Insurance Services Inc.
Lakeland
When he was elected in 2010 to the state house seat his father had held for 18 years, "I knew what I was getting into," Jason Shaw says. "We had a terrible year with the budget, but it's been a good experience for me coming in during tough times."
He owns Shaw Insurance Services, is a partner in Morris & Shaw Insurance in Nashville and helped found the Lakeland-Lanier County Chamber. He's also a trustee for Valdosta Technical College Foundation and the Wiregrass College Foundation, as well as a past director of the Greater Valdosta United Way.
However, the "most exciting project I've ever been involved with" is Georgia Olive Farms, a venture with his brother and cousin that runs the Southeast's first large-scale olive growing operation.
While their initial pressing will occur this fall, Shaw says, "We still have a long way to go to develop a strong market. It's one thing to grow the trees; it's another to compete with international importers." – BLH
Crissy Massingill Staley, 35
Executive Director
Berrien County Chamber of Commerce
Nashville
Crissy Massingill Staley is proud of her hometown, and as the executive director of the Berrien County Chamber of Commerce, she wants others to come visit and work. To attract jobs, she helped obtain a $35,000 grant to earn Certified Work Ready Community Status and created several events to promote the area's lifestyle.
"We have great shopping," she says. "I want people to break the habit of going to other counties to shop. I want people to come here."
The county doesn't have a bowling alley or movie theater, so Staley started several events to create a sense of community, including a rodeo and a September harvest festival, complete with grape stomping that promotes the area's Muscadine wine. "We just want to create fun for all ages. We make our own fun. And we see our sales taxes increase." – MW
C.J. Stewart, 35
Founder/CEO
L.E.A.D. Inc.
Acworth
For Atlanta native C.J. Stewart, baseball provided a path out of poverty – a path he wants to share with other inner-city teens.
His baseball skills brought him a scholarship to Georgia State Univer-sity and a career as an outfielder with the Chicago Cubs.
After leaving the Cubs, Stewart founded a company that helps clients such as Atlanta Brave Jason Heyward develop their talents. In 2007, he founded L.E.A.D., a nonprofit that uses baseball, along with academics and community service, as a vehicle to help inner-city teens gain access to college.
To date, 100 percent of L.E.A.D. alumni have gone on to attend college and 87 percent have received baseball scholarship offers.
"A lot of people helped me get to where I wanted to go," Stewart says. "I now want to pay that blessing forward." – BN
Mike Voegtle, 38
Managing Principal
DVA Architecture
Marietta
After working for other firms, Mike Voegtle struck out on his own in 2007, launching DVA Architecture, which specializes in entertainment and hospitality complexes, EMS-industry and commercial projects.
The company recently expanded operations overseas, lending theater-design expertise to Asian markets. "Taking on this leadership role, starting my own company, spurred me to assume a bigger leadership role in my community," he says.
Voegtle also serves as president of Friends for the East Cobb Park, which built Overlook Pavilion and installed safety lighting around the track.
He follows the "service above self" philosophy of Rotary International. As public relations director for its East Cobb chapter, he launched its website and social media campaign and worked as a mentor. "I spent a year going every week to read to a fourth grader," he says. "Seeing his growing interest in wanting to read was the most rewarding part." – CD
Judge Daphne M. Walker, 39
Chief Magistrate Judge
Clayton County
Before she became the first African American elected as a Clayton County judge, Daphne Walker began her legal career as a Fulton County domestic violence prosecutor.
She still focuses on child prostitution, human trafficking and related issues. Walker chairs the state-wide Judicial Council Task Force on Domestic Violence Courts, which aims to establish Georgia's first two such courts in Clayton and Dade counties in 2012.
Walker has "always worked with girl leadership and development organizations," currently as a board member with Girls Inc. of Atlanta. She sees her volunteer work as "the opposite" of her daily job as chief magistrate judge.
"Every day I put people in jail who have made some really bad choices," she says. "So it gives me some balance when I'm able to contribute to young people who want to be active participants in our society." – BLH
Jesse Walton Jr., 38
Financial Advisor, Certified Investment Management Analyst
Morgan Stanley Smith Barney
Marietta
As an investment professional with Morgan Stanley Smith Barney (MSSB), Jesse Walton focuses on assisting high net-worth families, businesses and nonprofit organizations with investment management, comprehensive financial planning and business solutions. Thanks to his leading role in MSSB Atlanta's diversity initiative, he is also providing those services to an increasing number of African Americans.
As a whole, African Americans have been an underserved population in investment management, he says. "By partnering with organizations that have solid names in the community, MSSB is striving to build trust and build our brand in the African-American community."
Walton says his position allows him to feed both his entrepreneurial spirit and his passion to help others. When he is not managing his client's financial affairs, he volunteers with 100 Black Men of Atlanta, a mentoring program that matches professionals with inner-city youth. – MAD
Anthony Webb, 30
Attorney
DLA Piper
President/CEO
Boys Speak Out
Atlanta
Attorney Anthony Webb was participating in a program to help girls go into the traditional male areas of science and engineering when he realized boys needed to get in touch with their feminine side.
"Young boys, especially minority youth, don't know how to express themselves emotionally," he says. "They go into the darkness."
So he formed Boys Speak Out, which gives boys the proper tools to confront important issues faced in adolescence. In addition, the nonprofit introduces boys to professional men so their horizons can be widened.
"Boys, especially minority youth, only see themselves selling drugs, playing basketball or being a rapper. We give them a chance to see something different."
In his professional life, Webb specializes in mergers and acquisitions at DLA Piper, where he closed transactions valued in excess of $750 million in 2010. – MW
Bradley M. Williams, 39
Vice President/Principal
Dabbs-Williams General Contractors
Statesboro
Bradley M. Williams commits with all his heart. "I take real pride in what I do, whether it's being with my family, my work, my bank commitments or volunteer work. I do it with all my heart or I don't do it."
Williams started his company in 2000 and experienced double-digit growth in 2010, certainly a down year for construction. It is also listed as one of the top 10 financially stable general contractors in the state.
Williams is on the board of directors of the Farmers and Merchants Bank of Bullock County, which is "doing well, which I believe is a testament to our community."
Williams is trying to do it all. "My passion is my five children and my wife. Then my job, the bank and my community. I try hard to have a strict balance." – MW
Ashlie Wilson, 36
Senior Producer
Georgia Public Broadcasting (GPB)
Marietta
Born to a political family, Ashlie Wilson was studying political science when a "pesky" communications course changed her life.
"I realized I didn't have to be a participant in the political process. I could be an observer and help educate people about the issues."
Wilson is the managing editor/executive producer of The Lawmakers, Prime Time Politics and Today In Georgia History on GPB. She has won numerous awards, including several regional Emmy Awards.
The granddaughter of Joe Mack Wilson, who served 27 years in the state legislature and three years as the mayor of Marietta, she is adamant about GPB's role.
"Life is about making a difference, and you must use your gifts and talents," she says. "That's what we're doing here. We're helping educate viewers about our history and helping them comprehend the future as well as the political issues." – MW
Jason Winters, 31
Sole Commissioner
Chatooga County
Lyerly
When Jason Winters considered running as the sole commissioner of Chatooga County, his grandfather sat him down.
"He said that our family has lived here for generations, had a good name and kept out of trouble. Why do you want to ruin that?" Winters recalled.
Winters is trying not to. He has made job creation a priority (unemployment dropped from 17 percent to 10 percent since he took office in 2008) and activated a tax exemption that has helped employers like Mt. Vernon Mills and Mohawk Carpet.
"If we can just land one new company, we'd be rolling," he says of his efforts.
"We're a small community – 25,000 people – and we needed some fresh air," he says.
"Everyone goes to the county commissioner with their problems. Every week I ask myself if I helped someone – and I hope the answer is yes." – MW