New Chancellor, Big Challenges
Hank Huckaby brings years of public service and lots of good will to his new job as head of Georgia's public college system.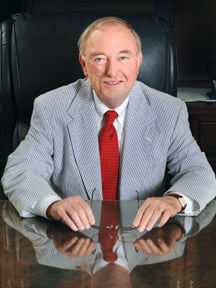 Every baseball team has a guy who can play a variety of positions well, a guy who can play third base on Friday, roam centerfield on Saturday, then pinch hit on Sunday and stay in the lineup as a late innings catcher. They call this guy a utility player.

In state government, they call him Hank Huckaby.

"Yes, Hank is a very good utility man, but he's so much more than that," Zell Miller says of his protégé – he was Huckaby's teacher 50 years ago at Young Harris College, and later, his boss. "He'll do a tremendous job as chancellor."

Huckaby, who was the Board of Regents' only finalist for the position, officially succeeded Erroll Davis as chancellor of the University System of Georgia (USG) on July 1. For Huckaby, 69, it is the culmination of a long career spent in public service, and it comes during tense times for a 35-campus public college system with a projected enrollment of 320,000 students this fall.

Last spring, the Board of Regents approved increases (again) in tuition and student fees, and they did it shortly after the state legislature overhauled the HOPE Scholarship program, cutting benefits from the popular lottery-funded college aid program that Miller started when he was governor.

Huckaby, who had a hand in creating the program with former Gov. (and Sen.) Miller, and who was elected to his first term as a state representative (last November, as a Republican from Oconee County), supported the new, trimmed down version of HOPE, a measure that passed along party lines.

"One of the advantages I had as a member of the legislature is that I brought with me not only a perspective, but the experience of having been in the room when HOPE was created," Huckaby says. "And I mean, literally in the room with Gov. Miller."

Huckaby has spent much of his career literally in the proverbial room.

He was there with his boss, State Sen. James P. Wesberry, Jr., when the U.S. Supreme Court made "one man, one vote" stick as the law of the land, the landmark Congressional reapportionment case in which the maverick Fulton County state senator was the principal plaintiff (Wesberry v. Sanders).

He was there in the infant days of the Department of Community Affairs, becoming its commissioner in the wake of the original commissioner's sudden death, forcing Huckaby to form an alliance with House Speaker Tom Murphy, who was initially vehemently opposed to Gov. George Busbee's selection of Huckaby.

"Hank's been around some," Miller says. "He's got a deep, diverse background and vast experience in state government. Georgia's fortunate to have him."

Part of that background includes long stints within the USG, most recently as a special assistant to University of Georgia President Michael Adams, and before that as senior vice president of finance and administration at UGA.

"I'm not sure it's his background as much as it is good to bring in a new set of eyes," says Davis, Huckaby's predecessor and a utility player of a different sort – he was an executive for utility companies before becoming chancellor in February 2006. Davis, who recently was named superintendent of the now famously dysfunctional Atlanta Public Schools system, announced last October that he'd be leaving USG.

"[Huckaby's] background will serve him well in certain areas as my background served me well in certain areas," Davis says. "But that doesn't relieve anyone of the challenges of having to learn the entirety of this job."
Right Place, Right Time

Henry Morrison Huckaby grew up in Hape-ville, the son of hard-working parents. Dad owned a grocery store, mom worked in sales.

"It was not always easy. They were financially unable to help me much with college," says Huckaby, who worked his way through school.

"They did give me, particularly my father, tremendous appreciation for the value of a higher education. It's one of the things he always wanted for me. He had the opportunity to go to college because his father was successful and could afford to send his son. But my dad blew it.

"He wanted to play baseball. He played semipro and industrial league ball. He chose baseball, and he knew he blew it. He never blamed anyone but himself."

Huckaby was able to cobble enough resources together through scholarships and work-study programs to get through Young Harris (a two-year school back then), then graduated from Georgia State.

In his first quarter at Young Harris, in the fall of 1960, Huckaby took American Government 101, a class taught by a young history and political science professor who'd just been elected to the state senate, and he's been close to Zell Miller ever since.

"I already had an interest in public policy and politics, so I did really well in his class," says Huckaby, who was asked to work on Miller's campaign for U.S. Congress. (He made unsuccessful bids in 1964 and 1966.)

But Huckaby was invited to intern for Wesberry, back when there were hardly any interns.

"I think I may have been the first one," says Huckaby, who left his job in the Georgia State admissions office and took a pay cut, earning $400 as an intern (one fifth the state senator's $2,000 stipend).

"That's the session during which the Supreme Court made its decision that Georgia had to reapportion its Congressional districts," Huckaby says. "That was one of the greatest experiences of my life."

Georgia's Congressional map was redrawn using the latest technology of the time – maps and pencils. Huckaby figures they drew about a hundred different possibilities before coming up with a map that passed muster with the Georgia legislature.

"It was a bitter, bitter fight," Huckaby says. "People screaming and hollering. It was something to behold."

Huckaby went on to become assistant dean of admissions at Georgia State (1967-71), later serving as registrar and director of admissions at Gordon College before moving into state government as senior policy coordinator for the Governor's Office of Planning and Budget (OPB) under Jimmy Carter.

He was director of the Georgia State Senate Research Office when Gov. George Busbee tapped him to lead the new Department of Community Affairs in 1977 after its original commissioner, Howard Atherton, a close friend of Busbee's, died suddenly.

"That turned my career in a new direction. It was a huge break for me. I had to be in the right place at the right time," Huckaby says. But the new course was not without its difficulties. "I was not anyone's choice."

It didn't sit well with Speaker Tom Murphy, also a close friend of Atherton's. Huckaby was considered a Zell Miller man, and that didn't sit well with Murphy, either.

"I was perceptive enough to know that to be successful, I had to have Murphy's support, so I screwed my courage up and called his office for an appointment," Huckaby says. "I called on a Friday, and they gave me an appointment for the next Friday. So I had a whole week to think about it, and I agonized over it."

Murphy was cool at first. But Huckaby explained how he'd worked closely with Atherton in getting the DCA up and running, explained how he shared Atherton's vision, and said there was no way to implement that vision without the Speaker's help.

Huckaby left with Murphy's support, advice and connections.
In The Room
The reason Georgia has a lottery is because Georgia has HOPE, and vice versa. Miller used the promise of access to a free college education as a way to get approval for the lottery, which passed a statewide vote in 1992. The HOPE program began a year later.

"I remember very clearly that we in the OPB kept going to the governor at his request with various proposals, various iterations of how the so-called scholarship portion of the lottery program would be designed," says Huckaby, who became Miller's Director of OPB soon after the 1990 gubernatorial election.

"On several occasions he said, 'You know, it's good work, but that's not it.' In some ways we were trying to draw a picture of an elephant without knowing what an elephant looks like. But Zell knew."

One day Miller called Huckaby and his OPB education staff into his office.

"He handed us a yellow legal pad, and he began to outline how he thought it all worked, what his goals were, and he'd already named it," Huckaby says. "HOPE, for Helping Outstanding Pupil's Educationally. That came from him."

The first year, 43,000 students received about $21 million in aid. For the 2010-2011 school year, 256,212 recipients were awarded $747.2 million. In 18 years, HOPE has awarded about $6 billion to 1.4 million students attending public and private colleges and universities and public technical colleges.

Georgia was lauded for its generosity, often ranked No. 1 in the nation for its college aid program.

The merit-based HOPE system basically rewarded students who achieved a B average in high school and maintained it in college. HOPE always has been based on student achievement, and for a short time it was also needs based – it was not available to families earning more than $66,000 a year at first. The cap was raised to $100,000 then removed altogether.

"One of the guiding principles was how to make this as easy and simple to administrate as possible," Huckaby says.

And it was simple. Earn a 3.0, and your college tuition was totally covered.

But that changed with the last legislative session. Facing a $300-million shortfall in the lottery-funded HOPE and pre-K programs, newly elected Gov. Nathan Deal made revamping HOPE a top priority, claiming in an editorial he wrote for The Atlanta Journal-Constitution, "with tuition hikes and increased expenditures in all lottery-funded programs, Georgia's nationally acclaimed HOPE program would have been bankrupt by July 2012."

Deal signed HB 326 in March. Now HOPE will cover all tuition only for the brightest students – valedictorians, salutatorians and those who graduate with at least a 3.7 grade point average and high SAT or ACT scores. Students with a 3.0 GPA still get assistance, but it's tied to lottery revenue, not tuition rates.

This year, for example, the award for students with a 3.0 GPA will cover about 90 percent of tuition rates. If tuition is raised again, that percentage will drop – unless there is an unexpected run on lottery tickets.

All of this leaves Huckaby, the USG and the Board of Regents in a less-than-enviable position, because year after year, particularly during the economic recession, the legislature seems to cut the state contribution to the public university system.

Traditionally, the Board of Regents provided 25 percent of the cost of instruction through tuition, with the state contributing 75 percent. Currently, according to USG reports, the state, with $1.55 billion appropriated to cover its share of the instruction cost, is providing about 55 percent, with tuition making up the remaining 45 percent.

"There are some tough decisions ahead, a lot of it predicated on the resources available to work with, a lot of it concerning access to USG institutions," says Davis, the former chancellor. "If there isn't enough money to educate every Georgian that wants to be educated, and if we want to keep tuition low, the system will have to restrict access."

Huckaby, with his depth of experience in working with statewide budgets, was hired into this maelstrom, plucked out of his short-lived and only term as an elected legislator. His experience within the legislature and his having worked with legislators for decades should serve him well. That is the conventional thinking. He voted with the majority in the restructuring of HOPE and says it was the right thing to do.

"I feel good about it. I think we acquitted ourselves about as well as we could have," Huckaby says. "Lets face it, ultimately when you get down to it, it has to be a political decision – you take a vote."

One of his first orders of business as chancellor was to request an extension for submission of USG's budget request (FY 2013) to the OPB. The deadline is usually August, but he got what he asked for. He got the deadline extended to September.

In the meantime, he's been getting to know the Regents and the university presidents, reassessing system-wide priorities (such as how best to work current capital projects through a narrow pipeline), and considering the value of a college education.

"A lot of very smart people, even a meaningful number of college presidents, are beginning to ask real questions about the cost of higher education," he says. "Are we getting our money's worth? Is a college degree worth what it's costing?

"I think there is a lot of introspective thinking and insights we have to go through over the next two or three years. We're not gonna solve it overnight."