Calhoun/Gordon County: Working On Diversification
Adding new companies and new industries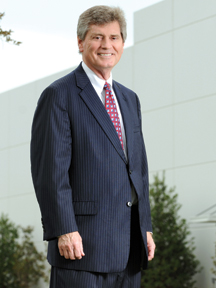 For years, much of Northwest Georgia, including Gor-don County, has relied on the carpet industry. Major carpet manufacturers like Mohawk Industries and Shaw Industries Group have called the area home for decades and have been major drivers of the region's economy.
In recent years, however, Gordon County has been striving to diversify so that it's not too heavily dependent on one industry – the dangers of that became apparent during the real estate crash that started in 2007-2008. When housing starts plummeted, so did demand for carpet and floor coverings, and the region suffered some of the worst job losses in the state.
County leaders have been actively recruiting new companies from a variety of different industries in order to help insulate the county from such economic shocks in the future. These include heavy equipment and machinery, food processing, distribution and automotive suppliers. According to Jimmy Phillips, president of the Gordon County Chamber of Commerce, the benefits of diversification are now becoming apparent.
"I'd say the economic climate in Gordon County right now is good and improving," says Phillips. "The area's top two employers, Mohawk and Shaw, are retooling with new technology, opening plants back up and bringing people back to work."
"We have intentionally used this period during the economic downturn to invest in improvements in processes and in updating technology in all segments of our business," says Randy Merritt, president of Shaw Industries. One example Merritt points to is the retooling of a former spun yarn plant in Calhoun.
"Consumer preference has shifted away from carpet styling produced with spun yarn and moved to products which use filament yarn," Merritt explains. "So to meet this growing demand, we have re-opened our plant in Calhoun and invested heavily in new equipment. Fortunately, we have been able to hire more than 300 associates for that location."
Shaw is currently implementing a second phase at this plant to meet the growing demand for filament products. "Our investments and efforts are paying off as we begin to see demand improving in certain areas of our business," Merritt adds.
Other notable recent developments in Gordon County: KAS Oriental Rugs purchased a new 110,000-square-foot distribution center, a $4-million investment that will create 40 new jobs; Dinamic Corporation leased a 60,000-square-foot manufacturing facility, a $5- million investment that will create 50 new jobs; Faus Group, a laminate floor manufacturer, invested $40 million in a Calhoun facility to create 200 new jobs; and Phoenix Chemical opened a new $2-million facility that created 25 new jobs.
Meanwhile, Mohawk has consolidated its distribution operations into a single new distribution center in Calhoun: a $22-million investment that retained 485 existing jobs and created more than 120 new jobs over the past five years.
One of Phillips' favorite success stories is Engineered Floors, a yarn and carpet manufacturer that broke ground in 2008 on what was to be a $40-million facility in the new McDaniel Station industrial park in Calhoun that would create 75 new jobs. It has since grown to become a $100-million facility that will create 500 new jobs, making Engin-eered Floors the county's fifth largest employer.
Perhaps most significantly from a long-term economic development perspective, the county's efforts to diversify into new industries are paying off handsomely. For example, Racemark International, a manufacturer of automotive accessories and parts for BMW, Honda, Toyota and other automobile manufacturers, recently took over a 108,000-square-foot facility in Calhoun that created 100 new jobs. "With the new Volkswagen plant in Chattanooga, we hope to be able to lure some of their suppliers to Gordon County as well," says Larry Roye, chairman of the Devel-opment Authority of Gordon County.
Kobelco/Case New Holland, a Japanese company that manufactures heavy earth-moving equipment, just signed a lease on a new 40,000-square-foot facility just off Highway 53 in Calhoun. This spring, LG Hausys America opened a second 95,000-square-foot plant to manufacture countertops in the King Industrial Park that represents a $40-million investment and will add 70 new jobs. And food manufacturer Kerry Foods Group recently invested in a $20-million expansion to its facility in Calhoun that will create 80 new jobs.
All of this economic activity has had a direct impact on the area's employment: Unemployment has shrunk from a high that exceeded 13 percent during the depths of the recession to around 11 percent today.
Fast Growing
If you had to guess which Georgia city was recently named one of America's fastest-growing cities, you might not come up with Calhoun, but it ranked No. 7 on Bloomberg Businessweek's list. Calhoun as a community has grown more than 36 percent since 2000, the publication reports.
The magazine attributed Calhoun's growth in large part to its strategic location along I-75 between Atlanta and Chattanooga – a stretch known as the "Golden Corridor" due to its industry, transportation system, and distribution and shipping advantages. Access to rail, trucking and air service (including the Tom B. David Airport in Calhoun) make Gordon County the regional hub of northwest Georgia, its leaders say.
Calhoun Mayor Jimmy Palmer points to the city's solid infrastructure as a key to its growth. "Our community works well with industry," he notes. "As a community, we address needs as they present themselves. We have active development that works with agencies and companies that want to see our area thrive."
"Any time you've got growth, it's good for business," says Phillips. "This ranking gives kind of a confirmation that Calhoun is a great place to live and work. It is a good signal that the economy is improving and that things are getting better."
Of course, many different factors go into determining the "quality of life" in a given county or region. It may sound clichéd, but Phillips says the people in Gordon County are what make it such a great place to live, and he points to several examples as proof.
A decade ago, a theater group raised about $1 million locally to buy and restore an old hotel in the middle of downtown Calhoun that is now the popular Harris Arts Center. Soon after, a local arts council raised another $1 million locally to build the 200-seat Milton Ratner Performing Arts Theater. And Special Purpose Local Option Sales Taxes (or SPLOSTs) have passed in recent years to fund a new jail and fire station and local education initiatives.
"This is the kind of people who live here – they give back to the community not only with their time, but they're willing to write checks," says Phillips. "I think this makes a big statement about the quality of life in Gordon County."
Recreational activities are also a big part of an area's quality of life, and Gordon County offers an abundance of outdoor opportunities. The Sonoraville Recreation Complex is the county's newest recreation facility: It comprises 75 acres with lighted tennis courts; softball/baseball, football and soccer fields; and playgrounds and picnic areas. And for hiking, camping and fishing enthusiasts, the Chattahoochee National Forest is located in the county's northwest corner, featuring the popular Pocket Recreation Area.
Educational Opportunities
It's impossible to claim to be a great place to live without a high-quality education system, and the area boasts outstanding public schools. In the Gordon County public school system, more than half of the teachers hold master's degrees or higher, and 65 percent of high school students qualify for the HOPE scholarship upon graduation.
In the city of Calhoun public school system, 82 percent of students graduate from high school, which is well above both the state and national averages; and more than 50 percent are eligible for HOPE upon graduation.
In addition, a wide range of higher educational opportunities is available in Gordon County. Georgia North-western Technical College (GNTC), Dalton State College, Georgia High-lands College, Shorter College and Berry College are all located in and around Gordon County.
In 1997, GNTC opened the Gor-don County Campus in Calhoun (its main campus is in Rome), and it's currently adding a third phase to this campus. "GNTC provides opportunities for area residents to further their education through programs designed to meet the workforce needs of today and tomorrow," says Campus Manager Paul Carter.
"We support the economic development initiatives of our communities, businesses and industries through a variety of credit technical education, non-credit continuing education courses and customized training," Carter adds. This includes associate degrees, diplomas, certificates and GED preparation courses to ready students for careers in a variety of areas.
Phillips believes that a highly trained and qualified workforce is the greatest strength when it comes to attracting new employers to Gordon County. "This is the No. 1 thing businesses look for when considering moving to an area." He says Gordon County offers potential employers a pool of skilled workers that totals more than 27,000 individuals; in addition, there are 360,000 potential workers in the nine-county trade area.
And more will be ready for those jobs soon. Lt. Gov. Casey Cagle announced at the end of 2010 that Gordon County received $3 million in funding to launch a College and Career Academy, a partnership be-tween the Gordon County school system and GNTC. Slated to open in the 2011-2012 school year, the academy will offer students the opportunity to attend high school while also earning technical skill training in fields including medicine and agriculture.
Gordon County was recently designated a Certified Work Ready Com-munity, and Calhoun has been named an Entrepreneur Friendly city. "Com-panies considering a location or expansion in the county can be assured that our labor force is sufficient to meet competitive hiring standards," says Phillips.
The Gordon County Chamber of Commerce recently began an initiative called "Keep It In the County" that's designed to help encourage residents to "Stop, Shop Gordon" and spend their money locally. "We're reminding residents not only that patronizing local businesses helps boost the Gordon County economy, but also that local businesses contribute more to local fund raising, provide jobs to neighbors and support other local businesses," says Phillips. "And sales taxes paid locally are used to support local infrastructure, schools, recreation and community programs."
As part of its strong pro-business philosophy, the Development Authority of Gordon County makes investment assistance available to potential new employers based on the number of new jobs created, the average hourly wage paid, the amount of capital invested by the company, the impact on utilities, and the specific industry. "This helps companies get established here, because we know it takes a lot of time, effort and money for them to relocate into a new community," says the Development Authority's Roye.
As a freeport community, Gordon County assesses lower local ad valorem inventory taxes on an annual basis, which serves as an incentive for inventory-intensive companies to move into the county. "These kinds of tax abatement programs have been very successful in helping lure new employers to Gordon County," says Roye.
McDaniel Station is Gordon County's newest bus-iness/industrial park, set on 200 rolling acres in Calhoun bordered by city recreational areas and walking trails. Available parcels range in size from four to 100 acres. "McDaniel Station offers manufacturers not only great access to I-75, but also to other highways leading into Alabama and the rest of the southeast," says Roye.
Other buildings and sites currently available for corporate tenants in Gordon County include a 112,500-square-foot industrial warehouse on Johnson Lake Road, 150,000- and 268,000-square-foot buildings on Highway 41 South and South Industrial Boulevard, and 77,000 square feet of combined warehouse and office space on 44 acres on Covington Bridge Road.
Meanwhile, downtown Calhoun is in the midst of a major makeover, according to Suzanne Roland, executive director of the downtown development authority. "We're currently in the midst of a streetscape renovation project in which sidewalks, benches, street lamps and trash receptacles are all being replaced," says Roland.
The entire downtown was recently listed on the National Register of Historic Places, and this fall, the 450-seat GEM Theatre in downtown Calhoun will reopen. "Two million dollars was raised from private contributions and foundation grants to finance the renovation of this historic theater," says Roland. A new park and greenspace are also planned for a piece of property downtown across from City Hall.
Tide Turning
Economically speaking, "Things are turning slowly in Gordon County, but they are turning," says Roye. "The real estate and housing downturn hit us hard, but we're getting many new prospects looking at Gordon County. We're in a great position to enjoy significant growth once the economy really picks up steam in the years to come."
"The unified economic development strategy of the entire community is very attractive to a company like ours when we are seeking to grow our business," says Merritt in summing up how Shaw Industries views the business climate in Gordon County. "The combination of the quality of the workforce, the excellent working relationship with the government officials, and the quality of life are all factors which create a positive environment for business."
Community Snapshot
Local Leaders
Jimmy Phillips
President
Gordon County
Chamber of Commerce
706.625.3200
jp@gordonchamber.org
Larry Roye
Chairman
Development Authority of Gordon County
770.548.4158
larry.roye@firstbankofdalton.com
Jimmy Palmer
Mayor of Calhoun
706.537.2579
jpalmer@calnet-ga.net
Population
(2010)
County, 55,186;
Calhoun, 10,667
Per Capita Income
(2009)
County, $18,219
Georgia, $25,098
Unemployment
(May 2011)
County, 12.1 percent
Georgia, 9.8 percent
Top Employers
Mohawk Industries, Shaw Industries Group, Gordon Hospital, Mannington Commercial, Engineered Floors
Sources
U.S. Census Bureau, U.S. Bureau of Labor Statistics, Gordon County Chamber of Commerce