Surviving A Stroke
Georgia has rehab facilities scattered around the state and scientists working on home-based rehab – good thing, because we're right in the middle of the so-called "stroke belt," the Southeast, where strokes are most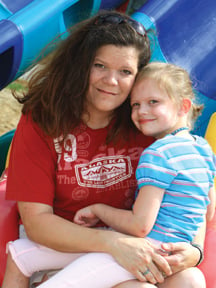 Andrei Bersatti is having trouble finding the words, and it's not because English is his second language. It's one of the aftershocks from the explosion in his brain. He's also having a difficult time making decisions and thinking quickly.

None of this is apparent to me, because I've just met him, so I don't know Andrei Bersatti the software engineer, the avid soccer fan, the ambitious young scholar from La Paz, Bolivia. I only know the recovering patient, and I'm impressed with his fluent command of my mother tongue, with his humor, optimism and clarity in the wake of all he's been through lately.

Bersatti was in the middle of his second year of Ph.D. studies in electrical and computer engineering at Georgia Tech and the last semester of his MBA. It was last February 5, a Saturday night, and he was alone in his apartment when the arteriovenous malformation (AVM) in the left side of his brain ruptured.

"I remember feeling numbness in my right side," Bersatti, 28, says. "Then I remember being on the phone with 911 – I don't remember dialing it, I just remember being on the phone and repeating my address over and over again and telling them, 'I think I'm having a stroke.'

"When they arrived they found me on the floor, passed out. Apparently, I passed out on the phone, and if I had delayed making that call, I would not be here telling you this story."

Time is the enemy, the pitiless beast that 800,000 people in the U.S. will try to overcome when they suffer strokes this year. Unfortunately, about 150,000 will lose that race – stroke is the third leading cause of death in Georgia and the U.S.

About 20,000 people are hospitalized with strokes each year in Georgia, where the stroke death rate is about 16 percent higher than the national rate. The cost for healthcare and lost productivity in Georgia due to stroke is in the neighborhood of $1.7 billion annually ($43 billion in the U.S.).

For those who survive, the comeback trail begins almost immediately after the stroke itself, and it always leads uphill. But Georgia is lucky to have a number of stroke rehabilitation centers scattered around the state, some in hospitals, some in an outpatient clinic setting; and Georgia scientists are working on the next era of home-based rehab.

"The Atlanta area, the entire state really, has some great facilities that know how to do stroke rehab very well," says Susan Johnson, director of the Acquired Brain Injury Pro-gram at the Shepherd Center in At-lanta. "It's because there is such a high incidence of stroke in this state."

Georgia is part of the so-called "stroke belt," that region of the country (the Southeast) where strokes are most prevalent.

Only 10 percent of stroke victims recover completely, or almost completely. About 25 percent are left with minor impairments and 40 percent require special care for moderate to severe physical, neurological or emotional damage. In other words, stroke rehabilitation is not for sissies.

"I definitely enjoy a good challenge," Bersatti says of his rehabilitation from the event that has forever altered his life. "But if I had been able to choose, I probably would not have chosen this one. It's not exactly what I was looking for."

Bersatti is not typical. For one thing, he's only 28, and stroke typically occurs in much older people. (Seventy-two percent of the people who have them are at least 65.)

This month, Georgia Trend features three stories from the comeback trail: three different survivors from three different age groups who suffered three different kinds of stroke. None of these people are 'typical' – that word lost a lot of meaning when their universes changed in a flash.
Cheyenne Smith
In March 2010, the day before she turned six, Cheyenne Smith went to Monkey Joe's, "a fun-filled inflatable play center" in Gainesville.

Fearless and athletic, she's grown up around daredevils on dirt racetracks all over the country – her family owns Racedaypix, an on-site event photography business.

"From everything I've learned, Cheyenne always has been a full-blast kind of girl," says her physical therapist, Stefanie Palma.

Cheyenne was playing on one of the giant inflatables, tried to flip and landed badly, twisting her neck.

"Before she got off the bouncy thing and started back toward us, she'd had a stroke, but we didn't know it then," says Heather Smith, Cheyenne's mother, who runs the business operation while husband David, a former competitive off-road motorcyclist, takes the pictures.

"She got up and tried to walk, and from a distance we thought she was just goofing off with her cousins, trying to be silly," says Heather. "But she made it over to us and said she couldn't get her left arm and leg to work, said her mouth was tingling. I told my husband, 'We're going to the hospital now.'"

First they went to Northeast Geor-gia Medical Center, then to Children's Healthcare of Atlanta (CHOA) at Scot-tish Rite for an MRI. No one mentioned "stroke" until the next morning, Cheyenne's birthday. And nobody put the fall and the stroke together. She seemed to recover quickly and went home after five days to finally celebrate her birthday.

"She was on the floor opening presents, turned around and said her head was hurting really bad," says Heather, who was back in the hospital with her daughter the next day. They wouldn't leave for 11 weeks. "She'd had another stroke, a rather large one. This time they found what was wrong in her neck."

Cheyenne had torn one of the carotid arteries in her neck and suffered a stroke in the right thalamus. Carotid artery dissection is the most common cause of stroke in young to middle-aged adults, so it wasn't something her caregivers suspected right away in a six year old.

"There are a lot of different reasons why children have strokes, a lot of different ways to get there," says Dr. Maurice Sholas, medical director of rehabilitation services at CHOA-Scottish Rite, which has the nation's largest pediatric rehab unit. They treat about 8,000 patients a year, says Sholas, "probably 50 of them recovering from stroke."

The most common causes or underlying factors for childhood stroke include sickle cell disease, heart disease, infection, and hematological, metabolic or vascular disorders. Cheyenne's injury is more common in high-school athletes.

During those first days in the hospital, Cheyenne's body started shutting down; she stopped breathing on her own.

"Fluid had built up on her brain, and it was killing her," Heather says. "I remember watching the doctor's hands trembling when he said that my daughter was going to die if she didn't have surgery and quickly."

They removed part of her skull, relieving pressure on her brain. Cheyenne spent most of the next two weeks in a medically induced coma. When they took her off the ventilator and backed her off all the medicine she'd been on, the rehabilitation started. Up at 8 a.m. and until 3 p.m. there was some form of speech, physical or occupational therapy, every day, like clockwork.

She needed a G-tube for nourishment, still had some trouble breathing on her own and was often tired because the breathing issues kept her awake at night – she had 412 apnea episodes during a sleep study. A BiPAP breathing machine helped her sleep at night. When Cheyenne started making funny faces during therapy, Heather knew they'd turned a corner.

"That was big for us, those silly faces. We knew she was coming back."

When Cheyenne left the hospital and its rehab center on May 25, she could raise her head and her right arm a little bit, but she couldn't bear any weight, and she hadn't spoken.

Last summer they started working with Palma, who chairs the physical therapy department at North Georgia College and State University (NGCSU) in Dahlonega, a short drive from the Smiths' home in Cleveland.

"It took us a month or two to earn Cheyenne's trust," says Palma, who tried working with her young client on a gait trainer and treadmill early on, then adjusted the therapy to Cheyenne's comfort level. "It's important that she enjoy coming here, that she see this as a safe, secure environment."

Cheyenne was on the downhill slope of brain maturation when she had her stroke, so her memory chips contained useful information about how to move. They went slowly, worked on crawling, on core strengthening exercises, then went back to the gait trainer. Cheyenne took to it. She still has a wheelchair, but walks longer and longer distances with assistance.

The G-tube is gone – Cheyenne is eating on her own. She's had regular speech therapy and occupational therapy. Her writing isn't back to 100 percent, but Heather says it's getting there. She's drawing pictures. And she's talking. That started 112 days after the second stroke.

They were at speech therapy when Heather asked Cheyenne to say "yeah."

"She did it. The therapist and I looked at each other," Heather says. "Then she said, 'love.' Her daddy always thought 'love' was going to be her first word. Then she kept saying it. She said 'love' about 15 times on the way home.

"Well, we pulled into the driveway, and as I was turning the car off she said, just as plain as day, 'Mom.'"
Linda Conaway
Russell Conaway is 28. He goes to the same physical therapist as my son, Joey, who is 10. Her name is Terrie Millard – she's amazing, and she works with Stefanie Palma and the talented team at NGCSU in Dahlonega.

Russell and Joey are very different young men. For one thing, Russell can walk with assistance. Joey is still learning how. But both guys have significant developmental delays and require assistance with most functions of everyday life. When my wife and I look at Russell's parents, Bob and Linda, we're kind of looking into our own future.

But years ago, the Conaways weren't sure they even had a future with their son.

Russell was a few months old when he was diagnosed with a neurodevelopmental disorder called microcephaly and cerebral palsy. The doctor who delivered the news offered his opinion frankly.

"He told us, 'I think five years old would be old age for Russell,'" says Bob, as Linda nods in agreement next to him, shutting her eyes, smiling knowingly.

Linda hasn't recovered all of her speech since she had a stroke last fall, so she lets Bob do most of the talking here.

"Speech," she says, starting a sentence. "Sometimes words … they don't come."

I know exactly what she means. But this is different. This is aphasia, a lingering and common symptom following a stroke.

She can paint, though, praise be. Linda is a wonderful artist. We've seen her work on display at the Sautee Nacoochee Center near our home, and already her post-stroke work is entered in a show in Cumming.

"She was back to painting almost immediately," Bob says, a grin in his voice. "She hasn't lost a thing there; she has all of her skills."

This, in spite of the fact that she's right-handed, and the stroke occurred on the left side of her brain – which would affect her right side. This is a quiet woman with a strong will.

Linda was getting up in the middle of a September night to go to the bathroom, but she couldn't stand. Her speech was slurred, and she had a blank stare. Bob immediately drove her to nearby Chestatee Regional Hospital in Dah-lonega. After stabilizing her there, they sent her to Northeast Georgia Medical Center, where she spent the next 10 days or so, first being treated, then in rehabilitation, a rotation of occupational, physical and speech therapy, each discipline once or twice a day.

Meanwhile, there was Russell.

For 28 years he was Linda's full-time job, literally a labor of love. The couple had a routine. Bob handled the morning care – bathing, breakfast – and went to work, for years in the tire industry, then as a financial planner and bookkeeper. Linda, who left her job as a teacher after Russell was born, did most of the rest.

"We have totally resumed that routine," Bob says. Linda's comeback has been substantial. Russell's two older sisters, Lee Ann (a teacher) and Bethanie (a nurse) have pitched in to help their parents through it all, real-life examples of how a special needs family's support system is supposed to work.

Linda continues her various rehabilitation therapies at ReGain, the outpatient rehabilitation center in Gainesville. She gets speech therapy once a week, which means homework, which has taken on many forms.

One recent assignment asked her to teach Bob how to do something he'd never done. So she taught him how to use the sewing machine. Sometimes they'll play hide and seek at Walmart. She'll call him on the cell phone from a distant corner of the store and give him directions. When they go to a restaurant, it's Linda's job to place the order.

"We're putting her thoughts and words together again," Bob says. Linda smiles at him and nods.

Their insurance will only cover a limited number of therapy sessions, though, so they're working with self-help DVDs at home.

Turns out there are some very smart people in Georgia who are researching the future of home-based rehab.

Emory University scientist Steve Wolf, professor of rehabilitation medicine, is directing a new trial exploring the use of robotic therapy at home, utilizing technology developed by an Arizona firm, Kinetic Muscles, Inc.

The study uses technology to directly address the problems facing patients with limited insurance coverage as well as the challenges facing rural residents or impoverished patients, who can't easily access rehabilitation centers or human physical therapists. The Hand Mentor device, for example, encourages self-powered motion of the wrist and fingers, assisting movement when necessary. (There are some interesting videos of the Hand Mentor device at www.kineticmuscles.com.)

"The goal is to improve outcomes for these patients, outcomes that are as positive as what they'd get with regular, traditional therapy," says Wolf, who notes that it's working. "The focus is on rehab in the home environment, which is where I think most of rehab is headed anyway."
Andrei Bersatti
There are two major categories of stroke, and the difference between them is the difference between clotting and bleeding.

Ischemic strokes (87 percent of all strokes) happen when blood supply to the brain is interrupted – Linda Conaway and Cheyenne Smith had different kinds of ischemic strokes.

Hemorrhagic strokes are caused by the rupture of a weakened blood vessel like the AVM that Andrei Bersatti was probably born with. But AVMs account for only two percent of all hemorrhagic strokes. You can live a full and long life with an AVM and never know it. Bersatti wasn't so lucky.

"I didn't know about the AVM. I found out about it once I woke up from the coma," Bersatti says.

He spent about a week in an induced coma after being rushed to Piedmont Hospital, where he went into surgery immediately to stop the bleeding. Then they moved him to Shepherd Center's Young Stroke Program to begin inpatient rehabilitation.

After four or five weeks there, he moved over to Shepherd Pathways Day Program, where five days a week, from 11 to 4, he went through one therapy session after another – speech and cognitive therapy, memory exercises, PT for the lower body, OT for the upper body. He was worked over by a team of five therapists.

"Every week it was a different schedule," he says.

As of early May, he was still in a wheelchair and needed help walking. His mother was staying with him at the apartment that was arranged for him near the Shepherd Center, helping him with the stuff he took for granted until very recently.

"Taking showers is tough, because I need someone to help transfer me to the shower seat and help clean my back. I can't reach," he says.

On May 27, Bersatti was scheduled for more surgery – doctors obliterated the AVM with a focused beam of radiation. He plans to go back to school, finish his Ph.D. in electrical and computer engineering and his MBA. Right now, though, he isn't sure when.

"They can't really say, not with this surgery," Bersatti says. "They don't ex-pect any setbacks, but there's always a chance of complications. This is a brain we're dealing with, you know."