Carroll County: Planning For Success
Location, workforce and leadership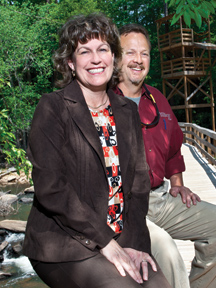 About 12 years ago, a concerned group of community leaders in Carroll County decided that rather than just sit back and let the economic winds blow wherever they might, it was time to be proactive about economic development in the county.
Thus began a year-long effort by 26 Carroll business, government and education leaders to draft a master strategic plan for what they wanted the county to look like in the coming years. The result was Carroll Tomorrow, a master plan initiative designed to address issues and concerns related to the growth of the region and opportunities such growth would bring to the community.
"At the time, we had lost some traditional manufacturers and were starting to feel the pinch of growth from Atlanta," says Daniel Jackson, president and CEO of the Carroll County Chamber of Commerce. "We realized we needed a master plan to help us leverage some of our assets and deal with issues that would impact business and economic development going forward."
Ten years later, the impact of Carroll Tomorrow, established as a 501(c)(3) nonprofit entity in April 2001, has been nothing short of phenomenal. In the past decade, it has helped create more than 2,700 new and expanded jobs and added $83 million in direct payroll and $230 million in new capital investment in the county.
Buoyed by this success, county leaders decided early last year that it was time to take a fresh look at the plan to make sure it was positioning the county to meet the new challenges that lie ahead in the decade to come. This time, 52 community leaders came together to draft a new plan: Advantage Carroll, a bold five-year initiative that's focused on three key areas: economic development, education and workforce development, and leadership and government relations.
"We believe that focusing on these specific areas will add to and enhance the great quality of life we already enjoy in Carroll County," says Jackson. "We consider this initiative critical to the future economic and educational well-being of the county."
The goals for Advantage Carroll are aggressive. They include creating 2,000 new and retained jobs, including 500 new IT and communications jobs; generating $175 million in new capital investment and $100 million in new payroll; adding 100 acres of prepared industrial sites; helping at least 240 existing businesses identify opportunities for expansion; and helping 75 new startup businesses through The Burson Center, a business incubator that opened in 2006 to help facilitate entrepreneurship, innovation and business growth in West Georgia.
Automotive Corridor
Located along I-20 on the west Georgia border with Alabama, Carroll County enjoys a number of inherent advantages from a business and economic development standpoint, says Brian Dill, vice president of economic development and global commerce with Carroll Tomorrow.
This starts with the county's location in the heart of the "automotive corridor" for Tier 1 automotive suppliers, Dill notes. "Also, we're centrally located from a rail and logistics standpoint. And we have direct access on the southern side of Atlanta to Hartsfield-Jackson International Airport."
A diverse workforce, robust economy and proximity to Hartsfield-Jack-son has helped lure no fewer than 14 international companies to Carroll County, according to Dill. One of these is Decostar Industries, a subsidiary of Magna International.
Decostar is a Canadian Tier 1 auto parts manufacturer that opened its Carrollton plant in 2004 to support the growing automotive industry in the southeastern United States. The plant has consistently increased its customer base to include Mercedes-Benz, BMW, Volkswagen, General Motors, Toyota, Honda and Nissan, as well as E-Z-GO and Club Car golf cars. Jackson says the company originally forecast 300 jobs at the plant, but it has more than doubled that number to 680.
Other international companies employing large numbers of workers in Carroll County include OFS Fitel, LLC, a Japanese manufacturer with 310 employees; Pilgrim's Pride Corporation of Georgia, a Brazilian poultry processor with 878 employees; and T-Mobile USA Inc., which is based in Bellevue, Wash., and employs 100 workers locally.
According to Dill, the county is targeting its economic development and growth focus on three industries: aerospace, advanced manufacturing and medical. "We're also planning a renewed focus on inbound projects for the automotive corridor," he adds. "This scaled back during the economic downturn, but we're starting to see a pickup, especially among national and Tier 1 suppliers."
"We're not pursuing smokestack industries – we want high-end and high-tech jobs," says Carroll County Commission Chairman Bill Chappell, who adds that a new initiative will be starting soon to lure more medical and biotech companies to the county. "The county invested a great amount of money in infrastructure even during the downturn. If we continue to focus on improvements that will raise the quality of life for residents, this will help attract the kinds of businesses and industries we want."
The new Fogo Data Center location in Carrollton that opened in January is a good example of the kind of companies Carroll County is trying to attract. This mission-critical facility is up to 25 employees and offers co-location, managed services, backup and disaster recovery services to IT professionals, small and mid-size businesses, educational institutions and local governments.
"The facility we renovated already had excellent fiber connectivity, so it was a natural fit for us," says Edie Haney, business development and corporate counsel for Fogo Data Center.
Dill says Carroll County has purchased 116 acres of land to build a new industrial/technology park just off the Carrollton bypass. "This park is designed for the recruitment of tech-based manufacturing, corporate headquarters [and] medical and technology firms, including international companies interested in expanding and/or relocating to Carroll County," says Dill. "It represents a strategic focus on targeted recruitment of a highly skilled, highly paid workforce." The park is scheduled to open this fall.
Growing System
The growth of Tanner Health System, the county's second largest employer, has helped establish Carroll County as a statewide leader in healthcare. "The county's economy is an interesting mix of manufacturing, agriculture, technology and higher education, but all of these rely on the support of quality schools and excellent healthcare," notes Tanner Health System President and CEO Loy M. Howard.
There are more than 2,400 Tanner employees at four main hospitals and 28 medical group practices in the county, and another 1,600 people in the region are employed because of Tanner, says Howard. Tanner contributed more than $634 million to the region's economy in 2009, according to the Georgia Hospital Association.
"We draw patients from a 10-county area, including east Alabama," says Howard. "Those patients and their families eat at local restaurants, shop in the area's stores and take advantage of many other services while here."
Tanner's Roy Richards, Sr. Cancer Center, which is located on the Carrollton hospital campus, has been called one of the best cancer centers in the country, bringing the most sophisticated radiotherapy delivery system available to the region. Willowbrooke at Tanner, which opened in 2009, was the first new inpatient behavioral health facility built in Georgia in 20 years.
Carroll County is also participating in the booming video and film production industry in Georgia. Jonathan Dorsey, executive director of the Carrollton Area Convention & Visitors Bureau, notes that the county recently received the Camera-Ready Community designation from the Georgia film office.
"Video and film production is a growing industry for us," says Dorsey. "We have a history in Carroll County of working with film and video production companies, as well as people who are skilled at it, and we have suitable locations and equipment." This history goes back 20 years to Fried Green Tomatoes, Dorsey notes, which was the first major motion picture shot in Carroll County.
None of this, however, means that the county is overlooking its historical and traditional strengths in agribusiness. "Carroll County has a huge agribusiness heritage and base, and we're doing great things with agribusiness technology," says Jackson, noting that Carroll County was recently ranked No. 2 in Georgia in agricultural production by the Atlanta Business Chronicle. "This industry is very much a part of our growth plans going forward."
"We have a lot of beautiful agricultural land that I want to remain agricultural," says Chappell. A county initiative has resulted in more than 2,000 acres of private agricultural land being placed in permanent conservation easement, Chappell notes.
Business Incubator
One of the most important keys to Carroll County's past and future success is its business incubator, The Burson Center, which serves a six-county area in west Georgia. "This is more than just an incubator to help birth new businesses – it's a comprehensive resource center for all businesses in the area," says Donna Armstrong Lackey, vice president of business development and community relations at Carroll Tomorrow.
Although up to half of all new business startups fail in the first three years, Lackey says 87 percent of incubated companies are still in business three years later. "When the center opened, we knew we'd be assisting startups and new ventures, but we didn't realize just how much established businesses would have to reinvent themselves after the economic downturn."
At The Burson Center, area businesses and entrepreneurs have access to "a whole synergy of resources," says Lackey. "There's lots of unique business education programming and training – 2,000 square feet of the facility are devoted to training space and more than 1,000 different training programs have been facilitated for 16,000 people at the center." There's even an in-house attorney and accounting graduate students who provide free legal and accounting advice, notes Lackey.
It's not just entrepreneurial education, however, that helps set Carroll County apart. The Carrollton City School System includes Georgia School of Excellence award winners Carrollton High School and Carrollton Junior High. The system was awarded district accreditation in 2010 by AdvancED, parent organization of SACS, the Southern Association of Colleges and Schools.
Meanwhile, the Carroll County School System launched a charter school for the 2010-2011 school year: the College and Career Academy (CCA), created in partnership with West Georgia Technical College.
"The demand for skilled laborers in the workforce has created a need for a shift in training procedures," notes Cindy Clanton, the director of career and technical education for the Carroll County school system. "The CCA provides dual enrollment and work-based learning opportunities to help students transition from high school to higher learning institutions or careers. It's education that mirrors industry."
In 2007, Southwire Company and the Carroll County School System worked together to create 12 For Life, a program aimed at reducing high school dropout rates by helping students prepare for the next stage in their lives. The program combines a traditional classroom education with a job working at least 20 hours a week at a Southwire plant.
"This is enabling students to earn academic credits while also earning a paycheck and learning critical job and life skills," says Southwire Executive Vice President of Human Resources Mike Wiggins, who was instrumental in creating 12 For Life. The program hit its initial goal of 175 graduates in November of 2010, two years early, and is now aiming for 400 graduates by the end of the 2013 school year. Twenty-one percent of graduates have been hired by Southwire and another 39 percent are in post-secondary education.
Higher Learning
Carroll County also boasts two outstanding institutions of higher learning: the University of West Georgia and West Georgia Tech-nical College. Enrollment at UWG now tops 11,000 students, and the university has spent $200 million in recent years on upgrades to academic buildings, dorms, athletic facilities and a new Greek village. UWG was recently designated by the Board of Regents as one of four Robust Tier of Doctoral Compre-hensive Universities in the state.
West Georgia Technical Col-lege, with enrollment now topping 8,000, has grown to become the second largest technical college in the state and one of the fastest-growing two-year colleges in the nation. West Georgia Tech offers more than 100 different certificate, diploma and associate degree programs and boasts a 90-plus percent placement rate for graduates.
"This is a testament to the real-world job skills students learn," says the college's president, Dr. Skip Sullivan.
One of the greatest strengths of Carroll County, Dorsey notes, is its abundance of recreational opportunities. "Over the years, the county has wisely invested in infrastructure that supports parks and recreation. We're currently developing a huge new park system that will encompass thousands of acres throughout the county."
Chappell says the county is trying to be proactive by setting aside land for parks and recreation now rather than trying to fit them in later. "We want to avoid the suburban sprawl that has consumed most other counties around Atlanta."
Dorsey adds that downtown Carrollton is a popular tourist destination, offering what he calls a "mini-United Nations" of food options along two blocks as well as a variety of cultural attractions. "The MeccaFest fine arts festival is one of the largest festivals of its kind in the state and was recently recognized in a reader poll as the best annual event in Georgia."
This summer, a new amphitheater will open in downtown Carrollton, joining the one in downtown Villa Rica. "Carroll County offers many cultural, historic and recreational opportunities and the dining and lodging options necessary to support them," says Dorsey. "This all ties directly into economic development."
Community Snapshot
Local Leaders
Daniel Jackson
President and CEO
Carroll County Chamber of Commerce
daniel@carroll-ga.org
770.832.9272
Brian Dill
Vice President, Economic Development & Global Commerce
Carroll Tomorrow Economic Development Foundation
brian@carroll-ga.org
770.832.2446
Bill Chappell
Chairman
Carroll County Commission
bchappell@carrollcountyga.com
770.830.5800
Population
County, 117,730; Carrollton, 23,421
Per Capita Income
County, $28,070
Georgia, $23,909
Unemployment
County, 10.8 percent
Georgia, 10 percent
Top Five Employers
Carroll County Schools, Tanner Health Systems, Southwire, University of West Georgia, Pilgrim's Pride
Sources
Carroll Tomorrow, Georgia Department of Labor