Man Of Action
Atlanta's new mayor is a statewide player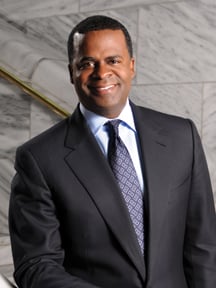 Barely a year into his first term as mayor of Atlanta, Kasim Reed is redefining the job, working with state lawmakers and officials to help close the gap between the two Georgias.

Reed, who served 11 years in the General Assembly – four in the House and seven in the Senate – talked to Georgia Trend Editor Susan Percy at City Hall about transportation, economic development, education and the future of Atlanta and Georgia.

Following is an edited version of the interview.
GT: How is being mayor different from serving in the legislature?

Reed: The difference is the level of action. The job of running a major American city has constant emergencies that require time, attention and energy. In the General Assembly, you work in a concentrated fashion for about 90 days to 120 days and go home. The execution of those ideas you had, those laws you passed is really left to someone else. In this job, I'm the someone else.

GT: You've done a lot of reaching out beyond the city limits of Atlanta and involved yourself in state-level issues, like the Savannah harbor deepening. Is that because of your experience in the legislature or is it a reflection of the times?

Reed: I think it's both. You spend 11 years casting thousands of votes, and you get to know people very well. I think reaching out is the future. When I look at other cities that are trying to compete with us, they have very good metro and state cooperation. North Carolina has very coordinated activity between the state and major cities. Atlanta has not had that – to its detriment.
GT: Why is that changing?

Reed: The environment we're in is far too competitive for the biggest economic generator and job creator in the state to be in this protracted intramural game when everybody else is moving toward coordination. In Tennessee, the move toward coordination is active between the state and Chattanooga. In Florida, they've been moving. In North Carolina. So it seems to me that if I want to be the mayor of a second-tier city or a second-tier region, I would continue that [divisive] behavior. The way forward for Georgia and for Atlanta really is a coordinated effort, and on the big issues of the day we have to work together or have mediocre lives.
GT: How do you make that kind of coordination happen?

Reed: The relationship we are having with the Speaker, Lieutenant Governor and Governor is unprecedented in the life of Georgia. It shows you can maintain your core values – I maintain mine and they maintain theirs. Transportation doesn't care about whether you're a Republican or a Democrat. The water crisis doesn't care whether you are a Republican or Democrat. Making the state better and educating young people don't give themselves to partisanship.
GT: Are you seeing progress?

Reed: I know from serving in the General Assembly that there is a generational change going on that people really don't know about. There are a number of Republicans that are far more progressive or results-oriented than people have the impression. People are getting to know each other and working together in ways that just haven't reached the radar yet. There are personal relationships. I spend personal time, non-work time, social time with a number of Republicans and Democrats – you can tell it's genuine. There's nothing being gamed there.
GT: Does that really have an effect on attitudes and policy?

Reed: At the end of the day, people want to do business with people they like. That changes everything, allows for consistent communication that evolves without things reaching a point where they are a crisis. If Georgia coordinates, I think we will eat everybody else's lunch. If we don't, then we will have given away our future.

GT: Let's talk about the regional transportation SPLOST, the one-cent tax that's coming up for a vote next year. It seems easier to make the case to Atlanta voters than others in the region or state. How do you persuade them?

Reed: It's about our fundamental obligation to make sure future generations do better than we do. Whether you are Metro Atlanta or outside Atlanta, do you want your community to have the bones, the infrastructure for continued progress? You may very well not want to be Atlanta or Cobb or Clayton. That's just fine, but do you want your own community to be what it is in a stronger fashion? You will not attract new business if you don't have infrastructure. You will not attract new business if investors can't get to them, and you will not attract new business if you don't have an educated workforce. If you want your community to continue to be what it is, it better be an upgraded version that is capable of having connectivity where real growth and jobs are going to be.

GT: Do you worry that some areas may not see the benefits?

Reed: I understand thoroughly why people like living in different parts of the state. But I do believe they want to have infrastructure that guarantees their children and grandchildren will be able to thrive. That does not work without connectivity. The future is going to consist of mega-regions. There are going to be regional leaders that are centers of activity for the U.S., somewhere between eight and 10 of them. If you don't have access to mega-regions through transportation, you are going to be left behind and what you love is going to decay.
GT: But isn't it especially crucial for Metro Atlanta?

Reed: The Metro Atlanta 10-county area will get more revenue than all other jurisdictions combined, so folks need to be real clear about what we're talking about. If you view the Olympic Games' $3.5 billion in hard investment, somewhere between '92 and '96, it funded massive investments over a 10-year period of time – some have said up to $70 billion. It gave us about a 10- to 12-year run until 2008 when the recession started. That happened from a $3.5-billion investment. What will happen from an $8-billion investment? That's never been done before. I think that will finish this notion of competition between us and rest of [the state], and I think it will secure our position as the dominant region of the Southeast.

I'm real clear on what the stakes are. I think the debates are going to be vigorous, and I love every minute of it. I love the give and take of it all. Everybody needs to understand it is hard. We love routine. This isn't routine. It's going to be hard.
GT: Are you optimistic?

Reed: We're going to win. I'm a person who won election by 714 votes. I don't care if it's by one vote. As long as we have a good project list that represents the 10-county area, we'll win it.

GT: But you'll have opposition.

Reed: I know that folks on the other side are going to make claims, going to criticize and point out faults, but I hope that with that criticism will come an alternative. How are we going to deal with the fact that the state budget is down from $21.5 billion to $17.9 billion? What's your plan to move the state forward, or do you just want to live in a place that's on the path to continual decline?
GT: You were involved in some serious lobbying with the Obama Administration on behalf of the Savannah port.
Why? That's pretty far from Atlanta.

Reed: It was a very clear decision for me. The Savannah harbor deepening project represents the second biggest economic development opportunity to Hartsfield-Jackson in the state of Georgia. It will provide a center point for commerce in a part of the state that needs it. Many folks do not understand the kind of explosion that is going to occur in the freight business as a result of the work on the Panama Canal, which opens in 2014. We are literally talking about ships that are going to have the capacity of handling three times the cargo they're handling today. If we are not ready, then those ships are going to make arrangements with [other] ports. In my mind, the $105-million investment in Savannah is a prudent investment. We can deepen the port in a way that is environmentally appropriate.
GT: You're hoping for a lot of money from the federal government. Is that realistic?

Reed: I think the White House certainly wants support for some of its initiatives – so to do that [allocate funding] without any support for any of their priorities – I just don't think that's the real world. The fact that we got $600,000 for planning is essential to allow for you to continue along with your plans. South Carolina did not get any planning dollars. That is significant. It's the first quarter of the game. I think there are going to be a lot of arrangements made.
GT: Some Georgians were disappointed at only getting $600,000 in the President's budget.

Reed: Disappointment in the $600,000 is certainly understandable if you're not involved in the appropriation process. If the White House had placed the entire amount – the full $105 million – in the President's budget, there would have been no need for bipartisan cooperation on any matter. They sent a signal in funding that they are open to continuing to have conversation. I think it would have been very disturbing to have gotten zero, which is what Charleston got.

GT: There seems to be recognition among Republicans in Georgia that your Obama Administration connections can be useful.

Reed: Right now we have a Democratic president. Having good relationships, being able to communicate is needed. That is a function I'm happy to engage in. I genuinely believe in the importance of this project. Every time you have regional cooperation, it makes the state stronger, and it really does go toward this notion of bringing down the curtain between the two Georgias. No matter what the outcome is, nobody can deny I worked at this as hard as anybody else, doing everything in my power to help.

GT: Does a stronger Port of Savan-nah help Atlanta?

Reed: I happen to believe that Georgia having two dynamic centers is the right thing for the future of the state. So having an airport that is the busiest passenger airport in the world and having a seaport that, in my mind, can be the dominant seaport in this part of the U.S., is going to create a flow of commerce from Savannah up to Atlanta and is going to allow people who love the rural part of the state to stay there. I also think it shows confidence. You can't be a protectionist, can't say you want to be open and inviting to business and commerce and then worry about something doing well that isn't in your purview. I would be ecstatic to secure the money to deepen the Savannah port and for that area to explode. That goes a long way toward my goal of having Atlanta be the logistics center of the Western Hemisphere.
GT: Is that a real possibility?

Reed: If I have a world-class seaport and I've got a world-class airport that can get you to 80 percent of the U.S. in two hours or under, I think I can make the case to a lot of businesses that you need to be where we are. We just want to keep everything going through Atlanta.
GT: You've injected yourself into the situation with the Atlanta public schools, even suggesting a takeover. Why?

Reed: I cannot afford for the Atlanta school system [to lose accreditation]. It was making significant progress – even if you take into account the CRCT cheating scandal. I do not condone cheating. The prosecution and investigation should go wherever it leads, and everyone who is guilty should receive their fair punishment.

That said, that's not the reason the system was placed on probation. It was because of a governance challenge centered around board members taking control of the board with a simple majority. There is no deliberative body that allows leadership to change over a simple majority day in and day out. That contributes to the kind of instability that takes us back to the days of the 1990s, when the school system had four superintendants in 10 years and the performance was just very poor. What world-class executive will come into an environment where the chairperson of the board on any day can change by a 5-4 vote?
GT: How and when did you decide to get involved?

Reed: Prior to the Jan. 18 probation, I went to the board and laid it out in a respectful and courteous fashion as the person [during my time in the legislature] who coauthored the legislation they were violating. They ignored it. They ignored the opinion of the Attorney General that said what you are doing is inappropriate. So as soon as they took [the] action, they were placed on probation.
GT: But you don't have any authority over the school board?

Reed: Most people outside of Atlanta have no idea that I do not have control over the school system. So when I'm closing a transaction around the relocation of a North American headquarters for a significant company that would be transformational from a branding standpoint for this town, I'm spending half of my time talking about something I have no control over, because [the CEO] wants to know where the children of the 400 people he's trying to bring here are going to be educated. The way the situation is being talked about is on the verge of making this a national embarrassment. Now once something about Atlanta becomes a national embarrassment, it becomes a part of my portfolio, because none of these people are calling the school board. I am not going to be the one who sat on my hands because I want to be polite and then act shocked when the accreditation is lost and when it takes a year to two years to get it back. And for three years every time the governor of this state gets on a plane to go and encourage a business to come here, every time I get on a plane to encourage business to come here, we're going to spend half our time talking about something neither of us has direct purview over. I'm not going to take that.
GT: You believe the situation is that serious?

Reed: I believe they [Atlanta school board] are on a path to losing their accreditation. When Clayton County lost its accreditation it damaged us and it crippled Clayton County. That is why I made the statements I've made. The record is going to be crystal clear who was where.
GT: Has being mayor of Atlanta been what you expected?

Reed: It's been much more. I could not be happier. I love it. It's a job that requires a great deal. You have to grow into it rather than shrinking from it.