Health Insurance: An In-Between Time
A year after sweeping federal healthcare legislation passed, public opinion remains divided. Georgia and other states are testing the constitutionality in federal court, while insurance companies and providers are preparing for changes.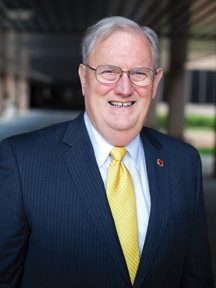 At its most basic level it sounds like a great idea, a no-brainer for anyone remotely interested in the well-being of the human race: healthcare for every citizen, rich or poor.
Who can argue with that? What's not to like? Depends on whom you ask.
"Everybody agrees that we need some kind of health reform," says Georgia Insurance Commissioner Ralph Hudgens.
But?
"But I believe healthcare is an individual's responsibility, not the government's. A government-run, single-payer system is not the reform we need."
It is March 23, the one-year anniversary of President Obama's signing of the Patient Protection and Affordable Care Act (PPACA), and Hudgens says he is consciously avoiding "the 'squat' word."
During last year's campaign, Hudgens famously told an interviewer (when he thought the microphone was turned off) that the insurance commissioner "can't do squat" about healthcare reform. Hudgens, a favored candidate of the insurance industry (his top campaign contributor), was hammered by opponents over the on-air faux pas, but he won the race, and so far he's been pretty close to right on: He hasn't been able to do much of anything about healthcare reform.
"Health insurance regulation is just one aspect of the insurance commissioner's job, but an aspect that will probably get a lot more attention because of all the regulations that are part of reform," says Karen Minyard, director of the Georgia Health Policy Center at Georgia State University.
Minyard's team has combed through the 906-page law and has tried to keep Georgia legislators and leadership informed on the potential impacts for the state, the timetables and deadlines and what it all means.
It's early yet, but the clock is running – toward what, is anybody's guess, because it is the uncertain between-time, a year after the law was signed and several years before the bulk of it goes into effect; and it may never go into effect.
While Republicans in Congress try to chip away at the law on political grounds and the public remains pretty evenly split about the law, a majority of states (including Georgia) have rallied together to test the constitutionality of PPACA in federal court.
Our health insurance premiums have gone up (which would have happened anyway); insurance companies quietly wring their hands in the hope that the law doesn't get repealed while working with providers on what they all see as an inevitable future for how care is delivered and paid for.
"It's been a year of tentative transition," says William Custer, professor in the Institute of Health Administration at Georgia State University's J. Mack Robinson College of Business.
"Tentative is the key word there because the law itself provided a broad framework for healthcare reform, for changing the way healthcare is financed. But the angels and devils reside in the details, and so many of the details have not been settled."
Some states, like Georgia, are seeking waivers over some of the law's requirements as PPACA is gradually phased in, if it gets phased in.
"I think the answer to almost every question you can ask about reform," says Minyard, "has this answer: 'It depends.'"
It was contentious from the start, from the moment Barack Obama was elected president. Healthcare reform was anticipated with hope by some (especially among the 46 million Americans who are uninsured, including about 1.7 million in Georgia, or the 25 million who are underinsured) and with dread by others who, like Hudgens, were dead set against more government control, for fiscal, ideological or political reasons.
"However you feel about the issue politically, the healthcare system the way it is simply can't go on," Georgia State's Custer says. "The number of Geor-gians with private coverage drop-ped from over 70 percent to under 60 percent in a decade. And that's a trend that occurred in good economic times, and of course, sped up in bad times.
"The numbers of people without coverage and the numbers on a public plan are rising. When fewer Georgians have the ability to pay for their own healthcare service, we have to rely on taxpayers or the generosity of providers, and that system can't continue."
Divided We Plan
Emotions ran high as protestors rallied in the nation's capital, some brandishing signs suggesting gun violence if reform passed, others depicting Obama as a Stalinesque socialist. In one incident caught on video that went viral within hours, a mob of tea party enthusiasts taunted a counter-protestor suffering from Parkinson's disease, one of them throwing dollar bills at the man as he sat on the ground.
Inside the Capitol, the debate was almost as emotional, as members of Congress made their arguments for or against. At one point, a few months before the bill was passed (this was another YouTube favorite), U.S. Congressman Tom Price of Georgia repeatedly shrieked "I object," in an effort to stop the Democratic Women's Caucus from making their arguments about the benefits of reform for women.
"Personally, I think that most of the debate on all sides of reform was not centered on the right set of facts," says Custer. "The truth is, our system is set up to encourage healthcare cost inflation, and the consequences are that the burden of those costs are being distributed onto people with coverage and the taxpayers in a way that is neither fair nor efficient."
Ultimately, PPACA – all two reams of it – was designed to expand coverage and, theoretically, create a more efficient and competitive health insurance market.
"The theory behind the law has been around for a long time," Custer says. "The type of reform embodied in this law has been promoted by conservatives, liberals and moderates for 30 years."
One of the focal points of the law creates health insurance exchanges. Beginning in 2014, these entities will serve as a marketplace for insurance companies and offer consumers a choice of plans. Those who can't afford market rates will receive subsidies on their chosen policy. The goal here is to prove that a combination of market forces, consumer choice and government assistance for those who need it can increase the quality of healthcare while slowing the rising cost.
Minyard thinks that 14 percent of Georgia's population could be eligible to use the exchange.
"These are people who would mostly be new to private insurance," Minyard says. "We did a rough estimate of how much federal money would come to the state in the way of subsidies, and the figure was $1.9 billion a year.
"So, if you're the insurance industry and you're in the business of selling insurance and there is an influx of $1.9 billion to purchase the product you're trying to sell, I'd say that would definitely be a growth market."
The federal law gives states the opportunity to create these exchanges by 2013. Otherwise, the federal government will do it. While Georgia's state leaders are fighting PPACA in court, they created House Bill 476 to help design an insurance marketplace for Georgia under the federal law. But Gov. Nathan Deal tabled it after a concerted tea party protest against any kind of compliance with the federal mandate.
"My No. 1 priority, my hope, is that PPACA is declared unconstitutional by the U.S. Supreme Court," Hudgens says. "But in light of a final decision there, it's incumbent on the state of Georgia to do some planning, and that's what HB 476 tried to do. It was a tremendous piece of legislation.
"If we can't show any evidence of progress by January 2013, the federal government comes in and hands us an exchange that they create. That's the last thing I want. The best option is to create an exchange ourselves, based on free enterprise and competition."
Bigger Is Easier
Hudgens sees a government plot behind some aspects of the PPACA, such as the part that outlaws denial of insurance to those with preexisting conditions and the part that requires commercial insurers to spend at least 85 percent of premiums on actual medical claims for its large-group policy holders (80 percent for small-group and individual policies). That number is called the medical loss ratio (MLR).
That remaining 15 or 20 percent of each premium dollar can be used on salaries, administrative costs, advertising, profits, agent commissions and so on.
"Frankly, I believe that MLR requirement was designed to run insurance agents out of business. It's designed to squeeze the agent out and force everybody into an exchange," Hudgens says. "And the mandate saying pre-existing conditions have to be covered is designed to do away with insurance companies and drive everybody into a single-payer system."
Indeed, carriers are cutting broker/agent commissions. U.S. House Resolution 1206 (co-sponsored by Georgia Congressman John Barrow) has been introduced with the hope of pulling brokers' fees out of the MLR formula, but so far it hasn't been easy for brokers who sell individual or even small group policies.
"Independent agents are taking it on the chin," says Keith Argo, a certified financial planner whose company, Argo Benefits, also works with small companies and individuals in purchasing health insurance. "Our income has gone down while premiums have gone up. The math doesn't add up. I'm making 40 percent less than I did before. Who likes that?"
Hudgens is requesting a waiver of MLR requirements, a plan that would gradually work up to the 80/85-percent rule (which went into effect this year) by 2014.
Meanwhile, one company that isn't complaining is Atlanta-based Digital Insurance, which represents more than 400,000 people nationwide, manages employee benefits programs for more than 20,000 companies and counts itself as the nation's leading employee benefits agency for small and mid-sized companies.
"Independent agents and smaller agencies are having a tough time, because they don't have the infrastructure to provide certain services to their clients. That's where we can help," says Adam Bruckman, Digital's president and CEO, who believes healthcare reform is providing his company with some great opportunities for growth.
"We've been supporting the small business community for years, and essentially what we try to do is help them understand all of the options, what the best product is at the best price. We serve as the middleman between our clients and the big carriers like Aetna, Blue Cross, United Healthcare."
In other words, they're doing the work that an independent broker or small agency does on behalf of small companies who can't afford a full-time human resources professional. Digital has the technology and manpower to help control the back-office, administrative costs for its clients (think of that 15 or 20 percent). And the company has built itself up by buying the small-group business from other agencies – or buying the agency itself.
Eric Haglund started his own company, Georgia Benefits, in 1988, right out of college. Business was good for 22 years. He was serving about 350 corporate clients, large and small, plus about 5,000 individual clients. The small-group segment of his company was occupying an inordinate amount of time, and he couldn't focus the energy he needed on other services (retirement planning, life insurance, larger businesses, etc.).
"I could keep pushing against a rope or I could join the largest firm in America, a well-capitalized company that already had the infrastructure for growth in place," says Haglund, who sold his group health business to Digital, joined the company as vice president of sales in Georgia, and in his spare time runs what's left of Georgia Benefits (life insurance and retirement planning).
Enter the ACOs
Healthcare reform is responsible for adding new or popularizing old acronyms – PPACA for instance, and MLR. One of the more pervasive is ACO, which stands for accountable care organization.
An ACO is a collaboration of healthcare providers organized with the goal of improving quality while lowering costs (or slowing the rise in cost), for which doctors and hospitals can receive financial incentives.
Since ACOs are designed to make providers accountable for the health of their patients and controlling costs, they're seen as a way to help manage the rising cost of Medicare as baby boomers begin to flood the system. Under the reform law, an ACO would agree to manage the healthcare needs of 5,000 Medicare beneficiaries for at least three years, and the program would begin January 2012.
However, a number of hospitals and physicians groups around the country already are expanding the concept beyond Medicare, for patients with private insurance. Last year, private insurer CIGNA partnered with Piedmont Physi-cians Group (PPG, part of Piedmont Healthcare in Atlanta) to form Georgia's first ACO, a pilot program that will focus on about 10,000 CIGNA clients who receive care from Piedmont primary care physicians.
"If you look at waste in the healthcare system, and you define waste by either overuse, underuse, or misuse, then what we are about is eliminating the waste," says James Sams, PPG's medical director. "The overriding requirement is, we are being held accountable for both care and cost, and also for the patient's perception of care. If we do the right things but the patient's experience is horrible, we've missed the mark."
In the traditional fee-for-service scenario, care providers are paid more if they give patients more tests and do more procedures, whether necessary or not, a practice often blamed for driving up costs. ACOs provide bonuses for providers who achieve quality while keeping costs down, with an emphasis on prevention and wellness, and management of patients with chronic diseases – healthier patients equal more money for providers.
"In the current fee-for-service world, it's very hard to unlock the value of primary care, to be appropriately rewarded for care coordination," says Sams. "This is a way to escape the limitations of fee for service, and when you do that, physicians focus more on the patient and you're not wrapped up in the intense volume-driven game that fee for service mandates."
An insurer can play a major role in the rise of ACOs, according to CIGNA National Medical Director Dick Salmon, "because we track and collect patient data, the useful information that enables the physician to achieve improvements in quality and cost."
Sams envisions this kind of system being applied to all patients, regardless of the funding mechanism. Under PPACA, it's not that far-fetched.
What is far-fetched to opponents of the law is (among other things) the individual mandate, which requires most citizens to have a minimum level of health insurance by 2014 or pay a fine. That's the provision that states are testing in court.
In January, a Florida district judge struck the biggest blow against PPACA, ruling the entire law unconstitutional after reasoning that the individual mandate is an essential part of PPACA. The case – Florida et al v. United States Department of Health and Human Services – involves 26 states, including Georgia.
Hudgens says he'd like to see the entire appeals process circumvented and land the case in the U.S. Supreme Court.
"Let those nine justices determine the outcome sooner rather than later," he says.
Of course, the insurance industry likes the individual mandate.
"The biggest fear in the industry is that the Supreme Court says the individual mandate is unconstitutional, but the rest of the law stands," says Georgia State's Custer. "The individual mandate creates a large risk pool. The reason it's part of the law is because you have other consumer protections in the law – the no-exclusion for preexisting conditions is a perfect example.
"If you removed the individual mandate and kept the rest, that would lead to a breakdown of the insurance industry, " he says. "The whole market would go under."
It would be better to throw out the entire law and start from scratch, Custer says, than to remove one piece at a time. But he isn't advocating either of those scenarios.
"Our current system is broken, and making it better is a complicated, technical issue, which is why we have a complicated and technical reform law. At the end of the day, we're better with the law than without it," he says. "We should be having the discussion on how to make it better. If all we do is throw it out, we're back to where we were, and that's a system we can't sustain."