Walker County: Prime Location
Some expansion, some new businesses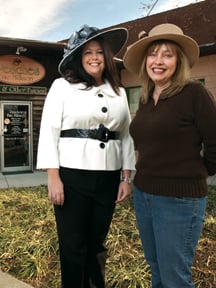 For many years, it was the land bypassed by the interstates. It was over there somewhere on the drive up the never-ending expanse of I-75. No more. Walker County is fast becoming a destination for both history-seeking tourists and, in-creasingly, people seeking a slower pace of life not so far removed from the big city and its pleasures.
Nestled in Northwest Georgia, the county sits between two booming metro regions. Atlanta is about 90 miles to the southeast, while Chattanooga is just a short 20-minute drive north up U.S. 27. It is a community that is trying to break loose from an industrial past that seems increasingly untenable, but is not quite sure what shape its future will take.
Walker, like so many other Georgia counties, has taken its share of punishment from the recession. One of the biggest hits came late last year when Blue Bird Georgia closed its LaFayette plant, spelling the end of more than 300 jobs. At its peak, the sprawling 295,000-square-foot facility employed more than 400 workers busily turning out 4,000 of the familiar yellow school buses each year.
The plant survived a bankruptcy by the Fort Valley-based company in 2006 and continued its body assembly operations even as the demand for buses flagged along with school district finances. Eventually, the company decided to consolidate operations in Fort Valley and shuttered the plant last August.
While that action meant a bump in unemployment, local leaders are focusing on more positive developments.
"On the flip side we're seeing some growth from leading industries," says Larry Brooks, director for the Walker County Office of Economic Development.
Both the General Electric Roper appliance plant in LaFayette, which employs about 1,400 workers, and the Nissin Brake Georgia facility that supplies parts for a Honda assembly plant in Alabama have expanded capacity and brought back laid-off workers from earlier slowdowns. Roper, which builds stoves, has even hired new workers to handle an expanded assembly operation.
These companies are acutely aware that they are not just fighting the national economy, but are being targeted by competitors from low-wage nations as well. The conventional wisdom holds that American workers are just too expensive to win a head-to-head contest with offshore manufacturers, but these workers were able to prove that thinking wrong.
"Roper competes with a factory in Mexico, but they're able to produce ranges cheaper [in Georgia] because of their lean manufacturing practices," explains Keith Barclift, project manager for the Northwest Georgia Joint Devel-opment Authority.
Other companies have decided that if customers are unwilling to buy one product, they will offer them others. After enduring a sharp drop in demand for its carpeting as the housing market collapsed, Shaw Industries has been holding the line on employment by expanding its product line into other kinds of floor coverings.
"While we haven't been able to absorb all the losses that Blue Bird created, we are seeing industries adding to their production in Walker County," says Brooks. "We feel like we're holding our own right now in terms of jobs on the ground."
For all this success, the future of work in Walker County lies in a different direction than old-line manufacturing. Given its location, warehousing and logistical operations are likely to play a bigger role.
More Infrastructure
To make the area more attractive, Walker has been busy building some high-tech infrastructure that includes high-speed internet access.
Early last year, the county launched a program to run fiber into its two industrial parks in LaFayette and Rock Spring. These fiber-optic trunk lines offer speeds well beyond T1 at 1.5 megabits per second. At speeds up-wards of 1,000 megabits per second, even large file transfers can take place in a fraction of the time normally required.
Then last summer the U.S. Com-merce Department's National Telecom-munications and Information Admini-stration (NTIA) announced the award of a $21.3-million stimulus grant to Appalachian Valley Fiber Network. This public-private partnership was established to expand broadband capacity in the underserved Northwest Georgia and Eastern Alabama areas.
This money is making possible construction of 187 miles of new fiber-optic, broadband infrastructure and service that local leaders believe will help foster job creation. Dubbed the Appalachian Valley Fiber Network, the 460-mile network will connect Trenton, Summerville, Calhoun, Cartersville, Rome, Rockmart, Cedartown and Anniston, Ala. The new network will connect with a primary fiber artery running from Miami to Chicago.
According to reports, the network will connect 185 "community anchor institutions," including 16 schools and more than 100 government buildings. In all, 144,000 households and 8,300 businesses would gain access to the ultra-fast network. It will also run directly through Walker County.
In LaFayette, residents are hoping these moves will help attract more businesses to take the place of Blue Bird. Since its closure, the economy has been largely stagnant, according to Catherine Edgemon, the city's Main Street and Economic Development director.
"We have had several small businesses open recently," she reports. "Overall it evens out that [the economy is] flat."
The hope is that a new company will buy the bus facility and move in a new operation.
"We've had some retailers and industries looking, but they've been nibbles and not bites," says Edgemon.
Built in the early 1980s, the plant is relatively new and could be converted to other uses without extensive renovation. The hard part is finding a company that is a perfect match for it, according to Barclift.
He has higher hopes for a 30-acre site nearby that is "pad-ready with utilities and a road going through the center" of the property, he explains.
"The trend is that we know we have to diversify," says Al Hutchison, associate vice president of economic development at Georgia Northwestern Technical College. "We can't depend on one industry or group or type. We have to be able to diversity if we're going to be able to offer our citizens a full array of choices for employment. I think that's the key."
To hasten a future with more opportunity, local leaders are taking a more expansive view of economic development that extends beyond manufacturing into service and other sectors as well.
"Anything that is a job creator, anything that increases a payroll, anything that drives capital investment – whether that's tourism, retail, commercial or industrial – is economic development," explains Hutchison.
In the meantime, local attractions such as Rock City near Lookout Mountain remain evergreen favorites. More than half a million visitors walk the long, convoluted rock trail lined with gardens and a wide variety of local trees and plants.
The attraction is also noted for a trail that leads through a variety of bizarre rock formations, including the 1,000-ton Balanced Rock and the Fat Man's Squeeze. Two other sections, the Fairyland Caverns and Mother Goose Village, are rock caves adorned with sculptures.
The Chamber has also worked to make Walker a Camera Ready Com-munity for movie and television productions in need of a scenic location.
Busy Roadway
Although Walker County lacks its own interstate, U.S. 27 is the second busiest entrance to north Georgia after I-75. The road cuts through the heart of Rossville in the northern section of the county and provides a scenic alternative to the sameness of the interstate, say locals.
Thanks to its closeness to Chatta-nooga, the city may start seeing a spill-over of both people and new development, says longtime Mayor Johnny Baker.
He points to a recent $1.7-million streetscape project and the purchase of old Roy's Grill downtown by a developer.
"It's a jumpstart for the downtown area of Rossville because when restaurants come in, then other things follow," says Baker.
The project drew criticism when city officials used $110,000 from its emergency fund to buy the building and then sold it a month later for $50,000. County officials also granted the new owners an "enterprise zone" designation that will provide breaks on state taxes and inspection fees. Part of a state program sponsored by the Department of Community Affairs, such a designation provides incentives to owners of property in areas of poverty, high unemployment and "general distress and adverse conditions."
The renovation, coupled with plans to beautify the downtown, will attract more development and people. Those people, in turn, will spend more than enough to pay back the investment, officials believe.
Baker sees these new developments as proof that Rossville is finally shaking off its status as a dying textile town.
"It was like we accepted the fact that we were an abandoned mill town, but now we've changed our focus," he explains.
An infusion of tourist dollars would be helpful for a city that has been hard hit by the recession. In fact, local property owners have racked up more than $100,000 in delinquent property taxes, with some now into their third year of not paying.
Many of these properties will end up being sold because "we take a hard line on that," says Baker.
Walker is also seeing stirrings within its small business sector with a growing number of entrepreneurs starting new operations.
"We've seen some businesses that haven't been able to make it through these economic times, but we're also seeing more take advantage of our Entrepreneur Friendly [resource center] on our website. They want to learn more about starting their own business," says Stephanie Snodgrass, president of the Walker County Chamber of Commerce. The chamber secured its "Entrepreneur Friendly Community" designation from the Georgia Depart-ment of Economic Development. This program helps incorporate small business strategies into an area's overall economic development efforts.
More budding business operators are coming to the chamber seeking help in launching their own enterprises. The difference is a new level of caution and a desire to bone up on best practices and good advice for making a new business work.
"They want to be able to talk it through," says Snodgrass. "In the past they just started their business, but now they want more information before they begin taking those steps. They want to do that five- to 10-year plan. If something does happen, they want to be able to sustain what they're beginning now."
While plant openings and closings get the biggest headlines, most business is small business in Walker County.
"We see more people networking, more people getting involved and getting to know their neighbors," says Snodgrass.
Community Snapshot
Local Leaders
Stephanie Snodgrass
President
Walker County Chamber of Commerce
706.375.7702
stephanie@walkercochamber.com
Larry Brooks
Director
Walker County Office of Economic Development
706.638.1437
l.brooks@walkerga.us
Al Hutchison
Associate Vice President of Economic Development
Georgia Northwestern Technical College
706.764.3592
Population
Walker County, 64,983 (2009); Chickamauga, 2,621; LaFayette, 7,529; Rossville, 3,390; Lookout Mountain, 1,517
Per Capita Income
(2009)
$19,674
Unemployment Rate
(December 2010)
County, 11.5 percent
Georgia, 10.2 percent
Leading Private Employers
Roper Corp., Shaw Industries, Nissin Brake Georgia, Pigeon Mountain Industries, United Synthetic Industries
Sources
Georgia Department of Labor, Walker County Chamber of Commerce, Walker County Government, U.S. Census Bureau