Broken System
Rapid access to trauma care is the best hope for those seriously injured in an accident. About 700 people die each year because they don't get help in time, and death rates are much higher in rural areas. So why did Georgia voters turn down a solu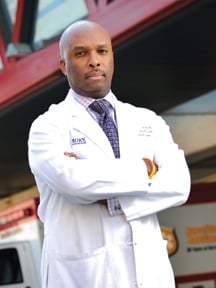 Zach Hayes thinks he flew out through the sunroof, but he isn't sure. His memories of the accident that nearly killed him are choppy and grainy bits of sound and vision that don't complete the story; the only arc he can conjure is the one his body described as it soared over the Sautee Valley.

Hayes was on his way to a favorite fishing hole one afternoon in October 2007 when, rounding a bend on rural State Route 255, he saw a stopped school bus in his path. He swerved and hit the brakes. The road had just been paved, and Hayes lost control as the car slid over loose gravel and asphalt, stopping short in a ditch and launching him.

"The bus driver said I flew as high as the telephone wires," he says.

Hayes hit a barbed wire fence (he has a diagonal scar from his shoulder downward across his torso) and believes this saved his life, because it prevented him from hitting the ground headfirst.

"I flew a long way, and while I was in the air I thought, 'Oh —-! This can't be good,'" he says. "I remember laying in the field, bloody. The first guy on the scene was some weird dude who kept lifting his shirt to show me his bellybutton.

"Oh, and I remember thinking that the nurse on the helicopter was really hot. After that, I don't remember much until waking up in the ICU days later."

But he did wake up and was soon home recuperating, a breathing success story in Georgia's patchy trauma care "system."

"We really don't have a system," says Dr. Dennis Ashley, a trauma surgeon who is director of trauma and critical care at the Medical Center of Central Georgia (MCCG) in Macon and chairman of the Georgia Trauma Commission.

"Think of it in terms of cell-phone coverage," Ashley says. "There are hot spots and cold spots. That's our trauma system in Georgia."

Five years ago, the general assembly set about charting Georgia's ability to care for the seriously injured. A study committee found that Georgia's trauma death rate is 20 percent higher than the national average, that only 30 percent of major trauma injuries in Georgia were treated at designated trauma centers, that death rates from traumatic injury are much higher in rural areas, and that trauma care providers, such as hospitals, surgeons and emergency medical services (EMS), deliver $250 million annually in uncompensated treatment.

The committee also recommended creation of the Georgia Trauma Commission (to provide oversight and accountability), a trauma trust fund and a coordinated statewide trauma network system.

"We are a little better off than we were before, but I'd say we are still in a crisis," says Ashley, who estimates that 700 lives are lost every year in Georgia for lack of an organized system. "There are areas of this state where you simply do not want to have an accident, because there just isn't any rapid access to trauma care."

Southwest Georgia, for example, is grossly underserved – Archbold Medical Center in Thomasville has the region's only trauma center.

The 2010 general assembly took the situation seriously enough to pass Senate Resolution 277, which called for a referendum on the November ballot, where it appeared as Amendment 2. It called for an additional $10 fee for private passenger vehicle registration and would have generated about $80 million a year, all of it dedicated to trauma care and placed in a trust fund. Pre-election day polls showed healthy support for the measure.

Then Georgia voters turned it down, 1,342,555 votes to 1,207,836.

"I really thought it had a decent chance," Ashley says. "There was no organized opposition. I think the problem was in the way it was worded. It didn't say anything about saving lives."
Being Prepared
According to the Centers for Disease Control and Prevention, traumatic injury is the leading cause of death for children and adults from 1 to 44. They're the ones most likely to die in car crashes (blunt trauma) or from gunshot wounds or stabbings (penetrating trauma).

"On a given night, you will see patients that cross every spectrum," says Dr. Leon Haley, chief of emergency medicine at Grady Memorial Hospital and a member of the trauma commission. "Trauma centers have a lot of readiness costs, which means you have to be ready for the event that's impossible to predict."

Well, mostly impossible. You can safely predict that there are fewer shootings and stabbings (less physical assault in general) during the winter months, because people aren't out as much, so they can't do as much damage to one another.

But in the event that you do get shot or stabbed or punched in the face by a stranger or get in a car crash, Grady can meet your needs all day, every day, with a trauma service roster that includes orthopedic surgery, neurosurgery, plastic surgery, anesthesiology, radiology, and on and on.

"The important point is trauma center designation means you have to be prepared every moment for whoever or whatever comes through that door," Haley says. "And that's not a problem at Grady. We know we're going to be busy no matter what, so we're always prepared. Unfortunately, that's not the case across the state."

There are more than 150 acute-care hospitals in Georgia. Most of them have emergency rooms, but only 17 are trauma centers, which means they can provide the necessary care for injured patients 24/7.

Of these, only four (at this writing) are designated Level I, meaning they provide the highest level of care. They are required to have the full range of varying surgical services and other specialties available round the clock to deal with any injury, no matter how critical or complicated. They also must have a research and education component and serve as the training ground for the next generation of trauma specialists.

Grady is the largest and busiest Level I center, treating about 3,500 major trauma patients a year, according to Haley. The other Level I centers are in Augusta (Medical College of Georgia Hospital), Macon (MCCG) and Savannah (Memorial University Medical Center).

Level II centers can do most of what Level 1 centers do, generally without the education/research bit.

"We have been functioning, more or less, as a Level I center for a number of years," says Bill Moore, president and CEO of Atlanta Medical Center (AMC), which treated about 2,200 trauma patients last year, well over the 1,200 minimum that Level I centers must treat to attain that designation (something AMC is trying to do).

"If the state is able to continue providing some trauma funding, Level I gets more than Level II, because of the recognition that Level I has more resources invested," Moore says.

"Other than that, I don't expect there to be many more differences, other than the branding effect, some halo effect relating to public perception."

Without Atlanta Medical Center, the trauma traffic at nearby Grady would surpass overwhelming. With Level I status, it's thought that AMC might take even more of the load off Grady.

Level III centers don't have all of the specialists, but do have emergency resuscitation, surgery and intensive care for most trauma patients (and transfer agreements with higher level trauma centers). The final level, Level IV centers, can provide some surgery and critical care services and provide initial evaluation, stabilization and transfer to a higher level of care.

All of this trauma care is big business, sort of. According to the Georgia Trauma Commission, the state's trauma centers had about $194 million in patient care revenue, but almost $265 million in costs, for a loss of more than $70 million (2006 figures). Which is why developing a sustainable funding source is at the top of the commission's list of goals in its five-year strategic plan (a plan that the commission revisited and revised in January, after the tag-fee amendment failed).
Growing The Network
In 2009 the state legislature considered multiple bills for sustainable trauma funding. One passed – the "super speeder" law, which added $200 to fines for drivers traveling faster than 85 miles an hour on interstates or 75 mph on two-lane roads and also included increased fines for reactivation of suspended licenses.

The new law was expected to raise about $23 million a year for the state's trauma system, under direction of the commission – about a third of it from the $200 fine and the majority from the license reinstatement fees, according to trauma commission Executive Director Jim Pettyjohn.

"We're hearing there is a lag in collections," says Pettyjohn, who in January was scrambling to readjust the commission's budget, which had been slashed from about $22.2 million to $10.5 million.

The money was stretched for a wide range of needs, including trauma center startup grants, a modicum of reimbursement for uncompensated care, first-responder training, developing a communications center, new ambulances – "so when you fall down and go boom in rural Georgia, you can get to a trauma center in good quality transportation," Pettyjohn says.

About a million bucks of that went to seven hospitals around the state, which are establishing new trauma centers or upgrading existing facilities: Athens Regional Medical Center, Emanuel Medical Center (Swainsboro), Lower Oconee Community Hospital (Glenwood), Taylor Regional Medical Center (Hawkinsville), Walton Regional Medical Center (Monroe), WellStar Kennestone (Marietta) and Wills Memorial Hospital (Washington).

Kennestone had actually dropped out of the state's roster of designated trauma centers 10 years ago because of "a lot of different dynamics, it was an unsettling time within the trauma network," says Candice Saunders, executive vice president and hospital administrator at Kennestone, which is seeking a Level II designation.

"But even though we left the actual trauma network for Georgia, we continued to serve as a de facto trauma center. We were still meeting the need to treat trauma patients in our region," Saunders says.

Plenty of good ERs without trauma designation provide excellent trauma care around the state and may even have a diverse pool of specialists on hand to treat the injuries that arrive in the dark of night – like the magazine writer for a monthly Georgia business publication, whose nose was painfully nearly chomped off by a nasty little Shih-Tzu, and whose nose looks no worse for the embarrassing assault because a plastic surgeon just happened to be working in the Gainesville ER that night.

"There's nothing magical about trauma designation," Ashley says. "What it means is your hospital has been reviewed and has all of those checkboxes marked. It just shows that you can take care of a trauma patient rapidly and efficiently."

Georgia's trauma centers take their cues from the American College of Surgeons, which has identified the necessary resources for trauma designation. The Depart-ment of Community Health sends its reviewers to a hospital to determine that all the requirements have been met. And designated trauma centers receive dedicated state funding (such as it is). Think of trauma designation as a kind of insurance that you're in the right hands when something wrong happens.

Kennestone already sees about 1,300 trauma patients a year, says Patricia Mayne, VP of Emergency and Surgical Services. "We're already providing the level of care you would find at a Level II center and expect to see an additional 200 to 450 trauma patients a year."

That increase would be due to the decisions made in the field by the frontline workers in the trauma care universe, the people who know where the appropriate trauma centers are.
Trench Welfare
Trauma care has a lot of moving parts to it, from dispatchers in 911 centers and first responders and EMS paramedics to ambulance drivers, helicopter pilots and surgeons and the hospitals.

An accident or assault victim might come lurching through the doors of the ER – about 80 percent of emergency patients get there themselves, according to Chuck Asbell, a paramedic and community outreach specialist with Mid Georgia Ambulance (MGA), a privately owned service in Macon that provides 911 coverage in at least six counties.

"We're transporting just over 20 percent of the patients going to the hospital, which is good for the hospital because their admissions go up," says Asbell. "It's also more beneficial for patients, because they're receiving medical care before they get to the hospital."

Asbell and MGA founder and President/CEO Ben Hinson (a trauma commission member) have seen more than their share of horrors in the trenches, where first-responders and ambulance crews race the clock and battle the odds.

Hinson got his start as a paramedic in Atlanta, then started his company with a used ambulance back in his hometown, where he has grown the company's fleet to 40 ambulances, and fostered development of a high-tech communications system that allows dispatchers and ambulance drivers to communicate the fastest what, where and when information with the touch of a button, in seconds flat.

But then, there's still the work of getting the job done after the call comes in.

"I've walked onto scenes and thought, 'There's no way somebody is coming out of this alive,'" Asbell says. "Unfortunately, that is sometimes the case. And other times, the injured person is walking by themselves minutes later."

Either way, the essential theme in his community outreach is pick up the phone, call 911, and let the professionals get to work. Sometimes that means calling in a helicopter for an emergency airlift – that's what Dan Gates, president and co-founder of AirMed does for a living in the Augusta area.

"From the time we get the call, we're off the ground between five and seven minutes," says Gates, whose fully equipped A-109 helicopter can cruise at 180 mph.

Jim Canupe, lead pilot for the Gainesville outpost of Air Life (formerly Emory Flight), says time is so critical that he'll fly his copter any time an agency puts out an alert.

"We may not even be called to the scene, but we'll fly to give ourselves a head start, just in case. And if we're not called, there's no charge for putting the helicopter in the air. We'll eat it," says Canupe, who figures he picks up an injured accident victim six out of every 10 times he gets airborne.

Sometimes an accident happens so far away from a trauma center, it takes 180 mph to ensure the best outcome, because the farther away you are from a trauma center, the greater your chances of dying.

Trauma professionals refer to the "golden hour" – 60 minutes from the moment of injury, the window of time in which lives can be saved.

"It's a race against time, and the 'golden hour' doesn't always do us much good," says Roger Williams, a certified first-responder and captain of the volunteer fire brigade in Sautee Nacoochee. He's spent three hours just fetching injured people at the foot of waterfalls in the thick of the mountains.

Williams lives near the field that Hayes landed in and was on the scene quickly. Then came the ambulance. The paramedics, fearing Hayes might have internal bleeding, called for a helicopter, and a crew from Emory Flight (now Air Life) arrived in minutes and flew him to Atlanta Medical Center where an orthopedic surgeon was waiting.

Hayes suffered a broken arm and clavicle, broke all of his ribs, his back and neck, shattered his leg, but had no internal bleeding. He spent eight days in and out of a painkiller-induced dream, went home after 10. He is healed, walks without assistance and stands most of the day as co-owner and barista at the Sweetwater Coffeehouse, a popular hangout in Sautee Nacoochee.

"That accident was a rebirth," Hayes says. "The paramedics, that good-looking nurse on the helicopter, my surgeon, the people in the hospital – everyone did such an incredible job, and I'm here because of them. They gave me a new chance at life."