Urban Revival
When business, civic and academic leaders pulled together, the result was the RiverCenter and a revitalized downtown.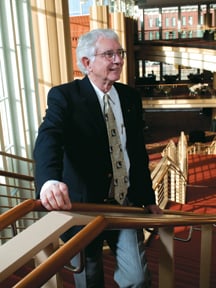 If there's one thing nearly everyone agrees on in Columbus, it's that downtown has come a long way since the 1970s. What was it like then? "Barren, deteriorating and tired," architect Ed Burdeshaw remembers. Amenities? "There were none. Restaurants were scarce, and nothing was open at night." Along Broadway, the main street, there was a ragtag group of businesses. "Storefront churches, wig shops, porno shops and little sleazy bars," Billy Winn, a former newspaper editor, remembers. "It was depressing."

It could hardly be more different today. "It's a destination, particularly for a block and a half of Broadway at night. It has an image that's inviting," Burdeshaw says. Tom Black, a retired business executive, marvels at the transformation. "If you want to go there on a Friday or Saturday night, you're hard pressed to find a parking space," he says. "Restaurants on Broadway have tables out on the sidewalks, and people are out on the sidewalks in the evenings."

Columbus did many things to turn around its downtown, but one thing stands out: the building in 2002 of a performing arts center called the RiverCenter. It is important not only for its scale (five stories along an entire city block), quality ("the most impressive concert hall in Georgia," the St. Petersburg Times marveled) and offerings (everyone from opera diva Jessye Norman to comic Jerry Seinfeld), but also because the RiverCenter changed downtown – and Columbus – in a way few individual civic projects do.

To understand how a single project could have such impact, you must start by knowing the RiverCenter is really two things: a regional performing arts center that brings crowds to Broadway on Friday and Saturday nights, and the Schwob School of Music for Columbus State University. Stop by any weekday during the school year, and you'll see scores of student musicians in classrooms and practice areas or lounging outside on the plaza.

You also need to know that, early on, the RiverCenter was intended as the first step in a larger plan to bring Columbus State off its campus seven miles away and into downtown Columbus. It has done just that. Nine years after the RiverCenter opened, Columbus State owns nearly 475,000 square feet in downtown, accommodating all of its arts programs (theater and visual arts, as well as music) along with its history, geography and communications departments. Once purely a commuter college, the university now has loft-style dorms carved out of historic buildings, a new set of buildings downtown and a bus system to shuttle students back and forth to the main campus.

The downtown campus has given Columbus State a hip, urban feel and placed the 53-year-old college at the center of community life in Columbus for the first time. At the same time, it has changed the demographics and energy level downtown, as young people walk to classes and camp out in coffee shops and restaurants at all hours. None of this would have happened had the RiverCenter not been built.

And even this understates the RiverCenter's impact on Columbus. The truly amazing part is that it was built at all.

The RiverCenter was an audacious undertaking, as politically and financially difficult as any undertaken by a Georgia city in the past 40 years, short of Atlanta's hosting of the 1996 Olympic Games. That it succeeded – in fact, exceeded its goals – is an astonishing story of community enthusiasm, civic leadership and good timing.
Three-Legged Stool
There were three kinds of dynamics at work in the RiverCenter project and the events leading up to it. One was popular enthusiasm – thousands of people suddenly getting excited about the possibilities of their community. The second was a circle of leaders who at times stoked the enthusiasm and at other times followed it. The circle expanded and contracted as circumstances changed, but four people played crucial roles: the late Rozier Dedwylder, an architect and downtown enthusiast; Bill Turner, a business leader and philanthropist; Frank Martin, who served one eventful term as mayor; and Frank Brown, the president of Columbus State who changed his mind at a critical moment – and with it, his college and the city.

The third dynamic was time. The RiverCenter project seemed to come like a thunderclap in the mid-1990s; but, in fact, it was near the end of a 20-year search for ways of turning downtown around. It took that long partly because downtown was so far gone in the late 1970s, and partly because there was so little political or popular support for trying to revive it. One city council member suggested in 1975 simply flattening it and starting over. It also took time for downtown advocates to find a process – and a set of projects – that could work.

In the earliest days, the most important leaders were Dedwylder and Turner. Dedwylder was the "face" of downtown renewal, a born booster who loved old buildings and saw in downtown's abandoned factories and underused storefronts a wealth of opportunities. He was also an expert who designed several of Columbus' early downtown redevelopments. Turner was the behind-the-scenes leader. The CEO of the W.C. Bradley Co., which his grandfather had founded, he knew the city and its business community like few others and was widely respected for his philanthropy. If Dedwylder was downtown's booster and resident expert, then Turner was its strategist and, at an important moment, its benefactor.

Early on, Dedwylder and Turner were like a pair of men trying to coax a fire out of a handful of embers. Their first task was convincing the city to redevelop a Civil War iron works foundry as a convention and trade center, using hotel taxes. Next was talking the business community into financing a hotel across the street from the trade center, carved out of an old textile mill. The third big project was helping an out-of-town developer turn an old drop-forge factory into modern offices. The process they hit on was called "momentum and leverage." Momentum meant focusing on one project at a time, driving it to success, and leverage meant using that project's success as a springboard to another, with each project being more ambitious than the last. "When you start the momentum going, there are incremental successes," explains Mat Swift, president of the real estate division of W. C. Bradley Co., "and you can leverage these into more successes."

But by the late 1980s, after a decade of work, downtown was still mostly avoided by residents. Yes, these projects were successful, most agreed, but large parts of downtown were still depressing and maybe dangerous. If there wasn't a compelling reason to go there – and for many there wasn't – why bother?

It was at this point that the third critical leader, Frank Martin, entered. A brash, fast-forward lawyer, Martin was elected mayor in 1990 promising to serve only one term and not be like his bland predecessors. He wasn't. Martin ran city government like a civic stimulus program, the capstone of which was an ambitious slate of projects financed by a special sales tax. But his real aim was cynicism and inertia. "Columbus, in my opinion, had a very bad civic self-image," he says. "If there was a way for us not to do something, we would find a way."

Martin's list of tax-supported projects included some crowd pleasers, like building parks and sidewalks around the city, but it also included projects that tested the voters' ambitions, including a 10,000-seat civic center, a large softball complex south of downtown and a 14-mile Riverwalk that started downtown and ran south to Fort Benning. He campaigned furiously for the sales tax, and in March 1993 the voters agreed.

All of the projects were important to Columbus, but two had unexpected benefits, the Riverwalk and the softball complex. The Riverwalk, which has since been extended to 22 miles, is one of the nation's longest urban walkways. Even more than its sponsors had hoped, it drew Columbus residents back to the river and reintroduced them to their downtown. And something else, Martin says: With its graceful brick paths, resting areas and inspiring views of the Chattahoochee, the Riverwalk convinced many that Colum-bus could accomplish big projects and do it with style. "For the first time," he says, "we actually had something that, instead of people looking down at the dirt on their shoes, caused them to look up, where they saw something that was a symbol of civic pride."
Cynicism In Retreat
An even greater surprise was the softball complex. Within months of the referendum, Martin got a tip from an old college friend: The 1996 Atlanta Olympic Committee was going to reopen bidding for the women's fast-pitch softball competition. The games had originally been awarded to Marietta, but Cobb County voted down a referendum to build the ball fields, so organizers were looking for a new venue.

No one had thought of the Olympics when the softball complex was included in the sales tax package, and "with Columbus just being Columbus originally," Martin says, the city hadn't bothered to bid for any of the Olympic competitions earlier, but now it did. Fort Benning agreed to house the athletes, the city designed the fields to Olympic specifications, the business community offered to raise additional money, and everyone promised to mount a huge volunteer effort to sell tickets and manage the crowds. The Olympic committee was convinced and in August 1993 awarded Columbus the competition.

The outpouring of civic enthusiasm bordered on euphoria; every seat to every softball event was sold out every day.

Cynicism was in retreat. The city had an ambitious set of civic projects that showed it could do things well, and citizens and leaders were brimming with confidence. If there was ever a moment for something bold, this was it. Leaders began focusing on the next big thing: a performing arts center. This was not a new idea; it cropped up regularly in city plans.

Over the years, two conditions had been attached to the idea: The first was that the center should be a public-private project. It meant that a number of parties (government, business, nonprofits, foundations) ought to contribute to major civic projects and share responsibility for their success. The second condition was that a performing arts center ought not sit empty between shows. This was Bill Turner's concern in particular, that a performing arts center not be a monument but a beehive of activity.

There was urgency, too, to the performing arts center idea: The only suitable place for musical performances, the Three Arts Center, was a leaky, rat-infested building slated to be torn down in a road-widening project. It was home of the Columbus Symphony and site of the Miss Georgia pageant. If Columbus wanted to keep the pageant, it needed a new location.

As it turned out, location was the sticking point. The most obvious and willing partner in a new performing arts center was Columbus State University, which had a respected music school but lacked a first-rate performance hall. From the college's perspective, the logical place for the new facility was on or near its campus, northeast of downtown.

The alternative location was downtown, still viewed as marginal. As Frank Brown, then the president of Columbus State, says, "It was not a place anyone wanted to come after dark – or even before dark." He worried patrons might not attend shows but worried even more about sending students there.

What changed Brown's mind – and ultimately everything connected with the project – was when it stopped being about building a single facility and became part of a much larger vision. Today, no one seems to know exactly when this happened, but at some point in 1994 downtown advocates began thinking of the performing arts center as the first step in locating all of Columbus State's arts programs downtown.

In doing so, they answered some of Columbus' knottiest problems. A performing arts center plus a campus could bring new life to a slowly reviving downtown by attracting show crowds, but also by having students live and study there. And it would place the college at the community's front door for the first time, giving it the visibility it lacked and had wanted for so long. When Brown first heard this larger vision from a consultant hired by down-town interests, it struck him like a revelation. "That's when the light came on for me," he says.

By the end of 1994, the college and downtown interests were in agreement, but there remained enormous obstacles. One was getting approval for moving a portion of the college downtown. Where state universities place their facilities is not a local decision. It's one made in Atlanta, by the University System of Georgia. And Brown and others knew that the Board of Regents would be deeply concerned about setting a precedent: Would other institutions want to move their campuses?

And beyond the gatekeepers in Atlanta was the money. The only way the regents might approve such a request would be if it could be built without University System funding. But why should local families and businesses give money to help a state university if the state itself was unwilling to invest?
Good Timing
This caused the business community to turn to Columbus' state legislative delegation for help. And, here again, the timing was perfect. In the mid-1990s, Columbus had the most experienced, respected and unified delegation in the General Assembly, led by Reps. Calvin Smyre and Tom Buck. With others, they lobbied the Board of Regents for approval of the move and Gov. Zell Miller for a direct appropriation (that is, not through the University System). "We really had to do a selling job," Smyre remembers.

If so, they took home the sales trophy. The regents approved the move, and in 1995 Miller promised $17 million in state money for building the performing arts center. (In time, the amount grew to $24 million.) The way the deal was structured was so convoluted, as everyone tried to avoid sending money through the University System, that the owner today of the RiverCenter is the Georgia De-partment of Natural Resources – probably the only state environmental agency in the country that owns a performing arts center.

The $17 million was a good start for the project, but it was only a start. No one knew what it would cost to build a first-class performing arts center that also housed a school of music, but they knew it would be more money than had ever been raised in Columbus before. (The record was $10.5 million to build a new art museum in the late 1980s.)

And leaders knew this, too: That to raise whatever was needed would require a massive volunteer effort – and the community's undivided attention. But, they reasoned, if donors could be approached with a historic opportunity – a single great cause – they were likelier to give more. And that's when Bill Turner stepped forward once again.

In November 1995, Turner called together seven leading arts, culture and educational nonprofits and made a stunning proposal: If they would agree to cooperate, his family's Bradley-Turner Foundation would put up $20 million as a challenge grant.

To receive the grant, the community would have to raise an additional $20 million in private money. To participate in what was called the Columbus Challenge, the organizations had to do two things: refrain from fund raising until the money was raised and share their donor lists.

"There was a lot of turf protection," remembers Tom Black, who later ran the Columbus Challenge. But the organizations came around, dazzled by the prospect of so much money being raised.

The Columbus Challenge caught on with others, too. From the time it was announced in August 1996, in fact, it seemed to have a life of its own. In one of the early meetings where organizers discussed how the overall $20-million goal would be divided into individual gifts and recognitions, an auto dealer named Bill Heard stood up and, on the spot, pledged $5 million. (The RiverCenter's main theater today is the Bill Heard Theatre.) "We were shocked," Black says.

An even greater shock was coming: Within three months' time, the community had raised the entire $20 million. The Bradley-Turner Foundation raised its pledge to $25 million; the community matched that as well. By the time the RiverCenter was opened, the Bradley-Turner Foundation had contributed $35 million, the state had put in $24 million, the public had contributed $29 million, and the city had donated the land and built a parking deck across the street. With other foundation gifts, the total was $101 million – way past the original goals and more than nine times the amount any Columbus fund-raising campaign had ever brought in.

To this day, people like Betsy Coving-ton, executive director of the Community Foundation of the Chattahoochee Valley, are awed by what happened in the 1990s. "Population-wise, income-wise, there was nothing that would indicate Col-umbus could pull off something like this," she says.

What makes the fund-raising feat even more incredible is that, a few years later, Columbus duplicated it. In 2001, before the RiverCenter opened, Colum-bus State launched its own capital campaign to complete its downtown campus by building fine arts and theater buildings to complement the River-Center. The original goal was $67 million. By the time the campaign was finished four years later, the college had raised more than $100 million.
Lessons Learned
What can other places learn from the civic project that changed a city? In truth, some lessons don't transfer easily. Columbus had a unique set of assets in the mid-1990s: a core of prosperous, locally owned companies, a muscular state legislative delegation, a sympathetic governor and a local foundation willing to step up financially at a critical moment.

But Bill Turner offers two lessons that apply elsewhere: Don't be afraid to start small, as he and Dedwylder did in the 1970s, and remain relentlessly positive. Turner quotes Margaret Mead, who said, "Never doubt that a small group of thoughtful, committed citizens can change the world. Indeed, it is the only thing that ever has."

"That's it," he says. And who should be in that small group? "People who care and who are looking to show meaning and purpose in their lives," he says. As for attitude, he goes on, "There's no room for negative thinking. You can always think of a hundred reasons that something won't work." You have to focus instead, he says, on the one reason it will.

Several who were involved in the RiverCenter project say a critical lesson was the use of public-private partnerships. The money that the state and private funders contributed to the RiverCenter was important, they agree, but even more important may have been the creative tension – and, ultimately, mutual support – of the two sectors working together. It was, after all, during the back and forth between the state university and the downtown business community that the River-Center moved from being a performing arts center toward being a new vision for downtown.

Others discuss the importance of communications and ownership. Jim-my Yancey, the former chairman of Synovus who was deeply involved in both the RiverCenter and Columbus State fund-raising campaigns, says the more people talked about these projects, the greater the benefits they found. That was particularly true in the business community, where executives came to see education and the arts as a way of keeping talented young workers in Columbus. "We started to recognize that supporting Columbus State or the museum or the Springer [Opera House] was not totally altruistic," he said. "It was something that was going to potentially help me and my family economically."

And, finally, there was timing, opportunity and leadership. Columbus in the mid-1990s was a rare example of a place and time when all the major parts worked together: the economy was good, the right mayor was in office, business leadership was at its strong-est and the right person was in charge of the local university. All Columbus needed was an opportunity.

And this leads to leadership. The task of leaders, Frank Martin maintains, is to recognize these moments as they arrive and act on them. "You can either try to just maintain things as they are," he says, "or, on rare occasions when the circumstances present themselves, you can be creative, innovative and brave."
Editor's Note: Otis White, president of Civic Strategies, is a native of Columbus and was the founding editor of Georgia Trend.