Mending Broken Hearts
Conventional bypass surgery and minimally invasive robotic procedures are likely to increase as Georgia's baby boomers age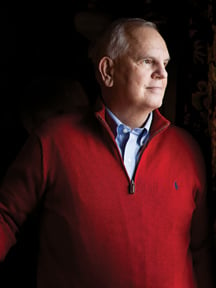 Nell Morris has a long, vertical scar in the middle of her chest, a lingering reminder of the broken heart that would have finished her if not for some fortunate timing.

For about 25 years she'd endured a condition called premature ventricular contraction (PVC) – an irregular heart rhythm.

"It's a common condition, not life threatening," says Morris, a harp player who lives in Augusta. "Something I'd been living with for years. I was used to it."

But by November 2008, the palpitations had become more frequent, almost non-stop, so her husband Allen made her go to her doctor, who referred Morris to a cardiac electrophysiologist, who gave her a stress echocardiogram.

"I thought I did great on the test," Morris says. "The nurse told me I flunked."

The doctor suspected a blocked artery. A heart catheterization was scheduled, and Morris was still upbeat, "totally confident that it was nothing," she says.

"I have no heart disease on either side of my family, I've never been overweight, never smoked, eat a very healthy diet, I'm very physically active," she says. "I had no reason on Earth to suspect heart disease."

But you already know where this is going. There was severe blockage, due to atherosclerosis, at the top of the left main coronary artery – the so-called widow maker. If that one closed down, she'd be playing her harp at the big gig in the sky, instead of playing for recovering heart patients, her primary audience these days.

"It would have been lights out for me," Morris says.

There was too much blockage for a percutaneous coronary intervention (PCI, an angioplasty with a drug-eluting stent) to do any good. She needed bypass surgery, and she needed it quickly.

Next morning at the Medical College of Georgia (MCG) Medical Center, Dr. Vijay Patel, a cardiothoracic surgeon, performed the operation, using Morris's left internal mammary artery (which studies have proven to be more resistant to disease than the native coronary arteries) to create a detour pathway around the blocked artery, rerouting the flow of blood to the heart.

The procedure is called a coronary artery bypass graft (CABG, or "cabbage"). It's what happens when your uncle has triple bypass surgery – in his case, three coronary arteries are bypassed. In Morris's case, it was a single bypass.

Coronary bypass surgery has been around for 50 years. Georgia institutions like Emory and St. Joseph's have been leaders in the procedure for decades, while some systems in less urbanized areas, like Northeast Georgia Medical Center (NGMC) in Gainesville, are achieving national recognition.

Georgia has a deep talent pool, conventional scalpel slingers with steady hands and icy veins, who can slice open a chest and work red miracles, and new-age surgeons who are sharpening the cutting edge, swaggering experts in robotic surgery teaching the rest of the world about the most minimally invasive open-heart procedures currently possible on the planet.

CABG is the most prevalent type of coronary revascularization, restoring the flow of oxygen- and nutrient-rich blood to the heart, a procedure with 50 years of stories about saving and extending lives, bringing a person back from the brink following a heart attack, or preventing that scenario altogether.

"We have the ability to help people in ways that are truly meaningful," says Dr. J. Alan Wolfe, a surgeon at NGMC. "But cardiac surgeons are at the end of the food chain. Nobody comes to us unless they've seen a lot of other doctors first.

"Having said that, John Q. Public considers bypass surgery today to be a walk in the park. Why? Because there's a 98- to 99-percent success rate associated with the procedure. We've made it look so easy."
Open Chest, Insert Hand
Heart disease remains the leading cause of death in the U.S. – probably due mostly to our habit of overeating and our other wretched national dietary trends, Wolfe says. Yet, bypass surgery has been on the decline in recent years as more patients choose minimally invasive, or less invasive routes to treat their coronary artery disease.

There were more than 550,000 CABGs performed in the U.S. in 1998. There were fewer than 450,000 by 2006 (the cost range is about $50,000 to more than $100,000, much lower in other parts of the world), although it remains the most common form of heart surgery. Meanwhile, the number of PCIs has climbed to more than 1.3 million a year.

"Our cardiologist colleagues have become tremendously good at taking care of acute situations with angioplasty or stenting," says Dr. Richard Harvey, a surgeon based at the Medical Center of Central Georgia (MCCG) in Macon.

"It's rare now, but when I started doing cardiac surgery about 15 years ago, emergency bypass surgery was not uncommon."

Sam Storey, a retired Methodist minister in Marietta, had to receive emergency triple bypass surgery in 1994 after suffering a massive heart attack while attending a conference in Augusta.

"They called my wife and told her that I'd die without the surgery and that I had a 10 percent chance with the surgery. Not great odds," says Storey, who was 51 at the time.

Two surgical teams worked simultaneously, one harvesting veins from his right leg to be used in the graft, the other cutting through his sternum. There was nothing minimally invasive about it, and who could argue. It was life or death.

Storey recovered in the hospital for 14 days. He has since undergone eight catherizations and had four stents placed in his arteries, including the rerouted arteries. He remains a sick man, but he is alive and feels lucky. The bypasses he received in 1994 were supposed to buy him another 10 years, and it's been 16. With the help of stents, his ailing blood vessels are open and working.

"I'm thankful every day," Storey says.

There is a common misconception that the greater the number of bypasses, the sicker the patient. Sometimes, yes, but not always. A person who receives a single bypass is not necessarily a healthier patient.

"The more we can do at one time, the better, because it means more blood flow is returned to the heart," says Dr. Fran Herrbold, a surgeon at Phoebe Putney Memorial Hospital in Albany. "If it's a single bypass, it could mean only one blockage needed to be fixed, or it could mean that multiple blockages could not be fixed. With multiple bypass surgery, more territories of the heart get revascularized."

Ken Mohl of Albany experienced this. Like Morris, he had no family history of heart disease and lived an active lifestyle. A Vietnam veteran, Mohl, 68, moved to Albany in 1969 to work in the civil service at the Marine Corps Logistics Base.

A few years ago he joined a seniors exercise program at Darton College, which gives him access to the school's weight training machines, indoor track and swimming pool. Once a day he and his wife would walk or jog. At some point, it became harder to breathe.

"I'd get maybe three quarters of a mile and start gasping, feel a little tightness in my chest," he says. "It happened several times, each time at a shorter distance. Half a mile, then a quarter mile."

This is several months back. Mohl called his doctor and got sucked into a whirlwind of tests, including a catheterization that determined he had full-blown blockage, in the widow maker and elsewhere. It was too much for a stent, he says. He needed a triple bypass, otherwise a heart attack was almost certainly in Mohl's near future. Herrbold performed the operation.

"He cracked my chest open, stopped my heart, bypassed the blockage and sewed me back up," Mohl says, making it sound as simple as an oil change. Other than the after- effects – he sometimes felt like he had six broken ribs – he says, "I feel very good now."

In a typical, traditional CABG operation, the surgeon divides the sternum with a specialized jig saw and spreads it open with a winch-like tool in order to reach the gooey, beating prize inside. Meanwhile, donor vessels are harvested from other parts of the body – the internal mammary artery, veins from the leg.

Then it really gets tricky. The patient is connected to a heart-lung machine, which supports the body's blood supply and vital functions, permitting the surgeon to temporarily stop the heart and perform the graft(s).

It's the heart-lung machine, says NGMC's Dr. Wolfe, which distinguishes the difference between an invasive and minimally invasive procedure.

"From the patient's perspective, what makes an operation minimally invasive is the size of the incision. From the doctor's perspective, what makes it minimally invasive is avoiding the heart-lung machine," Wolfe says.

"On-pump" procedures (using the heart-lung machine) are considered invasive by Wolfe and his colleagues. "Off-pump" (or OPCAB, for Off Pump Coronary Artery Bypass) is minimally invasive. For most patients, invasive equates to splitting the sternum, while minimally invasive involves accessing the heart through small incisions, maybe a half-inch to an inch in diameter.

But it's the heart-lung machine that leads to morbidity like strokes or kidney failure, "the stuff that keeps people in the hospital after surgery," Wolfe says. "Stuff that can lead to bad outcomes."
Less is More
Bad outcomes are pretty rare, though, says Wolfe's partner, Dr. Dan Winston, the surgeon who spearheaded NGMC's heart program and growth as a first-class heart center. The medical center has been ranked first in overall cardiac care (and first in cardiac surgery) for at least six years running (by independent healthcare ratings organization HealthGrades).

NGMC's surgeons perform about 600 open-heart procedures a year.

"We do minimally invasive surgery with mitral valve surgery, aortic valve surgery, thoracic surgery," Winston says. "But we stick to conventional surgery with bypass operations, because we think it's the better operation and we have the proven results.

"Our goal is complete revascularization, and that's what we're able to accomplish with conventional surgery."

Nonetheless, Marty Taffel didn't want the drama of conventional surgery in his already stressful life. He lost his beloved wife of 36 years, Arleen, a teacher who succumbed to ovarian cancer after an 11-year fight, in April 2010. Taffel was alone in their Atlanta home, their two children living in other cities. At 62, Taffel was 20 years older than his father was when he died of a massive heart attack.

"It was a traumatic time in my life," Taffel says. "Sure, I felt a little shortness of breath, had some sweats, a little pain, and I felt like this was all part of the stress I was going through. It'll pass."

He was on cholesterol medicine, too. But his cardiologist found blockage in the left main coronary artery. Two efforts to treat it with angioplasty didn't work, and Taffel wasn't keen on major surgery. So his cardiologist introduced him to Dr. Steven Macheer, a surgeon with Peachtree Cardiovascular (PCV).

On October 28, Macheer did the single bypass through small incisions in Taffel's rib cage, off-pump. It's also called beating heart surgery. He was out of the hospital in four days and back at work (he's in business development for an architectural firm) in a few weeks.

PCV, acquired by St. Joseph's in November, has become a national and worldwide leader in minimally invasive beating-heart, endoscopic and robotic heart surgeries.

The advantage to these newer technologies is a shorter recovery time, says Dr. Sudhir Srivastava, who has more experience performing robotic surgeries than anyone else on the planet.

He performed the world's first totally endoscopic coronary artery bypass (TECAB) surgery, directing a da Vinci robot's thin arms to enter the chest through tiny incisions and perform the bypass graft on a beating heart. He's done this about 500 times since then, performing single, double and triple bypasses.

"The best part about this endoscopic robotic surgery is there is very little trauma, there is no bone cutting, no spreading of the ribs, and these patients can often go home in two or three days," says Srivastava, who joined PCV in 2009.

Dr. Doug Murphy, chief of cardiothoracic surgery at St. Joe's, also is among the leaders in robotic surgery techniques, though he doesn't perform nearly as many bypass procedures as his PCV partner Srivastava.

"The trick is, it's like building a ship in a bottle," Murphy says. "The instruments go between the ribs, we don't disturb the skeleton, complications are low and the length of stay in the hospital is short."

Wolfe at NGMC, former partner of PCV when St. Joe's was helping to nurture the growing heart practice in Gainesville, doesn't argue with the hope of robotic surgery, but questions the consistent efficacy of robotic TECAB.

"There's no denying it's the Holy Grail," Wolfe says. "It's the ideal treatment if you can reproduce it. The problem is, nobody else in the world has been able to reproduce Dr. Srivastava's results."

Emory surgeon Dr. Michael Halkos also performs robot-assisted surgery, using the da Vinci system for part of the procedure, "but we still sew bypass grafts with our hands. Dr. Srivastava does most of his procedures entirely with the robot."

Srivastava travels the world teaching other doctors robotic surgery, or they travel to Atlanta, or he teaches them via the Internet. But it's an expensive proposition. Intuitive Surgical was selling the da Vinci robotic surgical systems for about $1.75 million in 2009. That doesn't include maintenance contract fees and the expensive instruments used during surgery. And in a cost-conscious healthcare system, all of that matters.

Besides, when it comes to bypass surgery, robotic procedures "aren't better than conventional surgery, but they're just as good," according to Murphy.
Changing Landscape
The addition of PCV to St. Joe's reflects a few things.

There's the continuing migration of physicians going to work for hospitals instead of their own practices. Eight years ago, 75 percent of medical practices were physician owned. Today, 55 percent are hospital owned.

Also, it's further proof of the ongoing intense competition for cardiac patients in Metro Atlanta. Gwinnett Medical Center is the newest member of the open-heart surgery club, though its approval to provide services was hotly contested by Piedmont Hospital and Emory.

St. Joseph's, which figures to be impacted, didn't contest Gwinnett's certificate of need, and is in fact collaborating with the Lawrenceville hospital. St. Joe's similarly helped NGMC for a number of years, an arrangement that has since ended.

"Our volume of heart surgeries has gone down, and it's been a combination of things, including the success of cardiologists' preventive measures," says Heather Dexter, St. Joseph's VP of surgical services. "Also, Kennestone [WellStar] opened its program. But that's had much less of an impact than Northeast Georgia in Gainesville."

So St. Joseph's now has a billboard advertising its cardiac services, just a few blocks from the NGMC campus.
In the near future, St. Joseph's will likely be absorbed into a larger, consolidated system. Attempts at joint partnerships with Emory and Piedmont fell through last year, and a list of buyers that includes Tenet Healthcare (and Piedmont) has reportedly been showing interest.

"In the current healthcare business environment, a stand-alone hospital can't get the kind of managed care rates that allow it to continue, so St. Joe's has to fall into a larger network," says Dr. Murphy.

Meanwhile, expect the demand for coronary bypass surgery to start climbing again, at St. Joe's, Phoebe Putney, in Augusta, Gainesville, wherever. And expect a long line outside the operating room.

A 2009 study by the Association of American Medical Colleges (AAMC) predicted a 46 percent increase in cardiothoracic surgeries from 2005 to 2025, while the supply of surgeons is expected to drop by 21 percent during the same period.

"Percutaneous procedures have gotten better, and that has cut into the number of patients referred for bypass surgery," says Wolfe. "But we expect there to be a steady increase in the number of bypass surgeries performed in the U.S. merely to accommodate the demographic time bomb called the baby boom generation."