Face-To-Face Teaching
Piedmont College focuses on educating local students – in Demorest and on its Athens campus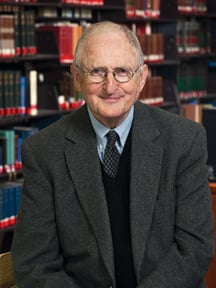 Just beyond the only traffic light in Demorest, a pedestrian bridge crosses above the street, with a sign letting you know you're at Piedmont College. The college chapel rises to one side, its hilltop setting making it seem even taller than it is, a fitting introduction to a college founded in 1897 by a Methodist minister and closely tied to the Congregationalist Church since 1901. Behind the chapel, the liberal-arts campus unfolds slowly, a hidden jewel nestled among the hills of North Georgia about 70 miles north of Atlanta in Habersham County.
The college owns much of downtown Demorest, "not a giant statement," says President W. Ray Cleere, with a smile. The campus also weaves in and around privately owned residences in the mountain community.
"All too often, visitors look at campus buildings," Cleere says. "But our strengths are faculty and administration. Piedmont College is a face-to-face teaching college."
Face-to-face teaching is not confined to the classroom at PC. It also takes place on the more than 56 acres of federally protected wetlands that thread the middle of campus. Created when the dam that contained Lake Demorest was demolished due to safety concerns in 2006, the wetlands area will be a valuable long-term resource for the college.
"Biology and environmental science are looking at ways to use the wetlands," says Provost and Vice President for Academic Affairs Dr. James Mellichamp. "Students have already built part of a trail through it. The area is so new, we are still trying to figure out what we can do without hurting the environment." Some uses have already been identified, including research projects in the biology department; camping by the outdoors club; drawing, painting and photographing the environment by art students; and hosting bug and snake camps in the summer for children. As part of the wetlands restoration project, 6,000 trees will be planted in the former Demorest Lake area of the wetlands.
Growth pattern
Cleere, who has announced that he will retire in June 2011 after 15 years as president of Piedmont College, has overseen the growth of the institution from 850 students when he started to 2,700 students on two campuses today. (PC has a growing campus in Athens.) The construction of nine buildings and renovations to most of the older buildings also occurred on his watch.
He has one more building project to see to completion. The college is renovating the 1916 downtown Demorest Art Gallery to house a permanent collection of more than 100 paintings and other works of art donated by friends of the college Bill Mason and Bob Scharfenstein. Works by students and special exhibits will also be shown in the new space. To go along with the new gallery, a new fine arts classroom building adjacent to the Martens Botanical Center is in the planning stages.
"We're very fortunate," Cleere says. "This crash in the economy caught a lot of schools at the wrong time." But PC has completed its $80-million building program. "We have no major debt staring us in the face," Cleere adds.
Because it has no major building projects under way, the college has been able to hold tuition at the same level now for three years in a row. While faculty and staff have not had a raise in a couple of years, they have also not experienced layoffs or furlough days. And the poor economy has had some benefits. The college has taken advantage of lower land and construction prices to complete two new dorms in the last two years and buy property for athletic fields.
The two new dorms, which break from the campus tradition of red brick, utilize siding with white weather vanes, one in the shape of an old sailing ship, the other a whale. Called New Bedford and Plymouth, the dorms recall the beginnings of the college and the Northern ties of the Congregational Church. Four hundred sixty-five of 990 total Demorest students live on campus in small dorms, each housing fewer than 50 students in mostly single rooms, with two rooms sharing a bath.
About 90 percent of Piedmont's Demorest campus students come from Georgia, with 70 percent of those from Metro Atlanta and north, says Cindy Peterson, director of admissions. But the Demorest campus is only part of the Piedmont College story.
Athens Expansion
The college expanded into Georgia's university mecca of Athens in 1996 and now provides undergraduate and graduate classes there in education, business, political science, criminal justice and other subjects. Cleere calls the decision to offer more than occasional classes in Athens one of the two really successful ideas to take root under his watch.
The decision to move into Athens might seem an unlikely David vs. Goliath move, but UGA is a world-class institution, Cleere says. It doesn't serve the local community. Piedmont College has clearly found a niche, with enrollment nearing 1,000 commuter students. Classes in Athens meet in the former Prince Avenue Baptist Church downtown, a facility the college bought in 2006.
Piedmont also offers a master's degree in education and education specialist classes in 50 locations across Georgia and in North Carolina through a cohort program, in which a group of teachers go through the whole program together. School systems invite the college in to teach the teachers. "The unique twist to this program," says Mellichamp, "is that the schools determine an issue that's important to them. For example, raising student reading levels or dealing with discipline problems becomes the theme around which the course work is developed. The program is attempting to bring about school improvement at the local level."
Education is the largest department at Piedmont College and houses the only doctoral program. The first doctoral students, 30 total, will graduate in May.
Sara Gardiner will graduate with a bachelor's degree in early childhood education this spring and is already considering Piedmont's graduate education programs. Gardiner, who is from neighboring Banks County, knew from an early age, when her family would drive by the campus, that she'd attend Piedmont College. It's a family tradition for her, and she hasn't regretted her decision.
"I love being in the mountains," she says. "And the small classroom atmosphere. The professors know you. Know your strengths and weaknesses. Some-times they know you too well."
The lack of job prospects for new teachers worries her a little, but she's optimistic. "I feel like the professors' support here prepared me for life."
New Facilities
A footbridge over the wetlands connects the main campus to the new Swanson Center for Performing Arts and Communications, which houses the Theater and Mass Communications departments, and the nearby Arrendale Amphitheater.
The award-winning amphitheater hosts musical performances and has been recognized by Metal Architecture magazine with its 2010 top award for metal roofing. The roofing is composed of a composite material designed to withstand northeast Georgia storms and be low maintenance while offering shade in the summer and providing proper acoustics for student and professional performances.
The Swanson Center next to the amphitheater is home to the Mass Communications department and its state-of-the-art facilities. "We offer an integrated program at the undergraduate level," says Department Chair Dale Van Cantfort. The unusual undergraduate requirement means students get experience in all aspects of communications, from writing the story to producing it on radio or television. The 10-year-old program developed after asking industry professionals what they were looking for in new hires. The answer turned out to be people who know how to do everything, says Van Cantfort, rather than people with in-depth knowledge in one aspect of communications.
Students are required to take a broad range of classes from writing for print or online to web development, advertising and media management. The department, which has 60 students, not only requires the broad range of classes, but also requires students to show up and participate, something that's not always possible in larger schools with many more students in a class. With only eight to 10 students per class, all students get to put their hands on the video, radio and other equipment from the first semester. Professors with years of experience in the industry ensure that students get the kind of professional education that has helped them find jobs at places including CNN and the Food Network.
The department houses a student-run radio station as well as a Georgia Public Radio station and produces the student yearbook and student newspaper.
Also housed in the Swanson Center is the theater department, with two stages and up-to-date technical and backstage facilities. Senior theater major Kate Meents decided on PC in large part because of the Swanson Center. "I looked at other theater departments at other schools," she says. But she didn't see the money and effort going into those other departments. "The Swanson Center opened the year I got here. They were obviously putting money into the department."
Her focus is on theater performance, but all students are required to learn the technical aspects of theater. As a senior, Meents also must present a capstone project. Her project will ensure a well-rounded end to her theater education. In the fall semester she honed her collaboration skills working with a group of younger students who had to audition to be part of her group. They wrote a play based on the book Water for Elephants by Sara Gruen. During spring semester, Meents will stage and direct the play using the same group of students as the actors, set designers, builders and costumers. She and her group will do everything for the production except run the lights and sound during the performance, she says.
While the theater department is housed in new digs, the music department has not been left behind. Headquartered in the chapel, the department offers choral, vocal and keyboard programs. "Fine arts are a fundamental part of a liberal arts institution," says Mellichamp, who, in addition to serving as provost, is also a music professor, teaching organ. "They are very visible programs, drawing in a lot of community people." At Piedmont, all students, even those not majoring in music, are welcome to participate in choral ensembles. One campus group, the Chorale, welcomes singers from both the college and across northeast Georgia.
The spectacular Sewell Organ, a pipe organ named for longtime friend, supporter and trustee of the college, Charles Sewell, was added during a 2002 renovation and is the centerpiece of the chapel. The chapel is used as a concert hall for music students and professionals alike. The acoustics are excellent, Mellichamp says. "Students are amazed to find something like this in the briar patch."
The surrounding community and campus work together in a number of ways, including helping to train nursing students with an annual collaborative disaster drill. Working with Habersham County emergency agencies, 911, Habersham County Medical Center and local fire and police departments, the college stages a mock disaster each year, with the date and details a surprise to senior nursing students. Disasters have included a simulated plane crash – complete with airplane – a simulated rolling meth lab and a mock boiler explosion. Senior students are required to treat and triage the wounded, who are played by junior nursing students with wound makeup provided by the theater department. Victims are transported to the local hospital if nursing students deem it necessary.
Not all campus/community collaborations involve bloody makeup and simulated disasters. Some, in fact, celebrate athletics or a local citizen made good or both. An NCAA Division III school, Piedmont offers men's and women's sports including basketball, volleyball, baseball and swimming; and it just completed a new $850,000 artificial turf men's and women's lacrosse/soccer field.
The Johnny Mize Athletic Center is home to the men's and women's basketball teams and the PC volleyball team. The center, named for former Demorest resident and 1981 Baseball Hall of Fame inductee Johnny Mize, also houses the Johnny Mize Baseball Museum, filled with autographed balls, bats and other memorabilia from Mize's storied career that stretched from 1936 to 1953.
When visitors express surprise over the treasures housed at Piedmont College, President Cleere says, "We don't want you to know about it. We want you to discover it."