Georgia's Charter Schools
Proponents call them a "critical piece of the puzzle," but critics worry they drain money and resources from public schools. A pending state Supreme Court decision may offer clarification.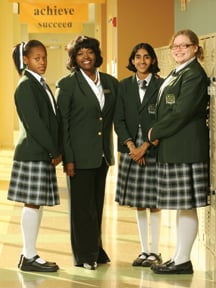 "What," says Ivy Prep's school head Nina Gilbert, "are you doing?"
On a tour of her impressive, college-oriented all-girl charter school, Gilbert has escorted a reporter to orderly but engaged classes, where students must raise their hands to acknowledge "100 percent" understanding of instruction – whether silence for a teacher's directions, or the lessons in art, math or Mandarin Chinese. The student Gilbert is addressing in this sixth-grade math operations class is, like the rest of the 464 Ivy girls in grades 6 through 8, wearing Monday's "business attire" uniform – plaid skirt, knee socks and white blouse. But the student's green blazer is nowhere in sight, and her shirttail is billowing, untucked, as she performs a lanky, improvised dance in the middle of her classroom.
Undaunted by the presence of her school's founder, or her pointed question, the student waltzes over toward her and holds up a paper. "101" is circled at the top right. Then Gilbert raises her hand, and the student meets it to slap together a resounding high five, laughing as they clasp hands. The student dances back to her seat. "That's not an easy score to get in this class," Gilbert says, unable to restrain a broad grin.
In its third year and growing rapidly (enrollment is up nearly 150 over last year), Ivy Prep is nestled in one of Norcross's technology parks, with tentative plans for new digs as the school expands, one grade per year, with an aim to eventually comprise grades 6-12. Inside the unconventional office park campus, the school greets students and visitors with banners announcing its students' goals: Harvard. Dartmouth. Notre Dame. Affirmations appear everywhere, on wall hangings and etched in frosted glass: "Believe. Achieve. Succeed."
Unconventionality – including uniforms, as well as spontaneous dancing and high-fiving your principal – isn't accidental here, but part of the plan to help students learn. Like 130 other schools in Georgia, Ivy Prep is a charter school. Often started by parents or community leaders, their "charters," or agreements, call for meeting or exceeding specified state and federal academic marks, while allowing more latitude for choosing curricula and texts and employing unconventional teaching and budgeting methods. Charter schools may admit students from one or several school districts, according to their charter. In exchange (at least in theory), the school's pupils receive the same amount of public funding as any other public school. Admittance isn't based on test scores, and there is no tuition. Students with special needs are welcome. When charter schools have more applicants than space for students – a common occurrence – prospective pupils are admitted by lottery.
Across the country, school systems are looking to charter schools as alternatives – most often for better education, sometimes for a near-guarantee of college entrance in an otherwise failing school district, but also sometimes simply for a better fit for kids who perform more successfully in different environments.
Two new documentaries – Waiting for "Superman" and The Lottery – focus on charter schools in New York, Los Angeles and Washington, D.C., and the often alarmingly insufficient public systems that spawned them. In Georgia, where high school graduation rates rank 48th among 50 states, parents, teachers, students, legislators and administrators have forged charter schools that serve as laboratories of a sort, trying new methodologies that often far outperform their more conventional counterparts. "We don't believe charter schools are the answer," says Mark Peevy, executive director of the Georgia Charter Schools Commission, "but an answer, a critical piece of the puzzle."
In Georgia, surging interest in charter schools is accompanied by controversy – and a lawsuit. While it is important to note that most charter schools operate in cooperation with their local and county school districts, a few charter schools are in conflict with them and, at press time, awaiting the decision of the Georgia Supreme Court for final approval of the way they are budgeted. Seven school districts (Gwinnett, Bulloch, Candler, Henry, DeKalb and Griffin/Spalding counties, plus Atlanta Public Schools) charged that the legislature's creation of the Charter Commission was unconstitutional, and so was the schools' funding. The suit argues that new charter schools created by the commission instead of by agreement with the school systems take funding away from existing public schools and reduce the necessary funding for such fixed costs as school buses and facilities. (See sidebar on charter school creation on page 29.)
Saying in essence that public school funding belongs to students and should follow them to the school they go to, Judge Wendy Shoob swiftly and decisively ruled that the creation and budgeting of charter schools – including Ivy Prep and Heron Bay Academy, scheduled to open next year – were constitutional and proper under the law. The seven school systems quickly appealed; the state Supreme Court heard the case October 12, and a ruling is expected by the end of the year, if not sooner.
"The Gwinnett County Board of Education's decision to pursue this legal action was precipitated by the state's unconstitutional erosion of local control of the public schools," Sloan Roach, Gwinnett public schools executive director of communications, wrote in a statement to Georgia Trend about the case. "Compounding this fundamental concern is an inflated funding formula that redirects a disproportionate share of local tax dollars to the education of students in Commission charter schools, and that is not consistent with current charter school law."
"Untraditional" Thinkers
In the meantime, the state's charter schools continue to expand, and if a recent open house for Heron Bay Academy, for students in Henry and Spalding counties, is any indication, so does interest in them. The parking lot at the lodge at Heron Bay, a development with a country club and large, upscale homes, is mobbed. Long lines of parents waiting to ask questions of administrators include Eileen Lee and her daughter, Ashley, a fifth-grader her mom describes as "an untraditional thinker" who might shine in another environment. "She's more of an artsy kid," she says. While she was happy with the teaching in her local public schools, Lee says Georgia's traditional public schools as a whole need improvement. "They may get it together eventually," she says. "But in the meantime, my kids are growing up and need schooling."
Heron Bay, like Ivy Prep, will be housed in an unusual property – unused space at a nearby retail mall – at least temporarily, until its facility is built on the development's grounds. Unlike magnet or theme schools, charter schools are basically organizational models, not instructional models based on a theme, such as performing arts or technology. While many charter schools share similar traits – longer school days and years; smaller class size; foreign language requirements, even in elementary school – their chief commonality is their wide degree of variety. Communities can customize a school according to their needs.
Walton County's Career Academy teaches high school students technical and job-oriented skills, with a focus on college and careers that don't require a four-year degree, in conjunction with the local high school. Charles Drew Charter School, a component of the $103-million East Lake neighborhood renewal, has gained local and national attention for its "cradle-to-college" philosophy in an inner-city Atlanta area once noted for crack houses and violence. In 10 years, Drew's fourth-grade state standardized tests improved 200 percent. Last year 85 percent of students graduated, and nearly that number went on to college. Atlanta Public Schools' graduation rates, on the other hand, hover around 69 percent.
At Drew, teachers and administrators address much more than academics, surrounding students with support to help them overcome barriers like parental addiction, broken homes, hunger and poverty. Ivy Prep's Gilbert, a former Gwinnett public elementary school teacher and academic counselor, says the road to starting Ivy began with the notion that "I believed kids could have a better shot at life if they had a school that was supportive, if we could create a setting where high achievement was possible.
"I knew what worked in my class," she says. "I wanted to become a change agent, to offer interventions, and challenge students who were capable." After winning a fellowship in 2006, she studied new teaching methodologies and observed kids in inner-city environments in Newark and Boston. She later won a $250,000 grant from the Walton Family Foundation to start Ivy. "I realized it wasn't about money. I saw kids in a school housed in the third floor of a nursing home, and they were perfectly happy there."
With Ivy's co-founder and now Director of Business Operations Angelia Howell "at the dining room table with me," the two quickly settled on a few key points that would define their school.
Says Charter Schools Commission CEO Tony Roberts, "It starts with the question: What is your unique idea that will make your school innovative?" Gilbert wanted her school to focus on girls. "Research shows single-gender environments are less distracting," she says. "It's not a magic bullet, but boys and girls do learn differently, and this frees students from having to posture for the other gender."
Later, as we observe a math analysis class, where a teacher is demonstrating the concept of experimental probability by flipping a coin, students freely tell the teacher, "I didn't get that." It's the kind of admission, she says, girls would be less likely to make in boys' presence.
Gilbert says her theories about teachers have also evolved. "The best teachers," she says, "have not gone through teacher programs. A stellar resume is less important to me than someone who is concerned about the state of education today and is willing to change that. They have to have an entrepreneurial attitude." Ivy, like several other charter schools, does not use textbooks, instead putting all lessons online, where parents, teachers and students alike can access programs and grades and assess progress. "Even sick children can study at home," Roberts points out.
Unconventional Teaching
The freedom to employ unconventional teaching methods was the spark that created Brighten Academy in Doug-lasville, the first charter school in the state to be started by teachers. Language arts/social studies teacher Amy Caro and math/science teacher Kim Engleson have been there since the beginning, among another group gathered "around a kitchen table" discussing what might work better for kids. In conventional public schools, "A lot comes from the top down," says Engleson. "Here, as a teacher in the classroom, I can lead this in the right direction."
"We're lucky," says Caro. "We have a staff of educators here who know we don't need to be micromanaged." The two say Brighten's methods rely heavily on character development, on looking at the whole child. They also emphasize "project-based" education, which is less likely to use "pencil/paper" methods than those that might allow students to learn in their own best way, including art or physical movement. In Engleson's science class, that might take the form of a familiar-sounding science fair, with models of planets, or a more creative example: "I had one student demonstrate all the constructive and deconstructive forces of the Earth – like volcanoes and earthquakes – by singing them to the tune of 'Amazing Grace,'" she says.
Caro says they "pull in parents" by including them in the lessons, describing one exercise in which students learned about immigration by studying Ellis Island, choosing the name of an actual immigrant and "taking on his whole persona," she says. Parents took on the role of the Ellis Island inspector.
Charter schools often also utilize the entire physical plant in students' education. At Heron Bay, the new structure will emphasize environmentally friendly building codes and encourage kids' movement and play, as well as walking to and from classes. (Although the school now will accept students from all over Henry and Spalding counties, parents at first considered making the school available only to those within walking distance.)
At Brighten, students follow a Japanese model, serving as caregivers for the facility, pulling weeds and picking up garbage.
Statistics reveal mixed results for charter schools. There are astonishing success stories like Drew and the sixth and seventh graders at Ivy Prep, who outperformed students in their DeKalb and Gwinnett districts in nearly every subject on the Criterion-Referenced Competency Tests (CRCT). In addition, a higher percentage of charter schools than traditional schools made state measures for annual yearly progress (AYP) in four of the metro area's largest school districts – Atlanta, Clayton, DeKalb and Fulton. Statewide, the same was true for charter and middle schools, with elementary schools performing at the same statistical level as traditional schools. More charter schools serving low-income communities also performed better on the AYP scale than traditional public schools serving the same population.
However, nationally, the numbers show another story: The Center for Research on Education Outcomes found that last year only 17 percent of charter schools outperformed comparable conventional local public schools, while more than a third did "significantly worse." That may or may not reflect, in part, startup issues in troubled neighborhoods – Gilbert says that she would like to accept more problem students at Ivy, despite the fact that it will likely adversely affect their scores. And unlike some states, Georgia's rules for charter schools' accountability means, "If they're not working, they will close," says Roberts. According to a report by the nonprofit advocacy group the National Alliance for Public Charter Schools, Georgia ranks fourth in the country (among the 40 states with charter school laws) in quality and accountability for charter schools.
Charter schools are also finding they must work out problems as they go, problems that their conventional counterparts worked out long ago – like facilities, transportation and lunches. Gilbert points out that she serves as both principal and superintendent of schools in her one-school "island." As the state's bureaucracy adjusts to the demands of newly created schools, budgeting also can be erratic. Peevy describes such problems as typically temporary, part of ongoing issues akin to growing pains.
Other controversies also dog charters, many involving money and power: The introduction of "for-profit" companies that create curricula and hire teachers, for one, and for another, the fact that without a passionately concerned group of parents and teachers, students in underperforming schools may be left further and further behind as resources follow the students who leave for charters. Unlike many states, Georgia law does not cap the number of charter schools. Asked if, theoretically, any or all schools in Georgia could become charters, Roberts replies, "Theoretically, yes. But theoretically, I could be handsome and rich and a movie star," he says. "The question is, Do I have the will to make that happen?
"It's not our goal for every school to become a charter school," he says. "For a lot of kids, the traditional school district works very well. We just want to serve as a lab for innovation."