The Message Makers
Advertising and public relations are separate silos of marketing. Ad budgets are down, and PR expenditures are rising.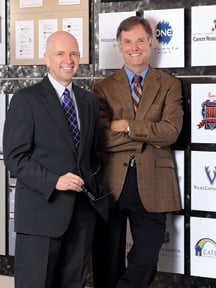 The advertising people are studying our habits and languages, getting into our heads, doing the math and exploiting the gathered intelligence to win us over, telling us what we want before we know it. Angels and devils on the shoulders of capitalism, they whisper in one ear, shout in the other, inspiring us, enlightening and infuriating us, and ultimately persuading us to spend money we may or may not have for goods and services we may or may not need.
We see their calling cards everywhere, on TV and the Internet, in the movies, along the highways, on our cell phones, plastered across cities and ballparks, and in newspapers and magazines (to an ever-shrinking degree, much to the dismay of traditional ink-stained wretches, whose livelihood depends on editorial space augmented by advertising).
The public relations people are out there, too, and their numbers seem to be increasing (or their vigilance is, based on the number of story pitches that arrive daily to my inbox): spin doctors and imagemakers, flacks and publicists, planting the seeds of information that benefit their clients and organizations, managing the message, creating exposure.
Advertising and public relations (or PR) are separate silos of marketing, different disciplines going in different directions in the creation, building and marketing of brands, products and services.
"War and marketing have many similarities," write Al and Laura Ries, the father-daughter marketing consultants, in their book, The Fall of Advertising & The Rise of PR. "Military generals who fight today's wars with last year's weapons are no different from marketing generals who fight today's marketing war with advertising when they should be using PR.
"Yesterday it was armor. Today it's airpower. Yesterday it was advertising. Today it's PR."
That was written more than eight years ago, and Al Ries suggests they may revisit the issue.
"We were only documenting a trend, and it might be interesting to see after 10 years what has happened. When we wrote the book, we said this was a process that was going to take a long while," says Ries, who 40 years ago pioneered the concept of "positioning," which links brands, products and services with specific market niches.
Ries, who founded his own advertising agency in New York, then formed a marketing strategy firm, Trout & Ries, co-authored (with Jack Trout in 1981) Postioning: The Battle for Your Mind, a marketing industry standard on the subject. He founded Ries & Ries with his daughter in 1994 and was named one of the most influential people in PR in the 20th century by PRWeek magazine.
"The real disappointment we have with PR is, as an industry, it hasn't picked up this notion yet that they're the ones who should be responsible for building brands," Ries says. "Typically the PR agency waits until the ad agency comes up with the theme or slogan or whatever.
"I've seen it in meeting after meeting. You have the ad agency people and someone from the PR agency. The ad agency says, 'This is how we position the brand, and so on.' The PR guy hangs back and waits for the ad agency to speak. His expertise is in knowing who to call in the media to pitch an idea, but he's not good at coming up with the idea."
All too often, he says, a company will lead with advertising and follow with publicity when launching a brand, but the other way around is more effective – cost wise and otherwise.
Socially Acceptable
Spending on advertising dwarfs spending on PR in the U.S., though advertising spending has suffered during the global recession. But according to the media research firm SNL Kagan, overall PR spending in the U.S. will actually climb almost 3 percent this year (to $210 billion) following two straight years of decline (by 5.5 percent in 2008 and 15.6 percent in 2009). They also forecast $276 billion U.S. advertising spending by 2019.
"We're seeing a bit of a turnaround. People are willing to spend a little more than last year," says Jocelyn Smith, co-founder and principal of Infinitee, a 20-year-old Atlanta advertising and marketing firm.
"Many clients are shifting their dollars to online and mobile marketing. Most of our clients' advertising budgets have decreased. They're still spending money, but not quite as much, and they're spending it in different ways."
Business has been static at Infinitee, she says, and for the first time the company has partnered with a PR firm. Smith hired communications 21 (c21) to help Infinitee grow its brand and improve its social media services for clients.
"We wanted an active PR campaign," Smith says. "And they're the experts in social media, at writing the message and monitoring the message, versus some big, expensive ad campaign."
This has been a good year for c21, says Sharon Goldmacher, president and co-founder of the Atlanta firm. They landed 17 new clients since January, the company's best growth since setting up shop in 1992.
Overall, spending on PR has been growing in the U.S. through the recession. According to the Veronis Suhler Stevenson (VSS) Communication Industry Forecast, it grew by 7.1 percent in 2008 and 3 percent in 2009. VSS forecasts U.S. spending on PR will surpass $8 billion by 2013 – paltry compared to the $25 billion forecast in U.S. advertising spending this year on the Internet alone.
Where advertising has taken its most dramatic hit is in daily newspapers, facing an expected drop to $23.2 billion this year (down from $46.3 billion in 1999).
"There has been a shift, but advertising is not dead in any way, shape or form," says Goldmacher. "People don't trust ads like they did in the 1950s, but advertising still has some great benefits. It's a great awareness driver, though consumers tend to look at ads with a more critical eye, whereas they tend to believe what they read through an objective third party."
Advertisers buy space and consumers know this; but the messages PR wants to sell are embedded within trusted sources, like TV and radio news shows, or newspaper and magazine articles, and especially in blogs and social media like Facebook or Twitter.
"Social media is gravitating toward the PR side," says David Arnold, president of The Partnership, an Atlanta marketing firm. "It's because PR is really, really good at producing a lot of content, and social media has an appetite like a lion for content."
PR is a thing of many colors and names, building rapport with consumers, investors, employees, voters or John Q. Public. It is media relations, internal communications, invester relations, labor relations. It creates and protects images, gaining publicity for products, people and services; influences policy making; develops news and reacts to it. Again, according to Ries, companies build brands through public relations and third-party endorsements, not advertising.
"Third-party endorsement always has and always will be important, but to have a completely integrated campaign you need all the legs of the stool," Arnold says.
In other words, you need advertising bringing up the rear: "PR creates the brand," Ries says. "Advertising defends it."
Telling Stories
The line has been blurred between advertising and PR shops, says Bo Spalding, co-founder of Jackson Spalding in Atlanta. What began in 1995 as a small PR company has become a multi-faceted firm with offices in Athens and Dallas, Texas. Jackson Spalding is doing its part to blur the line.
"The traditional distinction was that PR was the art of securing publicity for clients without paying the media for it," Spalding says. "We didn't do paid advertising, we introduced our clients to reporters and identified the things that were interesting, while the ad agency had to buy the space, creating the message and putting it out there for a price."
Now, clients can go to the firm's JS Creative division for "image creation," which can include everything from naming companies and products to advertising to Web design, animation and video news releases, among other things.
"Over time, we got to know our clients so well it didn't make sense to retrain an ad agency, so we started offering some of those advertising services ourselves," Spalding says.
But at its essence, the job is about storytelling for Spalding, who began his career like so many others in PR, as a journalist. Ries says a background in the media is helpful for all the obvious reasons.
"They come with an understanding of the media point of view," he says. "So they have a better feeling on how to approach the media and what stories or what sources the media will be interested in."
They come from the media and join the dark side – which is what reporters and other news people often call PR (jokingly or not), especially when one of their own leaves the Fourth Estate for that good-paying, steady job in some PR firm or corporate communications department.
"Oh, of course I said they were going to the dark side," admits Julie Hairston, senior account executive at A. Brown-Olmstead Associates (ABOA). She was an award-winning writer who spent 30 years in newspapers, the last 10 at The Atlanta Journal-Constitution. She took the paper's buyout offer in 2008 and joined Amanda Brown-Olmstead, a longtime Atlanta PR executive, one of the many around town Hairston had gotten to know in her career.
"But it doesn't feel like the dark side now that I'm here. It feels like the bright side," she says. "Really, though, it doesn't feel so dark to me. I'm not trying to figure out how I can pull the wool over somebody's eyes, I'm not trying to hoodwink anybody.
"It turns out this is honest work, trying to help good companies and organizations present themselves in the best possible light. They've all got stories, but they don't all know it. We show them what their stories are and help them to tell those stories."
Probed And Branded
For Beverly Andersen, it isn't enough to tell the story. She wants the experience. She wants to gain empathetic insight.
"The ultimate state of being for a brand is to be culturally relevant," says Andersen, chief strategy officer for Trend Influence, an Atlanta ad agency. "We help companies understand the cultural connections their brands can have, and we do that by understanding empathetically how consumers are using products and brands."
Trend Influence, which became part of New York-based Kirshenbaum Bond Senecal + Partners' (KBS+P) suite of agencies in March, has anthropologists on staff, people trained in social and behavioral sciences who go way beyond the traditional focus group in their ethnographic effort to get inside a consumer's head.
"It's one thing to have a mom sitting in a focus group telling me how she bakes cookies on a Saturday afternoon with her daughter," says Andersen, who has degrees in marketing and psychology. "That's meaningful, but it's not nearly as meaningful as being in her kitchen, with her daughter, hearing their conversation, seeing what they use, what's easy and fun about it, what the interaction is like, what they buy at the store."
In the case of Church's Chicken, they simply got in the car with customers and went home with them, "as if we were sitting on their shoulders," Andersen says.
They captured some of what they learned on videotape.
"The footage we got was incredible," says Jill Meiser, president of KBS+P Atlanta. "Some people recorded themselves, and there's this stream of consciousness thing going on about spicy chicken and what it does to them, and there's a physical and emotional reaction from people about this product."
Andersen says these were people who live all over the world, but it felt like they all live in a spicy chicken cul-de-sac.
"Who knew there was such universal, visceral ties to the same food," Meiser says.
Because of its developed understanding of the heart and mind and soul of Church's clientele, Trend Influence recently earned a creative account that could be worth around $27 million (that's what Church's spent last year with another ad agency).
One of Trend Influence's other Atlanta clients is Coca-Cola, whose advertising output has become the stuff of legend (three of the company's campaigns made AdAge.com's list of top 100 campaigns of the 20th century). But it was an inspiring PR scheme that will always stand out for Mart Martin.
A 20-year veteran of The Coca-Cola Company who now heads JS Creative at Jackson Spalding, Martin was the point man for publicity when the soft-drink company introduced Vanilla Coke in the spring of 2002.
This is back before advertising videos were going viral and being seen by millions of people on their laptops (Hello! Old Spice's "The Man Your Man Can Smell Like" campaign?), back when newspapers still had enough editorial space to run puff pieces about soda.
"We chose to lead with PR, and the advertising would come later in support," Martin says. "So we went online and Googled the word 'vanilla' and found this little place called the Vanilla Bean Café in a small Connecticut town.
"We thought, 'Instead of doing what's expected, like going to an event in New York to launch the brand, what if we did something interesting? What if we launched Coca-Cola's first new brand in years at a little cafe in a tiny hamlet in Connecticut?'"
Two weeks before the launch date, Martin and his colleagues visited the cafe in Pomfret, Conn., a town of about 3,800 people 40 miles northeast of Hartford.
"They had this little town newsletter, and they wanted to know if it was OK to put a notice in about the launch event," Martin says. "I said, 'absolutely.' I knew that if it worked out right, there would be this automatic chain reaction that works to our advantage."
The story ran in the newsletter, then got picked up by the local paper, then made the news on a Hartford TV station, then made it to New York and the wire services and everywhere.
When the big day arrived, the village experienced something rare for Pomfret – a traffic jam. Hundreds of people – at least 500, Martin says – crowded the vicinity of the 45-seat Vanilla Bean Café for Vanilla Coke's coming-out party. A bank of television cameras was there, CNN was there, and the event was ballyhooed that morning on NBC's The Today Show.
"They all wanted to be there to watch the first arrival of this new Coke product," Martin says. "Then finally, over the hill comes this red Coca-Cola delivery truck, and the place went crazy. It was astonishing, just astonishing."
It was a truckload of caramel-colored caffeinated carbonated sugar water. But really, it was something more. Like the Internet, and the newspaper, and your cell phone, TV and radio, the soft drink launch event was a messaging opportunity.
"And at the end of the day," Martin says, "everything starts with a message."