2010 Best Places To Work In Georgia
Employees like a friendly atmosphere, a commitment to work-life balance and a chance to do their jobs well.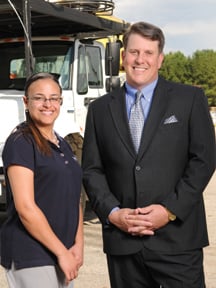 For the fifth year, we asked Georgia Trend readers to tell us why their company deserves a place on our annual Best Places to Work roster. And tell us they did.
We take it as a given that people truly value their jobs in a tough economy and a period of high unemployment; but it is also true that working Georgians appreciate being treated well, being made to feel part of a community and given a chance to excel at what they do.
From employee nominations submitted via our website, Georgia Trend's editorial staff selected 10 companies whose employees consider them the best. They are listed in alphabetical order.
Carroll EMC • Carrollton
Susan Lester, vice president of member services at Carroll EMC, believes the team-centric atmosphere at her company is easy to explain. "We're a cooperative owned by our consumers, and that spirit filters down to the people who work here as well," she says.
"It is a pleasure to know that you work for a company that treats you like an individual, not just another employee," says Operations Clerk Latasha Vaughn, in nominating her employer. "Safety is a No. 1 priority, and every employee works together to keep each other safe."
"We have safety meetings every Monday morning," says Lester. "Everyone is trained in CPR, and we provide a strong fitness and wellness program. The main thing employees tell me is that they have each other's back."
And Carroll EMC is an industry innovator. During the recent downcycle in new home construction, all 50,000 meters were automated, enabling the utility to offer customers a self-managed payment program called Pre-Pay. Power usage is paid for, upfront, on a weekly or bi-weekly basis. Customers are notified when their account balance is running low via an automated telephone call, email or text message; they can make payments at a number of outlets including payment kiosks throughout the seven-county west Georgia service area.
Getting Pre-Pay up and running was an example of progressive thinking by Carroll EMC's CEO, Chip Jakins. "He's always looking for ways to serve our customers better," Lester says. "We kid about it, but we really do try to live our motto, 'Service Beyond the Meter.'" – PR
Columbus Bank and Trust • Columbus
The statue in front of Columbus Bank and Trust honors the textile worker whose mishap unintentionally started the business in 1888.
A 19-year-old woman tore the hem of her dress in the machinery gears, and coins clattered to the floor. She had nowhere else to store her earnings, she explained, so the manager of the Eagle and Phenix Cotton Mill offered to maintain her savings, and that of other workers, in the company vault, with interest.
"We don't know her name, so we call the statue 'a simple act of kindness,'" says bank President and CEO Steve Melton. "That is what launched our bank, and it's a tradition and spirit we strive to uphold today." The bank is part of Synovus Bank.
"Team members," as the 600 employees are known, are eligible for tuition assistance and reimbursement, with scholarships available to their children. They can receive free health assessments and take advantage of flu shots, as well as a comprehensive wellness program.
"This is the first company I have worked for that gives consideration to your whole life, not just your work life," says Executive Assistant Donna Faircloth. "They give you the tools to encourage balance and value you as a person."
For example, team members are allotted time for volunteer work and receive more than 1,000 tickets to attend community events, and they enjoy an extra 20 hours off per year to cheer on their children's and grandchildren's scholastic and sporting events.
"By investing in our employees, we invest in our community and vice versa," Melton says, "not just with money, but also with our time." – CD
Delta Community Credit Union • Atlanta
Sometimes not scrambling for a profit yields greater rewards.
"We take great pride in the fact that we operate as a not-for-profit business," says Rick Foley, president and CEO of Delta Community Credit Union, a cooperative owned by members with the mission of "enabling well-lived financial lives."
"Our employees view themselves as customer advocates," he says. "We look for individuals who really have a heart for this type of dedicated service when we hire. I think you notice a real sense of purpose among our employees."
Eight Delta Air Lines employees organized the credit un-ion in 1940 with a stake of $45 in share capital; it now boasts more than 200,000 members and $3.5 million in assets managed by about 600 employees.
"Because of our lower fees, higher interest-bearing accounts and lower interest rates on loans, I know that I am making a difference in ways that add up to a better quality of life for all of us," says Branch Manager Robin Chance. "Plus, because of our association with Delta, we get to fly as standby passengers free of charge, so the credit union literally gives me and my family the world."
Another advantage of this cooperative?
"We simply do not have the same pressure to return ever-increasing profits to shareholders that many for-profit companies do," Foley says. "This pressure can lead some to take on undue risk or pursue business ventures beyond their primary area of expertise. So we entered the current economic downturn in a very strong financial position, and we continue to grow." – CD
Georgia Transmission Company • Tucker
Georgia Transmission Company (GTC) has its origins in an earlier oil crisis.
To lower power bills for their customers in the 1970s, the state's customer-owned electric cooperatives pooled their resources and created a statewide power generation and transmission co-op called Oglethorpe Power.
GTC, the wiring end of the operation, spun off as a separate cooperative in 1997.
Its 280 employees plan, build and maintain high-voltage power lines and substations that keep 39 electric membership cooperatives and four million Georgians humming in climate-controlled comfort on the state's power grid of 17,500 miles of transmission lines.
"We have a unique relationship with our owners – the EMCs – in that we work closely with them every day," says President and CEO Mike Smith. "I think that's a motivating force, that we don't have to please faceless investors or a board of directors we never see."
GTC also promotes "work-life balance" with flex time; a 9/80 work schedule; and a variety of wellness programs, including sports leagues and an on-site fitness center. Also, to ensure a well-rounded and intellectually stimulated employee, the "GTC University" offers courses in leadership development and encourages cross-training and job rotation.
"If you're a designer who wants to learn about construction, you can swap responsibilities and get that breadth of experience, which in turn grooms you for advancement," Smith says.
Adds David Revill in the electronic maintenance department: "GTC is the best place to work in Georgia not only because it does these things, but because it does all of them for the right reasons." – CD
J.P. Turner & Company • Atlanta
When partners Tim McAfee and Bill Mello founded financial services firm J.P. Turner & Company in 1997, they had a simple litmus test for potential employees. "We wanted to have a company with employees that we would want to have over for a backyard barbecue," he says. "We've succeeded. We all really enjoy working together."
The financial services industries have had a rough couple of years. "Even in hard economic times, the company has managed to grow and flourish," says Accounting Processes Manager Nick Pichetto. "This is due to the outstanding management, leadership and hard workers at J.P. Turner."
"This industry is always stressful," says McAfee. "We see the market cycle every few years. We were here when the 'dot-com' bubble burst and through this most recent market. But [our employees'] job is to talk clients through these times. The value we add is the ability to help them focus on understanding the marketplace."
Client focus means going above and beyond the norm, and J.P. Turner employees regularly demonstrate their willingness to do just that. "Recently one of our competitors went out of business, and many of their representatives were unable to service their clients," McAfee says. "It was important to get them registered with us and able to conduct business quickly." Virtually everyone in the office worked until nine at night for two weeks getting paperwork processed. "Instead of being a negative, it turned into something positive," McAfee adds. "It was a team effort where everyone chipped in to help." – PR
Nexxtep Technology Services • Valdosta
Who does a small- to mid-size company call when technology questions rear their bewildering heads? If that company is in Valdosta or the surrounding south Georgia region, chances are they'll call Nexxtep Technology Services.
Since its founding in 2002, Nexxtep has watched its growth curve climb steadily upward. "We designed Nexxtep to offer premium service not available in this part of Georgia," says Stuart Avera, vice president of Nexxtep. "Then we found the right people to fit into our company culture, people who want to be challenged and want to do whatever they can to serve their clients."
Selecting the right people remains a high priority at Nexxtep. Avera, along with the three other founding partners, Paul Nichols, Ryan Williams and Bart Shiver, play an active role in interviewing and hiring new employees and expect current employees to weigh in on how well they believe a potential employee will fit in. Avera says employee feedback created several initiatives, allotting funds for client appreciation and ongoing surveys measuring client satisfaction, that have played a role in promoting overall customer satisfaction and company growth.
Avera believes asking for input strengthens the management/employee relationship and increases employee buy-in. Anne Shendon, director of marketing, agrees. "Most employees have been here for three years or more, which is unheard of in a consulting firm where almost everyone is under the age of 40," she says. "Why do we stay? Not for the money, although the salaries are competitive. We stay because we know we're truly valued and respected." – PR
Northeast Georgia Medical Center • Gainesville
Northeast Georgia Medical Center (NGMC) is the crown jewel in the Northeast Georgia Health System (NGHS), a nonprofit health services group serving 13 counties in north Georgia. A 2010 Thomson Reuters survey named the NGMC, located in Gainesville, one of the 100 Top Hospitals in the United States, a glowing endorsement shared by the hospital's employees.
"Northeast Georgia Medical Center is the best place to work in Georgia, because we truly care about our patients and the staff," says Nursing Recruiter Taylor Day. "Everyone owns their job, and we're all passionate about what we do. Whether you're a doctor, nurse or housekeeper, it is an 'everybody knows everybody' environment.
Employees are encouraged to contribute to the success of the hospital's mission, whether directly involved in bedside patient care or not. Employee feedback and communication is a hallmark of NGHS according to Executive Vice President and Chief Operating Officer Carol Burrell.
"We take regular employee opinion surveys and base action plans on the feedback we receive," she says. "We hold round the clock 'town hall' meetings two times a year to give folks an opportunity to hear from management directly or to voice their concerns." When employees expressed safety concerns regarding a new parking deck, management did more than listen. "Security was beefed up in the hospital parking garage to the point that a new employee said she had never felt so safe in her workplace," Burrell says. "I don't think it's possible to over-communicate with your employees." – PR
Shaw Industries • Dalton
With about 25,000 employees, Shaw Industries, the Dalton-based flooring company, ranks as the world's largest broadloom carpet maker and one of Georgia's leading manufacturers. However, it strives through sustainability initiatives not to track up the rug with its industrial processes.
"Shaw's dedication to environmental responsibility in everything we do is the main reason I chose to work here," says Emma Williams, environmental communications manager. "Every day I learn something new about the things we are doing to make sure our business has the smallest impact possible on our environment. There is an overall culture of dedication to people, the community, and – critically – the environment."
As part of the "evergreen cradle-to-cradle" policy, Shaw uses 50 collection points across the country to gather post-consumer carpet, which is converted back into nylon – a process that saves landfill space and recycles more than 100 million pounds of waste a year.
The company is similarly committed to its human resources with Shaw Learning Academy, ranked among the top 125 employee-development programs for six consecutive years in Training magazine. The Academy offers certifications, mentoring, job rotations and other instruction along with educational tracks for employees, ranging from GED to MBA programs.
"Economic declines in the housing industry have forced us to make painful cutbacks, which we try to handle with sensitivity and dignity," says CEO Vance Bell. "But one thing we have not cut back on are these opportunities for personal and leadership development that benefit associates throughout all of their roles in life." – CD
Spitfire Media Group • Buford
Spitfire Media Group draws its name from the nimble, audacious fighter plane the Allies used in World War II.
"Nobody in the firm is a pilot," says Co-founding Partner Bradley Sherwood, "but we share a love for aviation history and wanted a name and a brand that reflect that heroic spirit and makes you think of flight."
With its retro-hip aesthetics and lingo – the office in Buford is the "hangar," the 15-person crew the "squadron" – Spitfire has spread its wings since taking off in 2004, tripling in size and racking up five Davey Awards for its full-service, multi-media marketing work for companies across the country.
"Clients feel at ease with us because we're so approachable and straightforward with them," says Production Manager Gordon McMahan. "They don't get any stuffy agency attitude, with the all-black clothes and wire-rimmed glasses. We're all open and honest and committed to doing the right thing, while the creative juices flow."
Adds Designer Tammy Brown: "This field is usually de-fined by egocentrism, but here everybody's ideas carry equal weight, and if one person stays late, there's usually a partner staying late, too. So there are no 'glass offices' – just true collaboration that gets effective results."
And, oh, the frisky, water-cooler camaraderie: Spitfire's website boasts, "We've created an environment where creativity has free rein; where eating lunch together turns into a blog-worthy event; where ideas are welcomed and appreciated; and where sometimes you stay a little longer just because you want to." – CD
Trevelino/Keller • Atlanta
Dean Trevelino and his business partner Gena Keller grew up, professionally, in a different sort of public relations firm than the one that bears their names. "Good or bad, global agencies have to operate a certain way," Trevelino says. But Trevelino/Keller Communications Group focuses their sights on a different niche. "We are a boutique agency with national reach," Trevelino adds. "We're smaller, but have the experience to do regional and national work."
Being a 'boutique' firm also informs the firm's approach to employee relations. They broke down the traditional barriers between management and employee by literally breaking down walls. "We have two floors of the building, but there are no walls, no offices," Trevelino says. "No one is less approachable on the basis of their title. We talk to our employees about managing up. We encourage everyone to speak up and share their ideas, whether it's their project or not." Employees with the firm for a year begin earning shares in the company, providing a tangible sense of ownership and stake in the firm's success.
Response to the trust shown by Trevelino/Keller has been favorable. "I started at the company two years ago and already feel that I am an integral member of the TK family," says Account Executive Kelly Ronna. "My expertise in the field of public relations and social media has increased dramatically since starting work here. Our company takes the time to offer professional development opportunities as well as hands-on training and communication with clients and other peers." – PR