A Common Vision
The most successful private schools have a clear mission, strong leadership and teachers who are allowed to teach.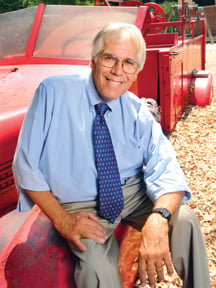 It was November 1970 and the founders of Atlanta's Paideia School intended to start classes in 10 months, but they had no students, no money, no campus and a 25-year-old headmaster with no administrative experience.
"And I'm not sure that anyone else applied. We never did have a lot of money early on, but we had enough going for us to get the ball rolling," says Paul Bianchi, who is beginning his 40th year on the job this fall.
The late 1960s and early 1970s were a time of reform in America, and it was reflected in the schools. For many southerners, "reform" meant fighting the surge of federally mandated racial integration. So a number of communities came together to form private, monochromatic schools as a way to maintain some form of segregated education.
For Paideia's founders, there was an opposite momentum at work. The people who hired Bianchi were interested in a more challenging, individualized and equitable – especially in terms of race – education for their children.
"It was a combination of things," Bianchi says. "They wanted more arts and a less rigidly standardized system of education. This wasn't an isolated event. You saw things like this happening throughout the country in the late '60s."
When Bianchi says "arts," it comes out as "ahts." In 40-plus years as an Atlantan, his Boston accent is hardly tarnished.
"Looking back, what's so striking to me now is so many people were so hopeful that they signed up their kids for school before we could let them know where the campus was going to be," he says.
By September 1971, with a lease on a building at 1509 Ponce de Leon Avenue in Druid Hills, Paideia opened for the fall term with 145 students. Bianchi says the school's current enrollment of 975 (29 percent are children of color) is about all they can handle. But most private independent schools are seeing dips in enrollment and endowments and spending more of their available cash on financial aid for students.
Private school families seem as hopeful or faithful as ever, and their expectations remain high. That's why they'll spend more than $38,000 a year in tuition and boarding fees to send their teenager to the Darlington School in Rome, or $13,760 to send their first-grader to Savannah Country Day, or $10,590 to send their four-year-old to Paideia for a half-day pre-K program.
The payoffs are opportunities and experiences that cannot be measured on a bubble test. Private schools tend to emphasize personal and social responsibility and community engagement. Extracurricular activities at public schools, such as art and athletics and community service, are usually prerequisites for a private school student's graduation.
Private school students typically have more course work, but it isn't determined by an amorphous legislative mandate. Instead, teachers have greater freedom to determine how to teach.
"We're lucky not to be held to arbitrary numbers on a standardized test," says David Powell, academic dean at the Darlington School. "We do not define ourselves that way."
The one phrase almost everyone interviewed for this story recited: Teachers are allowed to teach.
"This was a place that was organized with a great deal of teacher responsibility and autonomy," Bianchi says of Paideia, but he might as well be talking about Savannah Country Day and the Darlington School as well. "This is a place that values teaching and gives a good deal of ownership to teachers.
"It's good common sense that if teachers are allowed to do their best work, you have the preconditions of a school in which the students can do their best work and experience meaningful and productive growth."
Another couple of things each of the three schools profiled here has in common: 100 percent of the graduating high school seniors go to college, and everyone interviewed for this story comes from a public school background.
Savannah Country Day School
When the economy was thriving, enrollment eclipsed 1,000 at Savannah Country Day School (SCDS). They added faculty and completed two new capital projects – a new middle school opened in 2006 followed by a new lower school in 2008.
Vegetable gardens were scattered all over campus. The lower school has a greenhouse, and growing veggies is part of the third-grade curriculum. Those gardens, at least, are one facet of SCDS that continues growing, and most of what they grow goes to local food banks.
"The previous 10 to 15 years we'd all become accustomed to a burgeoning economy and growth, and we benefited. It felt almost luxurious at times," says SCDS headmaster Marcia Hull. "When the economic downturn came, it hit us hard like everyone else."
Enrollment (i.e., income) dropped, making it harder to cover costs. In the spring of 2009 the Board of Trustees, adopting tough measures to cut costs, accepted the resignation of Tom Bonnell, the head of school who had overseen the capital improvements and worked to increase economic, racial and religious diversity on campus. Then the athletics director was let go, then a longtime softball coach.
Some positions were consolidated. Some were eliminated.
"If there is a silver lining to this kind of serious economic situation, it's that I've seen everyone on campus, from teachers to administrators, digging deeper, collaborating," Hull says. "People are taking on more jobs, teachers are teaching additional classes."
When Catherine Fagin heard that teaching assistants were being let go, she took a break from retirement (she taught math and social studies at SCDS for 20 years, retiring in 1994). She called Hull and offered to help, taking a volunteer post in Bill Eswine's science class. Fagin plans to return to SCDS again this year.
"This school will always hold a special place in my heart," says Fagin, whose children are graduates of SCDS. "The fun part about working with some of these kids I'm working with now is, I taught their mothers and fathers. You know, you invest so much of your personal life in a place, you want to give something back."
The school's history dates to 1905 with the founding of the Pape School for Girls. Savannah Country Day, chartered in 1955, absorbed the Pape School's assets – including its faculty, facilities, curriculum and most of its students.
"We had a strong foundation to build on," says Hull, who has been at SCDS since 1971, following a stint teaching English in a public system outside of Washington, D.C. The former principal of the middle school, she became head of school after Bonnell's departure.
Enrollment is hovering around 900 now. Hull says about 30 percent of SCDS families qualify for financial aid, and about $1.2 million is annually devoted to that, but she says, "We find ourselves needing to double that amount. We've done our best to spread what we've had across as many families as possible."
Meanwhile, the school campus has become the setting for a summer program geared toward low-income families and students who are identified as at-risk. For six weeks each summer, SCDS provides a safe and structured learning environment for students from a nearby public elementary school as part of the national Horizons Student Enrichment Program.
The focus is on academics (reading, writing, math skills) as well as other activities (swimming, sports, music, art, field trips) to enhance the curriculum.
"Many of these students lose ground over the summer because both of their parents work, and the kids are on their own during that time," Hull says. "That downtime can be devastating to cognitive development. This program serves as a bridge."
Darlington School
David Powell keeps his patron saints close. They are framed on his office wall – a small Frank Zappa from a 1972 concert and a photo of playwright Sam Shepard.
He's been at the Darlington School since 1981, taught a variety of English courses (and acting, psychology, the Bible), and he currently teaches AP English. Last year the longtime English department chairman became a rookie again when he was named academic dean at the 105-year-old school.
"He's engaged in something Dar-lington has never done before," says headmaster Tom Whitworth. "In the past, the school had three divisions – lower, middle and upper schools. And those three did very little talking to one another, didn't share curriculum, hopes, dreams. It was three schools.
"So we get David in this academic dean position to talk to the pre-K teachers in the same room with the 12th grade math teachers, getting them all together to build curriculum."
Powell is Whitworth's "internal guy," the one who stays in touch with teachers and the classroom. Last year, Powell says, he spent a good bit of his time asking the question (and trying to answer it): "Are teachers teaching the kids in front of them or the kids in their imagination? A classroom is something the teacher and student create together."
That fact that different kids learn differently has become something of a mantra for Whitworth, who arrived at Darlington in 2005 after decades as an administrator at different private schools (though he began his career as a public school teacher, and both his parents were public school educators).
One of Whitworth's legacies at Dar-lington is the Glenn Learning Center, a program and a place specifically de-signed to serve students who have learning differences. Learning specialists work on a consultative basis with students and teachers, or directly with students needing academic support.
"There are 12 ways to teach the same concept. These kids have to be lifted up, not driven down," says Whitworth , who makes it clear that Darlington works hard to unleash the exceptional that often is hidden within the average.
"We take that middle percentage of kids that slip through the major cracks in the large public setting, good kids, strong kids, just not motivated, or maybe they're not equipped," he says. "It's that middle 60 percent of kids who thrive in independent schools."
Darlington's enrollment is down a bit from its typical 950, no surprise in a cash-strapped era when most private schools are struggling to maintain a steady flow of tuition. The school offered about $3 million in financial aid to families last year, says admissions director/assistant headmaster James Milford (Whitworth calls him his "external guy").
The school is in the fourth year of the $90 million "Second Century Campaign" to upgrade facilities (the first $21 million built a new middle school) and increase the endowment (which currently stands at about $30 million, Milford says). A girls dorm was rehabilitated and a totally renovated boys dorm was unveiled for this school year.
The school serves students from 30 different countries (including the U.S.). Spanish and French are currently taught, but Milford says Darlington is considering adding Mandarin Chinese in the future.
"We have to be sensitive to what the global community demands of our graduates in the next 10 to 15 years," he says. "It's going to be different from what was expected 10 or 15 years ago."
Whitworth was the founding headmaster of Flint Hill School in Oakton, Va. He helped grow that day school from 250 students at the outset to 1,100 by the time he left for Rome. At Darlington, he manages a school that mixes 185 boarding students with more than 600 day students.
"Almost every kid does something really well. God set it up so everyone has some skill and passion, but we're all wired differently," he says. "We are a school of four-year-olds in the pre-K and 19-year-old high school seniors. We're a day school, and we're a boarding school. Mixing and matching those programs and those kids doesn't just complicate life, it enriches life."
Paideia School
Nixon was still president and Vietnam was still a hot zone when Paul Bianchi became headmaster of Paideia. The times were ripe for a progressive school, and Paideia is unabashedly progressive, as in left of center, as in they field an "ultimate" (frisbee) team.
"But we still make the trains run on time," Bianchi quips. "This is not a free-form school; it has a structure to it. Sometimes people look at progressive schools and think there is no structure. But we have expectations; we believe that you grow if you work hard.
"So we have a clear structure and expectation of behavior, and doing your work. Looking at the academic success these kids have had, it's not happenstance."
Bianchi can't stand narrow measurements and top-down, cold-to-the-touch standards. But there are a few statistics he likes. He likes that of the school's 130 faculty members, 20 are Paideia graduates. And while he isn't remotely surprised or impressed that all 98 of Paideia's graduates last year went to college, Bianchi loves the fact that they went to 58 different schools.
"I like that they go all over the place. That's more important to me than who goes to what Ivy League school," says Bianchi, a Harvard graduate who figures SAT scores will take care of themselves, and by themselves are a terrible measurement of a school's success or a student's education.
"Someone once said, a Paideia parent, 'At some schools kids learn the answers; at Paideia kids learn the questions.' You want kids to have a sense of their own responsibility for their learning, so they can go to these colleges and continue to learn, because we live in a pretty fluid world where things change."
So Bianchi and the Paideia leadership over the years have avoided inertia.
"We use the eraser end of the pencil as much as the writing end, because we want to keep making it better, improving it," he says.
Lately, some of that improvement involves bricks and mortar. Suffering from what he calls "capital fund fatigue," Paideia just finished about $5.5 million in renovations, some of it planned (elementary school building), some of it out of sudden necessity (a fire destroyed a 100-year-old building that contained high school classrooms).
"We got a tremendous amount of support from our community, so we'll be able to build that building free and clear of any debt," Bianchi says.
In its first 39 years of operation, Paideia always operated in the black. That isn't about to change, even as the demand for financial aid keeps growing.
As he begins his 40th year (he's got to be the longest tenured headmaster in the state), Bianchi jokes that he has come to the conclusion that anyone can be a headmaster if he or she has about seven good lines in their repertoires. He borrows from literature, speeches, movies, comedians. But one of his favorites is the adage, "Good fences make good neighbors."
This was an intuitive thought at Paideia's outset, this concept of keeping jurisdictional boundaries clear. Bianchi, who teaches modern American history (post-World War II), says there is no substitute for talent, and the best administrators know when to be invisible.
"Teachers are perfectly willing to live the life of a teacher if they are allowed to teach. But there are horror stories out there," he says.
The Paideia philosophy always has been grounded, if that's the right word, in the belief that school can be informal, individualized, interesting and even educational. It's a far cry from the harried public school environment and the search for an elusive one-size-fits-all solution.
"Schools in this country have become so incredibly standardized. This high-stakes testing, which bears down on teachers in a way that crushes the spirit of so many classrooms, doesn't enhance learning. It's not working.
"What generally happens in most American schools, and it's only gotten worse, is teachers are given less and less professional latitude. It's outrageous. We just simply refuse to do that here. Instead, we stay out of the way a lot."