40 Under 40: Georgia's Best & Brightest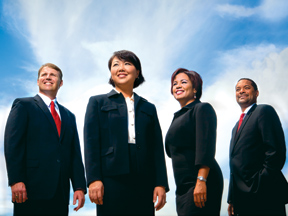 Georgia Trend's 2010 group of honorees, our 14th, showcases young achievers in business, government, politics, education and nonprofits.
From a stack of nominations submitted by readers, our editorial staff selected 40 individuals who are making an impact on their professions, their communities or, in some cases, the entire state. It was a tough task, as it is every year, to limit our choices to 40; but we believe we have come up with the cream of the crop, the individuals you will be hearing about for years to come.
The four representatives of the Class of 2010, shown on these pages and on the cover, were photographed by Adam Komich for Georgia Trend. From left, they are Jason Barlow, Pooler; Helen Kim Ho, Decatur; Lisandra De Jesús, Albany; and Imara Canady, Atlanta.
Individual profiles were written by Candice Dyer, Linda M. Erbele, Jerry Grillo, Ed Lightsey, Bobby Nesbitt, Patty Rasmussen, Krista Reese, Mary Welch and Ben Young. The section was edited by Susan Percy, with assistance from Christy Simo.
Jason Barlow, 36
President/CEO/Owner
Trinity Underwriting
Managers Inc.
Pooler
Two years ago, Jason Barlow saw a niche in commercial transportation wholesale insurance and started Trinity Underwriting Managers to fill it. The policies are now written in 41 states around the country.
"I'm proud that I was able to create a business that helps independent agents. Most of the companies we do business with are family businesses," he says. "Family is very important to me."
He serves on the board of his children's Catholic school and volunteers at the church and in the community, including at the St. Vincent de Paul Society. He also coaches Little League Football.
"The success of the business allows me the luxury of coaching with my boys, volunteering and doing all the things around the community that I really enjoy." – LME
Hannah Byrne, 39
Owner and Chief Creative Officer
Smack Dab Studios
Savannah
Byrne conceived the whimsical name of her company, a full-service graphic design and web application development firm, "because we get right up in the middle of your business so that your branding and logos, from business cards on up, has a cohesive look and message," she says. "But you don't have to house us."
Smack Dab is a knowledge-based virtual company, which means its employees can float around their picturesque city wherever they find a wi-fi connection. Among other projects, Byrne, who holds a degree in colonial history, is integrating the past and future with a digital database of historical markers with GPS coordinates. So, soon you will be able to find a Civil War battlefield in Georgia with a flick of your iPhone.
"As far as we know, there is no other statewide, interactive, computer program like this," she says. "We use technology to preserve and propagate history in exciting ways." – CD
Imara Canady, 38
Vice President of Programming and Strategic Partnerships
National Center for Civil and Human Rights
Atlanta
Canady has considerable experience in politics, working as a key aide for Atlanta Mayor Shirley Franklin and budget manager for Al Gore's 2000 presidential campaign.
But his current focus is to build support for a national civil rights museum in Atlanta. Along with a "blue ribbon team" that includes board members Andrea Young, Vernon Jordan and Ken Burns, he is helping to make that dream a reality. Despite the economic downturn, the $125-million, 100,000- square-foot project is on target to break ground in 2011.
"No one has really told us 'no,'" he says, although some have had to seek "creative ways" to support the project. "Once we tell them about it, the community is instantly energized."
Canady praises the "essence of Atlanta's corporate spirit" throughout the city's history.
"It's a community that has always thought it was more important to say that great things were birthed here," he says. – KR
Stacey H. Chapman, 39
Senior Associate
Heery International, Inc.
Atlanta
As a military brat and wife, Stacey Chapman knows how to quickly make a difference. "Every three years I moved and started over. By volunteering, you can make friends quickly, create opportunities and open doors."
Chapman is doing just that both in the professional and civic worlds. At Heery since 2006, Chapman develops business relationships within the healthcare and justice communities and continues her philanthropic and charitable activities.
"I'm able to merge my passions of helping others, networking and sports," she says. She works closely with Hill-Hope Elementary School to bring enrichment programs, field trips and special events to the students. A member of the board of directors for the Atlanta Council of Girls on the Run, Chapman has revitalized its scholarship fund-raising program.
"I want girls, especially those from disadvantaged homes, to develop self esteem and make good decisions about their futures. I want them to set and reach their goals." – MW
Melissa Conrad, 30
Associate Director
Georgia STAND-UP
Covington
Conrad was the first employee of this nonprofit (full name is Georgia Strategic Alliance for New Direc-tions and Unified Policies) that bills itself as a "think and act tank for working communities," redefining neighborhood activism away from "not in my backyard" acrimony.
"Too often, groups are seen as being 'anti' something without offering positive solutions," she says. "What we do is bring folks together – community residents, leaders and activists with government and developers – to be strategic in building more livable communities that benefit everybody."
She does not so much fight City Hall as engage it in a productive, far-sighted process that ensures, for example, that residents who live near the BeltLine will enjoy economic benefits, employment opportunities and input in its construction.
"Most people want to play a role in civic life, in the progress of their communities, but don't understand how the system works," she says. "We give them a cadre of folks with expertise." – CD
Caitlyn Cooper, 25
Chief Development Officer Forensic Investigator
Lily Pad, Inc.
Albany
Caitlyn Cooper wears two hats at Lily Pad, Inc., serving as chief development officer at the nonprofit rape crisis and child advocacy center and providing direct services to clients as a trained forensic interviewer of victims of sexual abuse and assault or witnesses to heinous crimes.
"Being able to see the harm done to children right in front of my eyes and hearing their account of it gives me the passion to raise much-needed funds and awareness for the center," says Cooper. "The children are my motivation."
Lily Pad clients are spread over 30 southwest Georgia counties, a grossly underserved community. Cooper develops creative fund-raisers, seeks grants and raises awareness of the needs of assault victims in the region.
She also founded Emerge Albany, a group 350 strong, encouraging young professionals to remain in Albany and contribute their energy and talents to the political, philanthropic and economic development landscape. – PR
Brian Daniel, 35
President/CEO
Carroll Daniel Construction Co.
Gainesville
At the age of 28, Brian Daniel came home to Gainesville to run his family's construction company when his father passed away.
"I knew a little bit about construction but practically nothing about running a business," he says. He credits the people working at the company for its growth and success.
He is a member of the Northeast Georgia Medical Center Foundation and on the boards of the United Way of Hall County, the Greater Hall Chamber of Commerce and the state board of Associated General Contractors. He has been on the board for Challenged Child and Friends, an early intervention center for children with disabilities.
"It is hard to walk through the center and not get attached to the place," he says. "It has meant a lot to me because service there has such a tangible effect in the kids it serves." – LME
Lisandra De Jesús, 38
Dean of Admissions
Albany Technical College
Albany
As a high school student in the south Bronx, Puerto Rico-born Lisa De Jesús felt the sting of stereotyping when her guidance counselor seemed indifferent to her interest in attending college. After all, what possible hope could a Puerto Rican girl from the inner city of New York have?
"I was never informed or prepared for post-secondary education, college or university, or the availability of financial aid," recalls De Jesus, dean of admissions at Albany Technical College. "I want others to have the opportunities for education that were so difficult for me."
Her passion for learning led her to begin work on her Ph.D. in higher education administration, and she recently finished a stint as a member of the Complete Count Committee, a local 2010 census effort. Hers is a familiar face in the local economic development community where she volunteers her bilingual skills. – EL
Clem Doyle, 37
Attorney
Brock, Clay, Calhoun & Rogers, LLC
Marietta
"Public education is the most heavily regulated industry in the country," says Clem Doyle, specialist in education law and school board attorney for the Marietta School System since 2003. "There are numerous laws and court cases affecting the education industry. I help the district navigate the legal terrain."
School systems are often the largest employer in a county, so legal issues are bound to arise. "We deal with everything from personnel issues to land use, student discipline to budgets," says Doyle, who helped craft the system's Special Purpose Local Option Sales Tax (SPLOST) initiative to fund capital improvements.
In addition to working with the Marietta system, Doyle consults with the firm's other education clients. "Educators are passionate about their work, and parents are typically emotional about education because they're 'protecting' their child," he says. "I look forward to hearing my phone ring. There's usually an interesting problem or situation that needs to be handled." – PR
Rhom Erskine, 32
Senior Manager – Diversity and Inclusion
Harland Clarke Holdings Corp.
Atlanta
At the suggestion of an employee, Rhom Erskine encouraged Harland Clarke to sponsor a meeting of the Chinese Business Association. The resulting partnership has been a resounding success.
"From a company perspective, it helps us achieve a big goal in diversity," Erskine says. "It's not just the right thing to do, but an imperative as far as the bottom line. We come out of these meetings with new insight."
Junior Achievement is one of his favorite volunteer opportunities, he says, because it combines basic skills students are learning with life skills and shows them a correlation between decisions made now and the life they will lead later.
Erskine chairs the Harland Clarke Diversity Council and is on the boards at Zoo Atlanta and the Atlanta Diversity Managers Affinity Group (ADMAG.) He also serves as vice president for communications for the Atlanta Chapter of the National Black MBA. – LME
Sarah Ford, 27
Development Director
Covenant Community, Inc.
Atlanta
Sarah Ford's parents instilled in her the importance of helping others. She took that lesson to heart.
As the development director of Covenant Community, a residential life stabilization program for homeless men recovering from substance abuse, she does "all that's necessary to help them get the social and work skills needed to start a fresh life."
But she doesn't stop there. An Agnes Scott College graduate, Ford was a member of the host committee for the High Museum of Art Atlanta 2010 Wine Auction and is a past volunteer with VSA Arts Georgia, Atlanta Charity Clay and the AIS spring auction. Last year she traveled to Kenya to establish a computer lab for a school for the blind and recently shipped 22,000 books to Kenya to establish a community library.
"I've had people support me and give me hope, and I want to give back," she says. "Everyone deserves at least a second chance." – MW
Holly Greene, 35
Associate Provost
Wiregrass Georgia Technical College's
Cook County Workforce Development Center
Sparks
Holly Greene is a community helper, in her job and in her numerous volunteer activities.
She sees her job with Wiregrass Georgia Technical College as helping the community by helping people.
"It is very rewarding to see people gain skills so they can get meaningful employment," she says. "It is so important to them and to their families and in turn to the whole community. I love working in technical education because you can see the rewards for the students immediately."
Her love of education and people doesn't stop at her office door. A former Adel-Cook County Chamber of Com-merce Woman of the Year and Volunteer of the Year, Greene has recently taken on the responsibility of serving as chairman of the chamber board of directors.
"It's something I enjoy very much," she says. "I really believe it is our responsibility to give back to the community." – BN
Jessica Guinn, 30
Director of Planning and Development
The Collaborative Firm
Powder Springs
Jessica Guinn lives in the present, but her attention is firmly set on the future. As the director of planning and development for The Collab-orative Firm, Guinn leads the East Point-based planning company's efforts, specializing in comprehensive planning, zoning codes, zoning overlay districts, redevelopment and revitalization plans and serving local housing authorities.
Guinn, who holds a master's degree in public administration from Kennesaw State University, enjoys "working on the steps that need to be taken now in order to ensure that the infrastructure is in place for future generations."
Guinn, who is "passionate about planning," believes "a community involves so many people from different walks of life with different values. A good plan needs to balance those values with what our future environmental, housing, recreational and commercial needs will be."
Ultimately, she says, a well-designed plan "brings people together so they have a sense of community." – MW
Rebekah Henry, 27
Executive Director
Gertrude Herbert Art Institute
Augusta
Rebekah Henry is an Augusta native and a ballet dancer who brings youthful energy to the 73-year-old Gertrude Herbert Art Institute.
"I want to position us as the premiere art institute for the region," she says.
Henry sees big potential in the Herbert's outreach programs, such as Hidden Thoughts: Visual Communication, a program for abuse victims from six months to 18 years to provide art instruction and visual therapy. "There are not a lot of tools in the region for alternative therapy for these victims in a safe environment."
As Augusta's only nonprofit contemporary art gallery, the Herbert can be adventurous as well as educational.
"We bring in artists from all over – most recently from Mexico City – that have not shown in the state or the region," she says. "We want to open the eyes of Augusta." – BY
J. Randall Hicks, 36
Attorney
Valdosta
Randy Hicks graduated from Mercer School of Law in 1999 and immediately entered the U.S. Air Force Judge Advocate General (JAG) Corps.
His job included providing independent counsel and legal service to command staff, officers and airmen.
Hicks served on active duty until mid-2004 when he returned to Valdosta to open his own practice, often dealing with military clients from nearby Moody Air Force Base.
He currently holds the rank of Major in the 165th Airlift Wing of the Air National Guard located in Savannah. Once a month, Hicks travels to Savannah to fulfill his service commitment, but it's more than just a requirement.
"My primary motivation is that I still enjoy it, and I feel I'm contributing," he says. "It's a good feeling to know that countless troops are ready to deploy because I've been able to help them get their affairs in order." – PR
Helen Kim Ho, 39
Executive Director
Asian-American Legal
Advocacy Center
Decatur
She has joked on an NPR "Storycorps" broadcast that she grew up "Asian trailer trash." In fact, her highly educated Korean immigrant parents traded good teaching jobs in their homeland for factory work and a mobile home "to give their kids a better life," she says.
Ho graduated from Rice University in Texas and attended Emory Law School on full scholarship. While practicing corporate law in Houston, she was drawn to pro bono and nonprofit work, and quietly "built up a war chest for myself."
That allowed her to move back to Atlanta, where she founded the non-partisan, nonprofit group that successfully led the opposition to SB 67, the English-only driver's license bill. Still, she thinks it's likely that an Arizona-style challenge will be introduced in Georgia, but she enjoys talking to adversaries face-to-face to work out solutions.
"I'm results-oriented," she says. "Immigrants want to learn English. Keeping them from driving to school or work doesn't help them do that." – KR
Genous "Gator" Hodges IV, 38
Butts County Commissioner
Yardmaster, CSX Transportation
Jackson
A county commissioner in Butts County for three years, Gator Hod-ges sees the recession in a different light than most.
"As a conservative, the recession is getting us back to where we needed to be in government. We've eliminated over $5 million from the county's expenses," he says. "The economy has forced us to do that, and that's not such a bad thing."
Hodges is chairman of the Association County Commis-sioners of Georgia's Subcommittee on Economic Develop-ment, a part of the 2010 Leadership Georgia class and a member of the Middle Ocmulgee Water Council. He's a participant in Partners for Smart Growth and involved in fund-raising for the United Way.
He squeezes in time for fun, though, and coaches for the county recreation department.
"I really believe youth sports teaches our children team work, organization and social skills," he says. "It's an invaluable part of our younger generation's growth." – LME
Morgan Law, 39
Executive Director
Houston County
Development Authority
Warner Robins
Morgan Law enjoys helping to facilitate jobs and investment in Houston County.
"Economic development is, to me, the most basic form of helping someone, because you're helping them help themselves," he says. "It can be very frustrating, but when it all comes together in a successful project, then it is incredibly rewarding."
Of all the projects he has helped bring to the area, the recruiting of the Little League International Southeast Regional Headquarters has generated the most excitement.
He is a board member with the Georgia Economic Developers Association, and he also volunteers with the Governor's high school graduation coach initiative, serving as a liaison between local graduation coaches and the business community.
"It's been a very rewarding opportunity to help kids that are struggling get across the goal line of high school graduation." – LME
Dan McCabe, 39
Regional Sales Manger
OSI Oncology
City Council Member
Johns Creek
One of Dan McCabe's proudest moments was the "birth" of the city of Johns Creek. Then he ran for office.
"I was one of those people that do not like government at all," he says. "That's the reason I ran."
He decided that if the community was going to create another layer of government, then it needed to be as efficient as possible. He believes that the city is very close to accomplishing that.
Additionally, McCabe and his family volunteer frequently for the Susan G. Komen Race for the Cure.
"Breast cancer is a woman's disease. My wife and my two daughters are the most important people in the world to me," he says.
In addition to raising money for research, his goal is awareness. "I've developed a passion for one of the biggest challenges with cancer in this country – that is that people don't pay attention to their bodies." – MW
Clint Mueller, 38
Legislative Director
Association County Commissioners of Georgia
Acworth
While most of us wonder what in the world is going on when Georgia's General Assembly is in session, Clint Mueller knows, often better than most of the legislators themselves.
As legislative director of the Association County Commissioners of Georgia (ACCG), it's Mueller's job to lobby on behalf of Georgia's 159 counties. He's been with ACCG for 14 years, joining the organization soon after receiving his master's in public administration from UGA, and is known for his broad knowledge of state issues.
"We have worked very hard to build a reputation for providing good information," he says. "We want the people we work with to know we can be trusted."
When the Legislature is in session, Mueller is "working about every waking hour," but he stays involved in his growing family's activities – he has twin boys active in Little League, a 5-year-old daughter and another girl due this month. – BN
Farooq Mughal, 34
Managing Partner
Mughal Strategies Global Partners
Buford
Farooq Mughal heads up Mughal Strategies Global Partners LLC (MSGP), a full-service government relations and political affairs firm consulting in four core practice areas: political management and fund-raising, government relations, state and local affairs, and international relations.
But as a naturalized U.S. citizen of Pakistani descent, he focuses much of his attention on educating and advising political and business leaders, as well as candidates on both sides of the political spectrum, about the concerns of the Muslim-American and Asian-American communities.
"There's been a positive response to our work," he says. "This coming August, I will be the first chair of the Asian Pacific Islander Caucus of the Democratic Party of Georgia."
Mughal was educated at Mercer University in Macon. He doesn't discount running for office himself someday, but for now is focused on making a difference in his adopted homeland by helping foster greater understanding of the diverse Asian community. – PR
Whitney Munn, 33
Associate Director of Corporate Social Responsibility
Kilpatrick Stockton
Atlanta
Munn always thought she'd be a teacher like her mother. But "volunteering was always a part of my life," she says.
Today, Munn manages all aspects of Kilpatrick Stockton's extensive corporate responsibility efforts, including charitable contributions, nonprofit board placements, diversity and sustainability. Freedom Writers, one of the firm's most effective programs, created a "holistic" environment for improving reading and writing skills at Atlanta's Booker T. Washington High School, with mentoring teams and a full-time academic coach.
"They'd mostly been taught how to answer multiple-choice questions on a test," she says. "No one had ever asked them to explain their lives or defend a position."
The result: Freedom Writer students achieved a 99 percent college acceptance rate, with more than 330 scholarships worth over $8 million.
For Munn, the high point was a firm-financed student trip to Washington, D.C., where "my mom got to meet 'my kids.'" – KR
Jennifer Nelson, 38
Deputy Director
Existing Industry and Regional Recruitment
Georgia Department of Economic Development
Macon
As the battle with a bad economy continues, Jennifer Nelson is serving on the frontlines for Georgia. As a deputy director with the Georgia Department of Economic Development (GDEcD) based in her hometown of Macon, she recruits new companies and helps existing industry to survive and grow.
During her 12 years with the state, she has helped bring more than 1,800 jobs and more than $647 million to her 11-county middle Georgia region. That's a big boost to the local economy, but, says Nelson, "What is most meaningful is the human side, the fact that we helped create jobs for people who need them. To me, it's not just a job, but something I truly enjoy."
She also channels that desire to help others into a variety of community activities with such organizations as the Junior League of Macon, Goodwill and the Macon Soccer Club. – BN
James Anderson
Nixon, 28
Vice President
Professional Services
Tift Regional Medical Center
Tifton
James Nixon spends a lot of time in meetings. He serves on a number of boards in Tifton, varying from the Chamber of Commerce to the Tifton Arts Council to the Tift County Foundation for Educational Excellence. As if that isn't enough, last year he helped to start a new group called the Tift Area Young Professionals.
"We found there really wasn't a catalyst for younger people to establish themselves and get together in the traditional organizations," he says. Meetings offer personal growth, networking and community service.
He's most passionate though, about his involvement in Big Brothers Big Sisters of Tifton, where he is president of the corporate board and a member of the local leadership council.
"Basically, we're trying to establish a role model structure for younger kids," he says. "I believe life is all about exposure. We try to show kids a way out." – LME
Bill Oyster, 39
Owner
Oyster Fine Bamboo Fly Rods
Blue Ridge
As a professional cyclist, Bill Oys-ter competed in 60 races a year when a crash ended his cycling career. He turned his passion for fly-fishing and desire to learn how to build a classic bamboo rod into a business.
It took six months of self-study, but he created an "ugly bamboo rod." The next rod he made wasn't ugly. He sold it and hasn't been able to keep up with demand since. Among his satisfied customers is former President Jimmy Carter, who received a specially commissioned Oyster rod.
"When I started I didn't have much to lose," Oyster says. "I had a supportive wife, and we were from Athens where the less you have the cooler you are. We were extremely cool."
Oyster decided to share his rod-making knowledge through classes, increasing his business.
"I share everything I know," he says. "It expands my business, and the craft survives." – PR
Darius Pattillo, 33
Deputy Chief Assistant over the Juvenile Court Division
DeKalb County District Attorney's Office
Atlanta
After Pattillo spent more than five years trying major felonies, his colleagues in the D.A.'s office named him "Prosecuting Attorney of the Year" and promoted him to his current position, which he had pursued because of his concern for Atlanta's youth.
Pattillo, who holds a degree in secondary education, strives to counter the bleak "juvy" stereotypes of kids in handcuffs. "Our first commitment is to protect the community, but we also are here not just to punish but also to help and prevent, to redirect young people away from criminal activity."
He is reaching out to teachers of middle grades and up; volunteering as a Big Brother; and providing high school students with Atlanta Bar Association summer internships – the same program that first lured him to the law.
"I'm a product of Atlanta public schools," Pattillo says. "Education is the great equalizer, so we need to reach children as early as possible." – CD
Amy Phillips, 38
Senior Executive Vice President InfoMart
President, Amy & Tammy's
Boxed Lunch Co.
Marietta
A high school internship at her company changed Amy Phillips' life.
"First I was an intern, then I worked after school. After graduation I worked full time and went to college part time. I did a little of everything and found my niche in accounting," she says. "I was the first employee and had to figure out how to do payroll so they could pay me."
She helped grow the applicant screening company to a $15-million corporation. She currently manages the finance and accounting aspects of the company.
In 2002, Phillips and InfoMart President Tammy Cohen started a catering firm that served boxed lunches for employee meetings and civic groups that rented the company's large community room. That endeavor has mushroomed as well.
"I'd make the food and do the menus, Tammy, the marketing. Now we have four employees and are thinking about our next move – maybe franchising. But our main focus still is InfoMart. – MW
Jay Prince, 39
Vice President
Prince Automotive Group
Valdosta
A third-generation car dealer, Jay Prince graduated from the Univer-sity of Georgia, earned his CPA, and worked for two firms in Atlanta, including one specializing in auditing car dealerships, before returning to the family business in Valdosta.
These days, Prince spends his time managing two of the group's four dealerships, putting him in daily contact with car manufacturers, employees and customers. And despite troubled economic times, their business is doing well and is looking up, good news for the local economies.
"We do over $100 million in sales," Prince says. "The sales tax our sales generate definitely affects local governments."
Equally important to Prince, they haven't laid a single employee off due to the recession. "Our employees are second to none," he says. "You'll succeed when you surround yourself with good people who take care of the customers." – PR
Nikki Rhodes, 31
Special Agent
Georgia Bureau of Investigation
Albany
Don't mess with Nikki Rhodes. The former college volleyball player looks friendly and outgoing, but as a special agent in the GBI, Rhodes more than holds her own in everything from investigating hom-icides, abuse cases and undercover drug operations to dealing with informants and providing expert testimony on the witness stand.
"I've never lost a case in court," she says. She received specialized training in marijuana investigation and as a methamphetamine lab agent, and is also qualified to teach the subjects.
After graduating from Georgia State University in 2002, Rhodes spent about five months at the GBI Academy.
"I sold my first piece of dope [during an undercover investigation] in 2003," she says. "I was actually kind of scared the first time around, but I knew I wanted to be in law enforcement. I wanted to impact and change my community and show people there's a different way to live." – PR
Kendra Russell, 39
Associate Professor and Assistant Director of the School of Nursing
Georgia College &
State University
Macon
Dr. Kendra Russell loves the impact that nurses have not only on the patient but also on the family.
"Nurses take the crisis out of a situation by helping a family that is fearful or needy," she says. "I teach my students to manage the healthcare of patients and to supply them with information that helps them even after being discharged."
Dr. Russell honed her nursing skills in the neonatal intensive care unit at Macon's Medical Center of Central Georgia. She completed her bachelor's degree in nursing and her master's in nursing administration at GCSU in Milledgeville, where she now teaches nursing students. She earned her doctorate at Georgia State University.
"This opportunity presented itself, [so] I went into a different direction in nursing – educating nurses," she says. "I can see myself [one day] being a vice president of a hospital or maybe the president of a college." – MW
Alan Scoggins, 39
Senior Vice President
Skanska USA Building Inc.
Columbus
As an executive with one of the nation's largest construction companies, Alan Scoggins oversees major healthcare projects in Georgia and nearby states, but he also takes a personal interest in the well being of the communities where he lives and works.
Scoggins is based in his hometown of Columbus, but he also has an office in Atlanta. He's active in both communities, volunteering with the Greater Columbus Chamber of Commerce, heading a golf tournament to raise funds for scholarships at Columbus Tech and serving as chair of the 2009 Atlanta Heart Ball, which raised more than $850,000 for heart disease research.
"I believe it is very important to give back," he says. "I am proud to do what I can to help organizations that work to make our communities stronger." – BN
Kevin Scott, 26
Director of Global Outreach
Global LEAD
Kennesaw
Sure, Scott has always been interested in Global LEAD's goals of "changing the way our generation sees the world." But he jokes that he first joined up because "it was about 80 percent female."
With UGA legends Vince and Barbara Dooley as supporters/advisors, Global LEAD has now led 150 students on three gap-year, service-oriented trips that blend adventurous journeys (Rio, Capetown, the Greek Isles) with the kinds of experiences they would never find elsewhere – like living on $1 a day in a slum, just like the families they help abroad.
Students earn college credit and take part in leadership seminars, but there's also time for exploring local culture – all part of what Scott hopes will change a student's life forever.
"We take them out of the classroom, out of the comfort zone, and give them the skills to change what they find there," he says. "It's learning to live before you die." – KR
Scott Smith, 39
Vice President & General Manager, Athens Market
Cox Radio Inc.
Athens
Professional inspiration can come from unusual sources.
"I watched 'WKRP in Cincinnati' on television and knew that's what I wanted to do," Scott Smith recalls. "I was 14 years old when I was on the air on my hometown radio station."
Smith bought and sold radio stations, eventually buying a group of stations with a partner. He was chief executive officer of Southern Broadcasting in 1998 until it was sold to Cox Media in 2008.
Smith currently oversees six radio stations in the Cox Media Group, five in Athens and one in Gainesville.
"All our markets are run as individual markets," he says. "Each GM has autonomy in their market." And Smith says radio remains relevant in the Internet age.
"The industry has changed focus, becoming hyper-local," he says. "We serve the local community online and by offering [applications] for mobile devices. Radio is up over the last year." – PR
Jeremy Stroop, 34
Operations Manager
Carpet America Recovery Effort (CARE)
Dalton
Since 2002, Carpet America Recovery Effort (CARE), a public/private 501(c)(3) nonprofit organization, has diverted 1.33 billion pounds of used carpet from the nation's landfills.
In 2007, Jeremy Stroop became the organization's only full-time employee, serving as liaison between CARE and carpet manufacturers, recovery professionals and even those in research and development. "Carpet manufacturing has become one of the most green-conscious industries," he says. "And carpet recycling and diversion is a major growth industry."
CARE encourages market-based solutions like GeoHay for carpet reuse and recycling. GeoHay, a product made of recycled carpet fibers, currently lines Topsail Hill State Preserve in Walton County, Fla., protecting the beaches from the massive BP oil spill in the Gulf of Mexico.
Stroop is active in his local community as well, serving on the board of the Walker County Foster Parent Organization and, with his wife, welcoming a foster child in their home. – PR
Joseph A. Surber III, 39
Vice President & Chief
Information Officer
AGL Resources
Norcross
When Joe Surber applied for the IBM co-op program early in his college days, he had no idea he would be making a career change. A journalism major at the University of Georgia, Surber thought he might get a job in marketing; instead he ended up "thrown in the deep end" of the company's technology program. He found he liked it, and after college he continued his career in the field.
At AGL, he heads a department responsible for "anything that touches technology" for AGL Resources and its companies, which serve 2.3 million customers.
"One of the great things about AGL is its philosophy of giving back to the communities it serves," he says.
He has taken that philosophy to heart. He's serving his second year as chair of the technology campaign of the Metro Atlanta United Way and is active with such community organizations as Habitat for Humanity and TechBridge. – BN
Sara Totonchi, 33
Executive Director
Southern Center for
Human Rights
Atlanta
"I fell in love with Berry College from the first time I stepped on the grounds," says Totonchi. "It reminded me of Ireland."
At Berry, the London-born daughter of a socially conscious Iraqi father and Irish mother earned a community services degree that "looked holistically at the entire network," she says.
Involved in women's rights organizations since high school, she saw first-hand that imprisoning perpetrators of domestic violence often had unintended results.
"We put violent people in violent places and hope they'll come out less violent," she observes. As the first non-lawyer executive director of the Southern Center, Totonchi hopes to expand the organization's work to bolster public defense and oppose the death penalty.
"Sometimes I think we're a lonely voice here, but we don't have to shy away from politically charged cases. We can speak," she says. "I believe in redemption. People are better than the worst decision they ever made." – KR
Santosh Vempala, 38
Distinguished Professor
College of Computing
Georgia Tech
Atlanta
Santosh Vempala, distinguished professor at Georgia Tech's College of Computing, is also the co-founder and director of the Algorithms and Randomness Center and Think Tank at Georgia Tech.
"We address a range of issues," he says. "We'll invite people to come and present problems for us to discuss. But posing a question is just one part. For every one question you answer you raise another five questions."
Vempala teaches a course each semester, alternating between graduate level courses such as Algorithmic Geometry or a mixed class of undergraduate and grad students called "Computing for Good."
The course is project-oriented, with students forming teams to address a problem that directly helps individuals or communities in need. Earlier this year, students developed a computer system that didn't require high-speed Internet or high power to assist doctors in Cameroon, West Africa, in keeping track of patients' lab work and results. – PR
Franklin West, 28
Research Scientist
University of Georgia
Bogart
Like the stem cells that he studies, Franklin West has morphed into something else.
He began his college career at Morehouse in pursuit of a biology degree and an ecology-centered career. But the more he thought about his interest in conservation, the more he thought about biotechnology.
"This is a merging of the two best worlds for me, a biotech approach with an ecology slant. Now I'm trying to create stem cells from endangered species," says West, who already has put his imprint on one of the most significant discoveries in the stem cell field.
West (and his UGA mentor, Steve Stice) created stem cells that can turn into any type of cell in the body from adult livestock, a technique that could lead to new therapies for human disease while building disease resistance in animals.
So West has started his own lab at UGA, where he's focusing on endangered species preservation and reproduction through stem cell technology. – JG
Chris Young, 32
Chief of Protocol and Director of International Affairs
State of Georgia
Atlanta
Chris Young is an honors graduate of both Georgia Tech and the University of Georgia School of Law, but says, "You don't go to school to learn to do what I do."
Young is the state's first chief of protocol and director of international affairs, and what he has done is significantly increase Georgia's presence on the international stage.
Since taking the post in 2005, he has organized trade missions to 25 foreign countries, planned more than 200 visits to Georgia by international officials and worked to grow the state's international consular corps and trade community (now numbering 63 na-tions).
"This is not just a job for me," Young says. "It has given me the opportunity to do something good for my home state … to help ensure that when the international communities think about business, tourism, education or anything else in the Southeast, they think about Georgia." – BN
Cindy Zeldin, 34
Executive Director
Georgians for a Healthy Future
Atlanta
Cindy Zeldin happily anticipates a heavier workload in coming years as sweeping healthcare reforms take effect.
Her Atlanta-based advocacy organization was established in 2008 to mobilize researchers and policymakers to im-prove access, coverage and affordability of medical care while interpreting wonkish bureaucratic jargon for the average Georgian. One area of focus will be the "dead zones of trauma care" and limited primary care in South Georgia.
Her early policy report on medical debt, "Borrowing to Stay Healthy," has been widely cited, including on NBC Nightly News and in Congressional testimony.
"Efforts have been somewhat scattered," she says, "so our goal is to bring different constituencies together – providers, consumers and civic organizations – to have as broad an impact as possible through public policy, showing how the federal changes can be shaped to Georgia's needs while providing consumers with a voice and answers to some complex questions." – CD