Georgia's Passage to India
Business and community leaders are driving a cultural evolution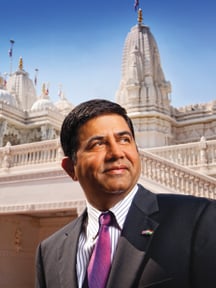 Stanley Bergman came to Georgia for directions to India that Google Maps can't provide. Bergman is chairman and CEO of Henry Schein Inc., a provider of healthcare products and services to dentists, physicians and veterinarians, a New York-based Fortune 500 company with global sales of $6.5 billion last year.
He was invited to be a keynote speaker at the first USA India Business Summit in May, but he had motives beyond a speech and a catered vegetarian lunch.
"I'm here to network, to develop a joint venture with an Indian company," says Bergman, who would like to sell dental supplies in the planet's second-most populous nation, with the second-fastest growing economy (after China).
"India is clearly in our sights."
And it was Ani Agnihotri who supplied the vantage point for Bergman and the collection of companies, CEOs, entrepreneurs and government officials who attended the summit at the Cobb Galleria, a ground-breaking event designed to promote business and investment between the U.S. and India.
"We know that bilateral trade be-tween the U.S. and India is growing at phenomenal speed," says Agnihotri, an Indian-born business consultant who spearheaded the event. "It will grow much faster in the coming years. India's market is huge and it's opening up."
The summit emphasized boosting trade opportunities between the U.S. and India, but it also showcased the growing influence of Indian business catalysts and community leaders in Georgia, particularly Metro Atlanta, which has an Indian population estimated at about 80,000. It's a vibrant and growing community that has immersed itself within the American mainstream while keeping close to its own culture and diverse traditions.
India is a country of 28 states and 22 different official languages, yet it shares a common second language, trailing only the U.S. in the number of English-speaking people. India is the world's largest democracy, with a population of about 1.2 billion, and it has the second largest diaspora in the world, with an overseas community of about 25 million.
These are people who tend to stick with whom and what they know – Indian immigrants from Gujarat tend to stick with others from Gujarat. People who speak Telugu tend to find other people who speak Telugu. But some community-minded Indian Americans are striving to bring the disparate elements together as a unified, recognizable voice.
"We exist as a bridge between people from different regions in India, pulling them all together under one association," says Padma Rallapalli, president of the Indian American Cultural Association (IACA). "We also want to serve as a bridge to the mainstream, so when we approach a city official or the mayor of Atlanta or whoever, we want to create visibility and opportunities for local leaders to learn about the Indian community."
One of the ways IACA accomplishes that is by commemorating India's Independence Day (August 15) with the Festival of India, an all-day event at the Gwinnett Civic Center. Last year the event was linked with the U.S.'s Independence Day. The Festival's "Flame of Independence" torch was lit at the statue of Mohandas Gandhi at the Martin Luther King Jr. National Historic Site in Atlanta on July Fourth.
"India as a country is extremely diverse," says Parthiv N. Parekh, editor-in-chief of Khabar, an award-winning monthly magazine based in Atlanta and geared toward the Indian-American community in the Southeast. "And the concept of diversity with assimilation is innate to Indians.
"We're all brown-skinned people, so in that way we look the same and diversity is hidden. But from one region to another, one town to another, there is a whole new learning curve as far as what is normal or traditional. So when you come into a unified American culture, it becomes more of a salad bowl than a melting pot – people maintaining their unique identities and colors and cultures, but coming to-gether for the overall American experience."
Indian Potential
The USA India Business Summit brought about 300 people together to see and hear Her Excellency, Meera Shankar, Ambassador of India to the U.S., and Georgia Gov. Sonny Perdue.
They came to learn about potential opportunities in India for real estate and infrastructure, biotechnology and drug development, agribusiness and renewable energy, tourism and the hotel industry. Among other things, they saw the road ahead, as laid out by Bergman.
"India has to be a critical focus for U.S. businesses," Bergman told his audience. "Almost 20 percent of the world's population is living in India, which is by far the world's largest democracy with the largest middle class in the emerging economies.
"Certainly there is economic opportunity in Brazil and other parts of Latin America, in the oil-rich Middle East, and in South Africa and other parts of Africa. But none compares to the huge potential opportunity in India."
U.S. companies invested about $16.1 billion in India in 2008, while India's direct foreign investment in the U.S. was about $4.5 billion – a 60 percent increase over 2007. Some Indian companies have planted roots in Georgia. For example, Mahindra USA opened an assembly and distribution center in Calhoun in 2003. And according to Jorge Fernandez, vice president of global commerce for the Metro Atlanta Chamber of Commerce (MACOC), "nine or 10 Indian companies have located here. It's why we've traveled to India, and it's why we have more trips planned – to maintain that pipeline."
Mostly, it's been Indian IT companies that have landed here, companies like Tata, Infosys, NIIT and Wipro, which established its largest U.S. operation in Atlanta in 2008.
The company, which provides customer service, database management and software development for large global companies, employs more than 500 people at its office building in Buckhead, with plans to double that number in the near future. In February, Wipro won MACOC's Global Impact Award for 2009 (a new award program honoring chamber members or partners for attracting, retaining and expanding international business).
According to Agnihotri, the story of India's economic renaissance is the story of India's IT expertise.
"In 1995, India was not really considered a world economic power," he says. "And now it is probably the No. 1 nation that comes to mind when a company thinks of getting some help in IT."
Especially when it comes to outsourcing. Who, for example, hasn't heard an Indian accent on the line when calling for troubleshooting assistance for the home PC? Agnihotri says it was Indian technologists' answer to exterminating the millennium bug that has helped change the world.
"India was the country that answered the Y2K problem. That's the No. 1 reason you see the India IT industry where it is," he says. "Very few countries had the manpower that India had and has, young people in their 20s and 30s, who can communicate in English, willing to relocate with short notice.
"After Y2K was solved, we saw the technology bubble burst. It forced companies to make decisions. Companies in good financial shape were outsourcing to cut costs. Companies in bad financial shape had to outsource because they had no cash to do anything else."
Agnihotri's background is in software development, and he's launched two companies in Georgia. Currently he serves as president and CEO of IIIrd Millennium Technologies, a boutique technology company that provides IT and outsourcing solutions for other companies. He also founded and runs the U.S. India Business and Research Center, a management-consulting firm that primarily helps Indian and U.S. companies find opportunities in either country.
He was instrumental in starting the Georgia Indo-American Chamber of Commerce 11 years ago, and counts the Metro Atlanta chamber as one of his clients, arranging several trips in recent years to India for chamber executives and economic development professionals trying to attract Indian companies and investment in the U.S.
Noble Endeavors
Viren Mayani, who was former Atlanta Mayor Shirley Franklin's business manager, was on Delta's first non-stop flight to India (about a month before the terrorist attacks in November 2008), along with a crowd of chamber and business development people.
"It's unfortunate that non-stop route was cancelled," says Mayani. "But I think it is only a matter of 'when.' When Atlanta gets an Indian consulate, it will make sense for that flight to start again."
The Indian government announced last year that it will open a consulate in Atlanta.
"That can only boost trade between Georgia and India," Mayani says.
Mayani serves on the board of the India China America Institute (which does research and educates legislators, industry and nonprofits on economic, political and security issues related to India, China and the U.S.); represents India on the Atlanta Advisory Commission on International Relationships; handles public relations for The IndUS Entrepreneurs, or TiE (which brought about 500 people and showcased 100 different start-up companies at the Atlanta Renaissance Waverly Hotel for the largest entrepreneurial summit in the Southeast); and serves as executive vice president of the Indian American Cultural Association. On top of all that, he has written for Khabar magazine for about 14 years.
He's a tireless promoter of economic development in Georgia, especially as a place for foreign investment. Last year he spent two days visiting Georgia's ports, where imports from India had been increasing steadily, but in recent years had grown dramatically.
"China's quality control issues were hitting the roof, and shoppers and marketers were realizing the implications of putting all their eggs in one basket," Mayani says. "Business from India and to India spiked over 250 percent in one year, because people were saying, 'Maybe we should start sourcing from India.' It makes sense."
It makes sense, also, to Sudhanva Char, an associate professor of business at Life University in Atlanta.
"There are valid reasons to be rationally exuberant about the prospects of Indo-U.S. economic cooperation and faster growth in the volume of business between them," he says, citing the improved political and economic rapport between the countries and the fact that they are the two largest democracies in the world. That matters.
He says the Indian market is as free and open as any in the world, and the country is buzzing over the possibilities for its economy. Char predicts trillions of dollars of investment in transportation infrastructure, irrigation, education, research and development, internet and software services, "not to speak of manufacturing, telecommunications, retailing and other nation building [that] is either happening or is being scheduled."
The opportunities for American investment, he says, could-n't be more abundant.
When he isn't teaching business and economics to future chiropractors, Char teaches yoga – he's done that for 20 years at a local temple. And he comes from a family of teachers. His brother is a teacher. Their father and grandfather were teachers.
"My name, Char, is an abbreviation of Acharya," he says. "It means 'noble teacher.'"
That concept of nobility is emblazoned on Mitesh Shah's heart, his business card and his company's website. The founder and CEO of the Noble Investment Group drew his inspiration (and his initial investment) from his father, Bharat Shah, who left Gujarat in the 1960s because, as his son (who answers to Mit) says, "The U.S. had always been the land of opportunity. His goal was to come here for an education, then go back to India to grow the family business.
"Coming to the U.S. with no roots here and no money, spending his summers waiting tables and washing dishes, trying to find a way to create income for an education, so you can take that home to your family. That's a noble endeavor, a noble investment of your time."
Bharat Shah had just taken a job in a meat processing plant when he was awarded a scholarship from Utah State to pursue a Ph.D. in food science, and after building a career at RJR Nabisco, he started investing in real estate. Mit Shah founded his company in 1993, after his father agreed to refinance the existing equity in the real estate business – which included a few small hotels.
"It was $3 million, everything that Mom and Dad had after many, many years of hard work," says Mit. "So I said, 'Let's go build three Hampton Inns. Here are the markets and the locations where this will work.'"
Today, Shah runs a company with 43 hotels (9,000 rooms, from budget inns to luxury resorts) in 16 states, employing 5,000 people who help generate about $400 million in annual revenue.
Bharat also helped his younger son, Raj Shah, start a successful business – Pinnacle Real Estate Partners, LLC. Last year the brothers gave their father a mint condition thank-you gift.
"When my father arrived in the U.S. he was just fascinated with the American lifestyle," Mit says. "The car of the time was the 1965 Ford Mustang, and Dad had two nickels in his pocket. So, at different times over the last few years he mentioned to my brother how he missed never having a chance to drive one of those."
A few months ago Raj told Mit he'd found an auto broker in California who could get his hands on a completely restored, perfect 1965 Mustang. Red. A convertible.
"We met our parents, like we usually do Wednesday nights, for dinner. My brother parked the car in front. My son was walking with Dad – they're very close – and Dad says, 'That's a Ford Mustang. Your Uncle Raj is supposed to get one for me one of these days.'
"My son pulls out the keys to the car and says, 'You should have this one.'"
His kids stay with their grandparents often, and the tie to Indian soil may be tighter for the kids, like something that skips a generation.
"I view them as being more Asian American than I am," says Shah. "Heritage is definitely more important to me today than it was at any point in my life. Growing up in North Carolina, there weren't a lot of Indian kids around and it was awkward, because I was just trying to figure out who I was."
Shah's kids go to a Gujarati summer camp, and to Sunday school, where they learn about the Hindu faith, about morality and purpose and karma and being a good human.
"We'd really like them to be able to identify with their family's culture," Shah says.
Every family has its own way.
In Padma Rallapalli's house, her children are required to speak Telugu, the official language of Andrha Pradesh, most of the time.
For Ritesh "Rick" Desai, awaiting the birth of his first child, there is a dramatic reminder of cultural and spiritual roots in Lilburn, where the spectacular Shri Swaminarayan Mandir rises like a gleaming oasis in cluttered suburbia.
Reaching 72 feet into the sky, with white spires and domes and made of Turkish limestone, Italian marble and Indian pink sandstone, the $19-million mandir opened in 2007. Desai, chairman of the Georgia Indo-American Chamber of Commerce, was one of hundreds of volunteers who helped build the temple.
"When you're in the mandir, you feel like you are in India – if you don't look outside the walls to see the Publix across the street," quips Desai, who moved to the U.S. when he was 12 and has found entrepreneurial success as a public relations consultant, real estate investor and international trade facilitator.
"Come to the mandir on a Sunday evening, and you'll see colors and costumes and people and traditions. It really does remind you of India."
It's a place that helps keep him grounded in the culture he left as a boy, while he stresses the importance of assimilating seamlessly with the American mainstream.
"This is home for me. I'm proud to call myself a Georgia Peach," he says. "And I'm happy to be who I am. I have the best of both worlds."