Bragging Rights
The best high school football rivalries are long-running little civil wars.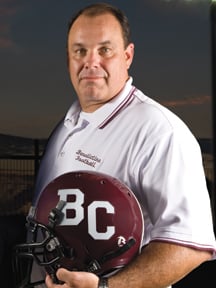 Jack Rudolph was in the doghouse at home, which was appropriate since the dog was the only one in the family showing him any love.
It was October 1977. Rudolph, defensive coordinator for the mighty Valdosta football team, had just watched his unit play one of its best games of the season. Unfortunately, hated crosstown rival Lowndes High School was a little better that Friday night, posting a 7-2 win over the visiting Wildcats.
"That was the first time Lowndes had ever beaten us," Rudolph says. "It was a pretty big deal."
Lowndes' Vikings were coached by one of Rudolph's best friends, Joe Wilson, the former Valdosta offensive coordinator who left head coach Nick Hyder's staff the previous year to take the reins of the hated Vikings. It was like an act of treason to that segment of the community with Wildcat black and gold coursing through its bellicose veins.
It made for a convenient drama. But then, a certain amount of drama is implied in the best high school football rivalries.
These are the clashes between opposing forces with a history of fierce competition, sometimes bordering on hatred, sometimes crossing the border.
These are the money games that fill the local stadium, local civil wars pitting brother against brother, city against county, us against them. And there is something oddly compelling about a community pinning its hopes and pride on a bunch of armored, hormonal, muscle-bound kids who have barely begun to drive or shave.
In Valdosta, like everywhere else, the old rule applies – you can have a miserable season and go 1-9, but if that one victory is against your local rival, you have bragging rights for a year.
"That was always really important when I was playing and coaching," says Rudolph, who grew up in Atlanta but married a Valdosta girl, Marsha, who was a cheerleader at Valdosta High and who stared righteous daggers at her husband that October night in 1977.
"We played hard but we got beat," says Rudolph. "My oldest son, Russ, rode the bus with us that night. He refused to talk to me after the game. All he'd say was, 'Why, Dad? Why?' I told him, 'Son, these things happen.'"
With a police escort leading the way through town, the Wildcats team bus beat a hasty retreat home while the Valdosta faithful fumed in post-game traffic. Rudolph and son got to the house before the rest of the family.
"When she [my wife] got home, she had a bad look on her face, asking me why we did this and that. The whole family was really upset with me," Rudolph says. "My dog Blue jumped into my arms and licked my face, happy to see me when I got home. As the conversation with my wife went on, I said, 'I wish there was one more person in this family who loved me as much as Blue does.' So she said, 'OK, we'll get you another dog.'
"They take their football very seriously here. I'm an outsider. I've only lived here 47 years, so I guess I have a different perspective."
Rudolph played five years as a linebacker in the National Football League after a great college career at Georgia Tech and high school ball at Grady High in Atlanta. He knows about winning and losing. But in Valdosta, both high schools expect to beat the other every time, regardless of the circumstances.
"People on both sides feel it's a game they should never lose," Rudolph says. "New York has Broadway. Boston has the symphony. Here in South Georgia we have our high school football team, and we'd better beat our rival.
"I'm not saying that people shoot themselves if they lose that game, but it's gonna be a difficult year getting over it."
This month Georgia Trend looks at three of the state's best high school football rivalries (two in South Georgia) involving six schools with many years of experience getting into it and over it.
Elbert County vs. Hart County
There is a sense in these northeast Georgia border communities that if someone wearing an Elbert County uniform were to play checkers against someone wearing a Hart County uniform, the event would draw 15,000 people to Elberton's famous Granite Bowl. And after the past five seasons, Elbert County's Blue Devils might want the opportunity because they are in the worst funk they've experienced in a series that dates back almost 90 years.
"They've got a new coach over at Elbert now, and they blame us for their old coach being gone," says Joby Scroggs, who has coached Hart County to five straight wins over Elbert County, the last four by a combined score of 146-10. "They're still ahead of us in the series, but we're catching up and we've gone to the playoffs for 18 straight years, so we're not complaining."
Scroggs and his coaches have surreptitiously come into possession of a piece of granite, possibly from Elbert's home stadium (Scroggs isn't saying) with the scores 49-0 and 35-0 written on it. Those are the scores of Hart's last two wins at the Granite Bowl.
Elbert head coach Brent Miller was compelled to seek greener pastures after the Blue Devils went 7-4 in 2009, reaching the playoffs – their best season since 2003. But Miller was 0-3 against Hart County, and that still matters to Elbert County fans, who haven't seen a close game in this series recently.
"It hasn't been very competitive the past few years. But it still stirs passions around here, and it's still the money game for both teams," says Shane Scoggins, managing editor of The Elberton Star, who grew up in Elbert County and has been watching this game all his life.
The two schools, 17 miles apart, are the only high schools in their respective counties, which is significant, Scoggins says. "This type of game is a little different in a rural area."
It's the thing to do in a small town. The store windows in Hartwell are painted with orange and black lettering, and pep rallies are still held in the town square the night before a game. The cheerleaders still parade through downtown Elberton on the day of a game, horns blaring.
"We identify the personality of the county as something wrapped up in the high school, so it's not just the football teams or the high schools going against each other, it's the entire counties," Scoggins says.
"A lot of people in Hart County work here in Elberton, and a lot of people here work up in Hartwell. People from one county marry people from the other, they go to church together, shop in the same places," Scog-gins says. "But when they play football, it's my county against your county."
At Hart County, Scroggs' coaching staff is loaded with former Bulldogs players.
"They bleed orange and black, through and through, and they go ballistic when we play Elbert," says Scroggs, who was an assistant under Hart County's longtime head coach, Bobby Pate, 1987 through 1992, "back when it always seemed to come down to us and them as to who would be in the playoffs."
With nine more wins, Scroggs will pass Pate as Hart's all-time winningest coach. But he'll be hard pressed to come up with a victory, however lopsided, that matches the one Pate's Bulldogs put on the Blue Devils at the Granite Bowl in 1993.
"That's the one everyone still talks about," the Star's Scoggins says, "about how Hart County ruined what might have been the best team we ever had."
Two weeks after thumping the Bulldogs in Hart County, 23-9, Elbert hosted its archrival in the first round of the postseason. The Blue Devils, 10-0 and heavily favored, were stunned this time, 18-17.
"Hart County's players and coaches danced on the field," Scoggins recalls. "That's still an open wound."
Benedictine vs. Savannah High
This is Georgia's oldest high school football rivalry, and it may be the oddest, too. One of the traditions surrounding this game was the burning of the loser's coffin by the winning team.
According to author Maurice "Mutt" Sheppard, who wrote Savannah's Thanks-giving Day Football Classic: Benedictine Vs. Savannah High, students would build coffins representing each school.
Following the game, the winners would parade through town, snake dancing between the stalled cars, and burn the losers' coffin – sometimes with an effigy of a player inside – at the intersection of Bull and Broughton streets while students from both schools watched.
The game was "the biggest event in Savannah until Georgia high school rule changes resulted in the game being played before Thanksgiving," says Sheppard, a 1959 Benedictine grad.
For years this was the sporting event of the year, bringing 15,000 fans to Grayson Stadium (now a minor league ballpark) or Memorial Stadium, and everybody dressed for the occasion, men in coats and ties, girls wearing corsages.
"You got involved in that game from the time you were a youngster in grammar school," says Albert "Whitey" Moore, a Savannah High grad. "Kids around town would ask one another which team you were for and you'd better get the answer right, depending on who was talking."
Sometimes it was hard to get the answer right even within the confines of your own family. Whitey Moore played for Savannah, but his three brothers went to Benedictine.
"We weren't Catholic, but it was a good school and my brothers wanted to go to Benedictine. I just had an inclination to continue in the public schools," he says.
He actually played in the 1952 game against his younger brother, Charlie Moore. Whitey was a senior on the offensive line, and Charlie was Benedictine's sophomore quarterback.
"They beat us 6-0 that year and Charlie scored the winning touchdown," Whitey says. "I was disappointed that we lost, but brotherly love won out and I was proud that he scored the game's only touchdown."
Integration, busing and redistricting have changed the dynamic and demographics of the game, but the two schools – with rare exceptions – still have an appointment on the football field every fall.
It was always a regional game, with bragging rights and league trophies on the line. But as Benedictine keeps its student body to around 315, Savannah High's numbers have shifted around. So, for many years it became a non-region affair, but still the big money game. This year (because schools may move up in Georgia High School Association classification) Benedictine is playing in Region 3-AAAAA with Savannah.
"The game lost a lot of its luster due to re-classification over the years, but it was great in the mid-'80s when I was playing. Now that we're in the same region, perhaps there is more meaning to the game again," says Benedictine head coach Mark Stroud.
Even in the 1980s, says Savannah head coach David Jackson, "You knew it was gonna be a fight in the trenches the minute you hit the field until the end of the game. It was intense. We played little league with those guys across the field. They were our teammates in other circumstances. But on that football field, the competitive nature of human beings came out in a big way."
Lowndes vs. Valdosta
It is hell to be a loser in Winnersville, especially when you're used to winning. Rick Tomberlin knows from experience. He is the only person ever to serve as head football coach of both Lowndes High and Valdosta High.
One of the most successful coaches in Georgia high school history, with 222 wins to his credit, Tomberlin's record in the Winnersville Classic – because that's what they call the annual Lowndes-Valdosta bloodletting – is 0-7.
"You'd think I'd have learned the first time," says Tomberlin, who coach-ed the Lowndes Vikings from 1989 through 1991 and, after a 14-year stint at Washington County during which he won three state titles, became Valdosta High's head coach. But last year Lowndes crushed the Wildcats, 57-15, Tomberlin's fourth loss to the hated Vikings. Shortly after the game he was fired, though he finished out the season.
"I've seen great rivalries, Alabama-Auburn, Georgia-Georgia Tech," says Tomberlin, now the head coach at Effingham County. "And I graduated from Florida State, always loved the game with Florida. But Lowndes-Valdosta? I don't know. I've never seen anything like it. I think it's unhealthy."
It has been for Valdosta High lately. The Wildcats have lost nine of the last 11 games after pretty much owning the series since it began in 1968, when the legendary Wright Bazemore was still coaching Valdosta. Regardless of how lopsided the series used to be, it packed both schools' stadiums, and in recent years the game has been broadcast on national television (ESPN and CBS).
"I wasn't here a solid year before I had to turn my cell phone off, because everybody I knew or thought I knew was calling looking for a ticket to the game," says Lowndes head coach Randy McPherson. "It's more emotional than a state championship game."
On game day, RVs fill the parking lot of whichever school is hosting the game. Most seats are held by season-ticket holders, and the few that are available are gone by 5 a.m. the day they go on sale.
"I haven't seen anything that compares at the high school level, and very little that compares at any level," says Wes James, the radio play-by-play man for Lowndes. "And the spirit of competition between the two schools extends far beyond the football field. The Red Cross holds its blood drive, and we pump it up on the radio. Valdosta and Lowndes compete to see who gives the most blood!"
Valdosta is a city of about 50,000, the county seat of Lowndes. The city kids used to refer to the Lowndes players as "ploughboys." It was an insult. Today it's a matter of pride and Lowndes students wear shirts claiming the nickname. Most of the year, the people in Lowndes County get along fine with each other, regardless of city lines. But for that week of the game, some friends won't speak to each other.
"Even when everybody's getting along, that game is always on everybody's mind," James says.
"It's one of those things," McPherson says, "that comes up in conversation somewhere in this town every day, guaranteed."
These are football programs that produce NFL stars, with booster clubs that have more members than many South Georgia towns have people, with coaches earning in excess of $100,000 a year, with teams that outdraw the local college – Valdosta State, which has one of the best Division II football programs in the country.
"It isn't as much about learning to hate the other school as it is about learning to earn respect," says Jack Rudolph, the longtime assistant coach who worked for Valdosta High's patron saints of football, head coaches Wright Bazemore and Nick Hyder.
"Once the game is over, the sun is gonna come up the next day and those people on the other side are the people you've got live with."
Which is exactly why it is so important to win this game. There was a Lowndes Touchdown Club meeting years ago, when Rudolph's friend Joe Wilson was coaching the Vikings, during which one booster asked, "Would you rather beat Valdosta or win a state championship?"
The reply: "I'd rather beat Valdosta than win a national championship. I don't have to live with the rest of the nation."