Georgia's Biotech Future
The industry accounts for 62,000 jobs, $3.6 billion in labor income and $517 million in tax revenues ...but we're not there yet.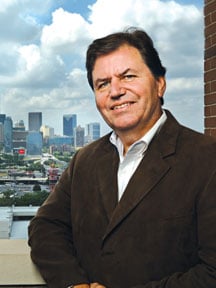 It was the kind of blockbuster news that gave hope to the dying, a bullish revelation that sent stock prices soaring. After decades of theorizing and testing and coming up with mostly nothing, medical scientists found a way of stimulating the body's immune system to attack cancer cells and prevent the disease from recurring.
The company that makes this revolutionary immunotherapy drug, Seattle-based Dendreon, wants to be in Georgia – in Union City – and it will spend a lot of money and create hundreds of jobs for the privilege. Dendreon made the announcement a few months after Atlanta hosted the world's largest gathering of biotech professionals, the 2009 BIO International Convention.
"It's part of the ripple effect of hosting that convention," says Charlie Craig, president of Georgia Bio, the nonprofit association that represents the state's life science industry, with 300 members, including companies, universities, government groups and other industry associations.
"The publicity in the run-up to BIO International definitely made Dendreon aware of Georgia as a biotech destination."
It helps that the CEO of Dendreon, Mitchell Gold, is on the board of BIO, the world's largest biotech organization and the industry's leading voice in advocacy and business development, with more than 1,200 members across the planet.
It also helps that Georgia already had a hefty biotech presence to begin with: More than 62,000 jobs, $16 billion in sales, $6.2 billion in state GDP, $3.6 billion in labor income and $517 million in state and local tax revenues.
"The statewide impact of biotechnology is huge," says Ken Stewart, commissioner of the Georgia Department of Economic Development (GDEcD). "And Dendreon is exactly the kind of company we want, the kind of company we worked hard to attract."
Georgia has world-class research institutions – Georgia Tech, Emory, University of Georgia, Georgia State University, the Medical College of Georgia, Morehouse School of Medicine, the Centers for Disease Control and Prevention. The American Cancer Society is headquartered in Atlanta.
There are large, established firms like Merial (located in Duluth and Athens, the company makes drugs for animals) and Solvay (based in Belgium, with U.S. headquarters in Marietta, the pharmaceutical company was recently acquired by Abbott Laboratories for $6.2 billion). And there is a large cluster of small and emerging companies located near research universities and their business incubators and development centers, such as the Georgia BioBusiness Center (UGA) and Georgia Tech's VentureLab.
But there also are gaping holes and high hurdles, says Craig, that have prevented Georgia from entering the upper echelon of the nation's biotech states, places like California, Massachusetts and, closer to home, North Carolina and Florida. Not to mention elected leadership that sends mixed messages coated in political goo.
"Under Gov. [Sonny] Perdue, the state has identified life sciences as one of the top strategic industries, and that's great. But we haven't been competitive with other states in developing the industry," Craig says. "There doesn't seem to be a great deal of understanding from the legislative leadership or in the executive branch of the kinds of things we could be doing to be competitive with North Carolina, for example, or Texas and even Florida."
The annual effort by some state legislators to hamper or criminalize stem-cell research on moral grounds hasn't always sent a particularly science-friendly message to the rest of the world, either. Also, even though Georgia is ranked among the top 10 states in biotechnology, it lags far behind upper tier states in early-stage venture capital.
In the midst of an election year, Craig is hoping for a more progressive approach from future state leadership and thinks the state could do a lot more to encourage growth of the biotech industry.
"First is allowing a small portion of the state pension fund to be used for alternate investment, like venture capital," Craig says. "Every other state in the country allows this. We've been urging this for years."
Georgia Bio pushed for passage of a bill that would provide tax credits for investment in emerging companies and advocates a plan that would allow the state to match federal SBIR (Small Business Innovation Research) grant money.
"This is money that comes from the NIH (National Institutes of Health) for technology that already has been vetted, so it's money for people who are most likely to succeed," Craig says. "The state would be spending money to make more money. The new jobs these businesses create are high-paying jobs. These are people who will be paying income tax, companies paying sales tax. This is a good investment."
It might be asking a lot in this economy, with state budgets getting slashed to the bone. But in spite of the challenges presented by a lousy economy and conflicted politicians, new business, leadership and initiatives are building on existing strengths and helping to keep Georgia's biotech prospects vibrant.
Rollercoaster Trip
In March of 2007, a Food and Drug Administration (FDA) advisory committee gave the thumbs up for a prostate cancer vaccine, an experimental immunotherapy drug called Provenge, made by Dendreon.
The company had been testing the drug for years, and Provenge had been shown to increase survival rates considerably in men who received the treatment in clinical trials, with very few side effects.
So the advisory panel of experts voted 13-4 that Provenge was effective and 17-0 that it was safe. Cancer patients and Dendreon investors cheered the news and waited for what they considered inevitable and impending FDA approval.
Instead, they were distraught two months later when the FDA ignored its own panel's recommendation and rejected the drug. Cancer patients filed lawsuits and the advocacy movement demonstrated in front of FDA headquarters, while outraged Dendreon investors watched the company's stock plummet.
But Dendreon had already begun another, larger Phase III IMPACT (Immunotherapy for Prostate Adeno-carcinoma Treatment) trial to offer further proof that the drug could extend survival. Dendreon released the results from that trial in April 2009.
"Provenge prolonged overall survival in men with advanced prostate cancer, who currently have few appealing treatment options," says Dendreon CEO Gold. Once again, cancer patients' spirits and company stock soared. And this time, Dendreon started making plans.
"We quickly set on a path to evaluate the best future sites for our manufacturing facilities in our mission to transform the lives of patients with cancer," Gold says.
And that's where this particular biotech rollercoaster ride enters Geor-gia. Last August, Dendreon announced its plans to build a 160,000-square-foot, $70-million Provenge manufacturing facility in Union City, creating 300 jobs. It's no accident that Dendreon chose Metro Atlanta shortly after the city hosted the 2009 BIO International Conven-tion, according to GDEcD Commissioner Ken Stewart.
"The reason we hosted the convention in the first place was to showcase our state and all the assets we have," says Stewart.
More than 14,000 attended BIO International last May at the Georgia World Congress Center. The convention is the largest gathering of biotech and life sciences industries, leaders, investors and researchers in the world. The state spent about $2 million to host the event, and Dendreon represented an almost immediate and hefty return on the investment.
Atlanta is one of three manufacturing sites for Provenge (the others are in New Jersey and California). Gold says Georgia's Union City was the ideal choice because of a "rich talent pool for a biotech company, given the state's strong scientific and academic roots, and the frequency of flights in and out of Hartsfield-Jackson International Airport, which is a critically important element in our logistical ability to deliver a potentially lifesaving treatment to patients with advanced prostate cancer."
Georgia's now-famous QuickStart employee training program will get Dendreon's local workforce up to speed. Gold adds that the leadership of the American Cancer Society and its chief medical officer, Dr. Otis Brawley, was a factor.
As of early March, there was really only one major question that everything hinged on: This time, would the FDA actually approve Provenge as the first active cellular immunotherapy for prostrate cancer? The answer was most definitely probably.
Back in 2007, the FDA chose to wait until the larger IMPACT study was completed before reconsidering its approval decision, and hinted that it would approve Provenge if prescribed survivability points were achieved. They were exceeded. FDA was expected to give its approval this month, and Dendreon's stock continued climbing in anticipation. Peak sales in the U.S. are projected to exceed $1 billion a year.
A lot of men are crossing their fingers. More than 192,000 will be diagnosed with prostate cancer this year, and more than 27,000 will probably die.
"Provenge is a good example of how long it takes to develop new treatments and what kinds of hurdles a company can face," says Georgia Bio's Craig. "It takes a long time, and these companies need regular infusions of capital. Govern-ment can play a big role in helping bring along these new treatments."
Significant Mission
Seven years ago, Gov. Perdue and the GDEcD launched Georgia's Centers of Innovation (COI) program. There are now six centers, each dedicated to a "strategic industry," each connected with a technical college or university, and each located in a mid-sized city and designed to promote long-term economic opportunities.
These far-flung Centers of Innovation provide emerging companies access to university-level research and business development, product commercialization, industry-specific counseling, networking opportunities and research grants.
The Medical College of Georgia (MCG) and its research muscle provide the space for the Center of Innovation for Life Sciences. When the COI needed a director two years ago, it tapped Stacy Williams Shuker, a Ph.D. chemist with entrepreneurial experience – she started a toy company and invented a crystal-growing kit for children. She learned first-hand, the hard way, how to take a product from the bench to the shelf.
"I also worked in the patent space as a scientific advisor for a law firm for two years. When this post opened up, I saw it as an opportunity to use all the skills I'd acquired over the years," says Shuker, who remembered how little she knew about marketing a product in the early days and how critical it was.
Only one of the COI's five suites for early-stage companies is occupied – "because of the economic downturn, we recently lost two," says Shuker, who is working on a marketing campaign to raise awareness of the center and share information about the life sciences industry and research in Georgia.
So she created the Georgia Life Sciences Team-Up network (www.team-up.ning.com), which is sort of a Facebook for biotech people.
"I started experimenting with social media – LinkedIn, Facebook, Twitter – then started this site to offer a wider range of content, even more than Facebook," Shuker says.
Team-Up network users can link up to all the latest life sciences news, event information and industry resources – posted by people within the industry, Shuker says, adding, "This is a big state, and this is a way for all of those pockets of excellence functioning independent of each other to easily communicate."
The Team-Up network gives Georgia an even wider range of electronic connectivity. Last year at BIO International, the GDEcD and Georgia Research Alliance launched iResearchGeorgia (www.georgiabiosciences.com/ iResearch), a site that gives users access to published papers, patents, faculty profiles and NIH grants associated with Georgia researchers from public and private research universities.
The idea is not only to enhance collaboration across different institutions, but also to give industry an electronic bulletin board of experts, research and projects with commercial potential.
Laurence Downey is making it his business to help emerging biotech businesses realize their commercial potential as director of the fledgling Georgia Bioscience Commercialization Center (GBCC).
A project supported by the Georgia Research Alliance, Georgia Bio, GDEcD and the Metro Atlanta Chamber of Commerce, the GBCC plans to bring together a faculty of experienced bio-tech executives to serve – free of charge – as a central resource hub for entrepreneurs and early-stage companies.
Downey says the GBCC would like to emulate North Carolina's CED (Council for Entrepreneurial Develop-ment), which provides education, mentoring and capital formation resources to companies in the Research Triangle area. It is the largest entrepreneurial support organization of its kind in the U.S.
"There's great energy right now to grow the bioscience community in Georgia," says Downey, retired president and CEO of Solvay, who now runs his own bioscience consulting firm (Berkshire Pharma Consulting). "But we need a strong commercialization infrastructure, and there is a strong sense that the resources to enable entrepreneurs in general are very limited and there is no centralized repository for these resources."
GBCC would fill that space, says Downey, who also serves as CEO of an early-stage start-up called Ketal Biomedical, a company trying to commercialize a new drug delivery technology developed by researchers at Georgia Tech and Emory. It's exactly the kind of research going on at The Parker H. Petit Institute of Bioengin-eering and Biosciences (IBB) at Geor-gia Tech.
IBB brings together eight different departments and more than 100 faculty members and researchers from Tech, but also from Emory, Morehouse and UGA, among others.
"Our purpose is to serve as the hub for biotech research at Georgia Tech," says Robert Guldberg, a leading tissue engineer and longtime IBB faculty member who took over as the institute's director last October.
In addition to serving as chief administrator, Guldberg is also en-gaged in groundbreaking research in new approaches to healing severe battlefield injuries, an effort that has drawn about $5 million in research money from the Department of Defense.
Some of the other research happening under IBB's umbrella focuses on regrowing bones, regenerating body parts, magnetic nanoparticles that can actually move cancer cells, and an ongoing, vast buffet of potential new treatments and therapies designed to improve the human condition.
"Some people forget what biotech research is all about, or what life science companies are doing," says Georgia Bio's Craig. "They're developing treatments for diseases that people are dying from, they're making new drugs to keep people alive – things that take a long time to develop.
"We're talking about a significant mission."