School Ties
Georgia's technical college system is consolidating 13 of its schools into six, as enrollments climb and budgets plummet. Officials say the schools are thriving.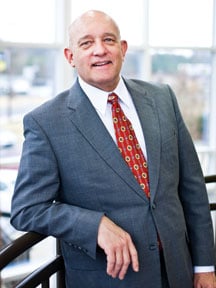 On paper, it made good sense and looked fairly easy. In the fall of 2008, in the face of a collapsing economy, the state's technical colleges faced dramatically increased enrollment from the newly unemployed seeking retraining – and dramatically lower budgets from decreased tax collections. Says Ron Jackson, commissioner of the Technical College System of Georgia (TCSG), "It's one of the financial realities of state government today. We had considered consolidating colleges at some point, simply as a good business model. It's what any well-run private corporation would do. The slowing economy added impetus."
Even with the benefit of hindsight, the mergers still make good sense. In fact, the colleges are thriving. With enrollments far above expectations and mandatory furloughs for its college employees, the TCSG has managed to tighten its belt without cutting off circulation. The consolidations were achieved without closing any colleges or campuses. More students are now within reach of more courses.
West Georgia Tech's merger with West Central, for example, allowed it to offer associates' degrees, making the school, in effect, a junior college. Systemwide, many technical colleges have now recorded several consecutive enrollment records, and the fall 2009 numbers leaped even higher, with an average of 24 percent.
Several schools rose 30 to 40 percent (Atlanta Tech, North Georgia Tech, Sandersville Tech, Albany Tech and Lanier Tech). The last tech college set to merge has the highest fall quarter increase: Valdosta Tech, which will merge with East Central Tech this July, posted a record 45 percent increase. That final merger will mark a total of 13 schools consolidating into six.
The commissioner and his staff figured that by merging several of the state's 33 colleges – retaining faculty for that increasing enrollment, but eliminating redundant administrative jobs – the state could save $3.5 million while expanding services, facilities and courses for students. That would go a long way towards meeting a required 8 to 10 percent budget cut for 2009. Fortunately, the schools' rapid growth meant that tuition and fees would offset the loss in 2009 of $6.4 million in federal funding, which continued to erode in 2010. (TCSG's 2010 budget weighs in at $595 million, nearly $23 million less than the 2009 figure, from the loss of most of its state funding as well.)
Cultural Impact
Between plan and outcome, however, the 18-month process of actually blending the schools proved a bit rocky. Although administrators and staff braced themselves for technical and bureaucratic hurdles from the U.S. Department of Education and the Southern Association of Colleges and Schools (SACS, the regional accreditation authority), they may have underestimated the mergers' cultural and social impact.
"I can safely say that no one in our seven-county area was overly excited about the news," West Georgia Tech President Skip Sullivan says dryly. Chattahoochee Tech's President San-ford Chandler says most protestors were afraid of "losing something … losing identity, losing contacts, losing prestige … losing their school."
Says United Community Bank CEO Steve Holcomb, former board chair at Appalachian Tech, which has now merged into Chattahoochee Tech: "Im-agine if two high schools from across county lines were told that they would be consolidated. Oh my heavens! People would be outraged. There's so much community pride."
Sullivan puts a finer point on it: "Think what would happen if it was announced that UGA and Georgia Tech were merging."
Although there was some adverse reaction, college presidents and board members say few students or alumni were among the concerned callers and emailers. In fact, from the start, most most of the schools' consumers seemed to recognize that they would actually benefit from the changes. However, community leaders, legislators and some businesspeople feared that the special relationships they enjoyed with their local tech colleges might be threatened, or that the facility that they had worked so hard to establish or expand would now be given over to another town.
The passionate response to the consolidations indicates how valuable the tech colleges have become to their communities, the educators say. With a pledge to train workers for nearly any business, large or small, or help in other ways including establishing facilities and methods via the school system's popular QuickStart program, the schools have become a vital cog in their regions' economic engines. They are small (with a 2008 average of about 4,300 students) and conveniently located (a college or satellite campus within 40 miles of any community), and their curricula are specialized to the needs of the community.
Tech colleges have proven to be critical links in bringing in new industry such as the Kia plant in West Point, with training provided by West Georgia Tech. Middle Georgia Tech supplies aerospace training for Warner Robbins AFB; Columbus Tech customizes courses for Aflac. Clients range from jet maker Gulfstream, which relies on Savannah Tech training, to mom-and-pop shops. "They wanted to be assured of the same level of service," says Ray Perren, president of Valdosta Tech.
The schools are also highly effective. With the system's "guaranteed education" (free retraining on request by employers), the most recent figures put employment rates for graduates at 94 percent within six months of earning a certificate or diploma. (That includes an estimated 8 percent who establish entrepreneurial businesses like barber-shops and hair salons.) An additional 3 percent go on to earn four-year degrees. State HOPE grants, combined with federal Pell grants, cover most or all tuition and book costs for students earning degrees and certificates; about 80 percent of tech college students go to school with some combination of HOPE and Pell.
Jackson and his staff eventually settled on 13 schools for the mergers. They hoped that pairing two schools in neighboring areas would result in students gaining more facilities, courses and access to faculty. Each campus would remain in its community, in full working order, with "the vast majority" of faculty retained, says Jackson. However, the critical difference would be that only one college president would serve for both schools, and only one set of administrative staff, such as vice presidents and provosts. Very small colleges – especially those that already had presidential vacancies – were studied carefully. "It didn't make much sense to have a college with 1,000 students and a $2 million administrative budget," says Jackson.
Many of the slashed positions were achieved through attrition. "We were fortunate that most administrators were baby boomers at retirement age," says Jackson. Adjuncts and part-timers were often hired at less expense to replace full-time faculty as they left, or to address growing demand.
With a solid plan in place, Jackson moved quickly, submitting his new spreadsheets for the governor's approv-al. That led to another unforeseen bout of blowback: Most legislators first learned of the schools' upcoming mergers when they read it in the governor's budget. Many felt blindsided. "I've apologized many times, and continue to do so, for the way this was rolled out to the legislature," says Jackson. "But we had to move quickly. Now, of course, they see that it had to be done."
The Name Game
Jackson sped forward, allowing local administrators and faculty to begin work on one of the thorniest issues they would face: Naming the newly merged schools.
Some, like West Georgia Tech and Chattahoochee Tech, simply took on the names of the larger campus, often with resistance from those who mourned the "loss" of their smaller school. Others have chosen completely new names, and perhaps none with the originality and instant geographic recognition of the upcoming East Central and Valdosta Tech merger: Wiregrass Georgia Technical College.
"We also considered Georgia Pines and Gateway Tech," President Perren says, to avoid the usual "directional" name of tech colleges (north, west, east, etc.). In the end, administrators and faculty opted for a brand that characterized both the geographic region and its people. The spiny grass is as much a part of the southeast Georgia landscape as its piney woods and sandy soil, and figures largely in the region's folklore and literature.
At West Georgia Tech, President Skip Sullivan says cultural issues like the name change were among the hardest aspects of his merger. "The No. 1 challenge was staying student-focused, versus addressing every petty concern about loss of autonomy."
Of course, even the basic problems for a merger of two schools – with a drastically reduced administrative staff – were challenging enough. College staffs worked to be sure that parallel, but entirely different, systems for hiring, purchasing, arranging meetings and buying books were standardized between campuses. More importantly, they hurried against deadlines to ensure their schools' accreditation with SACS, and to be sure their students could continue to receive financial aid from the U.S. Department of Education – all while continuing to teach students. Says Perren, "It was kind of like changing the oil with the engine running."
A Sharp Departure
Chattahoochee Tech's merger, complete in July of 2009, upped the ante for the entire system when another school's board suddenly suggested a sharp departure from the commissioner's plan. Initially, the TCSG had planned for Chattahoochee Tech to merge with North Metro Tech, and for Appalachian Tech to merge with North Georgia Tech. Says former Appalachian Tech board chair Holcomb: "They [the board] had no problem with the merger – they immediately saw that it had to be done. But they also looked at how the students would have to travel – across the mountain – to go to North Georgia Tech [which has campuses in Blairsville, Avalon and Clarkesville]. Here, our whole lives are carried out along that I-575-Highway 515 corridor – it's where we live, work and go to school. They knew that a merger along those north-south lines would make much more sense. And they really wanted to be a part of the Marietta campus [of Chattahoochee Tech]. They wanted to know if we could suggest merging with Chattahoochee Tech and North Metro instead."
Holcomb knew that swift action would be the only hope of success. He called Jackson immediately and ex-plained the board's reaction. Jackson agreed. "I'm excited," he told Holcomb.
Both men worked to push the plan into action. Reports a stunned Holcomb, "Our board meeting was at 4 p.m. on a Tuesday. By Thursday noon, it was done." Appalachian Tech's northernmost campus, in Fannin County's Epworth, chose to join with geographically closer North Georgia Tech, but its Cherokee and Pickens county campuses (in Woodstock and Jasper) joined with North Metro and Chattahoochee. The schools' boards, presidents and the commissioner had all signed off on the arrangement. "I've been in business for a long, long time," says Holcomb, "and I've never seen government work that fast."
However, the first-ever merger of three technical colleges tripled the administrative paperwork and bureaucratic red tape for Chattahoochee Tech president Chandler. "Within three weeks, I realized what I had gotten myself into," he chuckles. His schools' area covers six counties and 25 metro areas, serving 1.2 million people. Among the chores: Making sure no student among the three institutions happened to have the same ID number, which would threaten funding.
Chandler also found cultural issues of the merger challenging, and he faced them with a series of informal coffees at the various campuses, inviting faculty, staff and/or the public to meet each other and to ask questions. "Over the seven or eight months, I put 3,300 miles a month on my car," he says. "But it paid off."
Some schools, like West Georgia Tech, look to their sports teams to help bring together campuses. The Golden Knights play other tech colleges, some of which offer basketball, volleyball, baseball and softball. Future Wiregrass Tech PR representative Angela Hobby is also ramping up the school's use of another favorite college student pastime: social media. Along with building Facebook fan pages that will encourage, for example, culinary arts students to compare notes and make friends, "We're encouraging professors to write blogs that will get students outside the box and see what's going on in their field of study," she says. In addition, online "distance learning" courses are gaining popularity.
With all mergers scheduled for completion in July of this year, Commis-sioner Jackson says there are no plans for further consolidations. "Let's just say that we're not anxiously awaiting the next round of mergers," he says. "It has taken enough energy and manpower to get us here. If we have to, we will, but we're hoping for a year's respite. The system is merger-weary right now."
By all indications, the effort has been a smashing success. Already the state's largest technical college, Chattahoo-chee Tech, has been catapulted into the realm of a mid-sized college, thanks to its post-merger enrollment. With a 27 percent increase this year, its 11,363 winter 2010 enrollment rivals better-known four-year schools.
The schools are preparing a new and better-trained workforce for a more technologically advanced workplace. Administrators say their courses in anything relating to health are crammed; those workers will meet a projected need for the field expected to grow fastest in coming years. Students are being more cautious about fields that have demonstrated volatility – like internet-related jobs – in favor of occupations that seem to weather hard times and satisfy a need for independence, such as the culinary arts, truck driving and plumbing. College presidents re-port that their facilities are jammed.
The bottom line, however, has im-proved: "Our students are getting jobs," says Jackson.