Hope And Help
Atlanta is becoming a hub of research and treatment for breast cancer. More than 6,000 Georgia women received a breast cancer diagnosis last year – and every woman is at risk.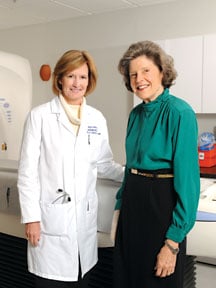 Brencie Werner discovered the lump herself. It was spring 2008 – after the experts had concluded that breast self-examination was probably a wasted effort, and not worth a physician's time to teach patients how to do it. Fortunately, Werner hadn't gotten the memo.
"It doesn't hurt and it doesn't cost anything. It doesn't make sense not to do breast self-examination," says Werner, 68, a retired microbiologist who spent her career with the Centers for Disease Control and Prevention (CDC). "I can't understand why they're recommending against it."
Well, first it was recommended. And then it wasn't.
The United States Preventive Services Task Force (USPSTF, part of the Department of Health and Human Services) concluded in 2002 that there wasn't enough evidence to suggest self-examination had any effect on reducing mortality from breast cancer.
Then, this past November, USPSTF dropped a bigger national bombshell. Not only did it recommend against teaching women how to perform breast self-examination altogether, it said women between 40 and 50 shouldn't bother with routine screening mammography, a complete 180-degree turnaround from years of deeply ingrained earlier recommendations.
There's a good reason why many women feel like ping-pong balls in the discussion about breast cancer, and healthcare in general.
"That's one of the sad things about the new task force guidelines and recommendations – it's telling them to cross their fingers and hope for the best, at least until they turn 50," says Dr. Janice Galleshaw of Georgia Cancer Specialists (GCS).
The new guidelines call for routine screening mammography every other year after age 50 (not 40, as previously prescribed). The November announcement elicited a national response from physicians, the American Cancer Society, the American College of Obstetricians and Gynecologists and others who say they will continue advising regular screenings for the 40-and-over set. It also gave politicians, who claim the new guidelines represent an insidious form of healthcare rationing, new ammo against a government-run healthcare system.
"My first reaction was that it must have something to do with healthcare reform. The cynical part of me said there must be a political spin to this," Galleshaw says. "But the people on this task force were appointed several years ago, during the Bush administration.
"The people on this task force are highly regarded folks, but they're not used to looking across a desk at a woman [who is] saying, 'If it wasn't for that mammogram, I'd be dead now.'"
So, the healthcare authorities disagree on when and how a woman should be screened for breast cancer, but they all agree on the devastating costs and certainties.
Breast cancer is the most prevalent form of cancer among women – in the U.S., one in eight women will develop invasive breast cancer in her lifetime, that is, cancer that spreads beyond the place of origin (typically in the milk ducts or milk-producing glands). In 2009, an estimated 254,000 women in the U.S. found out they had breast cancer – and about 1,900 men. In Georgia, more than 6,000 women got the dreaded news, many of them after finding something during self-examination.
Breast cancer is the second leading cause of cancer death in women in the nation and Georgia (lung cancer is the deadliest), with more than 40,000 women dying in the U.S. every year, and about 1,100 in Georgia. Every woman is at risk.
On the other hand, cancer diagnoses and deaths have gone down, due in part to increased awareness and the resulting diet/exercise solution, but due also to more and better treatment options. And Georgia, particularly Atlanta, has become a hub of cutting-edge research and clinical trials, with a cluster of healthcare organizations, research centers and individuals working to understand and eradicate breast cancer.
The American Cancer Society is headquartered in Atlanta. So are the Centers for Disease Control and Preven-tion and the Avon Foundation Comprehensive Breast Center (AFCBC) at Grady Memorial Hospital's Georgia Cancer Center for Excellence. And there's Emory's Winship Cancer Institute (WCI, which has received Georgia's first National Cancer Institute designation), and the ongoing collaborations between Emory and Georgia Tech (a pacesetter in cancer nanotechnology research, among other things).
There's Georgia Cancer Specialists, with facilities and offices all over Atlanta, but also as far south as Perry, Macon and Milledgeville and as far north as Blairsville and into Tennessee. GCS also has a team of physician researchers who are directing some pioneering clinical trials. Brencie Werner has placed her life in their hands.
"I feel fortunate," says Werner. "And I feel hopeful."
Breaking New Ground
Werner, whose brother is battling cancer of the tongue and whose father had colon cancer, has Stage IV (advanced) triple-negative breast cancer.
The most successful treatments for breast cancer target three receptors – estrogen, progesterone and human epidermal growth factor (HER2) receptors, which fuel most breast cancers. With triple-negative breast cancer, these receptors are not present, so triple negative tumors generally ignore receptor targeted treatments.
"Triple negative is probably the worst prognosis of any breast cancer," says Dr. Ruth O'Regan, associate professor of hematology and oncology and director of the translational breast cancer research program at WCI.
"We have good treatments for other types of breast cancer, but triple-negative is more aggressive and difficult to treat," she says. It's also more likely to recur than other subtypes of breast cancer.
O'Regan is part of a vast research team at Emory, where scientists are immersed in the cause, effect and treatment of breast cancer.
For example:
• Winship scientists have discovered a hormone produced by fat cells that can reduce breast cancer cells' ability to migrate and invade other tissues.
• Dr. Lily Yang is leading a research team at the Emory-Georgia Tech Nanotechnology Center for Personalized and Predictive Oncology in studying how nanoparticles could improve breast cancer diagnosis and foster early detection of breast tumors.
• Dr. Paula Vertino leads another Emory-Georgia Tech research group, studying gene silencing in breast cancer cells. Before they become full-fledged tumors, cells must turn off several tumor suppressor genes that basically exist to prevent cancer from forming. A process called DNA methylation leads to gene silencing. Vertino's group has developed guidelines to predict which genes are vulnerable to DNA methylation.
"Knowing which genes are susceptible could allow us to deliver new biomarkers for disease diagnosis and prognosis," Vertino says.
O'Regan, a Georgia Cancer Coalition Distinguished Scholar, splits her time between Emory and the AFCBC at Grady, and she has been particularly interested in researching race and triple-negative breast cancer, which affects African-American women twice as often as white women.
She says also that younger women are more likely to get triple-negative breast cancer, regardless of race (and younger women in general seem more susceptible to more aggressive forms of breast cancer). And while white women are more likely to get breast cancer of any kind, African-American women are more likely to die from it.
"Obviously, access-to-care is an important issue and has definitely led to worse outcomes for African-Americans; with triple-negative breast cancer, the disparity doesn't seem to be an access-to-care issue," O'Regan says. "We're still not sure why African-American women are at greater risk. But we're collecting the data."
Meanwhile, O'Regan and her colleagues at Grady's cancer center are working on outreach initiatives to improve survival rates for African-American women, whose breast cancer diagnoses often come at a later stage of the disease.
Ruth Eldredge also is working to level the odds as president of the Georgia Breast Cancer Coalition Fund (GBCCF). Eldredge and her colleagues deliver the gospel of education and advocacy to the underserved and underinsured, at women's shelters and homeless shelters and wherever they are invited, through workshops called "Breast Cancer 101."
Eldredge is a founding member of the organization, which started in 1994. Through its collaboration with the National Breast Cancer Coalition (NBCC), the GBCCF began by helping disadvantaged women from 40 to 64 gain access to mammograms under the National Breast and Cervical Cancer Early Detection Program (NBCCEDP).
"Once that was implemented, we learned we had no way to treat these women if they did in fact have breast cancer," Eldredge says. "We were just patting them on the fanny and sending them on their way, basically saying, 'You have cancer, now go find your treatment.' It was unconscionable."
NBCC went back to Congress, and though it took years, President Bill Clinton finally signed the National Breast and Cervical Cancer Prevention and Treatment Act into law in 2000. Now states can provide medical treatment through Medicaid to eligible women who were screened through the early detection program.
So far, the treatment program has avoided the state budget ax and more than 5,000 women in Georgia have been treated for breast cancer through Medicaid. Meanwhile, Eldredge is a full-time volunteer, conducting advocacy workshops and partnering with the Morehouse School of Medicine to spread the word, raising funds and awareness.
All of the research suggests that increased awareness and breast cancer screening can improve survival rates – for rich or poor, black or white. Doesn't matter. Early detection is critical, which makes the federal task force's recommendations really tough to swallow for some of the front-line experts.
O'Regan understands that the guidelines in Europe call for mammograms after the age of 50 – like the new task force guidelines.
"That's a cost issue," she says. "And I believe the rationale for the task force's recommendations is flawed. Younger women are more at risk for more aggressive cancers. I believe that this, too, is a cost issue.
"The recommendation against breast self-examination is one of the worst things they could have done. Where is the downside?"
The American Cancer Society is asking the same question regarding mammograms. The task force determined that routine screening mammograms for 40-somethings were causing more harm than good, citing false-positive results that led to additional unnecessary procedures (like biopsies), as well as patient discomfort and anxiety.
"But we see mammography as being a very important part of a woman's preventive healthcare plan after the age of 40," says Robert Smith, director of cancer screening for the American Cancer Society. "Our recommendations are different from the task force's because we looked at all of the scientific evidence, more carefully, and included a broader range of studies than the task force did."
Hope On Trial
It's hard to find two breast cancer cases that are exactly alike. It's even harder to identify all of the risk factors. Sometimes, bad luck must have something to do with it.
"I wish I had a nickel for every time I've seen a newly diagnosed patient and they say, 'I can't believe it, no one in my family ever had breast cancer,'" Dr. Galleshaw says. "They did all the right things – didn't smoke, exercised, ate healthy. And I tell them, 'You're like most of the women I see.'"
Even the choices women make diverge greatly, and trends change. Galleshaw says the U.S. used to be the world leader in breast preservation. Patients could undergo a lumpectomy to remove a tumor and save a breast without disfigurement. Now, she says, the incidence of mastectomy seems to be rising, especially in the Atlanta area.
"I attribute that to a very high-quality, talented group of plastic surgeons in the area," she says. "And as I talk to different physicians and patients, I'm hearing about patients in the very early stage of cancer asking for bilateral mastectomy as a preventive measure, as if getting rid of both breasts will solve the problem.
"Breast reconstruction has come a long way, but it didn't used to be this difficult to convince women to keep their breasts. Every woman is different, but this is a particularly emotional issue. These women are usually scared to death by the time they walk through my door."
Brencie Werner doesn't fall into a neat category. She has late stage, triple-negative breast cancer, but she is white, and she is 68, and she's fighting for her life. When the lump she discovered turned out to be cancer, she first sought alternative, holistic treatments.
She tried a two-week detox program. She tried mistletoe extract and mushroom extract, intravenous ascorbic acid, even traveled to Oklahoma to try laser hyperthermia treatments – designed to kill the tumor with a laser. The provider said it was successful, but months later, tests showed, the breast tumor hadn't diminished and the cancer had spread to her lymph nodes, so she went to a "traditional" oncologist who got her into the clinical trial for PARP inhibitors at GCS.
These inhibitor drugs block the ability of damaged cells to fix themselves, killing off cancer cells or making them more susceptible to chemotherapy drugs. Werner is being treated with a PARP inhibitor dubbed BSI-201.
"We're seeing some remarkable results, some breathtaking responses to the inhibitor," says Dr. Mansoor Saleh, principal investigator and director of clinical research for GCS. "It's very encouraging."
It bodes well for Georgia in an X-marks-the-spot kind of way that the first patients in the nation to take part in this trial are doing it in Atlanta with GCS.
Galleshaw, whose practice with GCS is devoted to breast cancer, was principal investigator for the Atlanta region in the massive STAR (Study of Tamoxifen and Raloxifene) trial for breast cancer prevention. With more than 19,000 women involved, it was the largest trial of its kind, designed to compare the two drugs in reducing the incidence of breast cancer in postmenopausal women who are at increased risk.
"Basically, both drugs are capable of reducing the incidence of invasive breast cancer by 49 percent," she says.
The PARP study at GCS is a randomized, crossover trial – one group receives chemotherapy drugs only, the other gets chemotherapy plus the PARP inhibitor. If the cancer doesn't respond to chemo only, those patients can cross over into the other group.
"So far, it's going great," Werner says after enjoying another Thanksgiving with her family. "The tumors in the breast have been resolved and the two in the lymph nodes have diminished somewhat. And I feel good. No side effects."
Three days a week, her husband Richard drives her to the GCS Northside office, a short trip from their Sandy Springs home. While undergoing treatment, Brencie lies back in a lounge chair and reads, or listens to the Bible on CD. Richard records the sessions with Dr. Saleh so Brencie will remember what was said.
"Faith plays a very large role in my treatment," she says. "I really feel like, if you have a purpose, you have a more positive attitude. Prayers are very important."
Ruth Eldredge also married a man named Richard. He answered to Ric. A career Army officer, he was diagnosed with a malignant melanoma shortly after leaving Vietnam with the last wave of U.S. soldiers in 1973. He died less than 10 years later, after the cancer recurred.
"As he was dying, he apologized for leaving me with kids in college and aging parents," Ruth says. "He also told me I should remarry."
She didn't, but she considers his blessing one of the greatest gifts she's received. Then on November 11, 1991 – Veteran's Day – she found a lump on her breast.
"Yes," she says, as if she's been asked this a few times before, "self-examination does work."
She was 48, had just retired after working 30 years for the Department of Defense. She immediately went to an emergency room and got a mammogram, which confirmed what her fingers already knew. She met with a surgeon, who did a biopsy. Cancer. Her doctor asked if she wanted a mastectomy or a lumpectomy. She reasoned, "If it ain't broke, don't fix it."
She had clear memories of her husband's ordeal through chemotherapy, and he was gone and she was afraid. At first.
"I was absolutely terrified," says Eldredge. "But through it all, I learned one really big thing – it's easier being the one with cancer than being the spouse of someone with cancer, and standing helpless on the sidelines. So I call myself a two-time survivor."