History Makers
Honoring Hank Aaron and Ted Turner. Two larger-than-life Georgians who have made indelible marks on their state and their professions are the newest Georgia Trustees.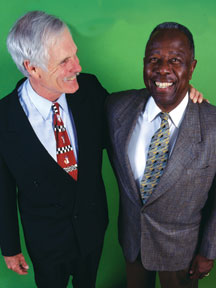 The Georgia Historical Society and the Office of the Governor will add the names of baseball legend Hank Aaron and business leader and philanthropist Ted Turner to the roster of Georgia Trustees at the Historical Society's Birthday Bash and Awards Gala in Savannah on Saturday, Feb. 13. The designation is the highest honor Georgia bestows on an individual.
The trustees were chartered in 1732 by England's King George II and charged with establishing the new Georgia colony. "Not only were they creating a colony," says historical society president Dr. Todd W. Groce of the original trustees and their work, "but it was really a philanthropic venture, bringing people from England who were down on their luck and giving them a chance at a new life. It had a military aspect, because it was creating a buffer between English South Carolina and Spanish Florida, but at the core of this was philanthropy."
The trustees were disbanded in 1752, but re-established in 2009 to honor contemporary citizens. The original principle, Non Sibi Sed Aliis or Not for Self but for Others, continues to guide the selection of new trustees, Groce says. "The people selected are not only people who have achieved great things in their fields, but there needs to be some commitment to service."
This year's trustees, Aaron and Turner, are eminently well qualified. "Their accomplishments in their fields are absolutely extraordinary – they are some of the best known Georgians around the world," says Groce. "There's nobody bigger, but then there's that commitment . . . using the prestige of their accomplishments to make the world a better place."
Home Depot co-founder and philanthropist Bernie Marcus and the late Marguerite Neel Williams, a founding trustee of The Georgia Trust for Historic Preservation who was honored posthumously, were the first modern-era trustees, inducted last year.
The awards ceremony is part of the two-week-long Georgia Days celebration in Savannah that will highlight the career and achievements of Georgia native Jackie Robinson, who became the first African American on a major league baseball roster when he debuted in 1947 with the Brooklyn Dodgers.
The Georgia Historical Society was founded in 1839 in Savannah, where it is still headquartered. Groce describes the society as "a research and educational institution, created to tell the story of Georgia and also its larger role within American history," with the goal of creating an educated citizenry.
"What we're trying to do is tell the whole story – the good, the bad and the ugly. There's all of that in our past. If we're going to come to grips with that, we have to be honest and move beyond the tendency people have to celebrate history," Groce says. "We have to look into the whole thing, because there are parts that are very dark and are very tragic. We see ourselves using history and understanding history – all of it – as a way of creating a better future." – Susan Percy
Going Deep For Kids
Home run king Hank Aaron is helping young people chase down their own dreams
By Jerry Grillo
Hank Aaron was baseball's humble virtuoso. Consistent as sunrise, he set an unmatched standard of sustained excellence as a player, breezed into the Hall of Fame and into the Atlanta Braves front office, started a business empire and a philanthropic foundation, had a Major League hitting award named in his honor, received the Presidential Medal of Freedom, settled gracefully into his position as an elder statesman of the game, and into the collective American mindset as one of the greatest players of all time.
Aaron, the quiet superstar radiating organic poise, never sought the spotlight, though it eventually found him. But just in case anyone was watching, he always made being Hank Aaron a full-time job.
"You have to carry your dignity a little bit further than the field, you know," Aaron says, as if you really should know this. "Just because you've taken the uniform off doesn't mean you stop being a professional. You try to live your life and play the game in such a way that others would want to emulate."
If Aaron sounds like a Boy Scout, he comes by it honestly – he was one. And he says his scouting experience, while growing up in heavily segregated Mobile, Ala., "was the greatest thing that happened to me as a kid, and it taught me the rules and regulations of life," while his parents – Herbert and Estella – instilled in young Henry an adherence to the golden rule.
"That's what they expected from me, that's the way they wanted their kids to be," says Aaron. "Do unto others as you would have them do unto you."
Of course that never applied to pitchers, whose favorite nicknames for Aaron were "Bad Henry," and "The Hammer."
In mannerism and athletic grace he seemed most similar to Joe DiMaggio who, like Aaron, was an outfielder who could hit for power and average. But Aaron took his cues from Jackie Robinson, whom he considers his role model.
Aaron was a young teen when he first saw Robinson play in an exhibition game, and remembers evenings spent around the radio whenever Robinson's Brooklyn Dodgers were on the air.
"Here was the first African American in the big leagues, someone the black community could really look up to," Aaron says. "And he really set the example of what it takes to be a professional athlete – beyond hitting home runs and base hits. It wasn't in what he said, but the way he carried himself.
"You start idolizing someone, you watch their every move. The way they walk, the way they talk, the way they carry themselves. He didn't have to say anything to me, because I was paying attention."
Good thing Robinson didn't say anything, because Aaron – the man who stood up to vicious racism and death threats while chasing Babe Ruth's home run record – says he probably would have been tongue-tied and paralyzed with fear. Robinson was to Aaron what Aaron became to legions of baby boomer ball fans – an idol.
Remembering Robinson
So, when the Georgia Historical Society announced that Aaron (along with Ted Turner) would be named a Georgia Trustee this year, the tribute was made particularly sweet because the society was simultaneously recognizing Robinson as its Georgia Days Honoree.
"It's difficult to put into words what this honor means to me," Aaron says. "Not only because I grew up in the South and have spent most of my life in Georgia, but also because of what Jackie Robinson meant to me, as a baseball player and a role model. This is something I'm very proud of."
As a player Aaron was the coolest of customers, disguising an intense focus and a passion to succeed within an uncanny tranquil shell. To some observers, he looked as likely to take a nap in the batter's box as he was to commit violent abuse on a baseball, which he did with alarming regularity.
His career might best be viewed from a distance, from a vantage point of years. Aaron didn't hit moon shots like Mickey Mantle, didn't lose his hat running down fly balls like Willie Mays – basically, he didn't play in New York, so he wasn't appreciated on a national level like those guys.
So, he wasn't flashy. But he was rock solid and relentless, more durable than Mantle or Mays. He also hit for a higher average than they did, collected more base hits, was probably their equal in the field, drove in more runs than anyone who ever played, and on April 8, 1974, did what many had considered impossible, passing Babe Ruth as the all-time home run leader when he belted No. 715 in Atlanta-Fulton County Stadium.
He broke in with the Braves in Milwaukee in 1954, moved with the club to Atlanta in 1966 and was a Milwaukee Brewer when he hit his last home run, No. 755, in his final season, 1976.
On a cold December day, two months before his 76th birthday, he patiently guides a visitor through the maze of Atlanta Braves administrative offices at Turner Field, walking with the aching gait of a retired guy who rarely missed a day of work in 23 years of demanding, physical competition against strong, fast, sometimes rough men.
"Things were a different in those days, especially the pitchers," Aaron says. "Take a guy like Bob Gibson. He was not only dominating, he was scary. And tough. I saw him hit guys when he knew full well that he was going to bat the next inning and probably get thrown at.
"The great ones – like Gibson, Sandy Koufax, Don Drysdale, Juan Marichal – had a real toughness about them. When they got into the sixth or seventh inning with a one-run lead, there was no way they would leave the game. Lot of guys today, by the sixth inning they're looking for somebody to come in to relieve them."
Aaron relished the one-on-one confrontation with pitchers and he's proud of his accomplishments with a bat, but in an understated way, because too much external baggage came with his records and it left some scars.
The chase for Ruth was the ultimate bittersweet moment in the history of the game. While players and most fans, especially in Atlanta, cheered Aaron's run at history, he received piles of hate mail from anonymous racists who did not want a black man holding baseball's most cherished record.
"I think that home run was one of the greatest moments in baseball history, one of the great thrills of my life and a great thrill for the black community. But it was not easy," says Aaron. "There were people, a lot of them, who simply were not ready for me to break that record, because of my skin color."
In 2007, Barry Bonds, who was under investigation for using performance-enhancing drugs, passed Aaron's home run record.
"It was bound to happen," Aaron says. "I held it for a long time and enjoyed it. But just as I passed Babe Ruth and Bonds passed me, somebody's gonna come along and pass him. That's the nature of it. Records are made to be broken."
Of all his baseball accomplishments, Aaron is most proud of the fact that he was able to play at the highest level for 23 years.
"That's the kind of record you achieve with the help of others," he says. "In baseball, for me, that meant great teammates, guys like Eddie Mathews hitting in front of you or behind you in the batting order, protecting you.
"Even before I started playing, when I was still chasing my dream to play in the Majors, had it not been for other people helping, reaching out, I never would have made it, in spite of my ability. Plain and simple, anyone who has meant something to this country, who has done something great, had someone else giving them a hand along the way."
Dream Foundation
And that's what Aaron wanted to do when he retired as a player – well, that and get into business. He had a great run with his BMW dealerships and sold them just before the economic bust, still runs a thriving restaurant company and sits on numerous corporate boards, including the Atlanta Braves.
In the mid 1990s, he and his wife Billye started the Hank Aaron Chasing the Dream Foundation. The foundation became fully active and heftily funded in 1999, when the Aarons threw Hank a 65th birthday bash and fundraising event. President Bill Clinton was among the dignitaries who helped raise $1 million for the foundation, which helps underprivileged children participate in activities they otherwise can't afford, like music and sports. Major League Baseball and Boys and Girls Clubs have partnered with Aaron's foundation to create a college scholarship fund also – they'll give out 44 each year (Aaron wore No. 44).
Aaron, who was vice president of player development for years in the Braves organization, now has an untitled post that allows him to pursue his philanthropic passions, like helping to increase the number of African Americans in baseball by promoting the game to kids.
As the coolest guy in any room he occupies, Aaron is the Braves unofficial ambassador of excellence. He counts ambassadors, presidents and CEOs as his friends – they all want to meet him. He's comfortable with his life, modest in spite of his many awards and honors and accomplishments, with his eye, as always, on a bigger picture.
The foundation, his work with kids, it's all about achieving their dreams, he says. Not his. He already chased his down.
"I love baseball, it's given me so much, but that's my world, and it isn't everything," he says. "I'd prefer people said, 'Hank Aaron helped people,' rather than 'Hank Aaron hit that home run in the ninth inning' – which is all right, too. It's fine.
"But it means more to me when someone says, 'Thanks to Mr. Aaron, I know how to play the harp,' or 'I know how to dance,' or whatever it is they dream of doing. See, that's what life is made of."
Becoming Captain Planet
The same Ted Turner who changed television forever is focused now on the environment
By Susan Percy
Ted Turner, creator of CNN and TBS, champion sailor, former Atlanta Braves owner, newly designated Georgia Trustee and one of the world's richest men, is working as hard to give away his fortune as he did making it. His mission is simple: He wants to save the planet.
He has established several foundations, including the United Nations Foundation, to which he pledged a billion dollars, and The Turner Foundation, Inc., to support environmental causes, protect the climate and curb population growth. The Captain Planet Foundation focuses on educating children about their communities.
In an interview with Georgia Trend in his Turner Building office in downtown Atlanta, Turner talked about his philanthropy, the causes he is passionate about and the urgency he feels.
"We're in a real different situation with the global climate change issue, which is just one manifestation of overpopulation and overuse of the resources on the planet," he says. "Too many people using too much stuff, and the planet's collapsing.
"Everybody knows we're over-fishing the oceans and overgrazing the range lands and over-harvesting the forests. In virtually every category we're going backwards," he says. "For our planetary management, we are going backwards. But we can change it, and a lot of people are trying to change it – a lot of people.
"Our farming is totally unsustainable," he says. "The soil's giving out. The dead zone in the Gulf of Mexico is caused by all the fertilizer that's washed off the cornfields of Iowa into the Mississippi River and into the Gulf of Mexico."
Turner believes traditional economic indicators do not take environmental damage sufficiently into account.
"We've got this definition we use to supposedly describe our progress," he says, "GDP [gross domestic product]. China's GDP is up 8 percent and the United States' is up 1 percent. The GDP is false accounting because it doesn't debit the damage to the environment. All it shows is the money."
As an example, he talks about the Ivory Coast: "Many years ago, a country in Africa, the Ivory Coast, was heavily forested with beautiful virgin timber. That was the only asset they had. But their president went out and started cutting all the trees down. They cut trees down for about 10 years. Their GDP went through the roof – they had one of the highest GDPs of any developing country. Then they ran out of timber, and their GDP crashed and now they're one of the most impoverished nations. They liquidated the only asset they had – and their GDP looked wonderful.
"We need to debit the damage that happens to the environment to get that GDP. And if we do that, China does not have an 8 percent improvement – they are down like [negative] 4 or 5 percent. So is every other country. No country has a positive GDP if you debit the environment – there may be one or two oil countries who are not drawing down on their environmental capital. But practically speaking, across the wide majority of situations, we would be going backwards."
In his 2008 book, Call Me Ted, Turner writes of his developing concern for environmental and global issues, helped along by a friendship with the oceanographer Jacques Cousteau and others who convinced him that he could be part of a solution. His foundations include the Nuclear Threat Initiative, which he co-chairs with former Sen. Sam Nunn, aimed at lessening the threats from nuclear and biological weapons.
"Saving the environment and ridding the world of WMD are really critical survival issues," he says. "If we keep thousands of nuclear weapons around, someday something is going to go wrong."
As an advocate of land conservation, Turner has become the single largest landowner in the country and amassed more than two million acres in the West and Midwest. Much of it is devoted to the return and protection of endangered wildlife, and he has about 45,000 head of bison. After he dies, the land will be protected by conservation easements; the properties are to be protected from development in perpetuity.
Ups And Downs
Turner's career highs and lows are legendary – he turned his father's billboard company into a media empire, started CNN and TBS and revolutionized the cable TV industry. He won the 1977 America's Cup, and he owned the Atlanta Braves for several years and presided over their ascendancy to World Series champs in 1995. That same year he sold his company, Turner Broadcasting, to Time Warner, and became that company's largest shareholder; but he subsequently lost some $8 billion after the disastrous AOL/Time Warner deal.
In the preface to his book, Turner says, "I built a successful media company and a large fortune only to get pushed aside and lose 80 percent of my wealth, all in a two-year period," but assures readers he still has a couple of billion left. As he was leaving Time Warner, he started a restaurant chain, Ted's Montana Grill, with Atlanta restaurateur George McKerrow.
So, are philanthropic successes as satisfying as the business ones?
"Satisfying? I find them similar, same basic principles. Yes," he says. "We approach them and try to think . . . that we are making an investment in the future of humanity rather than just giving money away. We try to operate the philanthropies in a businesslike fashion."
Throughout his business career, Turner was a risk-taker, but he says that does not carry over to his philanthropic endeavors.
"I think it's more a function of age," he says. "When I was starting out I was much more of a risk-taker than I am now at 71. I'm very conservative and very cautious financially and business-wise."
He has been critical of rich people who do not share their wealth. "I'm talking about some people, not everybody. There are a lot of people who are giving very generously, but there are some that aren't."
How do you motivate them? "Set a good example is all I can think of," he says. "It's their money, they can do what they want to with it."
Of his own motivation, he says, "Remember when we were children and we had Donald Duck cartoons? Remem-ber Scrooge McDuck? He had a room full of money and coins and he would go in there and just swim around in it." But Scrooge never looked as though he was having as much fun as the others.
"Scrooge McDuck, I remember him. I did not want to be Scrooge McDuck. It's that simple at the end of the day."
Growing Awareness
Turner is pleased to see environmental awareness become more mainstream, but believes saving the planet demands serious measures and that controlling population growth is crucial.
More people are aware of environmental concerns than ever before, he says, "But there are more people than ever before. We need more action than ever before.
"We must stabilize the population through family planning. We don't have to have abortions if we plan properly. We've got great birth control devices and a whole wide range of them."
Why has it taken so long for environmental awareness to sink in?
"The Industrial Revolution only started 200 years ago," he says. "When I was born [in 1938] the world population was slightly over 2 billion." Now it's more than 6.4 billion, "3.5 times as much in one lifetime." The number of elephants has gone down by 90 percent in the same time period, he notes. "While humanity has increased three and half times, everything else has gone down."
Awareness typically lags reality: "You see it here in Atlanta and Georgia with the water situation. Everyone's aware of that now, but people weren't aware of that 25 or 30 years ago. People hardly thought about it. Atlanta was half the size and demands on the water system were a fraction of what they are today."
Clearly, Turner enjoys fighting the good fight: "Life would be boring if we didn't have major challenges," he says.
He tells a story from his book: "I was on the Calypso with Captain Cousteau, and I said, 'Captain, I'm discouraged. It looks like the situation is hopeless.' Reagan was president, and he'd just called the Russians the evil empire….
"Captain Cousteau said, 'Ted, what else can men of good conscience do? Even if we knew we were going to lose, what else could we do but keep fighting, keep fighting as hard as we could to save the environment?'
"By saving the environment," Turner says, "we save the human race. If the environment is destroyed, it's the end of humanity, too, because our whole life support system is based on environment."
Still, Turner says he is optimistic about saving the earth – "most of the time."