Cultural Downshift
For many in Georgia, the job picture is changing forever. Traditional blue collar jobs are disappearing and education is even more crucial.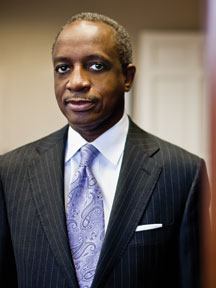 By now, businesspeople have become all too familiar with Georgia's most distressing employment statistics: A half-million people out of work. Statewide unemployment at 10.2 percent. In the state's most adversely affected area, the metro Dalton area, where carpet and textile factories have laid off well over a thousand workers, the percentage of unemployed hovers at 12.9 percent.
For many, the job picture is changing forever – permanent, full-time jobs, especially those lasting throughout a career with a sole employer, are more often than not a thing of the past. Traditional blue-collar jobs that require little education or special training are perhaps the most severely affected.
However, says Georgia Labor Commissioner Michael Thurmond, the state also has some bright spots, and the worst may be over. Or, perhaps more accurately, the bad news is not coming quite as fast these days.
"Layoffs are moderating," he says. Because of new ventures like West Point's KIA factory, and the new NCR plant in Columbus, even the manufacturing sector has brightened a bit.
"We're seeing some growth around Muscogee — and Liberty County," he says. Muscogee is benefiting from the new plants, and Liberty's improved numbers are largely due to secondary businesses near the busy Port of Savannah. In early November, just after beginning production of its light SUV, the Sorento, KIA announced that it was reopening the application process to add more jobs to the 1,200 hired so far.
NCR's plant for manufacturing ATM machines began production in late October, with 120 new hires; and an estimated 750 additional workers are to be added over the next three years. A new Volkswagen plant in Chattanooga, near Georgia's hardest-hit northwest region, opens in 2011 and will provide 2,000 new jobs. "That's good news for unemployed Georgians," says Thurmond.
In addition, "green" industry jobs are expected to grow, as consumers and businesses modify residences and commercial spaces to do more with less energy and waste, and highly trained workers build and operate nuclear and/or clean coal power plants. Specialized areas like healthcare, financial and business analysis and computer and software development are expected to expand exponentially nationally and statewide. Those jobs typically require advanced degrees, and often years of experience as well. Georgia Department of Labor forecasts state flatly that "workers with more education will earn more and be employed in the fastest-growing occupations." By 2016, the department estimates that health, education and administrative and support services will each account for more than 100,000 new jobs. The three areas are predicted to generate more than two of every five of those new jobs.
Perhaps the biggest cultural downshift is in the high-demand areas of manufacturing and industrial work. Once the bastion of shade-tree mechanics and old-style "smokestack" and assembly-line industry workers who might or might not possess a high school diploma, today's blue-collar work requires much more training.
"Now you go to have your car repaired and you plug it into a computer," Thurmond points out. West Point's KIA plant conducted its job search last February entirely online – meaning any job aspirant had to possess at least rudimentary computer skills merely to fill out the application. In three weeks, the company received 43,000 applications from all over the country for the jobs, which pay from $14 to $27 per hour.
Another job bank for workers with little education, construction, is also running deficits. Thurmond describes construction job losses as "really devastating, even before the recession hit." Factoring in job losses for factory work sent overseas, it's no wonder many families and communities are reeling.
"It's a Darwinian job market," says Thurmond. "Survival of the fittest. And the fittest are not the strongest, the swiftest, the smartest. They're the most flexible and adaptable for change."
Re-training workers for this new environment is key for keeping families afloat, and for luring new industry and businesses to Georgia. Finding and keeping qualified workers is of utmost importance to any employer, especially those like KIA or NCR, who will be investing millions in their state-of-the-art operations.
Georgia Work$
To encourage re-hiring in small and medium-sized companies, Thurmond is expanding Georgia Work$, initially launched in 2003. The program allows companies to train prospective workers for up to 24 hours a week for eight weeks at no cost to the employer – the trainee continues to draw unemployment insurance benefits and may be eligible for as much as $300 for transportation, clothing and child care as well. This relatively low-cost program to encourage and support hiring at private-sector businesses has so far led to more than 3,000 jobs, and at least 15 other states are considering duplicating it.
Perhaps the state's most valuable resource in filling the training gap: Georgia's 26 technical colleges. That number is far higher than in most states, and means a technical college is within 25 miles of nearly every Georgian. The colleges are currently enjoying record enrollment, as laid-off workers invest in new training. This year, the Technical College System of Georgia (TCSG) recorded 110,254 students statewide, exceeding last year's number by 24 percent, and far exceeding the previous record of 91,838 in 2003.
Ron Jackson, TCSG commissioner, says the colleges are "pretty well maxed out" in terms of creative use of time, classrooms, faculty and parking. Even with the state-mandated furloughs, the colleges are offering weekday, Saturday and evening classes to accommodate students' schedules.
Jackson ticks off the most in-demand fields for tech classes: "Health-care. Advanced manufacturing, which is very tech-driven, like in the new KIA and NCR plants. We think there's a big future in it. Truck driving is a huge growth industry, largely because of turnover. We've placed every one of our graduates. We have a lot of 'bread-and-butter' occupations, which are pretty much recession-proof: HVAC, plumbing, electricians. Cosmetology is huge right now and presents a lot of opportunity for entrepreneurship. We also have high, high placement rates.
"The 'green industries' are also showing a lot of promise – for weatherizing buildings and for energy generation, whether clean coal or nuclear. That's going to require a workforce with highly specialized needs. And after a slight decline following the dot-com bust, we're seeing information technology back on the rise. Computer gaming is one of our fastest-growing fields, and its uses extend far beyond games. Computer simulation is huge in corporate America, and in training for uses like flight simulation."
Changing Demographics
For all the encouraging job news, there is plenty to worry about. Aside from the stark financial realities, Georgia's unemployment numbers also portray the state's changing demographics. In December 2007, at the beginning of the recession, African-American females constituted the largest group in the state receiving unemployment benefits. By May 2009, they were the second smallest group, and white males had replaced them as the largest group receiving benefits.
Some have called the current downturn a "he-cession" to describe the record number of unemployed men, many in manufacturing. The state's numbers reflect a national Great Recession trend, described in a Georgia Department of Labor white paper as "the largest absolute and relative gender gap in unemployment rates in the post-World War II period."
The white paper also states a little publicized but revealing statistic. De-spite the bursting-at-the-seams tech college enrollments, the group that most needs training doesn't seem to be seeking it in commensurate numbers. In a recent shift, women are now enrolled in higher numbers at tech colleges than men, despite the traditionally male-oriented industries for which the colleges offer re-training. In fact, the gap is even greater than in the University System of Georgia, where 57.7 percent of fall 2008 enrollees were women – technical college's female enrollees accounted for nearly 63 percent of the class.
"I wish I had an answer for you," said Thurmond, when asked why more men – seemingly most in need of retraining, since they have lost most jobs – aren't seeking it. Funding for such education is readily available — via HOPE grants and scholarships funded by the state lottery.
"It's extremely troubling – a prescription for economic disaster," Thurmond says. He says the trend exposes "major implications, not just for men, but for the economy."
"I don't know why they're not getting training – maybe it's because we men are less likely to ask for help," says Thurmond. He points to the statistics showing that lack of employment affects men psychologically in a far more adverse way than women, often leading to health problems and shorter lives. Plagued with depression after losing a job, men may lack the support they need to send them in a new direction.
"Policymakers haven't fully explored the impact" of this demographic shift, he says. Agencies may need to partner with social services to help the unemployed get the help they need, and men will need to branch out from traditionally male lines of employment, such as construction, to more traditionally female lines of work, such as healthcare and nursing.
Turning On A Dime
For would-be workers who are looking for new training and opportunities, however, the state's technical colleges can "turn on a dime," says Skip Sullivan, president of West Georgia Technical College, offering a custom-made course for an employer in as little as six weeks. WGTC played a key role in luring KIA to West Point, designing a training program, running the online application process, even screening jobseekers and helping the company throughout the hiring process.
"It is our mission to meet the needs of industry," says Sullivan. In fact, the state's technical colleges employ a number of techniques – formal and informal – to anticipate training and education needs, and to help companies bring jobs to Georgia.
Through the technical college system's Quick Start program, the colleges work with businesses to design training courses – on a cost-recovery basis only, and provide help in recruiting and hiring.
"I can't say enough good things about it," says Randy Jackson, KIA's director of human resources, of Quick Start. The program has sent representatives to Seoul, Korea, to coordinate with KIA representatives in planning training, and to Budapest, Hungary, to inspect NCR's manufacturing facilities before creating a training program. With an annual budget of $16 million, the program has helped scores of companies recruit and retain a qualified workforce. "It's a huge return on investment," says Thurmond.
KIA's Jackson has a long career in the automotive industry, working with Toyota and Mercedes before joining KIA. He's seen Quick Start's equivalents in many other states, and says, "It's so far out in front, so much more advanced."
The online application process, designed by Quick Start for KIA, was a boon from the get-go, says Jackson, allowing the company to immediately determine how many applicants were high-school grads, which of them had college degrees, who lived nearby, and who already possessed some of the specialized skills they were seeking. "We'd always done it manually," he says, "There would be thousands and thousands of applicants, and we'd have to hire someone to wade through them. Then with the pressure to hire, you'd find yourself just shoving bodies through the door. The Quick Start people were not only consistent, but fair." Quick Start reps sat in on interviews with KIA employees, and their help continued long after the hiring and training process, he says, rendering aid with marketing, design and videos as well.
While companies like KIA and NCR have earned headlines for their area investments and job growth, technical college representatives emphasize that help for local businesses is available at every school, regardless of the size and scope of the enterprise. Jamie Loyd, vice president of economic development at Columbus Technical College, points out that every tech school in the state has an economic development department that works directly with employers. The department can help design a training program, in its own offices or on the college campuses, for a certificate or diploma, or something entirely specialized for the industry. He points to a recent stint with Aflac, in which employees worked toward a required certification at their own offices, eight hours a day for three weeks, while being paid by their employers. "It's the best scenario for employees," he says.
In the meantime, the TCSG will continue to scan the horizon to anticipate upcoming workplace needs, and de-sign programs to fill them with Georgia workers. Just as many employees might never have envisioned this new employment landscape, we may all continue to be surprised at what tomorrow's workers are likely to be doing, making, selling. Right now, Ron Jackson is excited about the possibility for training workers to use a new medical technology with enormous potential, which he will describe only as a "temporary organ device."
"We have to be on the cutting edge," he says.