How Low Can They Go?
Georgia schools grapple with massive state budget cuts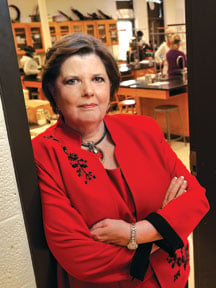 The word came down from Atlanta late in July, about a week before teachers in the Peach County school system reported to work for the 2009-2010 school year.
"We were told, essentially, that we had to cut almost $800,000 from our budget," says Peach County Superintendent Susan Clark. "That didn't include furloughing teachers three days, it didn't include the $2 million we'd already cut from our budget this year, or the $8 million cut over the previous six years.
"Basically, it was the same dilemma for me as it was for the 179 other school superintendents in Georgia. But we felt like our backs were up against the wall."
She pulled together all the school principals in the county, all of the central leadership, and they locked themselves in a room all day to figure out how to manage the sudden 3 percent budget cut in state funding – which followed last spring's massive cuts during the legislative session.
"We brainstormed and looked at every possibility until we felt there were two options remaining," Clark says. "We'd have to cut personnel, 39 positions, and that would have included kindergarten paraprofessionals, our elementary school music and physical education teachers. We couldn't seriously consider that option.
"Our second choice was a four-day school week. That would save us over $400,000 in transportation and energy costs."
Now the 4,200 students in Peach County's public schools enjoy a three-day weekend every week – schools are closed on Monday, when teachers and administrators telecommute. In Murray County, education leaders cut 20 days from the school calendar. Both systems are adding time to the school day to meet state requirements for total number of school hours.
Seven consecutive years of cuts in state funding for education by Gov. Sonny Perdue and the state legislature (through good economic times and bad), coupled with the freeze on property tax assessments until 2011 (which will significantly impact local school funding) have local school systems watching every cent and paper clip. And it'll probably get worse before it gets better.
"When the General Assembly comes back in January, we expect even deeper cuts," says Herb Garrett, executive director of the Georgia School Superintendents Association. "I guess we better thank heaven for the federal funds, because we'd be looking at a lot more school systems cutting 10, 15 days out of the school year. Without the federal money, it would be really disastrous."
But the stimulus money is finite, says State Superintendent Kathy Cox, available only for a couple of years.
"Our school systems are at a crucial point," Cox says. "When school systems like Peach County have to make the decision to go to a four-day week, that's a sign of a pretty drastic situation. And you have to be concerned that there are many districts out there on that cusp."
When Peach County announced its plans to go to a four-day school week, Cox considered the move somewhat extreme.
"They felt they didn't have a choice," she says now. "But I can't imagine it will help Peach County student achievement."
Clark wasn't overly concerned with what the state Department of Education thought, not when she was feeling squeezed.
"We didn't consult them because there is a concept that's been around a while called local control," Clark says. "In our county, we still have that."
And she's pleased with how the rural school system has responded to the change – school absences are down, even the use of substitute teachers is down.
Working parents in Peach County who wondered how they'd be able to tend to their kids on Mondays got some relief as local churches stepped up to offer daycare services for students – at a minimal cost. And at least one group of parents has organized Monday educational activities.
It doesn't address the challenge for every family, and there's no telling how many others will be facing the same situation when school budgets fall under the inevitable knife again.
Textbook Examples
Georgia public school systems are funded primarily through state and local dollars, the majority provided based on the Quality Basic Education (QBE) formula, which dates back to the 1980s.
Funding is based on the number of full-time equivalent (FTE) students in a program, and programs are "weight-ed" based on the expense to educate students – it costs more to educate a severely disabled student in special education than it does to teach a ninth-grader taking a regular course load.
The average total expenditure per student in Georgia for FY 2008 (latest year available from the Department of Education) was about $9,000, but the numbers vary wildly from county to county. For example, the figure is just over $8,340 in Peach County, but nearly $13,500 for the Atlanta Public Schools system.
"There are a number of underlying costs that differ from system to system," Garrett says. "Teacher salaries, principal salaries, the electric bill, insurance, text books and so on. But there is no inflationary factor built into the formula."
Garrett uses a textbook example – literally. Under the QBE formula, about $40 is spent on textbooks per student, per year, Garrett says. "But a chemistry book alone costs about 120 bucks," he adds.
Transportation has been funded at less than half of what the formula dictates, he says, and those costs, like so many others, get shifted to local jurisdictions. As part of the QBE Act, the state subtracts five mills from local districts' QBE allocation, so the districts are obliged to level property taxes of at least five mills to meet that commitment.
The state's austerity cuts have shifted more of the cost onto local school systems, Garrett says. Again, the numbers vary widely from system to system, but on average, state QBE covered about 60 percent of a student's education, to the local district's 40 percent.
"Over the last six years we've seen a shift, and the split is more like 55-45 now, with each of those percentage points representing about $100 million," Garrett says.
Georgia has already received most of its federal education stimulus money (we'll get about $2.3 billion through FY 2011), but the American Recovery and Reinvestment Act (ARRA) money for education actually comprises two pots, Garrett says. One is for Title I (slated for the most at-risk schools) and special education.
"It's good to have it, but it doesn't make up the shortfall in state funding," he says. "The other pot of money is the education stabilization fund – those are available to the state to plug the funding hole, to backfill against the state cuts. But the state cuts are so massive."
Even with the federal money, Garrett says, state cuts essentially meant $400 million less for Georgia public schools since January. And since 2003, the state has made more than $2 billion in austerity cuts to the education budget. Meanwhile, Georgia has ranked near the bottom of all states in student achievement.
"My daughter was reading out of a textbook that has Yugoslavia in it," says Karen Hallacy, second VP on the board of the Georgia PTA (GPTA), who has served as the group's legislative chair. "Yugoslavia isn't on anyone's map any more. We can't refresh textbooks fast enough."
Two years ago, she says, GPTA surveyed a number of school districts about the impact of austerity cuts.
"The general consensus was, slower textbook updates, reductions in transportation, they had to let their paraprofessionals go and now we're seeing class sizes increase across the board," Hallacy says.
Indeed, says state superintendent Cox, who has seen a growing number of class-size waiver requests come across her desk. Last year DOE allowed a one-year blanket increase in class size for all school systems in K-8. The number of requests keeps growing as budget demands get tougher this year, she says.
"I was a classroom teacher, and I can tell you it's a lot easier to keep track of student progress when you have 120 kids a day versus 150," Cox says. "When you have 30 or 32 kids in a class, it's humanly impossible to stay on top of every one. We have to build a better mousetrap."
Cox says better use of technology, and virtual learning to deliver content, could be part of the answer as classroom sizes creep up.
The Georgia Lottery, which funds pre-K programs and the HOPE Scholarship, used to contribute millions to technology for K-12. But that hasn't happened for about six years, according to Chris Valley, a lottery watchdog for the GPTA.
"Meanwhile," he says, "lottery revenue has grown."
Cox says she has to have some serious conversations with state legislators about resurrecting a portion of the lottery money for K-12. Meanwhile, local districts are picking up the technology cost – or trying to. Paul Shaw, superintendent in White County, a rural system with about 4,000 students in northeast Georgia, says his district eliminated spending for technology to meet the current budget demands.
"We knew were going to be in for some rough times, financially speaking, so we started planning a year ago," Shaw says. "We eliminated 21 positions and took about $2 million out of our budget by postponing new textbooks, unless we absolutely needed them.
"Typically, we change our computers about once every six years – one school a year, about $200,000. We put that on hold this year."
Usually, White County buys two buses a year. This year the state bought one, but the county held off on adding another. The system is overdue for a new middle school, so early in the fall Shaw was campaigning hard for a continuation of a local education SPLOST (Special Purpose Local Option Sales Tax) to cover that expense, and others. White County voters passed the SPLOST measure by an impressive 65 percent in Nov-ember.
"SPLOSTs are more important than ever now," Shaw says. "Without it, we'd really be in a hole. Basically, it would help us avoid going to taxpayers to ask for an increase in local property tax."
More Or Less
The Muscogee County School District is in the eye of a growth hurricane. The last Base Realignment and Closure assured that nearby Fort Benning would receive 30,000 additional troops and their families from the Armor School at Fort Knox, Ky., which is closing. The Columbus/Muscogee system is expecting more than 4,000 students over the next two years – a large influx for an already sizable school district (33,000 students).
So when Muscogee County voters approved a renewal of the education SPLOST in a special September vote, the district's chief financial officer, Sharon Adams, was relieved.
"It's strictly for bricks and mortar and technology," Adams says of the five-year, $223 million SPLOST. "We're extremely lucky the voters approved this. We're going to be flooded with new students."
July's last-minute budget cuts took about $8.4 million from the Muscogee district budget, and Adams says she's waiting for the other shoe to drop in January.
"The cuts are having a real impact for a system like Muscogee's, which is going to see quick, massive growth because of BRAC," says Garrett, who has developed a reputation as an education finance expert. "But imagine what will happen to a place like Chattahoochee County right next door. They're going to pick up some of those kids. How will they handle such a massive influx?"
Most of Chattahoochee's land mass is made up of Fort Benning. The entire school district has about 1,000 students, and a system budget of about $9.6 million. Superintendent James Martin figures his district has lost about $500,000 in state funding.
"The austerity cuts have been rough," he says. "And with over half of the county comprised of Fort Benning, that has a real effect on the amount of local property taxes we get."
Chattahoochee schools do get "im-pact aid" from the military, but Martin says that money usually arrives a year to 18 months after the kid gets there.
But like Shaw in White County, Martin has been planning ahead. He's been trying to get costs under control since arriving at his post two years ago. This year they cut field trips out of the budget; supplies are purchased on an as-needed basis only; athletic teams are playing closer to home, and overtime has been cut. But they haven't had to eliminate any positions yet.
"We're on a shoestring budget," Martin says. "And I'm holding on tight to the shoestrings. But if they come, we're going to educate them. That's our approach."
High Achievers
The University Community Academy (UCA), a K-8 public charter school with 400 students in a severely economically depressed northwest Atlanta neighborhood, has done an exemplary job of educating students.
The school, which opened in 2002, has met Adequate Yearly Progress (AYP) – the standard for school achievement under No Child Left Behind – for six straight years. And last year, when 60 percent of eighth graders across the state failed math and social studies on the Criterion Reference Competency Test (CRCT), UCA's eighth graders excelled.
Charter schools typically receive about 20 percent less in public funding than their surrounding district schools, but they operate independently and innovatively with high expectations, and rely heavily on fund-raising – a difficult proposition in economically depressed times. Cutbacks in state funding only increase the challenge.
"The budget cuts and the economic downturn are definitely affecting us," says Caletha Powell, executive director of the UCA Foundation, the non-profit 501(c)3 foundation charged with raising funds for the school.
"We had to streamline our operations after the first round of budget cuts [during the 2009 legislative session]. We lost some teachers, some staff, and we had to cut back on some ancillary programs."
One of those cuts included a consultant from Georgia State University who was connecting students' understanding of history with the local neighborhood culture.
"We were building the connection between what they're taught in the classroom, and who they are and where they've come from," Powell says.
Now she's looking for a champion, an influential knight or knights with deep pockets or connections to deep pockets, "someone who knows someone in a foundation or a corporation, who can speak on our behalf and ask for support, who can tell our story."
UCA added another successful chapter to its story in September, when it earned State Superintendent Distin-guished Achievement honors for the second straight year.
"Every year we've been successful, and despite the economic challenges, we expect to do even better this year," Powell says. "We definitely know all about doing more with less."