Feeling The Pinch
At Georgia's private schools, requests for financial aid are up and endowments are down.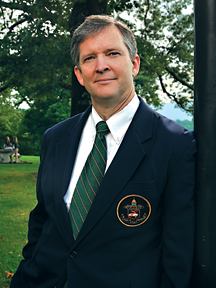 They don't give kids sling blades any more at Rabun Gap-Nacoochee School, and that really bothers some of the older alumni who remember the good old days. But that isn't the worst of it.
Turns out, some of the students who attended this private, college-prep boarding school last year – perhaps as much as 10 percent of the 2008-2009 enrollment – won't be on campus this fall. Pity, too, because it's an impressive campus, situated on 1,400 acres, surrounded by spectacular mountains in a remote corner of northeast Georgia.
The school on the hill is now out of reach for families who have become stuck in economic quicksand.
"We're just trying to hold on and maintain our home and our living expenses, like so many other people in this country, and independent school is a luxury we can't think about any more," says Lane Gresham, whose two sons are now former Rabun Gap-Nacoochee School (RGNS) students.
Her oldest, Joseph, a 10th grader, chose to leave so he could play football at his local public high school, Habersham Central. But Jackson was looking forward to eighth grade, his final year in the vaunted middle school program at RGNS, a school that serves students from 6th through 12th grades.
"It broke his heart when the financial aid they offered didn't come close to our demonstrated need," Gresham says. "We did not want to pull him out of that school, but sometimes in life you don't have a lot of choices."
Private schools in Georgia and the families who support them are caught in the recession maelstrom like almost everyone else – especially schools like RGNS, where most of the students receive financial aid. Throughout the state, independent private schools are trying to serve their clientele, stretching financial aid budgets, putting off capital projects and in some cases turning students away.
"We don't expect that to be the norm. Statewide, enrollments have held fairly steady, given the economic pressures," says Jeff Jackson, executive director of the Georgia Independent School Association, which represents 134 private independent and parochial schools serving about 107,000 students across the state.
"Our schools are facing enormous challenges, they're focused on controlling expenses and operating efficiently. Sacrifices have been called for and made, construction projects will be put on hold," Jackson says. "This isn't different from any other industry, someone making a product or selling a service. The economy is impacting all of us.
"And those schools whose annual budget depends on endowment income are really challenged, because like everyone's 401(k), they're taking a big hit."
RGNS would be the poster child among those schools, because so much of its operating budget, up to 50 percent in recent years, comes from its old, fabled, large and dwindling endowment. By comparison, the Lovett School in Atlanta supports about six percent ($2.1 million in 2007-08) of operations through its endowment (which stood at $54.2 million last year).
But then RGNS, with its enrollment of about 330 in grades 6-12, provides about $3 million a year (25 percent of its total budget) in merit scholarships and financial aid.
"We have a history, since our founding, of serving underprivileged, lower and middle-income families," says RGNS Headmaster John Marshall.
To be sure, the school also serves a traditional private school clientele – the upper class and out-and-out rich.
"Today we probably have as large a number of families who are able to afford the full price of tuition as we've ever had, and many of those families come from overseas," Marshall says.
About 20 percent of the student body comes from overseas and the majority of those families can afford the $34,700 for a year's tuition and boarding. Day-student tuition is $15,675. According to Marshall, more than 60 percent of the student body receives some form of financial aid (that includes about 70 percent of the domestic boarding students, and 80 percent of the local students).
"We devote more to financial aid than any private school I know of," Marshall says.
Lovett, with more than 1,500 students (grades K-12), provides more than $2.2 million in needs-based financial assistance (but as a member of the Atlanta Area Association of Independent Schools, Lovett cannot provide scholarships). Headmaster William Peebles says Lovett has doubled its financial aid gradually over the last six years.
"Well before the economic downturn we were seeing an increased demand for financial aid," says Peebles, who adds that Lovett increased its financial aid budget 15 percent over last year.
"We've had a number of students whose families, prior to this year, were paying full tuition who have been requesting financial aid for the first time, and that's clearly due to the economic downturn. We don't have limitless resources and we're not able to fulfill every request.
"Clearly we've had some attrition for financial reasons we've not experienced previously."
Fund raising also has been sluggish, Peebles says – not as many gifts from individuals, and not as large.
Lovett opens its $30 million, 76,000-square-foot, LEED-certified middle school building this school year, but will put off its next big capital project – new athletic fields – for the time being.
Triple Threat
Private schools are being slammed by what RGNS's Mark Mitchell calls a triple whammy.
"More people are asking for and qualifying for financial aid, and they're qualifying for more money," says Mitchell, vice president of school and student services (SSS) for the National Association of Independent Schools, which represents about 1,400 private schools in the United States.
"The data suggest that schools are spending, on average, about 15 to 20 percent more in actual financial aid awards. The third whammy is where the money comes from – endowments have taken a hit and anticipated tuition revenues are shrinking.
"So the economy has not only impacted families, but also schools' ability to respond to families' needs."
SSS is provides an objective financial aid needs analysis for its subscriber base of some 2,400 schools (NAIS members and non-members). Mitchell says his department saw an increase in financial applications of seven percent (from June 2008 to June 2009), more than three times the average yearly increase.
"Even families who have not taken a hit, so to speak – haven't lost a job or income – are applying," Mitchell says. "It's fear or anxiety that something might happen. That fear is more palpable this year than in years past. People are worried about what might happen six months down the road, so they react by throwing their hat into the ring."
SSS determines how much a family can afford to pay for tuition and the schools decide how much each family actually receives.
Families in Georgia have found another source of potential financial aid for private education – Student Scholarship Organizations (SSOs). These privately run nonprofits grew out of state legislation, passed in 2008, which gives tax credits to individuals and businesses that donate to SSOs.
"It's the best and worst of times for a program like this," says Lisa Kelley, president of the Georgia GOAL Scholarship Program, one of about 20 SSOs in Georgia. GOAL stands for Greater Opportunities for Access to Learning.
"It's very challenging to raise money. On the other hand, never has a program like this been more needed by the private school community."
GOAL provided 77 scholarships last year, and 400 this year, at an average of more than $5,000 each. Scholarships are available to Georgia students enrolled in public schools who want to make the switch to private school.
At Eastminster in Conyers, financial aid hasn't even been an issue until now.
"It's not something we offer, and it hadn't really come up before this year, but we have people asking about it now," says Headmaster Darren Pascav-age. "In a few cases we have had some families that were not able to come back."
Eastminster, only in its sixth year, is a small school with large ambitions. Currently serving grades K-8, the school has an enrollment of about 150, but it has planned to grow in steps, and that includes adding a high school curriculum and graduating its first class in 2014.
Pascavage and school leadership are thinking decades ahead. There are capital campaigns within campaigns, small increments that add up to a $170 million, 30-year multi-phase plan. Pascavage says the school has raised about $8 million of its $17 million first-phase goal.
Immediate plans call for the opening of a new $2-million elementary school building in fall 2010. School leaders figure on serving a student body of about 360 within a few years, but the long-range plan calls for a campus that will serve 1,100 students.
"Building an endowment is part of that long-range plan, but our first priority is to make sure we have the physical space for our students," Pascavage says. So for now, tuition ($7,500 for kindergarten; $8,379, first through fourth grade; $10,500, fifth through eighth) is paying for day-to-day operations.
Down at the Valwood School in Hahira, where the line for financial aid is growing like everywhere else, they're not increasing tuition fees at all this year.
"This is pretty rare for private schools," says Valwood Headmaster Cobb Atkinson. Most schools, he adds, typically raise tuition annually at a rate of 3-6 percent.
Lovett, for example, is increasing its tuition 3.5 percent ($16,365 for K-5; $19,115, sixth through 11th grade; $19,515 for high school seniors) – "our lowest increase in a long, long time," Peebles says.
Valwood's tuition ranges from $7,600 to $9,500 for kindergarten through 12th grade, and enrollment has held steady at just shy of 400.
"Our enrollment is likely to be flat, but requests for financial aid have definitely increased," Atkinson says. But they've done well enough in several fund-raisers so that in July the school broke ground on a new track and field facility.
Valwood is like Rabun Gap in that it strives to make an expensive private school education as affordable as possible for the nonwealthy. But the schools are worlds apart in tuition fees, and in the amount they could traditionally afford to spend on financial assistance. And Valwood isn't a boarding school.
"And our endowment is very modest, and has little or no impact on our budget," Atkinson says. "We have a long-standing commitment to affordability, assisting families, but Rabun Gap has been exceptional in this area, in terms of the percentage of students who receive financial aid, and the commitment of the board to provide that money."
All those years of largesse may be taking their toll.
Farm and Foxfire
Andrew Ritchie started Rabun Gap Industrial School in 1905 to serve the children of poor, secluded mountain families in northeast Georgia. And for more than a century the school has strived to stay along that general course, with backing first from Rockefellers and Carnegies, and ultimately from Cand-lers and Woodruffs.
In the 1920s the school merged with the Nacoochee Institute (which originated in White County in 1903) to become Rabun Gap-Nacoochee School.
This is the school where the Foxfire program was developed in the 1960s. For decades before and after that, students were steeped in the agrarian arts and spent about as much time working in the fields or woods or kitchens as they did in the classroom.
Jennifer Hudgins, an alum who attended RGNS in the 1980s, remembers when some of her classmates rode in garbage trucks and collected trash, or slung scrambled eggs in the dining halls with their hairnets on, or worked the fields with sling blades and tractors.
"It's not a work-study school anymore – part of that has to do with OSHA laws," says Hudgins, president of the school's parents association, whose oldest son Ollie is an RGNS senior. Ollie was a boarding student, but now he commutes from the family's home in White County.
"That's going to save a few thousand dollars. It makes a difference," Hudgins says. "But we know a few families, day students, who just can't do it again this year. That's very disappointing. It changes the dynamic noticeably at a small school."
Today, the school looks like a small college campus. Average student-teacher ratio is 8-to-1. They have what might be the best performing arts venue in northeast Georgia, and virtually every RGNS graduate goes to college.
The RGNS endowment has shrunk from $75 million to $50 million, but the financial aid pot has remained the same. Enrollment, which had grown every year since Marshall arrived as headmaster six years ago, and reached an all-time high of 357 last year, is expected to drop to about 320.
The middle school program, considered topnotch, has outgrown the two old houses where it's currently situated. The school is raising money for a new middle school building, but Marshall doesn't expect to break ground until the entire $7 million is raised, within two or three years, he hopes.
"There's no getting around it, we are a school that is particularly susceptible to these economic times," Marshall says. "What is disheartening and disappointing is, we can't afford to be as generous as we have been, at least for a few years."
Typically, RGNS gave 80 to 90 percent of a family's demonstrated need (as determined by third-party SSS) for financial aid. Current families may still approach those old rates, but new students' families can expect 50 to 60 percent. And in order to maintain the financial aid budget, faculty and staff are making sacrifices, such as reductions in compensation, like coaching stipends. School administrators are reducing their pay 10 to 20 percent.
"Our bread and butter has been the rise of American capitalism, and that was built on the free markets. Now we'll see how long it takes to get out of that tailspin," Marshall says. "We had a good run, and now realize it was all built on leverage."
RGNS has students from China, and Marshall says interest in RGNS from the other side of the world is growing. And next door in Habersham County, Lane Gresham maintains her interest.
The Greshams, like the Hudgins, were involved. Lane recruited for the school, helped bring more families from Habersham to RGNS. She coordinated a carpool and bus service for the 30-mile trip, and her sons thrived and gained priceless life experience – Joseph's seventh grade roommate, for example, was the grandson of former South Korean President Kim Dae-jung, a Nobel Peace Prize winner.
But last year was brutal. Bill Gresham's surveying and land planning business struggled through a horrendous six months. Lane's part-time writing gig at the local newspaper couldn't cover the cost. They had to raid and pretty much deplete the boys' college fund just to fulfill their part of the contract with RGNS.
"It all happened so quickly and things changed dramatically," says Gresham, who now runs the Better Hometown Program in Clarkesville, Habersham's county seat.
She still feels like a distant member of the RGNS family, even wrote the school a check for $25 last summer during a fund-raiser.
"A part of us will always be in that place," she says.